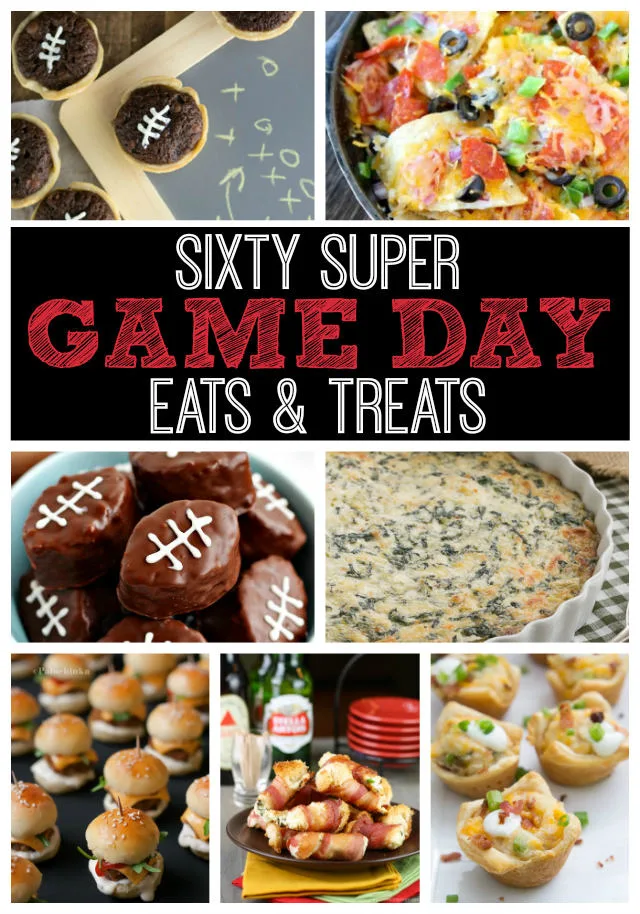 Ok, I admit it. I don't care about football AT ALL. I don't even pretend to care. Luckily, I married a man that is fairly indifferent to the sport as well. He likes to watch "big games"- be it college or national- but he is NOT your avid Monday night fan. Is it Monday nights?
But I will say that I have a little soft spot for the Super Bowl.
My husband and I started dating in late January years ago and one of our first "dates" was watching the game together. I brought over some football shaped cocoa rice krispie treats, and that was the first thing I ever "baked" for him.
Clearly I was a lot more worried about the food than I was who was playing who… and I still am. I've rounded up 60 amazing recipes of game day eats that would be perfect to serve to a crowd at your Super Bowl (commercial) watching party- or to proudly take over to a cute boy's house. You never know, you might be the one to end up with the ring. 😉
Hot Spinach and Artichoke Dip – That Skinny Chick Can Bake
Feta Dip with Fresh Herbs & Lemon – The Tasty Fork
Do you watch for the game or the commercials? Or just there for the food?