Teddy Bear Toast made with peanut butter or chocolate hazelnut spread and fresh fruit. You only need four ingredients to create these adorable little bears that are almost too cute to eat.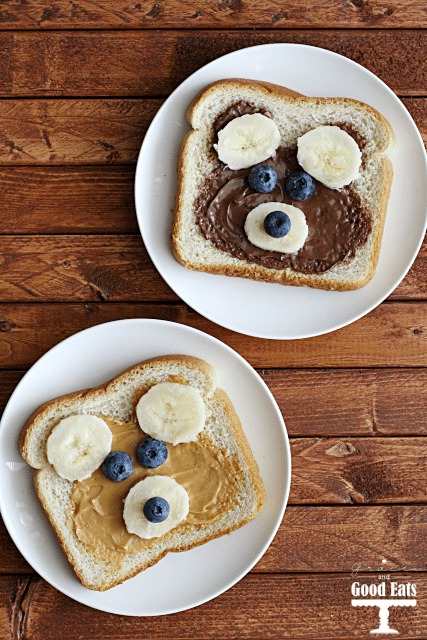 Neither of my girls have ever been big on sandwiches which has caused me to be more creative when it comes to packing their lunches for school. I started making these Teddy Bear Toasts when my oldest was in pre-school and all of my kiddos since have loved them!
Teddy Bear Toast
There's no real "recipe" to make the Teddy Bear Toast: just slather peanut butter (or another nut butter or chocolate hazelnut spread) on a piece of bread (toasted or not) and top with bananas for ears and a nose and blueberries for eyes.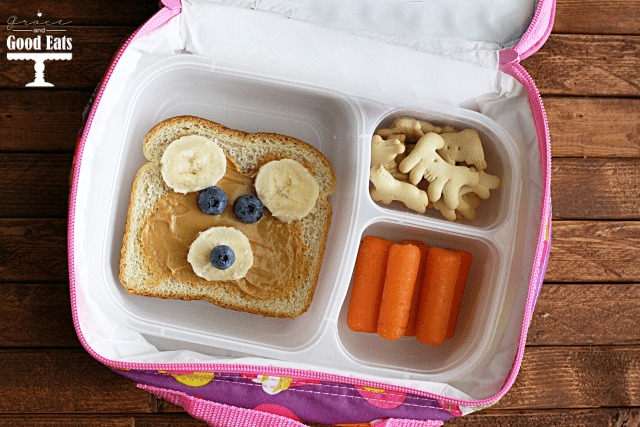 We use these Reusable 3-Compartment Divided Containers to make packing lunch as easy as possible. Some days they get cute lunches like this Hardboiled Egg Chick Bento and some days they just got a protein, veggie/ fruit, and grain/ dairy tossed in! Here are a few of my go-to Kid-Friendly Lunch Ideas for School:
Kid Friendly Lunch Ideas for School
Yummy kid-friendly lunch ideas and easy recipes that go beyond the boring sandwich
This post was published August 31, 2015 and updated August 13, 2019.