These Chocolate Caramel Cheerios Bars use Multi-Grain Cheerios instead of puffed rice cereal to make delicious marshmallow treats with chocolate chips and caramel sauce. This is a sponsored post on behalf of Cheerios. All thoughts and opinions are my own.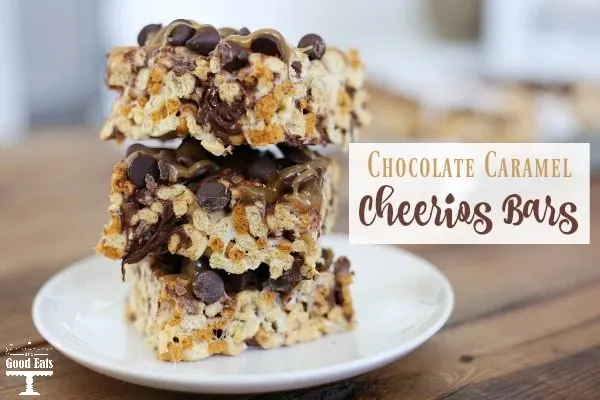 Do you ever have those days that feel like they are about 24 hours too long? I have had a string of them this past week! It seemed like every little thing that could happen, or go wrong, did. Just this morning I spent over half hour looking for my car keys. I was starting to think I accidentally threw them in the trash when I was cleaning out my car the night before, and was this close to searching the trashcan when I finally found them. They were in my purse. The whole time.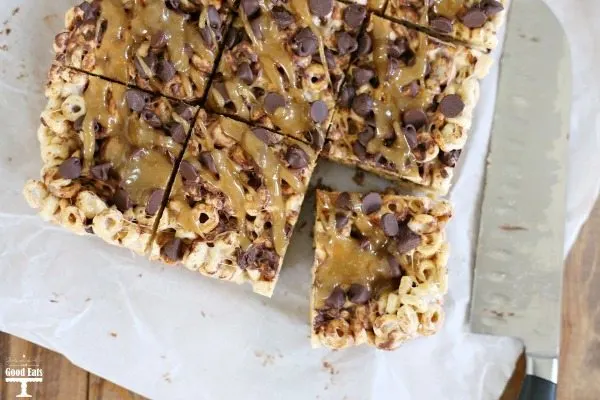 I think my series of long days started when James got called for mandatory overtime at the fire station (which means he had to work back-to-back 24hr shifts). Luckily we didn't have anything big planned, but he did miss Sophia's soccer game. To cheer her up we all took a trip to Walmart (her favorite, haha) since we were already in town and I needed to grab some groceries.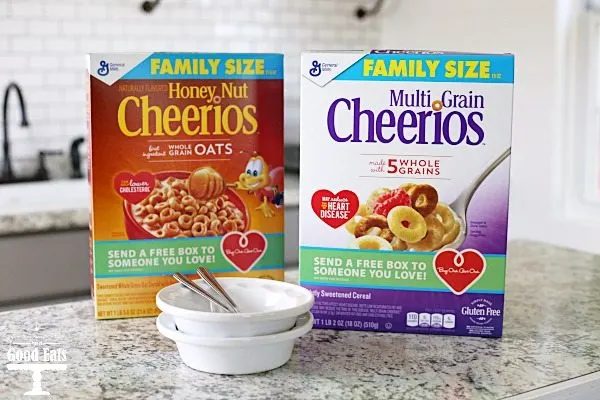 The girls noticed these specially marked boxes of Cheerios with information about how to "send a free box to someone you love!" when we were picking up a box of Honey Nut Cheerios for Ian. They both immediately decided that we should send a box to Daddy at the fire station. I had to explain that it probably wouldn't be delivered THAT day, but that we could definitely go ahead and buy a few boxes.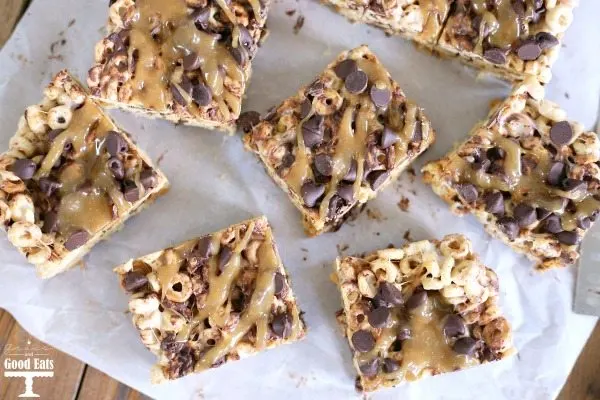 I suggested that we also bake them some treats to deliver and we decided on these Chocolate Caramel Cheerios Bars. The girls love making marshmallow treats with me so I thought these would be a fun twist. The chocolate and caramel transform this classic treat into something over the top delicious.
These Chocolate Caramel Cheerios Bars are the perfect after dinner indulgence, lunchbox treat, or special delivery for your favorite firefighters. Kid-friendly and adult approved.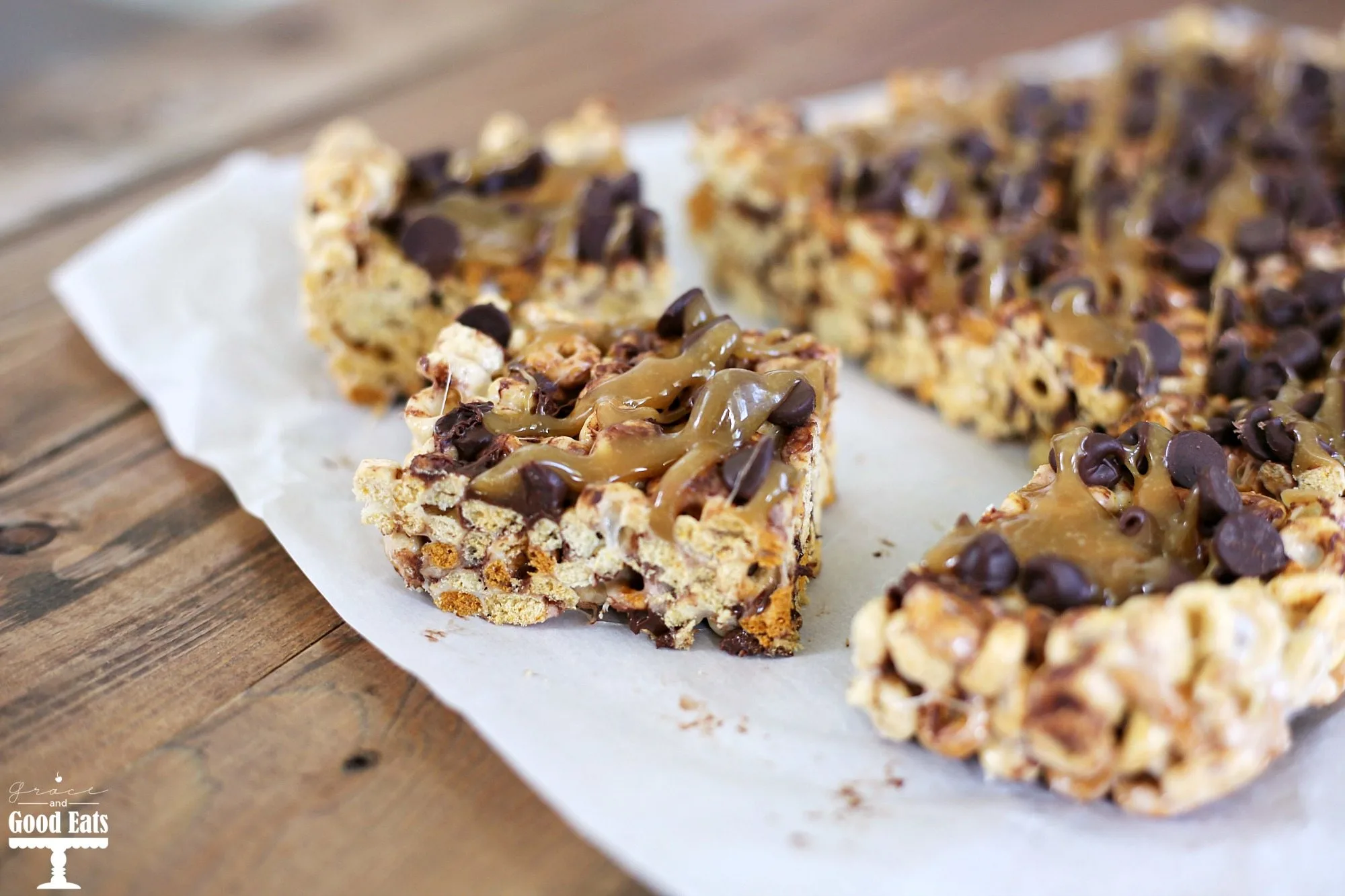 Watch the video below to see how easy these Chocolate Caramel Cheerios Bars are to make:
Find your code inside specially marked packages in stores and enter it on http://wm6.walmart.com/Gluten-Free-Cheerios to send a coupon for a free box of Cheerios to someone that matters.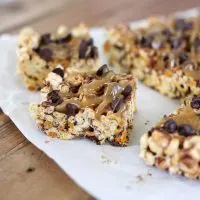 Ingredients
5

cups

Cheerios

Multi-Grain

10

oz

Marshmallows

3

tbsp

Butter

1

cup

Chocolate Chips

1/2

cup

Caramel Sauce
Instructions
Melt the marshmallows and butter over medium-low heat, stirring constantly.

Add the Cheerios to a large bowl and pour the melted marshmallow mixture over to coat.

Coat all of the Cheerios in the marshmallow mixture and stir in the chocolate chips. (Don't over-stir at this stage or the chocolate will melt.)

Transfer the marshmallow cereal to a large pan lined with parchment paper.

Sprinkle with more chocolate chips (optional) and drizzle the entire pan with caramel sauce.

Allow to cool completely.

Cut in to squares and enjoy.
Nutrition
Serving:
1
serving
|
Calories:
243
kcal
|
Carbohydrates:
39
g
|
Protein:
2
g
|
Fat:
9
g
|
Saturated Fat:
5
g
|
Cholesterol:
8
mg
|
Sodium:
129
mg
|
Potassium:
149
mg
|
Fiber:
2
g
|
Sugar:
19
g
|
Vitamin A:
395
IU
|
Vitamin C:
1.9
mg
|
Calcium:
50
mg
|
Iron:
3.9
mg