Make this kid-friendly fruit sushi with rice krispie treats, fruit leather, and fresh fruit with your kiddos. This no-bake sweet sushi would also be a fun lunchbox treat.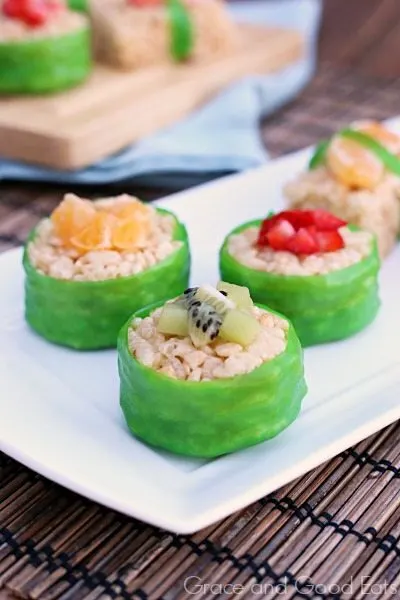 My oldest, Isabella (10), started her own blog a few months ago. She has been begging me for quite some time and I finally decided to let her go ahead. Of course, there are certain rules and responsibilities that came with this. For example: every other post she does has to be book review. She can't even ask me about doing another type of post until she has finished an entire book.
In addition to her kids book reviews, she also wants to share recipes and kids crafts. She and her sister are both obsessed with YouTube so I know it will be a matter of time before she starts hounding me for her own channel. Baby steps. Because let's be honest, at the end of the day, it's more work on my plate to keep it all monitored and running smoothly! 🙂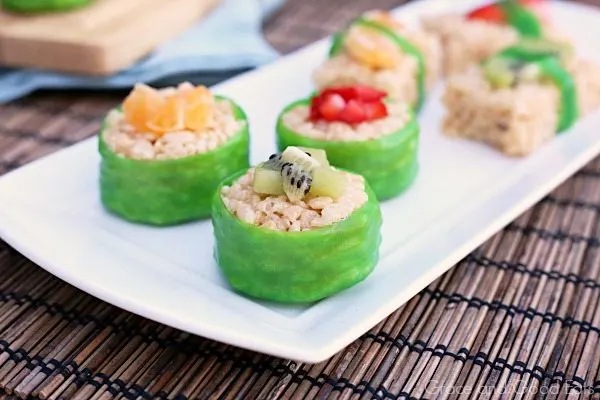 I set her up to peruse Pinterest and gave her a couple of cookbooks to look for ideas of projects or recipes she wanted to make. She found a picture of these faux sushi and ran with it. I took her to the store to pick up some fresh fruit and ingredients for rice krispie treats but she did all the rest. She used Fruit Roll Ups, but you could easily make a batch of homemade fruit leather.
I let her borrow my old DSLR to take photos and walked her through the steps I use to edit my food photography. I let her shop my food props and she set up the shoot herself. It was kinda fun to show her more of my "job". (I edited these photos, but the ones on her site are 100% her.)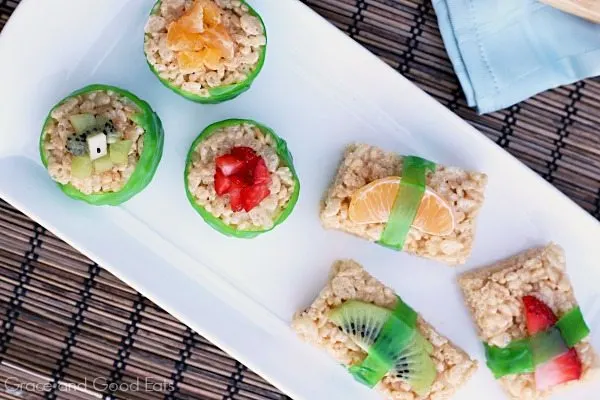 This fruit sushi recipe is totally kid-friendly, perfect to make with your kids or for your kiddos as a fun lunchbox treat.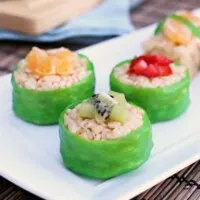 Ingredients
1

package

10.5 oz marshmallows

3

tbsp

butter

6

cups

Rice Krispie cereal

Green fruit roll-ups

Sliced strawberries

kiwi, and oranges
Instructions
Spray a 13×9 baking pan with non-stick cooking spray or line with parchment paper.

Cook the marshmallows and butter over medium-low heat in a large saucepan until melted and smooth.

Immediately stir in cereal until coated with marshmallow mixture.

Press firmly into prepared pan to form an even layer.

Let stand 10-15 minutes, until set.

Cut half of the Rice Krispie bars into 2×1-in rectangles. Cut remaining half into 1½ to 2-in circles using a greased cookie or biscuit cutter.

Cut fruit roll-ups into ½-in wide and 1-in wide strips. Top ovals with fruit; wrap with ½-in fruit roll-ups as shown above. Wrap 1-in strips around circles; top with fruit.
Nutrition
Calories:
131
kcal
|
Carbohydrates:
20
g
|
Protein:
2
g
|
Fat:
5
g
|
Saturated Fat:
3
g
|
Cholesterol:
11
mg
|
Sodium:
148
mg
|
Potassium:
34
mg
|
Fiber:
1
g
|
Sugar:
2
g
|
Vitamin A:
1528
IU
|
Vitamin C:
13
mg
|
Calcium:
1
mg
|
Iron:
6
mg