These Cereal Bars are my go-to, quick and easy, three-ingredient after school snack.  You can't go wrong with peanut butter and honey! This post is sponsored by Market Street.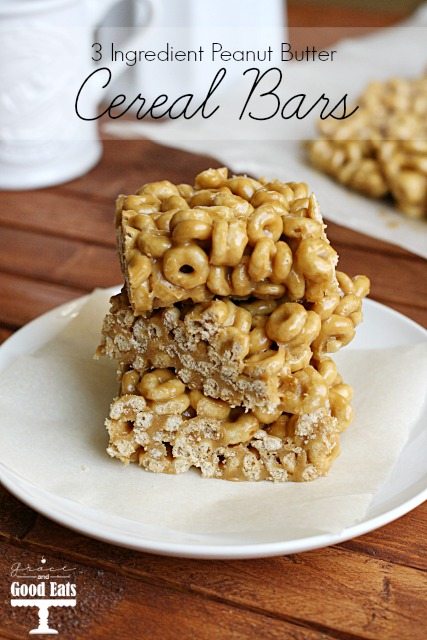 With only a few weeks before it's time for back-to-school, I am busy planning lunch ideas and stocking up on snacks and treats.  Last year I had a hard time finding foods my kiddos would eat and not just come back home with the majority of everything I packed still in the lunch box.  So this summer we spent a lot of time in the kitchen (and the grocery store!) coming up with winning combinations together.
Living in the country means that I don't always have many shopping areas or store options nearby, so I make an effort to go once or twice a month and stock up at my favorites.  James is awesome about letting me have some alone time to get all my shopping done sans kids and my tired mama spirit looks forward to those few nights when I get to shop in silence and spend as much time as I want looking at all.the.things.  It totally renews me and by the end I am hurrying to get home in time for bedtime stories.
When I saw that Market Street was having their big Stock Up Sale I knew I had to add them to my list of stops while I was in town.  Market Street is my one-stop-shop to fuel up for all of fall's adventures- whether it is for lunchbox necessities, weeknight meal ingredients, or special treats for our nights around the fire pit.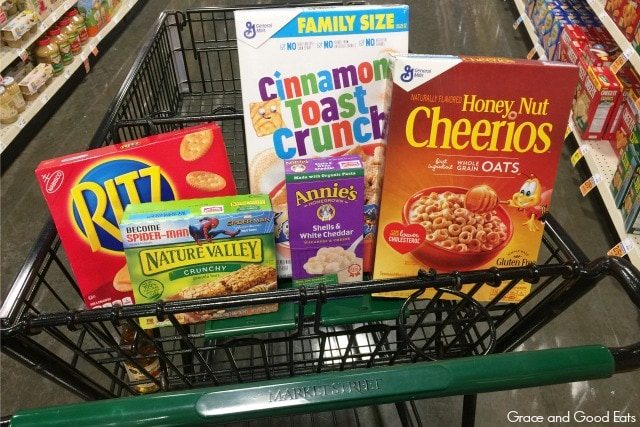 I lucked out that the girls' favorite Cinnamon Toast Crunch™ cereal and Honey Nut Cheerios™ and Ian's favorite Ritz crackers were all on sale. I recommend downloading your local store's app on your smartphone to utilize the savings tool for even more savings.  Annie's™ Natural Mac & Cheese is my meal planning savior on the crazy nights when we have PTO meetings + soccer practice + whatever else.  I try to keep plenty of snacks stocked in my pantry, like the Nature Valley™ Granola Bars, to take with us in the car on those days that we're rushing between events. Be sure to check out these great products at your local Albertsons Companies grocery store including Albertsons, Safeway, ACME Markets, Jewel-Osco, Vons, Pavilions, Randalls, Tom Thumb, Shaw's, Star Market, United Express, United and Carrs/Safeway.
On the days when our schedule isn't so full, I like to prepare a homemade after school snack for the girls like these super easy 3 Ingredient Cereal Bars.  Sometimes I wait until they get home and we make them together.  They love helping me with no-bake recipes!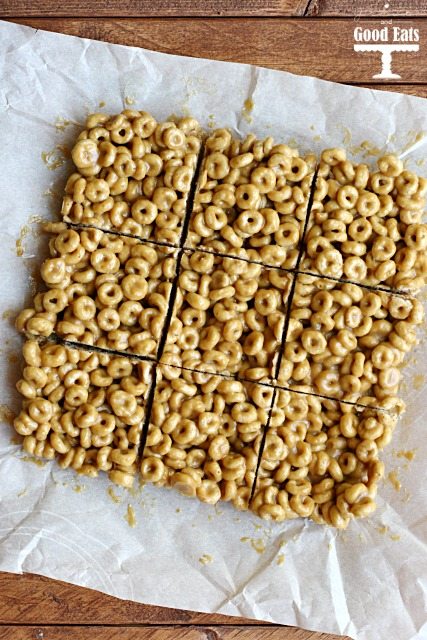 These 3 Ingredient Peanut Butter Cereal Bars were a hit with both my kiddos.  With only three ingredients (that we just about always have on hand) they were easy enough for little hands to help make.  Next time I might toss in a handful of peanuts or chocolate chips!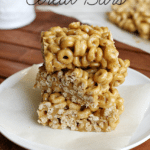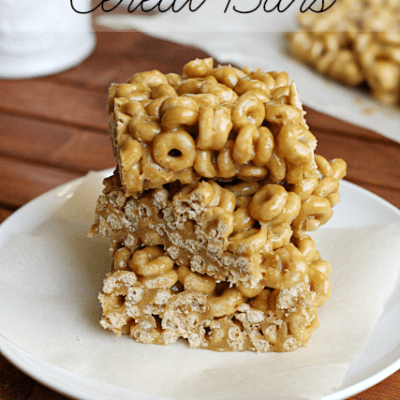 Print Recipe
3 Ingredient Peanut Butter Cereal Bars
Peanut butter, cereal and honey make up these bars.
Ingredients
3

cups

Cheerios cereal

1/2

cup

peanut butter

1/2

cup

honey
Instructions
Line an 8x8in pan with parchment paper.

Combine peanut butter and honey in a large saucepan and set over medium heat.

Heat until mixture just starts to simmer, about 2-3 minutes, stirring.

Remove from heat and stir until mixture is smooth.

Stir in cereal until evenly coated.

Pour mixture into prepared pan and spread evenly.

Chill in the refrigerator for 1 hour.

Cut into bars.
Nutrition
Calories:
62
kcal
|
Carbohydrates:
8
g
|
Protein:
1
g
|
Fat:
2
g
|
Sodium:
40
mg
|
Potassium:
55
mg
|
Sugar:
6
g
|
Vitamin A:
1.7
%
|
Vitamin C:
0.7
%
|
Calcium:
1.3
%
|
Iron:
5.6
%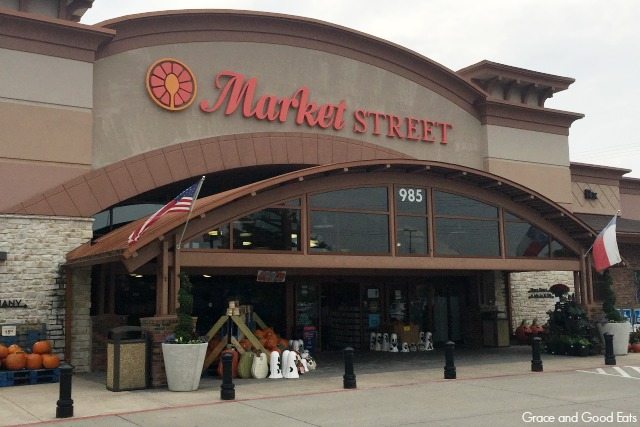 Market Street is giving away groceries for a year to one lucky winner.  Show how you stock up your pantry on favorites from General Mills, Coca-Cola, Kraft, Nabisco, and more by sharing a photo using #StockUpSale2017. Entry is as easy as 1-2-3:
Take a photo featuring two or more of the participating Stock Up Sale products
Share the photo on Twitter or Instagram or at Market Street by 10/19
Use #StockUpSale2017 and #Sweepstakes in your caption and complete entry form
Participating products:
Honey Nut Cheerios™
Cheerios™ 8.90oz.
Cinnamon Toast Crunch™ 12.20oz.
Progresso™ Traditional, Rich & Hearty, Reduced Sodium, Light Soup, Vegetable Classic, selected varieties 18-19oz
Nature Valley™ Granola Bars 7.44oz-8.44oz
Yoplait® Traditional Yogurt, 4-6oz, selected varieties
Oui™ by Yoplait® Strawberry French Style Yogurt 5oz.
Annie's™ Natural Mac & Cheese 6oz; selected varieties
Old El Paso™ Shells
Totino's™ Pizza Rolls 15ct, Totino Party Pizza 9.8-10.4oz, selected varieties
Betty Crocker™ Hamburger Helpers, 4.7-8.7oz, selected varieties
Betty Crocker™ Fruit Snacks, 4.5-8oz, selected varieties
Chex Mix™ 8-8.75oz, selected varieties
Betty Crocker™ Super Moist™ Cake Mix, 15.25 – 16.25oz., select varieties
Betty Crocker™ Whipped Frosting, Milk Chocolate 12oz.
Betty Crocker™ Brownie Mix, Chocolate 18.40oz.
Pillsbury™ Apple Toaster Strudel™, 6ct., 11.70oz.
Coca-Cola MiniCans
Dasani Sparkling Black Cherry
Classico Tomato Basil
Heinz Ketchup
OREO 14.3 oz
Ritz 13.7 oz
Click here for official rules and details.
This is a sponsored post written by me on behalf of Market Street.