Caramel Popcorn is a deliciously sweet and salty treat that's easy to make at home with this quick recipe. Use your favorite popping corn or use the Instant Pot to make this easy Caramel Corn in no time.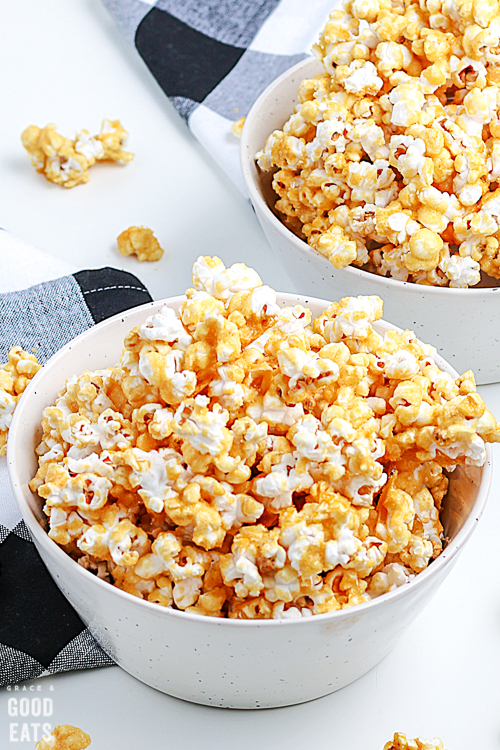 Getting those giant tins of popcorn at Christmas or the huge bags from the fair is great and all, but recreating that familiar flavor from those packages is easy to do at home. The caramel popcorn was always fought over in our house, everyone wanted the sweet kernels that stick to your teeth and have just a hint of saltiness. The cheese and butter flavor usually ended up stale and thrown out, where the caramel popcorn was always eaten quickly.
My love for caramel runs deep, check out some other favorite caramel recipes: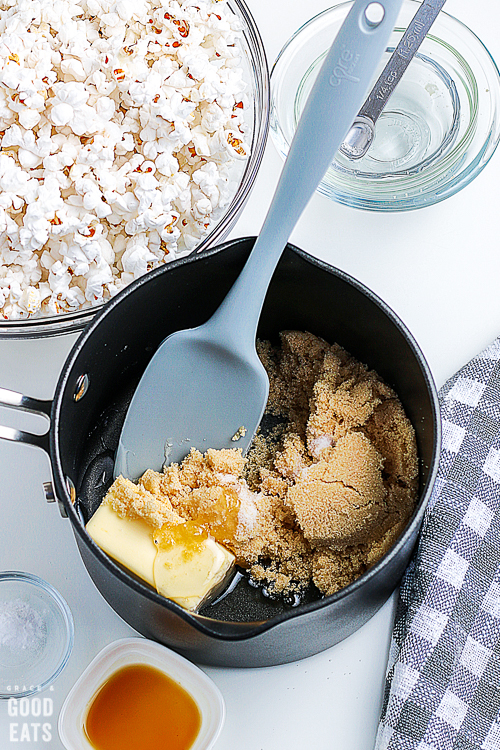 What do I need to make Caramel Corn?
Cooked Popcorn – have your popcorn cooked perfectly and set aside
Brown sugar – this is going to be the base of our caramel sauce
Butter – use unsalted since we are adding salt to the sauce
Corn syrup – I use light corn syrup for my caramel sauce
Salt – adding a little salt to caramel helps the sweetness come through better and adds dimension to the flavor
Baking soda – this helps to make the sauce texture just right
Vanilla Extract – vanilla is always a good idea and helps smooth out the flavors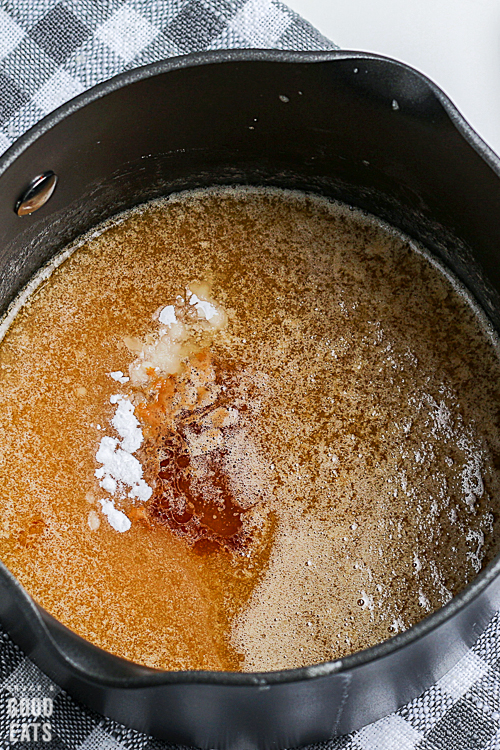 This quick and easy Caramel Corn is big on flavor and stringy caramel goodness. Bonus: It is easy enough to make for your family movie night each week. My kids often request fun add-ins or variations like:
White chocolate chips
Milk chocolate chips
Chopped pecans
Chopped almonds
Chopped peanuts
Butterscotch chips
Mini caramel chocolate candies (such as Rolos)
Mini marshmallows
Crushed pretzel pieces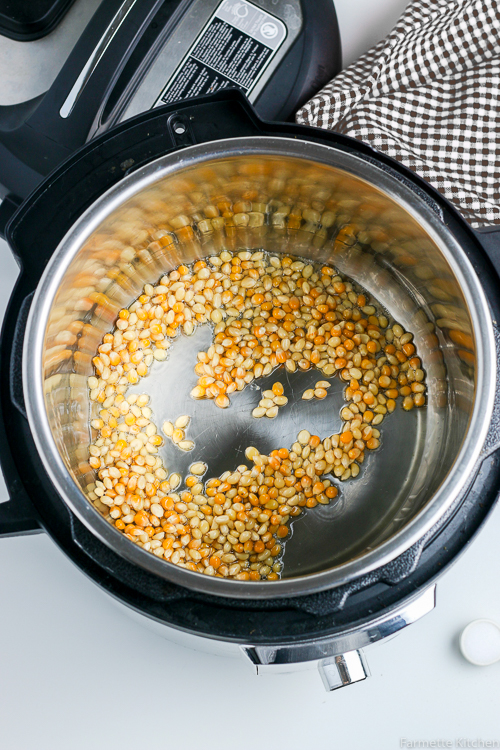 How do I make Caramel Popcorn?
Making fresh popcorn using my Instant Pot Popcorn recipe, or your own favorite plain popcorn recipe is a big part of this Caramel Corn recipe- you want fresh kernels to cover in gooey caramel sauce!
Preheat the oven
Prep the baking sheet
Cook the sauce
Pour over the popcorn
Stir and spread
Bake
Cool and serve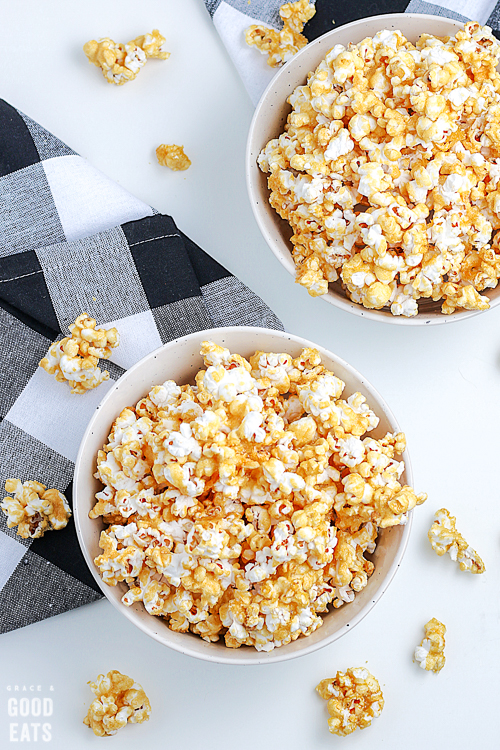 How do I store Caramel Corn?
Keep your completed caramel corn in an airtight container at room temperature for up to one week.
This caramel popcorn recipe is perfect to make as gifts also, just package in cellophane bags with pretty bows, and your friends and family will love having a tasty treat made by you just for them. You can dress this popcorn up with additional ingredients for any holiday as well, using colored candies and additional sweets- like this Christmas Popcorn.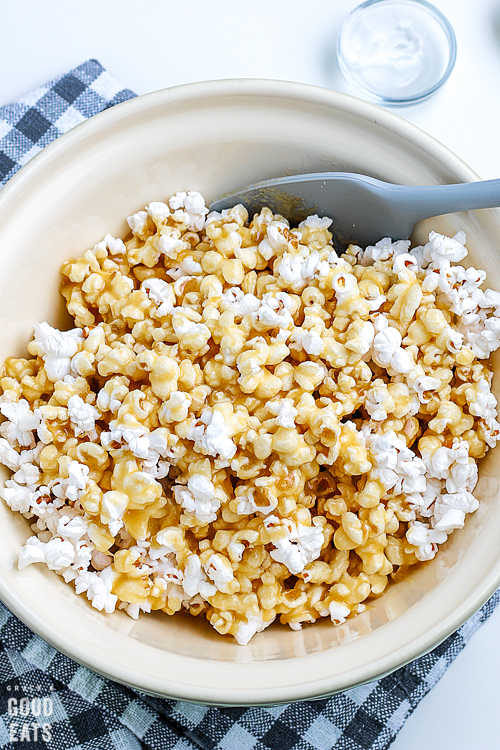 In the comments let me know how you enjoyed your Caramel Corn and when you pronounce Caramel how many syllables you say, this one is always a fun question!
More Delicious Popcorn Recipes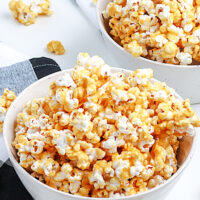 Ingredients
8

cups

popped popcorn

¾

cup

brown sugar

¼

cup

butter

3

tablespoons

light corn syrup

¼

teaspoon

salt

¼

teaspoon

baking soda

¼

teaspoon

vanilla extract
Instructions
Cook popcorn using your preferred method on stove, Instant Pot, or in popcorn maker.

Pour popped popcorn into bowl and set aside.

Preheat oven to 300 degrees and spray a cookie sheet with cooking spray.

In a saucepan, combine brown sugar, butter, corn syrup and salt.

Cook until butter is melted and then continue cooking for 3 minutes without stirring.

Add baking soda and vanilla, stir to combine

Carefully pour hot mixture over popped corn and stir well.

Spread evenly onto cookie sheet and bake for 15 minutes.

Cool completely before storing in an airtight container.
Nutrition
Calories:
1536
kcal
|
Carbohydrates:
296
g
|
Protein:
36
g
|
Fat:
26
g
|
Saturated Fat:
9
g
|
Polyunsaturated Fat:
9
g
|
Monounsaturated Fat:
6
g
|
Trans Fat:
1
g
|
Cholesterol:
31
mg
|
Sodium:
360
mg
|
Potassium:
958
mg
|
Fiber:
42
g
|
Sugar:
56
g
|
Vitamin A:
355
IU
|
Calcium:
56
mg
|
Iron:
10
mg