These Salted Caramel Cookies are a match in caramel + flaky sea salt + white chocolate chip Heaven. Not only do they taste amazing, but the recipe is incredibly easy (no need to soften butter or use a stand mixer).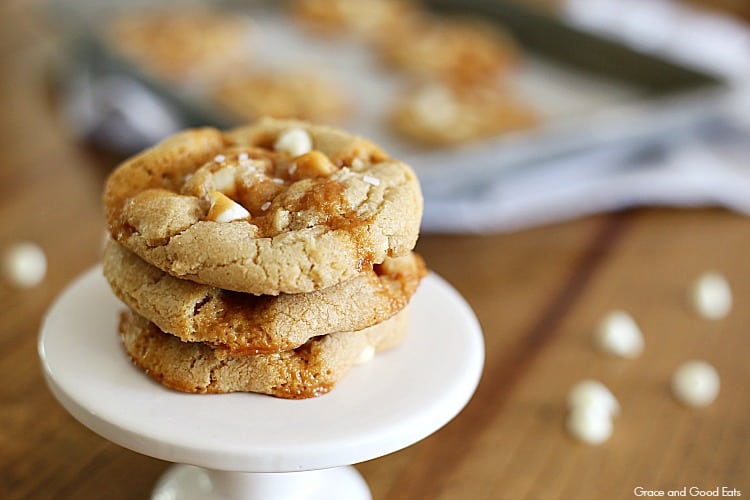 My girls head back to school tomorrow and I've been trying to think up what first-day treats I should send with them for their teachers and their lunchbox. We've been obsessed with these Salted Caramel Blondies ever since I first made them a few weeks ago, but I didn't want to make (and eat) a whole big batch so I decided to make them into cookie form!
My favorite things about that blondie recipe are 1) I don't have to bust out my stand mixer, and 2) I don't have to remember to soften my butter (the worst!). With those goals in mind, I created a small batch salted caramel cookie recipe that makes between 6-12 cookies. I use a 1.5-inch cookie scoop and make eight average-sized cookies.
There are several different techniques when it comes to making Salted Caramel Cookies. Some like to add the caramel bits into the batter. Some halve a soft caramel and stick it in the center of the dough. Some wait until after the cookies have been baked to drizzle it on.
Again, my goal here was SIMPLICITY. I didn't want to be waiting around to drizzle the caramel on after they finished baking. (That method also makes them less stacking friendly for gifting.) I wanted it all done and in the oven as soon as possible, so I added my caramel to the cookie dough prior to baking.
The result was a delicious and easy small batch Salted Caramel Cookies recipe: chewy with crispy edges, soft and creamy caramel throughout, and full of white chocolate chip perfection.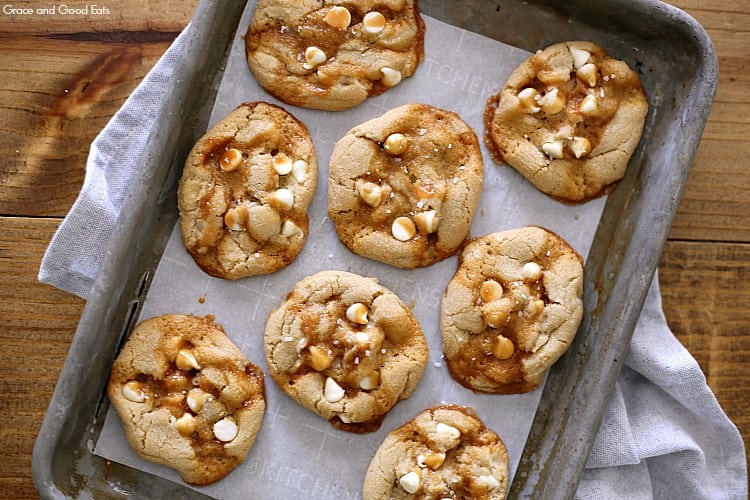 What's in Salted Caramel Cookies?
To make these sea salt caramel cookies, you'll need the following:
Butter

Brown sugar

Egg Yolk

Vanilla extract

All-purpose flour

Baking soda

Salt

White chocolate chips

Caramel bits

Heavy cream

Flaky sea salt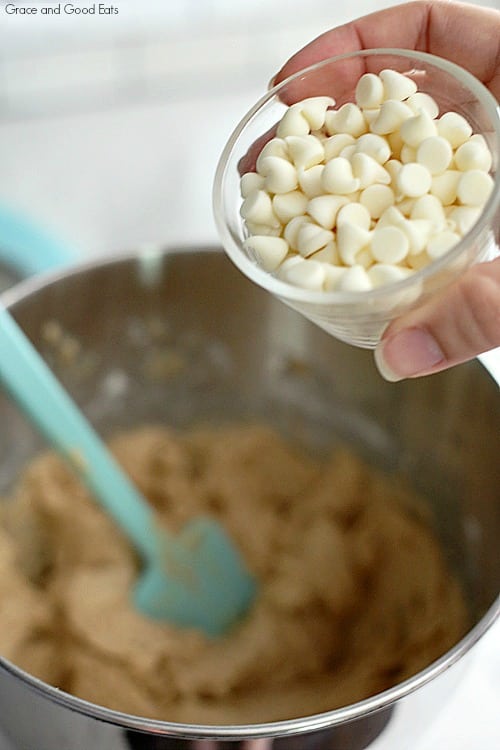 How to Make Salted Caramel Cookies
Make the cookie dough, making sure to fold in the white chocolate chips last.

Microwave the heavy cream and caramel bits until smooth and combined.

Scoop the cookie dough into 8 to 12 balls. Place on a baking tray.

Drizzle caramel sauce over the cookie dough balls.

Bake until done.

Once they're out of the oven, immediately sprinkle the

caramel cookies with flaky sea salt.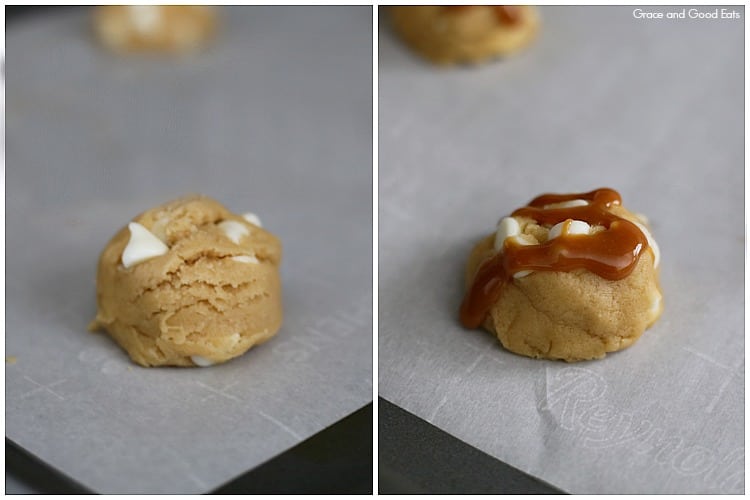 Can I Double This Recipe?
Can you? Yes. Would I? No. This recipe has been paired down purposefully to be a small batch recipe.
I make this recipe (with chocolate chips and without caramel) all.the.time after the kids go to bed because I can make it quietly (no mixer), only dirty one bowl (winning), and not be up all night, missing out on watching Netflix with my husband, while waiting for 4 dozen cookies to bake.
In all honesty, if you wanted a large batch of Salted Caramel Cookies (36-48 cookies) then I would just take my favorite chocolate chip recipe, swap in white chocolate chips, and drizzle those with caramel and top with flaky sea salt.
Obviously, I can't guarantee your success with that because it will fully depend on what base cookie recipe you use. Happy baking!!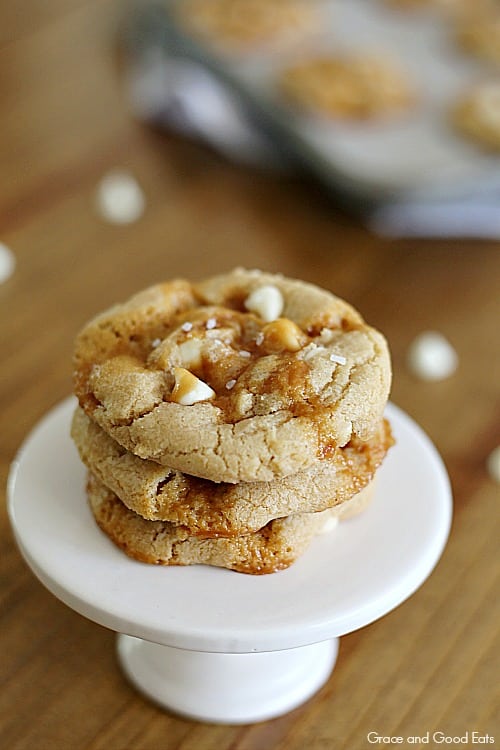 Tips for Make Salted Caramel Cookies
Don't read "white chocolate" and immediately click away because you think you don't like it. First of all, I'm also not a fan of white chocolate either. Least favorite of all the chocolates for sure, but when combined with the creamy caramel and flaky sea salt, magic happens! If you just can't do it, feel free to sub in semi-sweet chocolate chips instead.
I used a 1.5-inch cookie scoop to make 8 cookies. You can make them bigger (6 cookies) or smaller (12 cookies) depending on the size of your scoop, but be sure to adjust the cooking time accordingly.
You will have caramel leftover. Feel free to eat it with a spoon or drizzle more on after the cookies bake. It's also delicious over ice cream!
More Homemade Cookies: