These Iced Oatmeal Cookies are crispy and full of cinnamon and nutmeg flavor! There's no chilling required, making these perfect for last-minute cravings!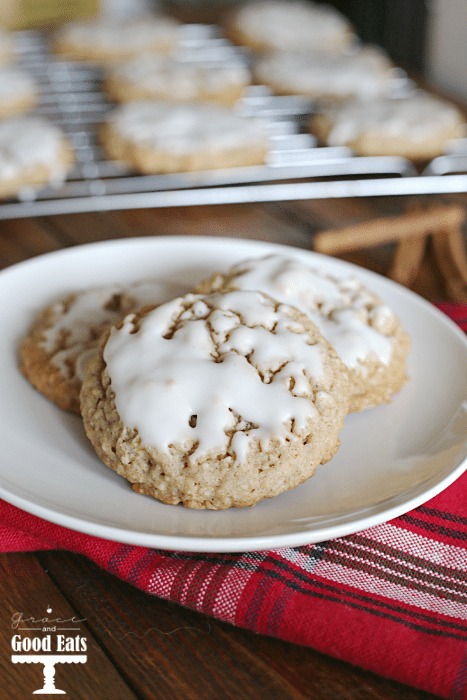 I know we still have a few more days until Thanksgiving, but I am officially moving on to all things Christmas! (I hope you have your menu planned for Thursday, but if not, this Southern Cornbread Dressing, Easy Yeast Rolls, and Pumpkin Cheesecake Bites are a good place to start.)
I'm not one to rush Christmas but I found myself resisting the urge to put up my tree pretty early this year. I guess I'm just ready to usher in some holiday cheer… and cookies, definitely cookies!
These Old-Fashioned Iced Oatmeal Cookies are the perfect transition from Thanksgiving to Christmas. The oatmeal cookie is crispy and delicious, and full of spicy nutmeg and cinnamon flavors. Like my White Chocolate Oatmeal Walnut Cookies these have a delicious coating of icing to put them over the top.
What's Needed for Iced Oatmeal Cookies?
To make these old-fashioned oatmeal cookies with white icing, you'll need the following ingredients:
Old-fashioned oats
All-purpose flour
Baking powder and baking soda
Salt
Cinnamon
Ground nutmeg
Unsalted butter
Light brown sugar
Granulated sugar
Eggs
Vanilla extract
Heavy cream
Confectioners' sugar
How to Make Old-Fashioned Oatmeal Cookies
In a large bowl, whisk together the dry ingredients.
In the bowl of a stand mixer, cream together the butter and sugars until light and fluffy.
Add the eggs, followed by the vanilla.
Mix in the dry ingredients until just combined.
Scoop the cookie dough onto parchment paper-lined baking trays.
Bake for 10 to 12 minutes, then let cool completely.
While the chewy oatmeal cookies cool, make the icing.
Drizzle the icing over the cooled old-fashioned oatmeal cookies.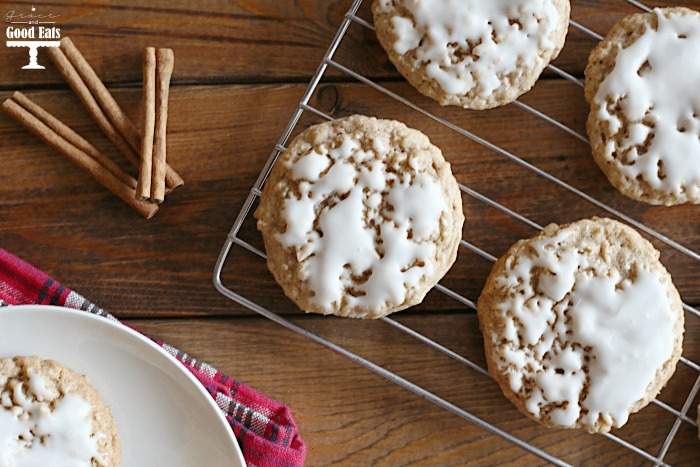 Can I Use Quick Oats?
No, you must use old-fashioned (rolled) oats in these iced oatmeal cookies. Quick oats aren't as chewy and may result in dry cookies.
How to Store Iced Oatmeal Cookies
Store these frosted oatmeal christmas cookies in an airtight container at room temperature. They should last up to 5 days.
Tips for the Best Oatmeal Cookies
Your butter needs to be at room temperature before creaming it together with the sugars. If the butter is still cold, it won't cream properly.
Don't skip the salt in this frosted oatmeal cookies recipe. Don't worry, it won't make the cookies salty! It just enhances the flavor overall.
Be careful not to over bake these old-fashioned oatmeal cookies. 10 to 12 minutes is perfect. Remember that the cookies continue "baking" as they cool on the baking sheet.
More Easy Christmas Cookie Recipes: