Christmas Cookies in a Jar are a great teacher gift or hostess gift to bring to a holiday gathering. Add a delicious cookie recipe to a mason jar and top it with holiday fabric for a simple homemade gift.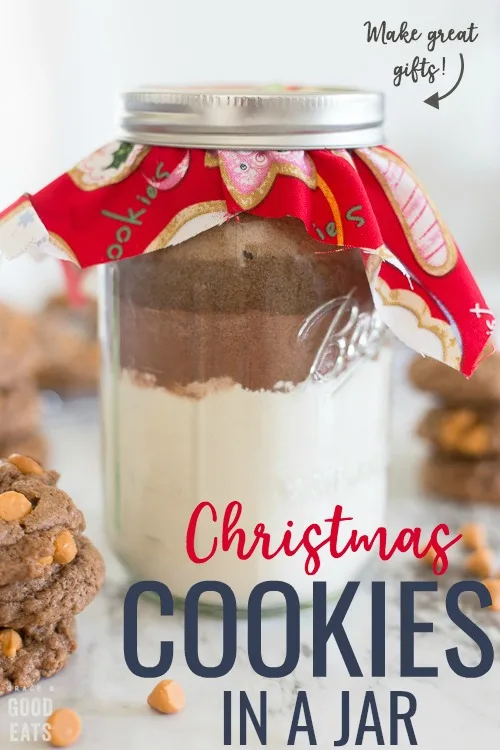 I love homemade gifts at Christmas. Something small and from the heart, and all the better if it involves chocolate. In the years past I have given various things from cranberry bread to chocolate covered pretzels, but these cookies in a jar are one of my favorite items to gift!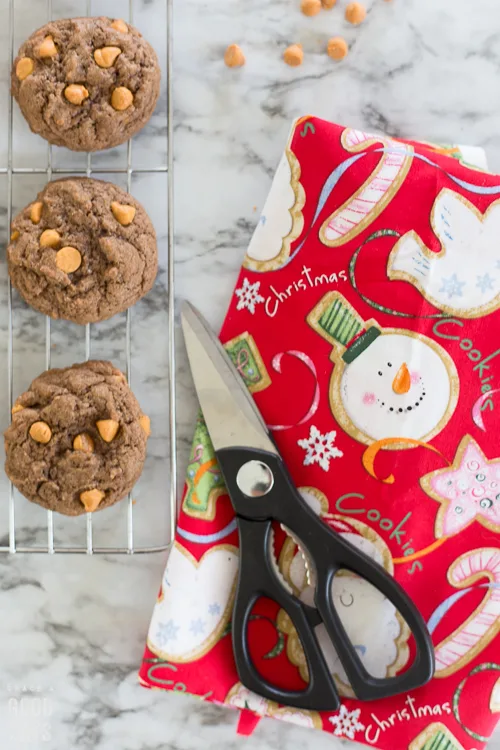 How to Make Cookies in a Jar
To make these giftable cookies in a jar, you will need:
32 oz mason jars (I prefer wide mouth so it's easier to get everything in)
Christmas fabric (I found this "Christmas Cookies" pattern at Hobby Lobby)
If you don't want the BALL logo on your mason jars, I have found completely smooth ones at Hobby Lobby before.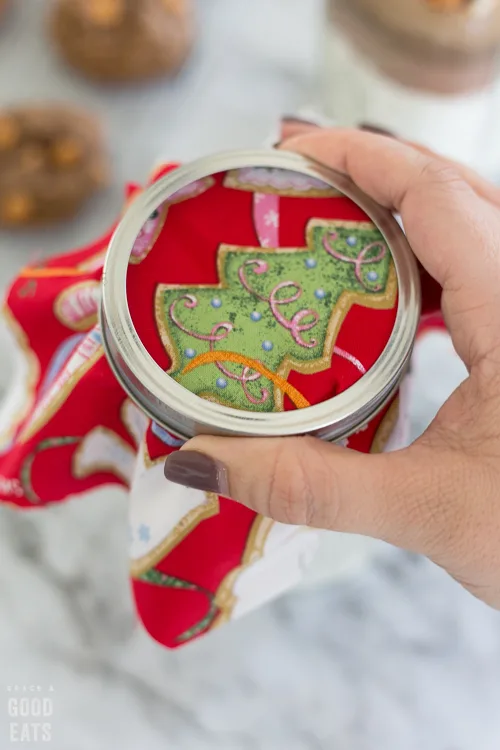 To secure the fabric to the jar: put the silver disc down over the opening, add the fabric on top, and then fasten it all closed using the silver ring. If you didn't want to use fabric like I've done here, you could also tie a ribbon around the neck or add a bow to the top.
Just be sure to also include the baking instructions somewhere!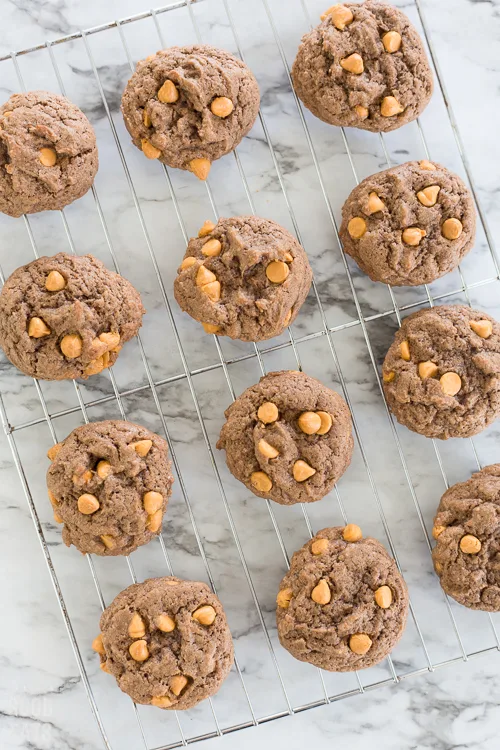 I use this Butterscotch Cookies Recipe for my cookie jars. You can try your favorite cookie recipe, but I can't guarantee it will all fit so look for one with similar measurements. If you're looking for a new cookie recipe to try, check out my Easy Cookie Recipes collection and sign-up for my newsletter to receive a free copy of my Christmas Cookies eBook.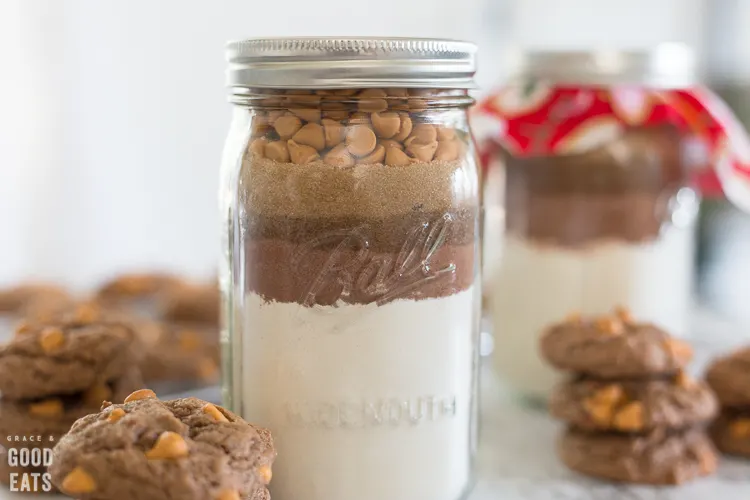 Yield: 1 Jar
Cookies in a Jar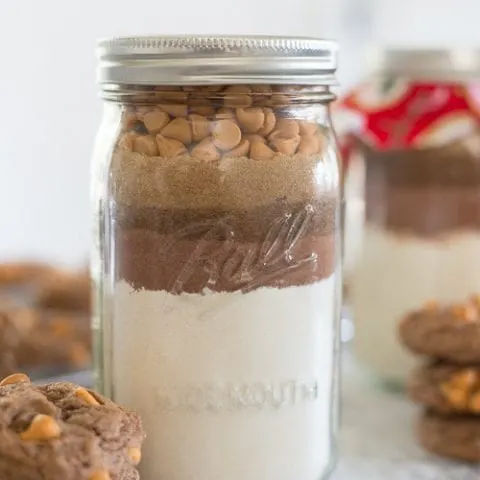 Christmas Cookies in a Jar are a great teacher gift or hostess gift to bring to a holiday gathering.
Materials
32 oz Mason jar
Christmas Fabric
Butterscotch Cookie Recipe: https://www.graceandgoodeats.com/butterscotch-cookies/
Tools
Scissors for fabric or ribbon
Instructions
In a small bowl, whisk together the flour, baking powder, baking soda, and salt. Add this to the jar as the bottom layer.
In a small bowl, combine the cocoa powder and granulated sugar. Add this to the jar as the next layer.
Add the dark brown sugar as the next layer.
Add the light brown sugar as the next layer.
Compact everything as best you can and add the butterscotch chips on top as the final layer. Seal the jar tightly.
To gift: top the mason jar with fabric squares or festive ribbon. Be sure to include baking instructions for using the mix.
Baking directions for using the mix: In a large bowl, combine 3/4 cup cooled melted butter with 3 large eggs and 1 tbsp vanilla extract. Stir in all the contents of the mason jar until mixed. Drop by rounded tablespoons on a baking sheet lined with parchment paper. Bake at 350 degrees for 12-13 minutes or until firm. Cool for 1 minute before transferring to a wire rack and cooling completely.
Notes
Compact each layer as you add it (except for the final one). You can store these jars up to 2 weeks at a cool room temperature.
Recommended Products
As an Amazon Associate and member of other affiliate programs, I earn from qualifying purchases.