These Perfect Yeast Rolls may take a little more time to prepare but they are worth every step!  Baking with yeast is easy with this yeast rolls recipe.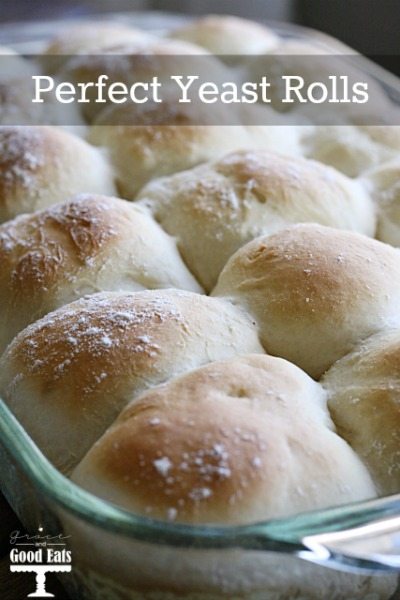 My husband makes these Perfect Yeast Rolls for us every time we host special occasions at our house, or when I actually remember to remind him early enough for dinner. 🙂  They may not be quick 30 minute dinner rolls, but stick with me, they are worth the time!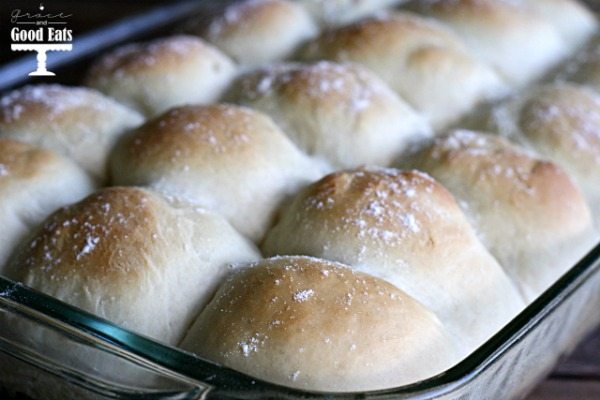 These yeast rolls need time to rise to perfection, but they don't require a lot of fuss.  The result is a fluffy, yeasty, delicious roll.  This recipe can easily be doubled if you need to make a big batch for a crowd.  We always end up with a few extra, and they are delicious the next morning with sausage and gravy.  I like to sneak one fresh from the oven and drizzle it with honey.  YUM.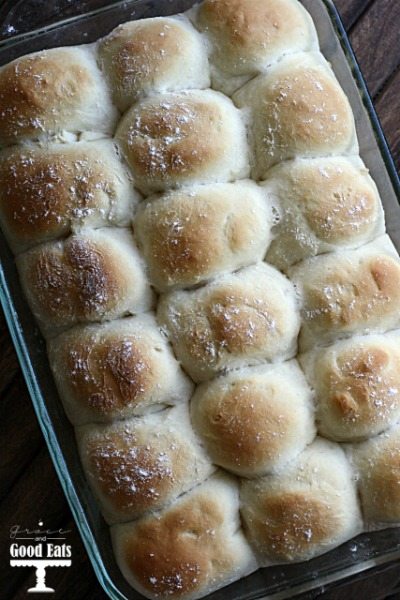 Once you understand the basics of baking with yeast you will be making light, airy, fluffy breads and rolls in no time.  In a nutshell, yeast eats various sugars and excretes alcohol and carbon dioxide. Alcohol and carbon dioxide are what the pockets in bread are filled with as bread bakes.  There are a few varieties of yeast, but this recipe for Perfect Yeast Rolls uses "active" yeast, instead of "instant" yeast.
Yeast Basics:
Active Dry Yeast is the most commonly available form for home bakers.  It's available in ¼-oz packets or jars.  The yeast is dormant, needs to be "proofed" and rehydrated before using.
Instant Yeast comes in smaller granules than active dry yeast, absorbs liquid rapidly, and doesn't need to be hydrated or proofed before being mixed into flour.  (This is what I use for my Jalapeno Cheddar Dinner Rolls.)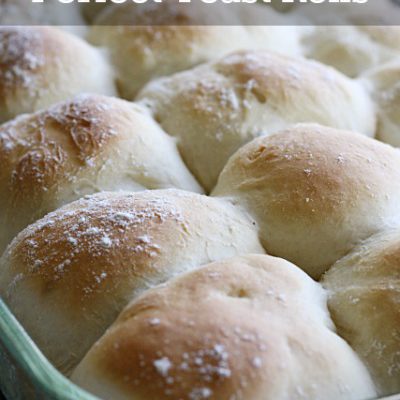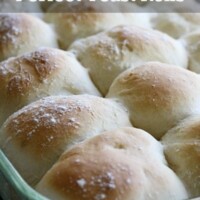 Ingredients
1 1/4

cups

milk

2

tsp

active dry yeast

1/4

cup

sugar

1

egg

1/4

cup

butter

, softened

1

tsp

salt

3 1/2

cups

flour

more as needed
Instructions
Heat the milk in the microwave for one minute, stirring at 30 seconds.

Sprinkle the yeast over the top of the milk, let sit undisturbed for five minutes.

Add sugar, salt, butter, and egg. Mix thoroughly.

Gradually mix in the flour. Add additional flour if needed. The dough should no longer be sticky, but not dry.

Cover; let stand one hour.

Punch the dough down, cover, let stand another hour in a warm place.

Punch the dough down again, cover, let stand another hour in a warm place.

Punch the dough down, and pinch off into 18 equal portions. Should be slightly larger than a golf ball. Roll each portion of dough into a ball.

Place in a greased 13x9 baking dish.

Bake at 400 for 15 minutes.
Nutrition
Serving:
1
roll
|
Calories:
137
kcal
|
Carbohydrates:
22
g
|
Protein:
3
g
|
Fat:
3
g
|
Saturated Fat:
2
g
|
Cholesterol:
17
mg
|
Sodium:
163
mg
|
Potassium:
55
mg
|
Sugar:
3
g
|
Vitamin A:
120
IU
|
Calcium:
25
mg
|
Iron:
1.2
mg