Mulling Spices are a delicious blend of spices used to make drinks such as hot cider, wassail, or mulled wine. Mix up a batch of this simple mulling spices recipe to keep on hand during the fall and winter months!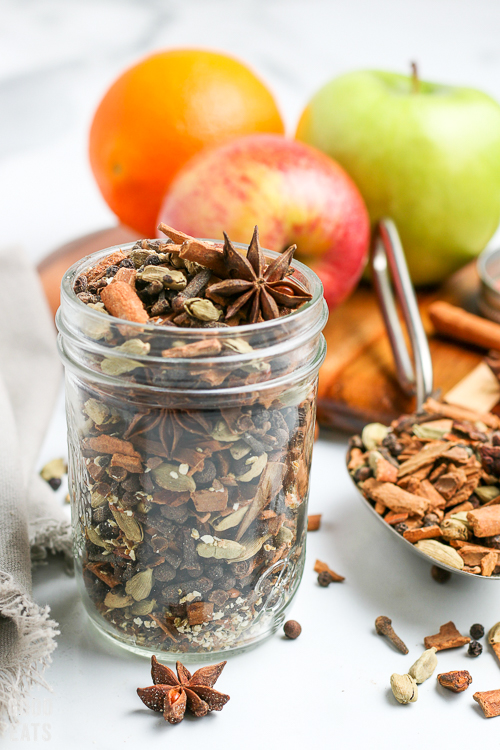 Fall is my most favorite time of year; it's the kickoff of the holiday season- pumpkin recipes, sweater weather, and time around the fire pit. The only downside is that this magical time only seems to last for about two weeks here in Texas- ha. As soon as the temps start to drop, I quickly whip up a batch of these mulling spices to enjoy before it's too late.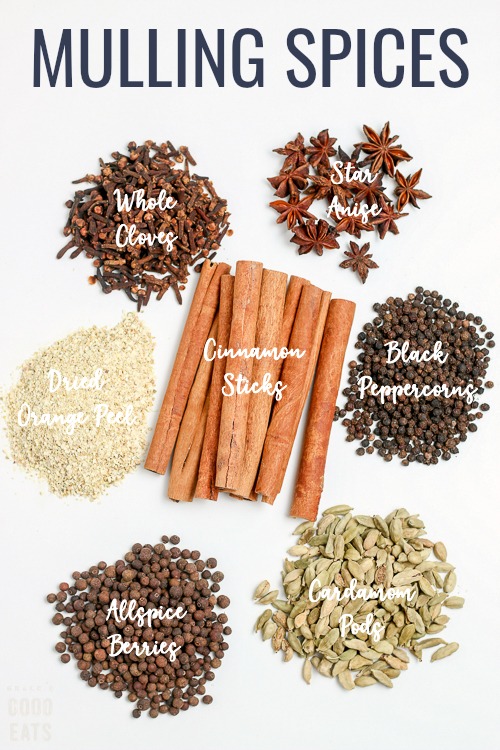 What is mulling spice made of?
Mulling spices is a spice mixture used in drink recipes and as a flavoring or fragrance. The spices are often used to flavor hot apple cider, mulled wine, wassail, and other drinks during the autumn or winter. A "mulled" drink is a drink which has been prepared with these spices.
To make this easy mulling spices recipe, you will need:
Cinnamon sticks
Star anise
Black peppercorns
Cardamom pods
Allspice berries
Dried orange peel
Whole cloves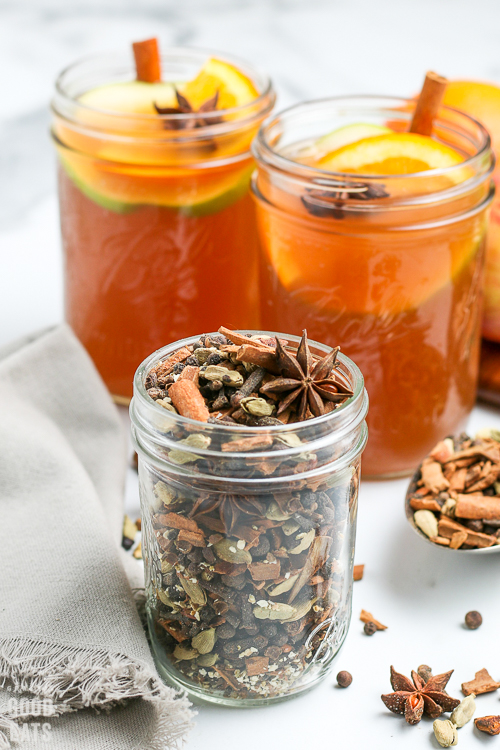 How to make mulling spices
This recipe is super simple, but not quite just mix and go. There's one extra step (crushing the spices) that is important to get the best results.
Add everything except the orange peel and black peppercorns to a plastic bag.
Use a wooden rolling pin to gently crush the spices.
Add the crushed spices with orange peel and black peppercorns to a bowl and toss to mix well.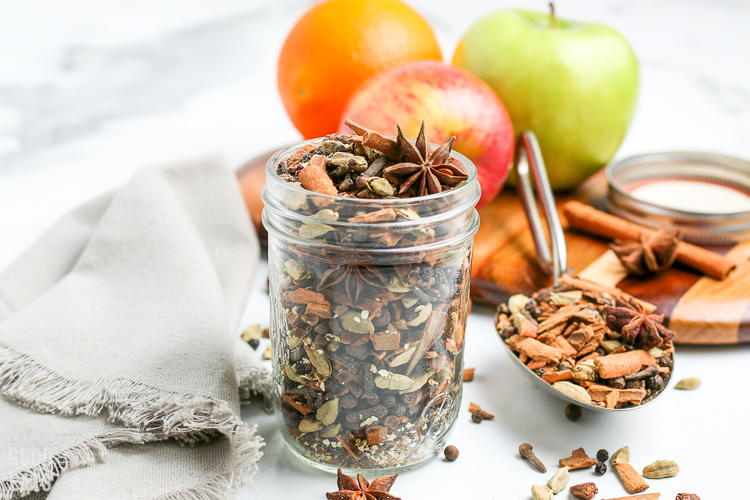 How to Use Mulling Spices
Probably the most popular way to use mulling spices is for hot drinks like hot mulled cider or mulled wine.
How to make hot mulled cider with mulling spices: add the spices to a sauce pan with fresh, unfiltered apple cider. Sweeten to your liking with brown sugar or honey. Use a fine mesh sieve to filter out all of the spices. Serve with a cinnamon stick in each cup and top with a splash of bourbon, brandy, or rum to spike it up!
How to make mulled wine with mulling spices: similar to the process above, but substitute a bottle of dry red wine for the apple cider. Be careful not to boil the wine or you will cook off the alcohol, you want the mulled wine to simmer gently.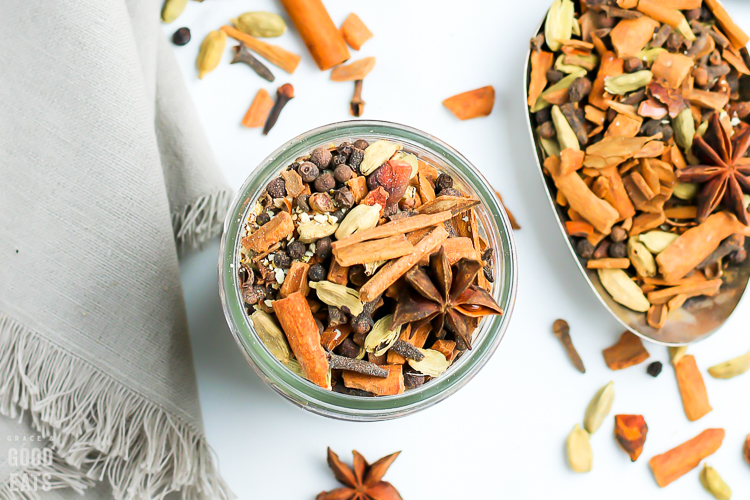 Ways to Use Mulling Spices that Aren't Drinks
Add a few scoops of this mulling spice to a pot with 8 cups of water and bring to a boil. Reduce the heat to low and simmer up to four hours for a yummy fall fragrance. I love to do this during parties!
Simmer maple syrup and with mulling spices (contained in either a spice bag or sachet) over low heat 5 minutes. Cover and chill 24 hours. Discard the spice sachet and store in refrigerator up to 2 weeks. Serve warm with pancakes or waffles!
Make a giftable spice bag. Add a scoop or two of this mulling spice to a square of cheesecloth and use a ribbon to tie.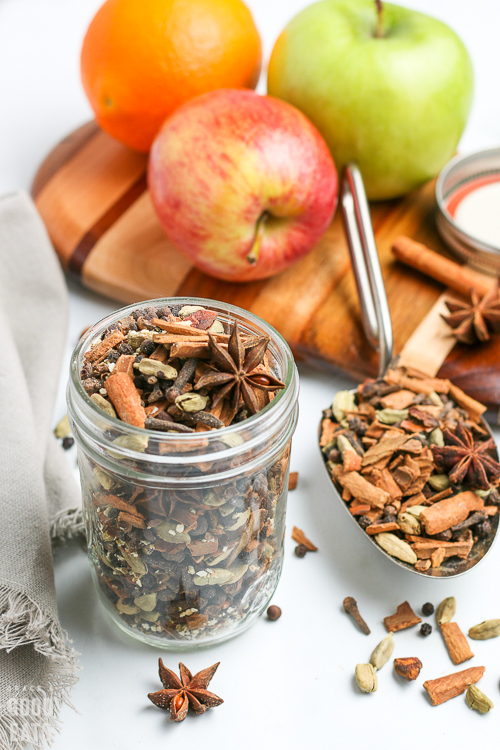 How Long Do Mulling Spices Last?
Spices don't necessarily "go bad" but they do lose flavor as they age. Basically, the longer spices exist, the less flavorful they are. Bon Appetit recommends that you shouldn't keep ground spices for more than three months and whole spices for more than eight to ten. Be sure to store these mulling spices in an airtight container.
More Delicious Fall Drinks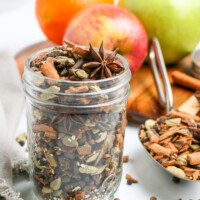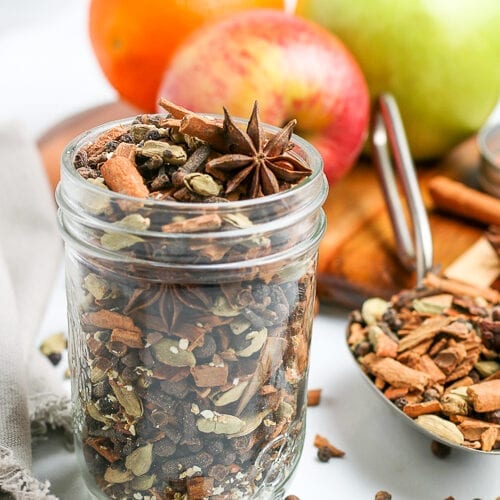 Ingredients
3

oz

cinnamon sticks

1/2

cup

cardamom pods

1/4

cup

allspice berries

1/4

cup

whole cloves

1/4

cup

star anise pods

1/3

cup

dried orange peel

store bought or dried in oven

1/4

cup

black peppercorns
Instructions
Place cinnamon sticks, cardamom pods, allspice berries, cloves, and star anise in large resealable bag.

Add orange peel and peppercorns to bag and toss to mix well.

Store in airtight container.
Nutrition
Calories:
637
kcal
|
Carbohydrates:
153
g
|
Protein:
20
g
|
Fat:
17
g
|
Saturated Fat:
3
g
|
Sodium:
131
mg
|
Potassium:
2309
mg
|
Fiber:
69
g
|
Sugar:
2
g
|
Vitamin A:
653
IU
|
Vitamin C:
54
mg
|
Calcium:
1383
mg
|
Iron:
31
mg