This easy to follow recipe makes the best homemade pancakes. These pancakes are light and fluffy, with just a hint of sweetness, but not too much that you can't still drown them in delicious maple syrup! I've included tips below and a video to help answer any questions on how to make pancakes from scratch. This post contains affiliate links.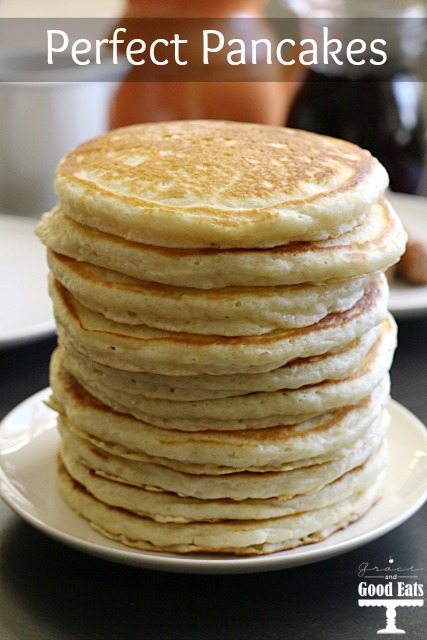 I know food bloggers have a bad rap for throwing around the phrase "best ever" a little too frequently. Friends. Look at my eyes… these pancakes are the real deal. I've been searching for the best pancake recipe ever, and I've finally perfected it. Thick and fluffy, with a hint of sweetness, but not too much so you can still drown them in syrup.
This is one of my favorite go-to recipes because I always have what I need to make it on hand. I love that it only requires a few simple ingredients, takes only a few minutes to make, and tastes a million times better than box mix.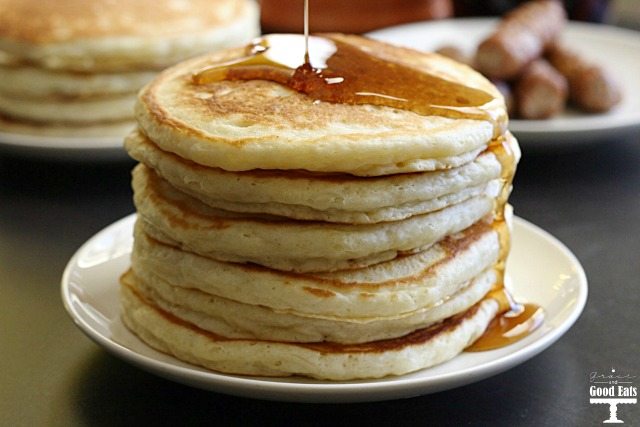 You know when you makes pancakes you always have that first sacrificial pancake? The one that either gets burned to a crisp or is white and raw in the middle? Not anymore. This recipe makes ten perfect fluffy pancakes every single time.
How to Cook Perfect Pancakes
There are a few tricks that can help: if you're using a skillet, make sure you have even heat. Let your pan heat up while you make the batter; an easy way to test if your pan is ready is by flicking a tiny bit of water onto the pan. If it's hot and ready to go the water will sizzle immediately.
Always spray your pan with a little bit of nonstick spray to keep your pancakes from sticking (Yes, even in non-stick pans. I've also tried butter, but it does change the surface of the pancake, so I prefer nonstick spray, like Pam.)
I received an Electric Griddle
for Christmas- and I highly recommend it! I love being able to to set the temp (I use 325 degrees) and make multiple pancakes at once. It also makes perfect eggs- so smooth, no crispy edges or skirt. Griddles really do make the best pancakes (i.e. "griddle cakes").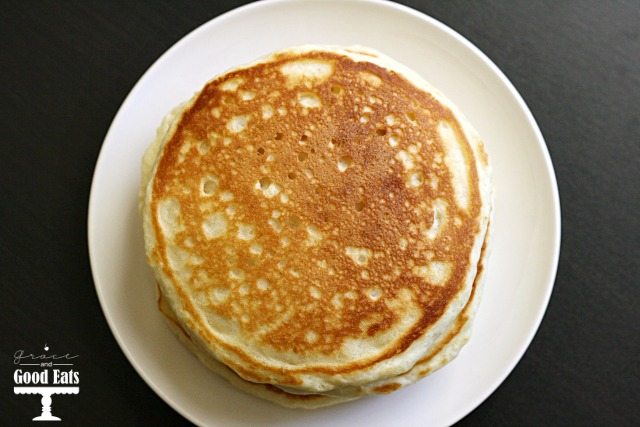 How to Pour Pancake Batter
Another tip for perfect pancakes is to use a 1/4 cup measuring cup
to scoop your batter. This way you get happy, uniform, homemade pancakes. When I add the batter to the griddle I start from the center and gently pour in a circular movement to help the batter spread into a nice round circle.
Keep in mind that this pancake batter will be very thick. This is what you want! There is no need to thin it out with more milk or liquid. It will be thick! It won't "pour" like boxed mix, it will scoop. Use a measuring cup to scoop the batter onto the griddle.
How to Flip the Perfect Pancake
Don't rush your pancakes- let that first side get gorgeously golden brown. You'll know they're ready when bubbles start to form and pop on the top (the uncooked side).
To get a perfect flip without batter sliding around, be sure to purposefully shove your spatula (I like silicone or plastic, not metal) all the way underneath and use your wrist to turn them over.
My husband taught me that. I was flipping them using my whole arm, instead of a gentle turn of the wrist, which was resulting in lopsided pancakes.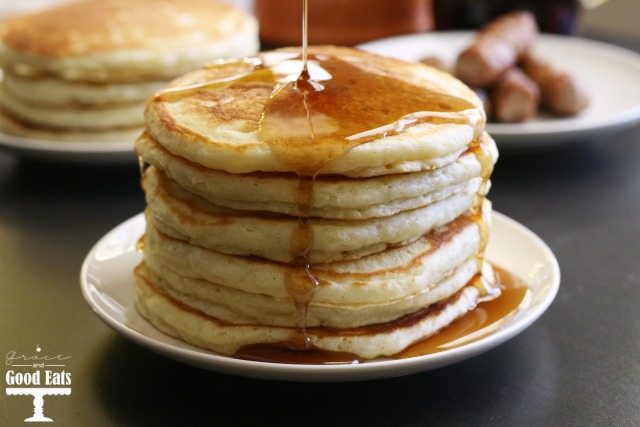 Delicious Pancake Toppings
If maple syrup isn't your thing, slather these homemade pancakes with Homemade Strawberry Butter! We also like to top them with this Homemade Blueberry Syrup.
My oldest loves when I add blueberries in the batter and my younger two love chocolate chips. Honestly, I usually end up eating mine plain, straight off the griddle, because they're just that good!
Note: When I add blueberries, I mix them directly into the batter. Coating them in the batter helps prevent them from bursting (and making a huge mess on my griddle). When I add chocolate chips, I scoop the batter onto the griddle and then immediately sprinkle the chocolate chips directly on top.
Common Questions / Recipe Tester Notes
Can this pancake recipe be used to make waffles? Yes! The ratios need to be changed up slightly, but this recipe can be used to make homemade waffles. Get my Fluffy Waffle Recipe here.
Can this pancake recipe be made into mini pancakes or "silver dollar" pancakes? Yes! I have used this recipe to make miniature pancakes before. Mini pancakes are perfect for kids, a pancake breakfast bar, or to serve at brunch. Get tips on how much batter to use and more in this post: Strawberry Banana Pancake Skewers.
Can this pancake recipe be made with buttermilk? Yes! Just sub out the whole milk for buttermilk. You can really use whatever milk you have on hand (skim, 2%). I have not tried it with milk alternatives, like cashew or almond, but these should be okay also. In fact, I use buttermilk (or a "cheater" lemon/milk mixture) in these Blueberry Buttermilk Pancakes.
Can this pancake batter be made ahead of time? No. Most baking powder sold today is double acting, which means that the first leavening occurs when the baking powder gets wet. (The second leavening occurs when the baking powder is heated.) You may notice that after you mix the dry ingredients with the wet, the batter may "puff up" some in the bowl. The longer is sets without being heated up, the more it will lose that initial rise.
Baking Powder vs Baking Soda
I get comments all the time about the amount of baking powder in this recipe. This recipe calls for 3 1/2 teaspoons of baking powder. Teaspoons NOT tablespoons. Baking powder NOT baking soda.
No, using that much baking powder will not make the pancakes taste weird or metallic. I promise you I make this recipe weekly. It has been rigorously tested and duplicated by many. This recipe is solid.
That said, apparently some people are sensitive to the taste of some baking powders. (Much like how some people think cilantro tastes like soap and others love it.) If you are sensitive to baking powder, I would recommend buying an aluminum-free baking powder.
Learn more about the differences between baking powder and baking soda here, like how to test if your baking powder is still good. Baking powder should really be replaced every three months for best results.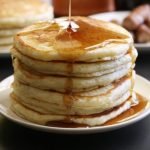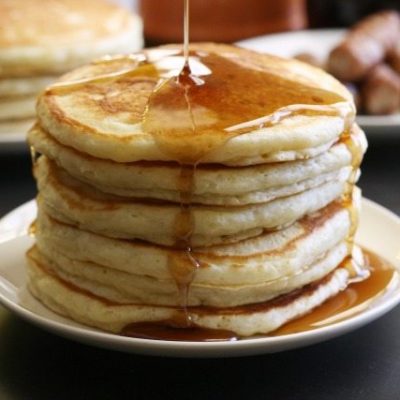 Print Recipe
Best Ever Homemade Pancakes Recipe
Simple ingredients and a few minutes time is all you need to make these perfect, homemade pancakes.
Ingredients
1 1/2

cups

all-purpose flour

3 1/2

teaspoons

baking powder

1/2

teaspoon

salt

1/4

cup

sugar

1 1/4

cups

whole milk

1

egg

3

tablespoons

butter

melted
Instructions
Melt the butter in microwave for 30 seconds, set aside.

In a medium bowl, mix together flour, sugar, salt, and baking powder.

Stir milk and egg together.

Create a well in the center of the flour mixture.

Pour the butter and milk mixture into the well.

Use a wire whisk to stir everything together until just combined. It will be slightly thick and lumpy, but should be well incorporated.

Allow the batter to rest while heating a lightly oiled skillet or griddle to medium high heat.

Pour or scoop the batter onto the griddle, using approximately 1/4 cup for each pancake.

Cook each side for 3-6 minutes, until lightly golden brown.
Notes
Feel free to add a teaspoon of vanilla extract when you add the wet ingredients to the dry.
Nutrition
Serving:
1
pancake
|
Calories:
139
kcal
|
Carbohydrates:
19
g
|
Protein:
3
g
|
Fat:
5
g
|
Saturated Fat:
3
g
|
Cholesterol:
31
mg
|
Sodium:
183
mg
|
Fiber:
1
g
|
Sugar:
6
g