Delicious homemade blueberry syrup made with only three ingredients. Perfect for pancakes, waffles, or even over ice cream!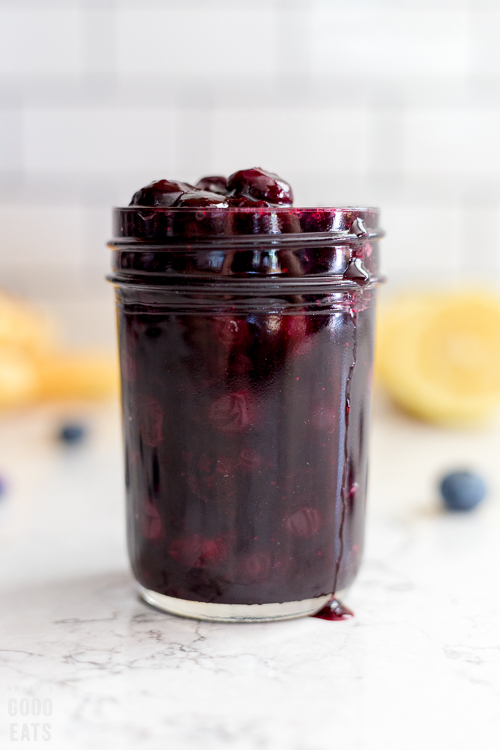 I recently discovered Costco — I know, where have I been? We got a membership a few months ago but I wasn't really utilizing it fully. I finally got a chance to go sans children and go up and down every aisle to see everything they offered. I told my husband that I was "just going to browse" and he quickly quipped back that we don't have money for that. Ha — apparently he knows me too well, because I came home with about $50 worth of fruit.
They had SO much organic produce to choose from. I came home with mangoes, cherries, blackberries, and blueberries. They had gorgeous flats of strawberries and plums that smelled fresh from the farm, but I had to draw the line somewhere.
Fruit is one area that I don't mind buying in bulk because my family goes through it in no time. Turned out though that I had already bought blueberries from our local grocery, so I had PLENTY of blueberries to go around. I decided to use some of them up in this delicious homemade blueberry syrup.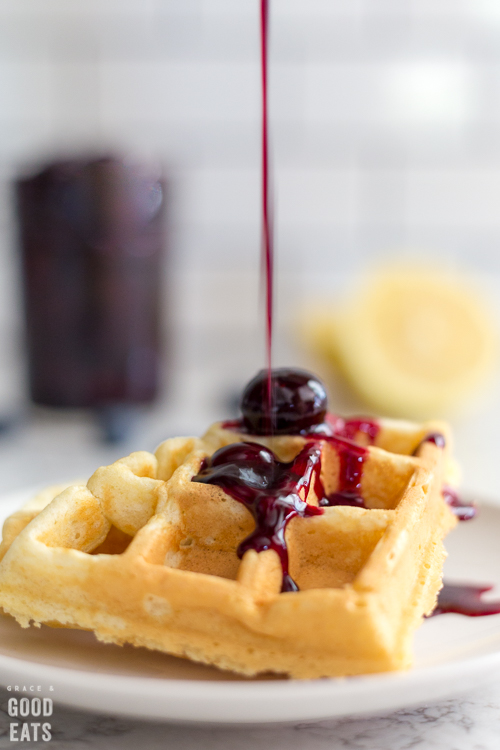 What's in Blueberry Syrup?
To make this homemade blueberry sauce, you'll need the following:
Blueberries
Granulated sugar
Lemon juice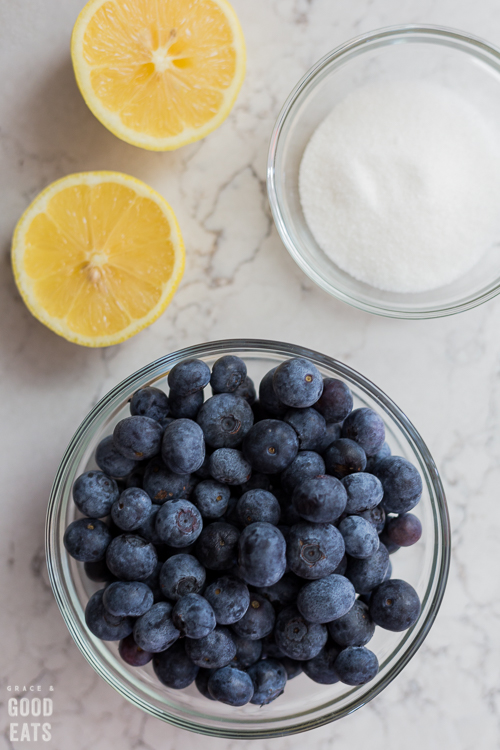 How to Make Blueberry Syrup
Add all the ingredients to a saucepan.
Bring the mixture to a boil.
Reduce the heat and cook for 8 to 10 minutes.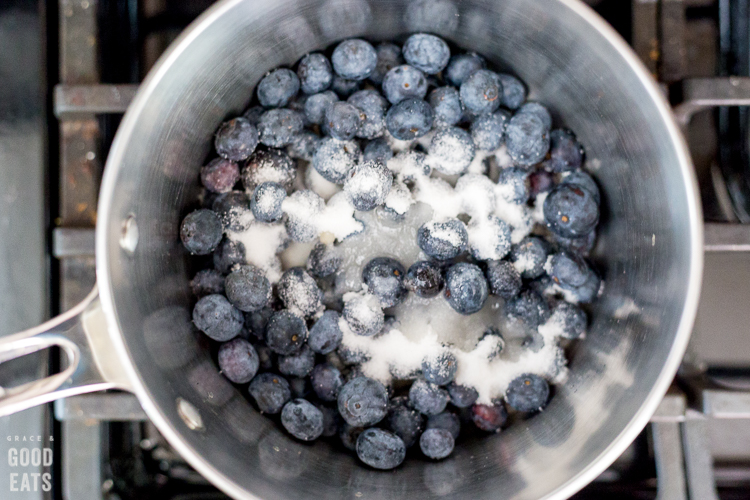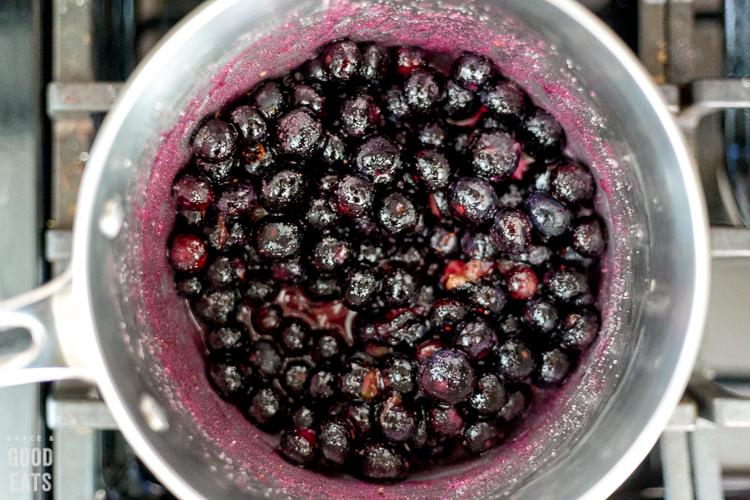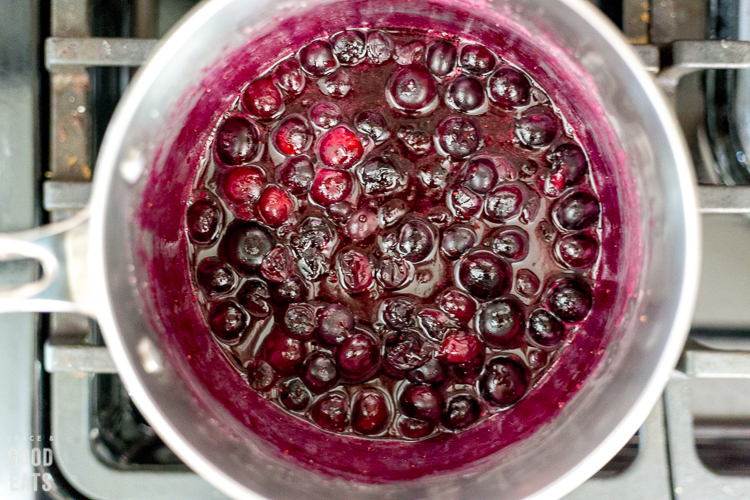 Can I Use Frozen Blueberries?
I imagine you could use frozen berries to make this homemade blueberry syrup, but I've only used fresh before so I can't say for certain. Frozen blueberries may result in a more watery syrup.
Ways to Use Blueberry Syrup
There are so many wonderful ways to enjoy homemade blueberry sauce. Think: blueberry pancake syrup, waffle syrup, and more! If you need some ideas on how to use this blueberry syrup, here are some of my family's favorite ways to eat it: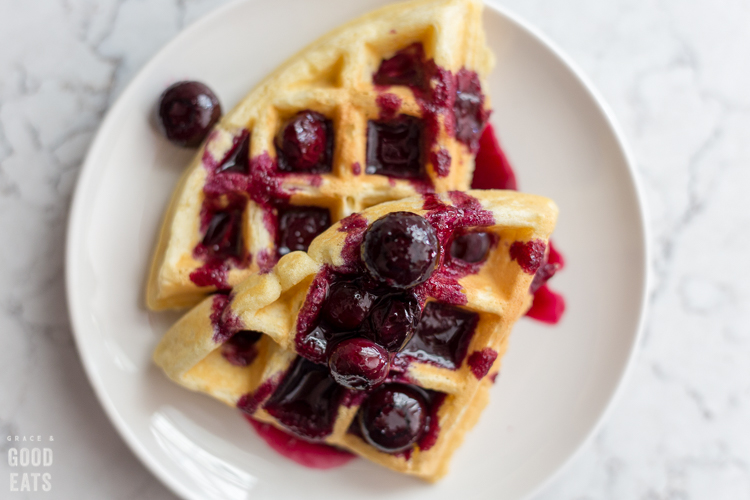 Tips for Making Homemade Blueberry Sauce
There's no need to add any water to the saucepan. The blueberries burst quite quickly and release plenty of juices on their own.
Note that I don't strain this homemade blueberry syrup when I make it. The skins break down enough while cooking in the saucepan that I don't notice them when enjoying this syrup.
I imagine you could freeze homemade blueberry syrup and thaw it in the fridge overnight when you're ready to eat.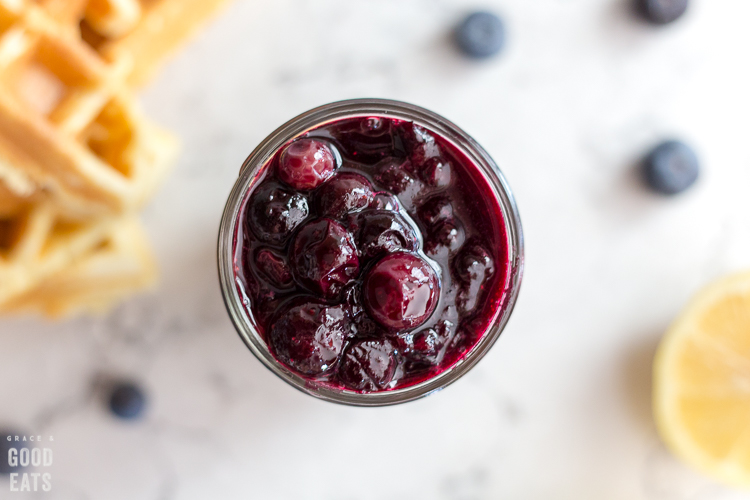 More Blueberry Recipes: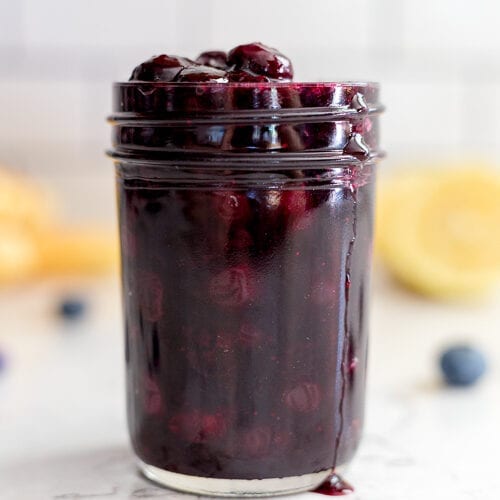 Ingredients
2

cups

blueberries

1/4

cup

granulated sugar

1

tbsp

lemon juice
Instructions
Combine all ingredients in a small saucepan.

Stir continuously until the blueberries begin to darken and bubble; reduce to a simmer, and cook until most of the berries have burst, about 8 to 10 minutes.
Nutrition
Calories:
365
kcal
|
Carbohydrates:
93
g
|
Protein:
2
g
|
Fat:
1
g
|
Sodium:
3
mg
|
Potassium:
227
mg
|
Fiber:
7
g
|
Sugar:
79
g
|
Vitamin A:
160
IU
|
Vitamin C:
34.5
mg
|
Calcium:
18
mg
|
Iron:
0.8
mg