Use this Fluffy Waffle Recipe to make thick, fluffy waffles without the hassle of beating egg whites! Make a double-batch and freeze for homemade waffles in minutes.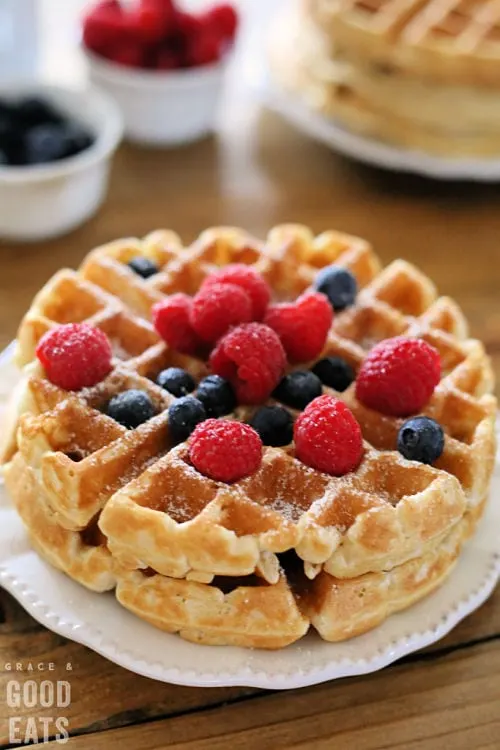 Fluffy Belgian Waffles From Scratch
I received a waffle maker for Christmas a few years ago but the poor thing has been collecting dust in a cabinet ever since. I love homemade waffles (all.the.breakfast foods, really) but just about every recipe I find calls for separating the eggs and beating the egg whites.
And, honestly, that whole process beats me down. What I love about my Homemade Pancakes is that I don't have to get out my stand mixer, I always have the ingredients on hand, and they're so easy that even my two-year-old can help make them.
I expect the same from my waffles!
Once I realized that was all that was holding me back from golden-brown waffle goodness, I set out to develop a fluffy waffle recipe that wasn't so cumbersome. In fact, this Belgian waffle recipe uses the same simple ingredients as my homemade pancake recipe with only a few changes to the amounts.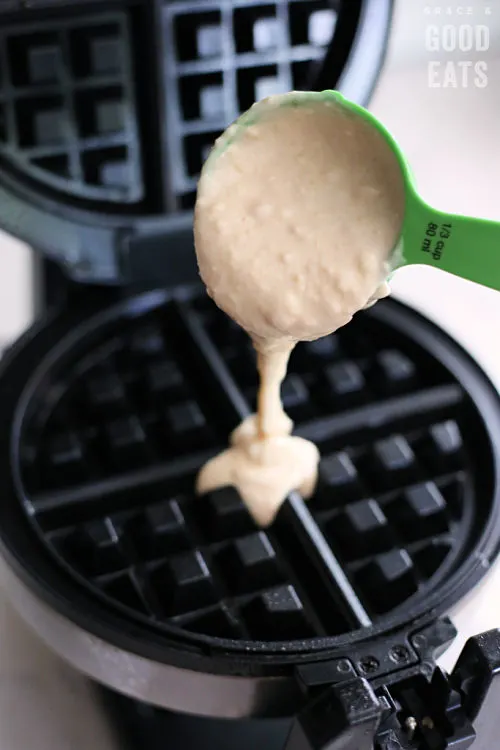 What is a Belgian Waffle?
In North America, Belgian waffles are typically made with a lighter batter — traditionally a yeasted batter, though baking powder is often used today. Belgian waffles are also made using a Belgian waffle iron, which results in larger squares and deeper pockets than traditional American waffles.
Belgian waffles are not to be confused with the different varieties of waffles found in Belgium, like the Brussels waffle or liege waffle.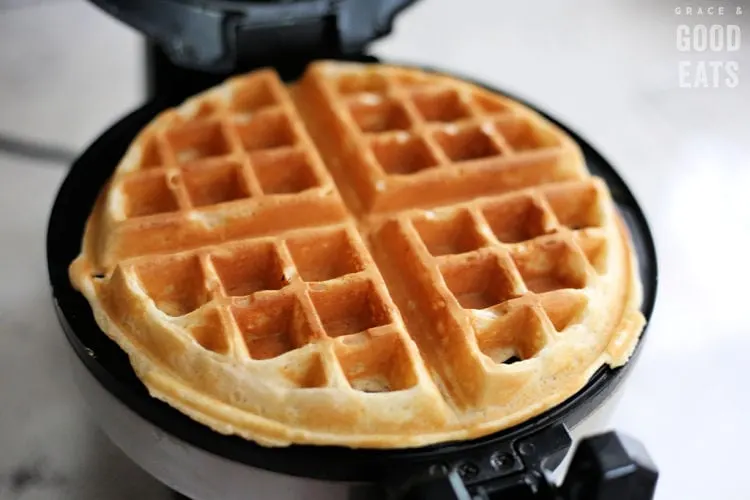 What's in These Homemade Waffles?
This is such an easy waffle recipe that requires minimal ingredients. Here's what you'll need to make the BEST waffles:
All-purpose flour
Granulated sugar
Baking powder
Salt
Eggs
Milk
Unsalted butter
Vanilla extract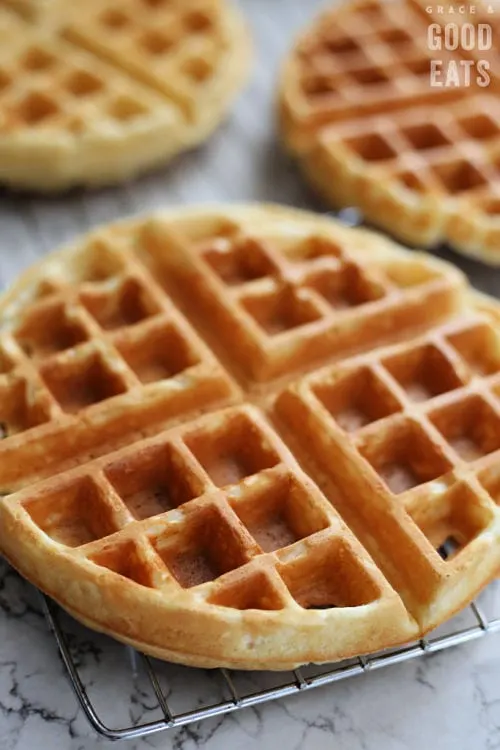 How to Make Waffles From Scratch
In a large bowl, whisk together the dry ingredients.
Make a well in the center and add the wet ingredients.
Mix until combined.
Pour the waffle batter onto a preheated waffle iron and cook evenly.
Serve immediately, or let cool before storing for later.
Tip: These homemade waffles taste delicious topped with Strawberry Butter or Blueberry Syrup.
Can You Make Waffles Without a Waffle Iron?
Honestly, I've seen people ask that on other waffle recipes. There's all kinds of YouTube videos and kitchen "hacks" to help. My question is: can you still call it a waffle if you didn't use a waffle maker?
I say, no. Buy the dang waffle maker. Now that you have this super simple waffle recipe, yours won't sit lonely in a cabinet! (This is similar to the Belgian Waffle Maker I have. The ability to flip the waffles over is supposed to help create fluffy and evenly browned waffles.)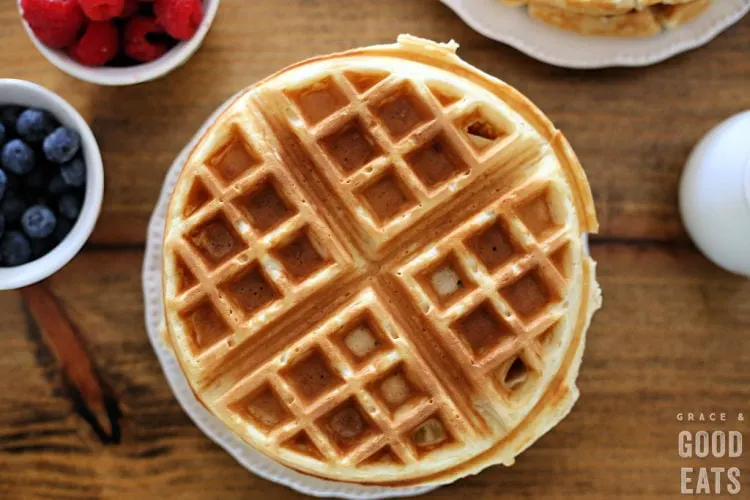 How to Freeze Waffles
Most mornings I try to make my kiddos a hot breakfast but sometimes we're running late and only have time for a bowl of cereal. I try to keep my freezer stocked with a batch of these for emergencies! Waffle emergencies. Totally a thing.
To Freeze the Waffles: Freeze the waffles in a single layer until hard (so they don't stick together), then slip them into an air-tight plastic bag and stash them for several weeks in the freezer. Ours never last that long!
How to Reheat Waffles
Remove them from the freezer and pop them into the toaster (a 1/4 section at a time) or into a toaster oven. Sometimes using the toaster can make the waffles "crunchy;" when this happens, you can either lower the heat settings or pop them in the microwave for 15-20 seconds to soften them up after toasting.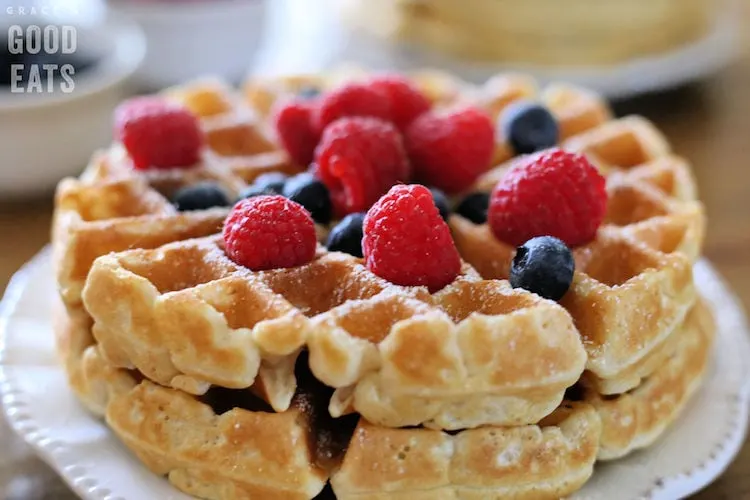 Recipe Tester Notes on Making Homemade Waffles
As you pull the warm waffles off of the waffle maker, don't stack them as you would pancakes. These waffles will do better when placed on a wire baking rack in a single layer to prevent them from getting soggy.
Yes, four teaspoons of baking powder. No, that is not a typo. Use quality baking powder that isn't expired. If you can't remember the last time you bought some, it's probably time to replace it. It will not make the waffles taste metallic, baking powder should not have a taste. It is simply a leavening agent.
I used a scant 2/3 cup of batter for each 1-inch waffle. This will vary based on the size of your waffle maker. Don't worry about filling the entire surface, the waffles will puff up some as they bake. You want to shoot for about 3/4 of the griddle surface to be covered.
More Easy Breakfast Recipes: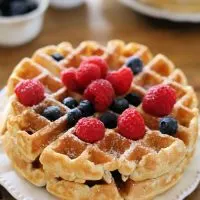 Ingredients
2

cups

all-purpose flour

4

tbsp

granulated sugar

4

tsp

baking powder

1/2

tsp

salt

2

eggs

1 1/2

cups

milk

6

tbsp

unsalted butter

, melted

1

tsp

vanilla extract
Instructions
Preheat waffle iron. Gently coat with nonstick baking spray.

In a large bowl, combine the flour, sugar, baking powder, and salt. Use the back of a spoon to create a "well" in the center.

Whisk the two eggs into the milk until well combined.

Pour the wet ingredients (butter, milk/egg mixture, vanilla) into the well of the dry ingredients and whisk until blended. (Note: the batter will be slightly lumpy, do not over-mix.)

Scoop the batter into the preheated waffle iron and cook until the waffles are golden brown and crisp. (About 2-3 minutes, but this will vary wildly depending on your waffle maker.)

Serve immediately or lay on a wire cooling rack until cool. Store leftovers in an airtight bag in the freezer.

Nutrition
Serving:
1
waffle
|
Calories:
417
kcal
|
Carbohydrates:
53
g
|
Protein:
9
g
|
Fat:
18
g
|
Saturated Fat:
10
g
|
Cholesterol:
109
mg
|
Sodium:
295
mg
|
Potassium:
578
mg
|
Fiber:
1
g
|
Sugar:
13
g
|
Vitamin A:
640
IU
|
Calcium:
277
mg
|
Iron:
3
mg
This post was published September 26, 2018 and updated August 15, 2019.