These Blueberry Buttermilk Pancakes are perfect for Sunday morning! Homemade pancakes that are sweet, fluffy, and bursting with blueberries. (Don't worry if you don't have any buttermilk, this recipes uses the "buttermilk substitute" of milk and lemon.)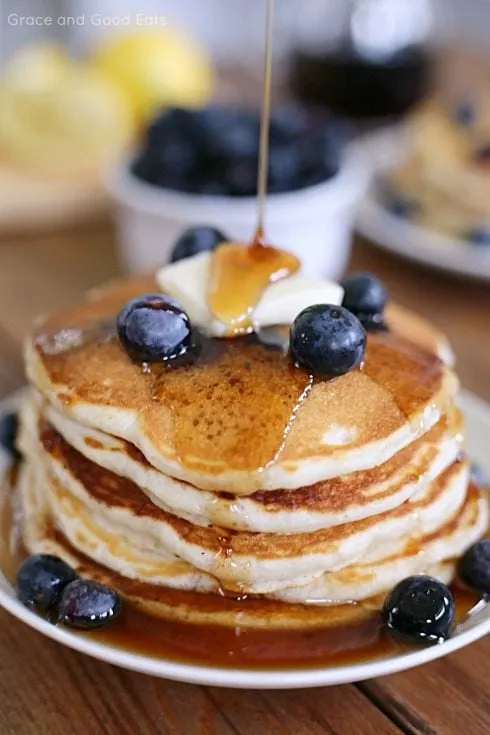 This Best Ever Pancake Recipe is consistently my #1 most searched for and loved post. And for good reason. That recipe produces perfect pancakes every time. I seriously make those pancakes from scratch several times a month (we LOVE breakfast for dinner around here) and they're so easy that even my kids can make them now without looking at the recipe.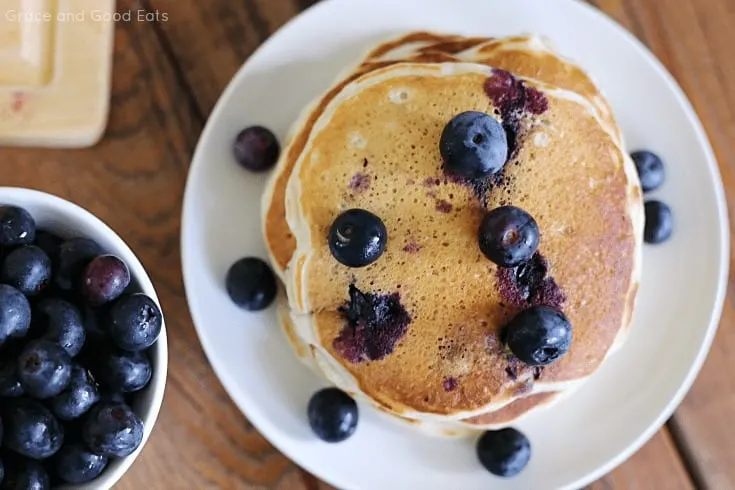 Last weekend we ventured to a small family farm up the road to pick fresh blueberries. I say small, but size is all relative in the country. This farm is actually 110 acres- with almost 10 acres of mature pecan trees and 5 acres full of blueberry and blackberry bushes. It was such a cute experience and I absolutely loved watching Ian pick his own blueberries with his chubby little hands and put them in his own basket. (See all of those a-d-o-r-a-b-l-e pictures and more from our outing here.)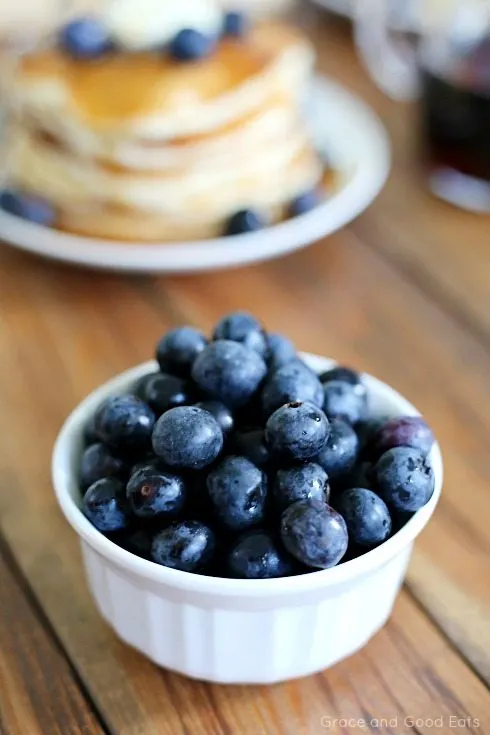 I get a lot of questions (or suggestions? haha) about using buttermilk in my original pancake recipe. While we tend to prefer that recipe just the way it is, I decided to try it in this recipe for blueberry buttermilk pancakes. I rarely keep buttermilk on hand though, so I went ahead and made this recipe using the "buttermilk substitute" trick of mixing whole milk and lemon juice. It worked beautifully.
If you do have buttermilk available, just substitute that for the whole milk and leave out the lemon juice. (Use 1 1/4 cup buttermilk instead of milk + lemon juice.) The role of buttermilk in recipes such as this is to cause a chemical reaction with the leavening agent (baking powder or soda) which adds a light and airy texture. Substituting milk with lemon juice for buttermilk will create a similar result due to the acidity from the lemon juice.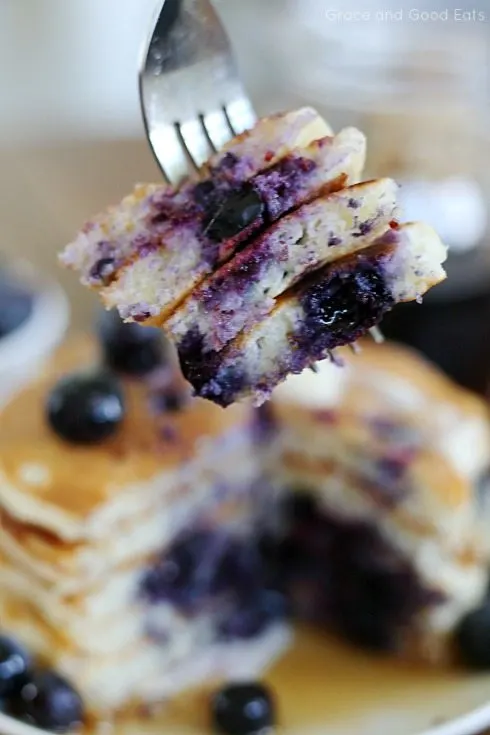 Be sure to hop over and give that post for homemade pancakes a quick read though because I answer a lot of questions about which griddle I use and what I set my temperature at, why I use cooking spray instead of butter, and how to flip the perfect pancake.
Pro tip: I like to mix my blueberries into the batter completely, rather than add them to the pancake mix on the griddle (ie: dropping them in after the batter has already been scooped onto the griddle). I do this mostly because if the blueberries touch the griddle directly they will make a big mess. The pancake batter "insulates" them from the heat a bit so you get perfectly soft, warmed blueberries in every bite instead of mushy hot blueberries that explode all over your griddle.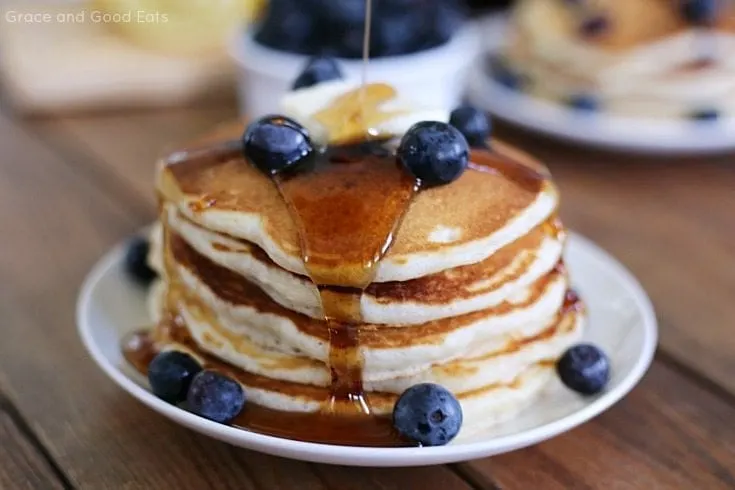 Here's a quick video on how to make these Blueberry Buttermilk Pancakes:

If you liked this recipe then you will love these Ham and Cheese Pancakes and Pancake Parfait Tacos, I know my family and I do.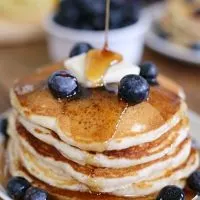 Ingredients
1 1/2

cups

all-purpose flour

3 1/2

tsps

baking powder

1/2

tsp

salt

1/4

cup

sugar

1 1/4

cups

whole milk

2

tbsp

lemon juice

zest from one lemon

1

egg

3

tbsp

butter,

melted

3/4

cup

blueberries,

fresh

1

tsp

vanilla
Instructions
Melt the butter in microwave for 30 seconds, set aside.

In a medium bowl, mix together flour, sugar, salt, and baking powder.

Stir milk and lemon juice together. Add in the lemon zest. Set aside for 5-10 minutes.

Create a well in the center of the flour mixture.

Pour the butter, vanilla, egg, and milk mixture into the well.

Use a wire whisk to stir everything together until just combined. It will be slightly thick and lumpy, but should be well incorporated.

Gently fold in the blueberries.

Allow the batter to rest while heating a lightly oiled skillet or griddle to medium high heat.

Pour or scoop the batter onto the griddle, using approximately 1/4 cup for each pancake.

Cook each side for 3-6 minutes, until lightly golden brown.
Notes
Note: This recipe yields more pancakes than my original (10) pancake recipe because the blueberries work to thin the batter a bit. I can usually get 12-15 pancakes from this recipe depending on the scoop.
Nutrition
Serving:
1
pancake
|
Calories:
101
kcal
|
Carbohydrates:
15
g
|
Protein:
2
g
|
Fat:
3
g
|
Saturated Fat:
1
g
|
Cholesterol:
19
mg
|
Sodium:
111
mg
|
Potassium:
144
mg
|
Sugar:
5
g
|
Vitamin A:
125
IU
|
Vitamin C:
1.5
mg
|
Calcium:
68
mg
|
Iron:
0.7
mg
These fluffy Blueberry Buttermilk Pancakes pancakes are delicious with a pat of butter and traditional drizzle (or drowning) of maple syrup, but feel free to take them to the next level with this Homemade Blueberry Syrup.