Pancake Parfait Tacos filled with yogurt, granola, apples, and strawberries and topped with a drizzle of honey. Serve with breakfast potatoes or scrambled eggs for an easy, kid-friendly breakfast! This is a sponsored conversation written by me on behalf of Omni Hotels & Resorts. The opinions and text are all mine.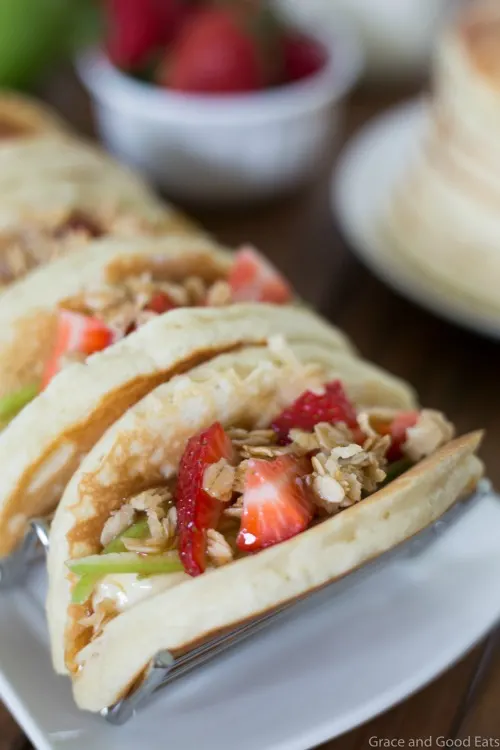 Does anyone else feel a little extra pressure… or, panic… set in during the month of May? For me, it's the realization that the school year is coming to an end and soon my kids will be home with me. All day. Asking for snacks and telling me they're bored every five minutes. Alllllllll day.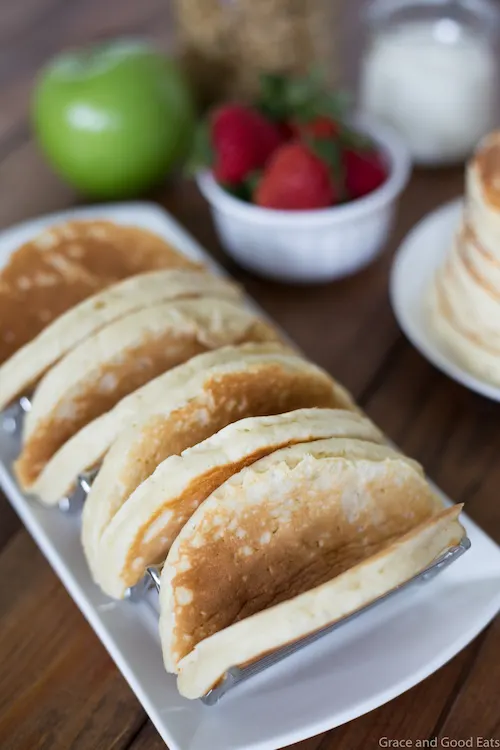 Joking aside, I do like to go into the summer with a battle plan. My kids (and I) thrive on a schedule which includes me scheduling in some extra fun. Fun breakfasts, like these Pancake Parfait Tacos, that we don't always have time for during the school year is one of the ways I like to do that.
Not only are they delicious but they're also perfect to make with little helpers. A nutritious breakfast + kid-friendly activity = winning at summer break.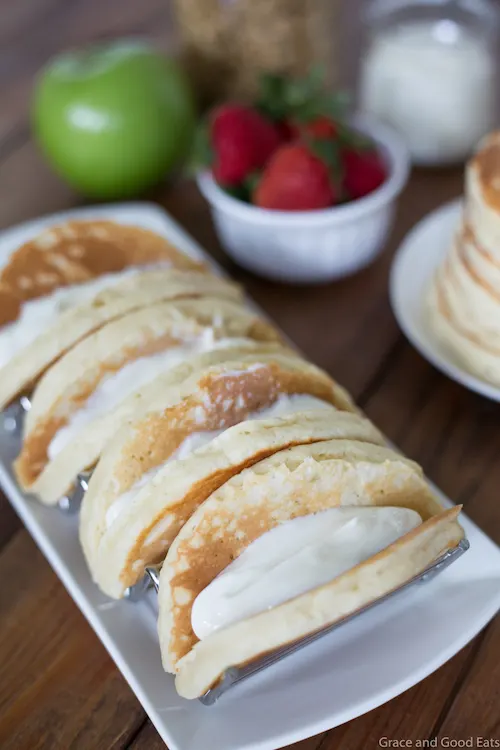 For these Pancake Parfait Tacos you will need:
Pancakes
Yogurt
Strawberries
Green Apples
Granola
Honey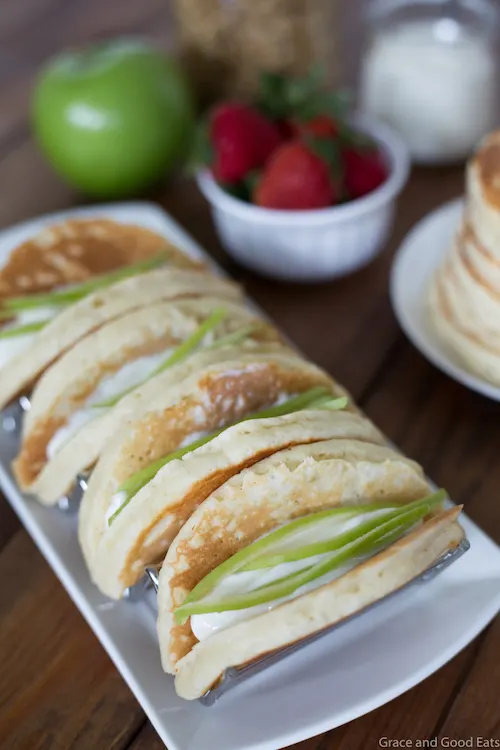 I got the idea for these fun Pancake Parfait Tacos from the new Culinary Kids program with Omni Hotels & Resorts. Throughout the year, properties across the country feature themed food and beverages to showcase regional culinary talent, speak to timely trends, and delight guests through the Omni Originals series.
Culinary Kids is the latest rendition of the series and features a new menu that caters to children 12 and younger with enhanced palates and bold preferences. Think: not your average kid menu!
How to Make Pancake Parfait Tacos
I used my favorite Best Ever Pancake Recipe for these pancake tacos. (The same one I use for my Strawberry Banana Pancake Skewers and my savory Ham and Cheese Pancakes.) You want to use a fluffy pancake recipe that will stand up to the heft of the toppings. I also used my favorite Basic Homemade Granola Recipe; you can certainly use store-bought but I love how light and buttery this version is.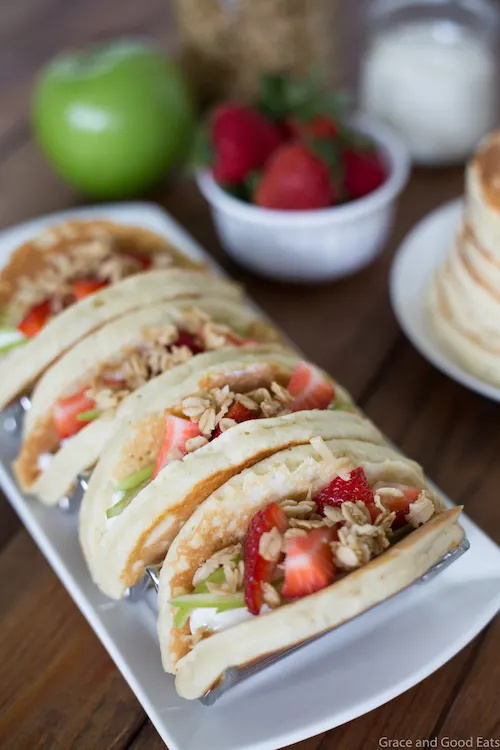 Helpful Tips & Tools
Use a julienne peeler to make slicing off shreds of green apple a cinch!
Use a simple taco stand to create an appealing presentation.
Use Greek yogurt or cottage cheese to up the protein in this recipe.
Allow the pancakes to cool slightly before adding the toppings- you don't want the yogurt to melt and run out.
Set up a toppings bar and let your kids DIY their own Pancake Parfait Tacos. Different fruits like blueberries or peaches, chocolate chips, shredded coconut, or whipped cream would all be delicious!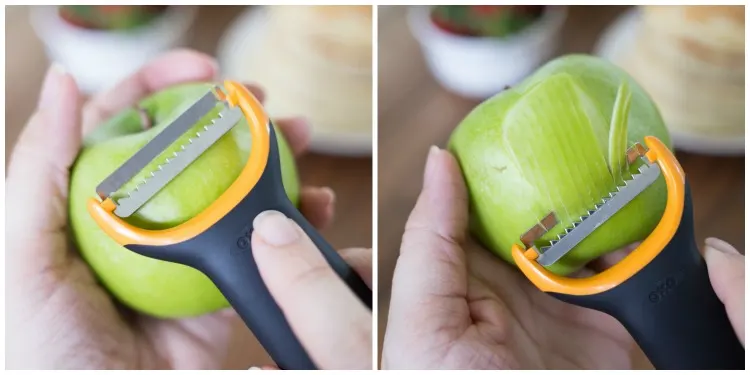 I can't wait to visit Omni Hotels & Resort so my kiddos can try the new Culinary Kids menu (and so I can sneak bites off of their plates… I mean, how good do these Fromage Dippers sound and how adorable is this Jenga French Toast?!) We just got back from two months in South Korea and I think a summer staycation is exactly what we need.
Now I just need to pick which of the fabulous, family-friendly Texas locations to visit!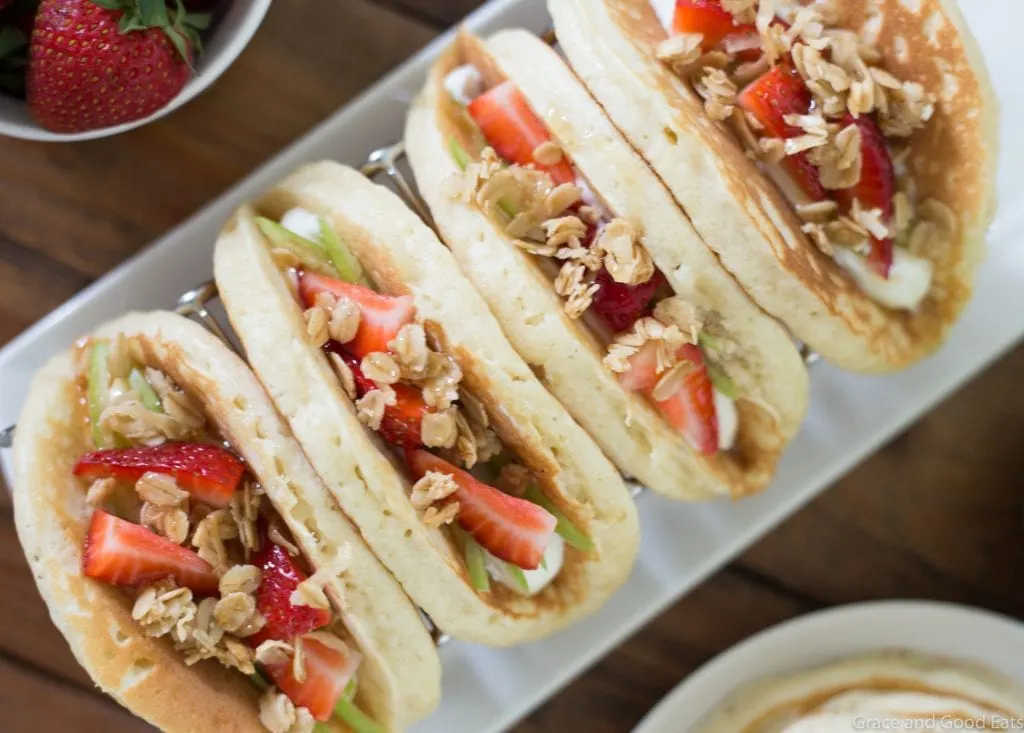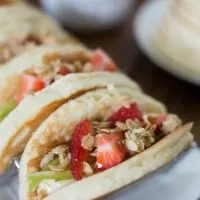 Instructions
Cook pancakes as directed.

Fold pancake in half to create a "taco" shell.

Fill with yogurt, fruit, granola, and top with honey.
Notes
*Calories will vary based on amount of ingredients used.
Nutrition