Mulled Cider is delicious fall drink made from a blend of mulling spices and apple cider. I love to enjoy this warm, with my favorite pumpkin desserts, or with a splash of rum for a yummy adult version.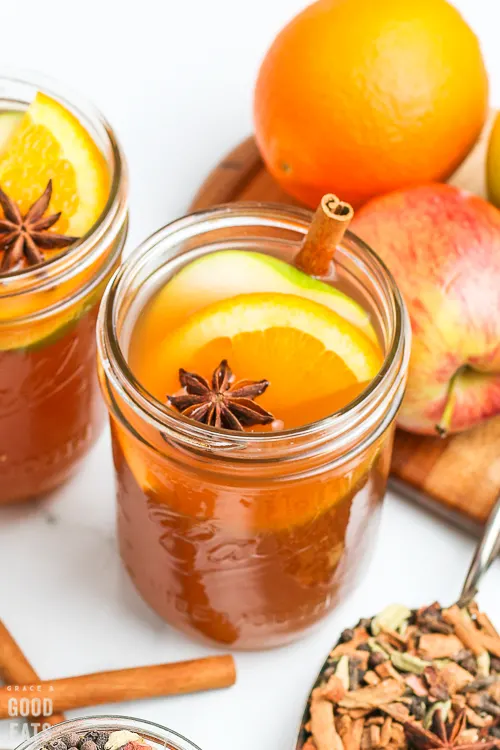 Mulled Cider is one of my favorite fall recipes. I'm not a big fan of Pumpkin Spice Lattes, so this drink is my "fall in a cup" treat. Warm, spicy, and tart with beautiful golden hues- it's perfect to serve at holiday parties or sip on while passing out candy to trick-or-treaters!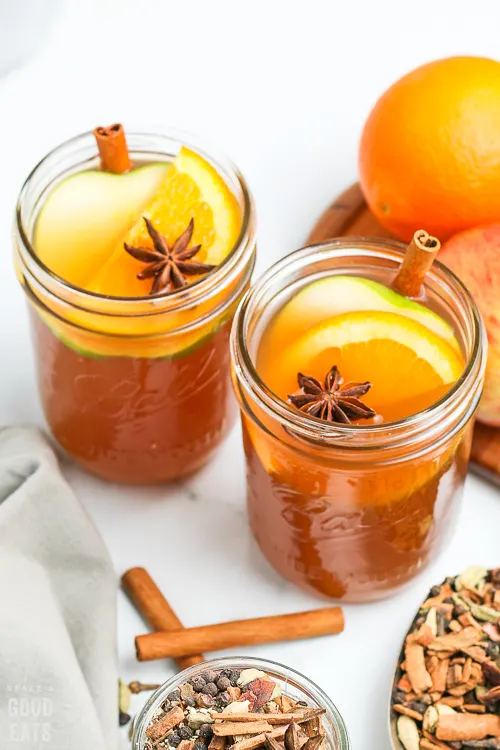 What Does Mulled Cider Mean?
Mulled Cider is typically a sweet cider heated with spices and citrus fruits. Mulled means to heat, sweeten, and flavor (a beverage like cider or wine) with spices.
You may be familiar with wassail. Wassail and mulled cider are the same – you can read more about wassail here.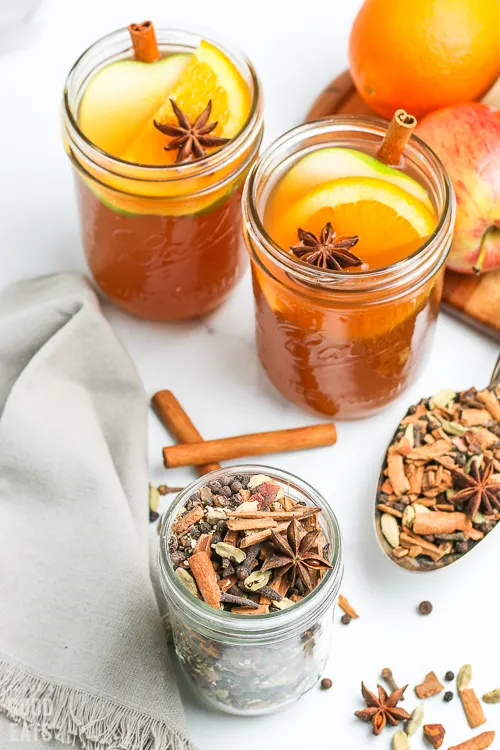 What's in Mulled Cider?
I use my favorite mulling spices (a blend of seven spices) to make this mulled cider. In addition to the mulling spices, you will also need:
fresh, unfiltered apple cider
brown sugar (optional)
orange slices and cinnamon sticks for garnish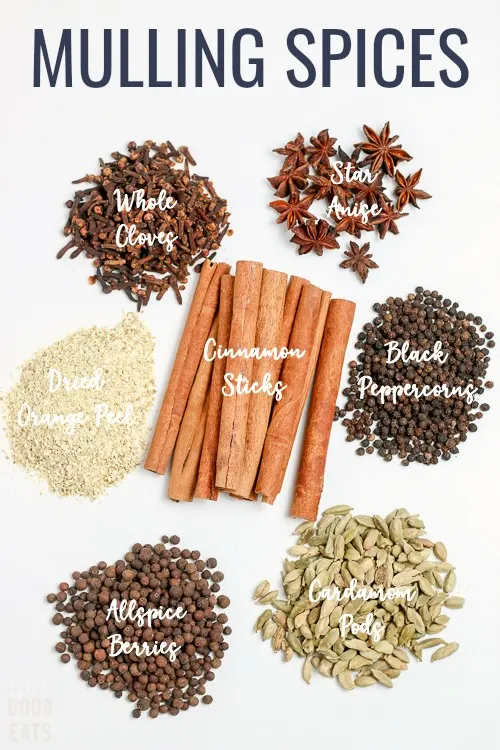 What's the Difference between apple juice and apple cider?
Fresh cider is raw apple juice that has not undergone a filtration process to remove solids (like pulp or sediment). Apple juice is juice that has been filtered to remove any solids and pasteurized so that it will stay fresh longer.
This isn't always the case though, sometimes cider means apples that were picked and processed early in the season, and sometimes it's just a marketing term.
How Do You Make Mulled Cider?
Simmer apple cider with the mulling spices. Cider can be mulled at a low temperature for a long time or at a simmer for about half an hour, depending on your preference.
Use a fine mesh sieve to strain the hot mulled cider away from the spices. Garnish with slices of apple or orange and whole cinnamon sticks.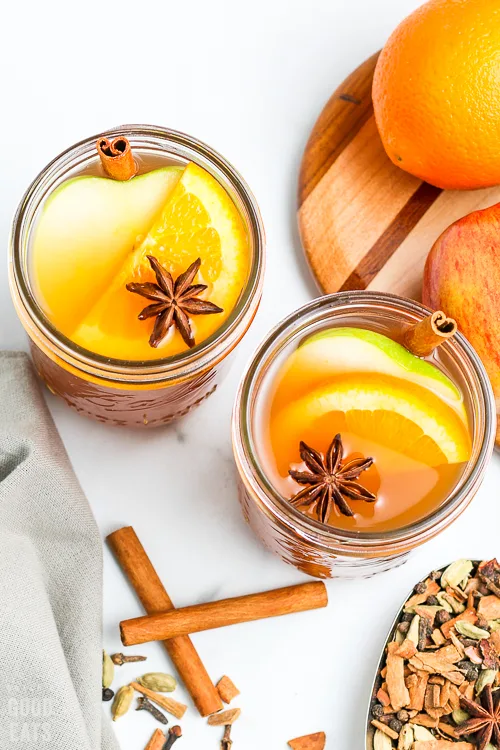 Does Mulled Cider Have Alcohol?
This is totally up to you! Rum, brandy, or bourbon are all great options with fruity undertones. If you want to add alcohol, start with just a tablespoon or so and go from there. Be careful not to distract from the rich flavors by adding too much.
Note: in some countries, cider is fermented and does contain alcohol. Typically in the US, we would refer to this as "hard cider."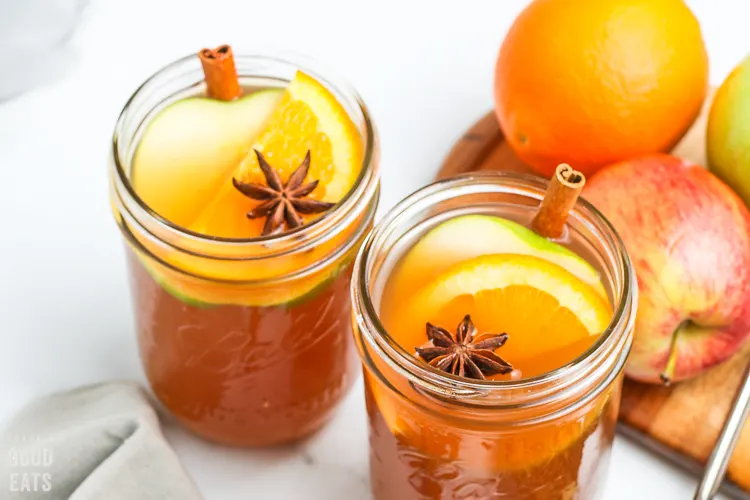 Tips for Making the Best Hot Mulled Cider
Mulled cider is best enjoyed within three days. Anything longer than that and things start to get funky.
Keep any leftovers in the refrigerator. It's fine to reheat again (simmer without bringing to a boil); I would do it one portion at a time or reheat it all and toss the leftovers. (Meaning, I wouldn't continue to reheat and return to the fridge.)
Occasionally when you heat cider too quickly over too high of heat, you may see some separation. If this happens, you can just skim anything unwanted that floats to the surface.
More Delicious Fall Drinks
Ingredients
2

tbsp

Mulling Spices

1/2

gallon

Apple Cider

fresh, unfiltered

2

tbsp

brown sugar

optional

orange slices

for garnish

cinnamon sticks

for garnish
Instructions
Pour the apple cider into a 3-quart saucepan, cover, turn the heat on medium-high.

While the cider is heating, measure out your mulling spices and brown sugar.

Add the mulling spices and brown sugar into the sauce pan with the cider.

Keep covered and heat the mulled cider mixture to a simmer and reduce heat to low. Simmer for 20-30 minutes on low heat.

Use a fine mesh sieve to strain the hot mulled cider away from the spices.

Serve hot. Add a cinnamon stick and orange slice to each cup if desired.
Nutrition
Calories:
120
kcal
|
Carbohydrates:
30
g
|
Protein:
1
g
|
Fat:
1
g
|
Saturated Fat:
1
g
|
Sodium:
10
mg
|
Potassium:
239
mg
|
Fiber:
1
g
|
Sugar:
26
g
|
Vitamin C:
2
mg
|
Calcium:
21
mg
|
Iron:
1
mg