Vejo Review: Nutrition meets convenience with the Vejo pod-based personal blender. The Vejo offers a sleek, portable design and dozens of different blends, environmentally-friendly biodegradable pods, and ability to sync your smoothie intake with your smart phone.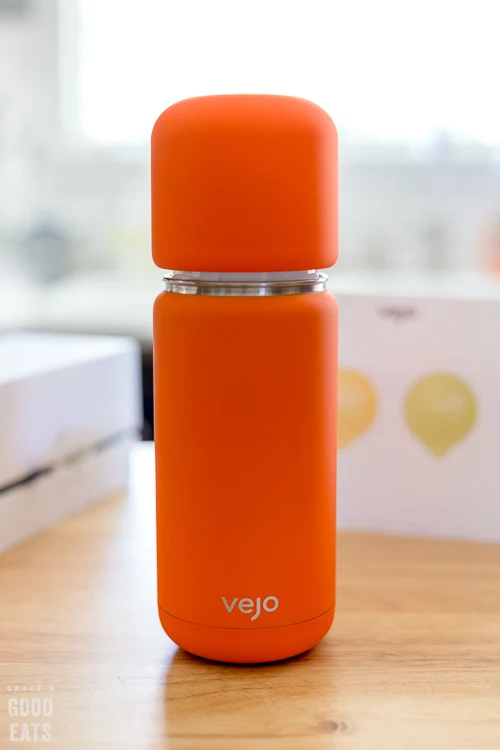 My husband and I started counting macros again (IIFYM/ Flexible Dieting) a few weeks ago… let's just say things were starting to get a little out of hand eating all the comfort foods over the last few months. I love counting macros because I still get to fit in most of my favorite foods without any crazy low carb restrictions.
That means, I can still enjoy smoothies (which are typically carb heavy)! Smoothies are a great way for me to sneak in more greens and increase my protein. When Vejo reached out to invite me to try their personal, pod-based blender, I was excited to sample their lineup of different smoothie blends.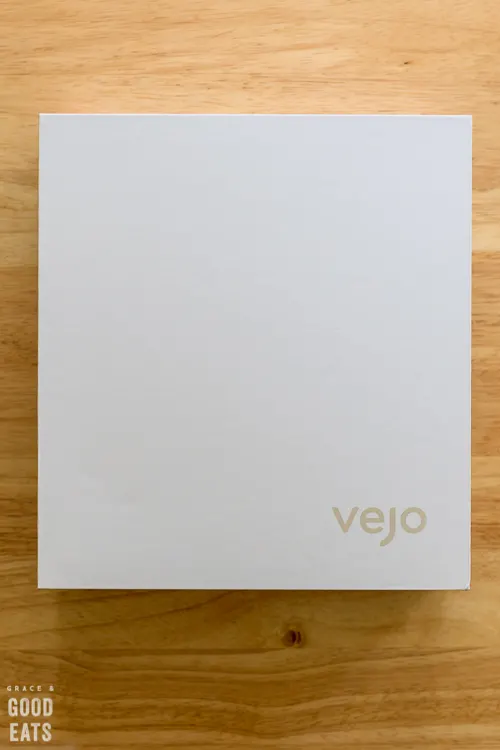 This is a sponsored review of the Vejo. I received a complimentary starter kit and additional blends for review. All thoughts and opinions are 100% my own.
What is Vejo?
Vejo is the world's first bio-degradable, pod-based, technology-connected blender. It's a portable + rechargeable single-serve blender that connects to a smart phone app for easing re-odering and intake tracking.
You're familiar with popular pod-based coffee maker that brews individual cups, meet the pod-based blender that whirs up a single smoothie. Vejo is an all-in-one solution: a blender, a bottle and a drinking cup that's been designed to be used over and over again.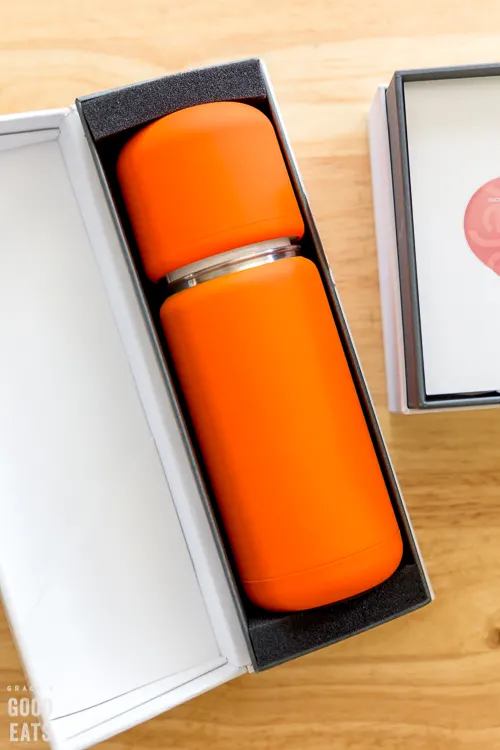 One of the first things I noticed about the product was the luxurious packaging. The simply branded, smooth white box reminded me of unboxing my favorite tech products.
What is Included with the Vejo Starter Kit?
The Vejo Starter kit is the perfect introduction to the brand and includes one Vejo (currently available in nine bold colors), the unique charging capsule, a cleaning brush, and 8 blends:
2 Matcha Latte
2 Banana Almond
2 Piña Greens
2 Pacific Northwest Tart Berry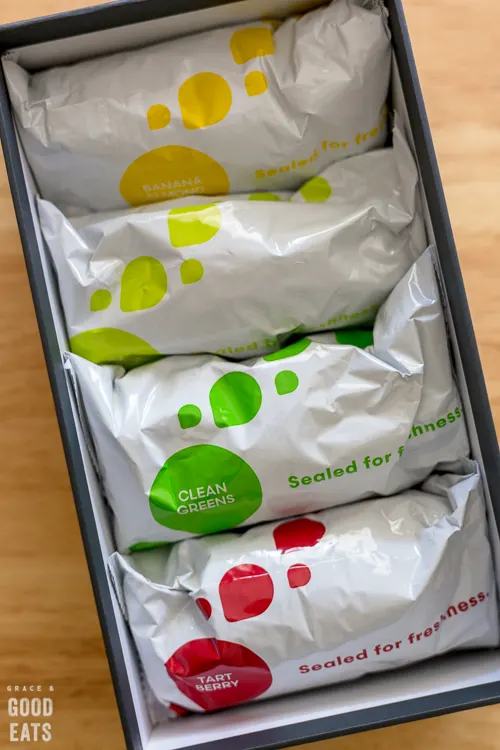 Vejo Blends
The blends are made from fruits and vegetables harvested at their peak ripeness, freeze-dried into powder, and packed into blends within hours. Blends have no artificial colors, flavors or sweeteners and contain less than 100 calories.
There are dozens of different flavors and bundles to choose from, whether you're focused on protein, performance, function, or flavor. One Vejo blend boasts up to 50% of your daily recommended fruits and vegetables and there are options with immunity supplements, antioxidants, and caffeine.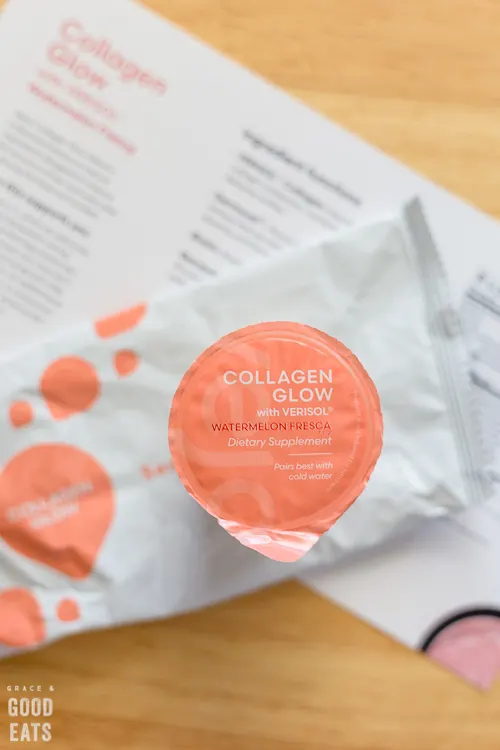 Vejo Collagen Glow
Vejo's newest product, Collagen Glow, is a once-daily blend of clinically proven ingredients that can delay the formation of wrinkles, strengthen hair and nails, and enhance your youthful glow from within. It's comes in a yummy Watermelon Fresca flavor and is packed with 10g of beauty-optimized collagen, nine superfood extracts, and key vitamins and minerals:
VERISOL® COLLAGEN: A clinically proven collagen peptide that can minimize fine lines and wrinkles while increasing skin moisture and firmness.
DERMAVAL™: A combination of nine superfood extracts, this phytonutrient-rich blend is proven to support skin's elasticity and firmness by helping to prevent the breakdown of elastin proteins.
Vitamins and Minerals: Vitamins A, C, E, and biotin, as well as the mineral zinc, are all known for their role in promoting hair and nail health. These micronutrients also accelerate the action of collagen for noticeable results.
Resveratrol: Found in the skin of red wine grapes, this powerful antioxidant provides protection from free radicals that can damage skin over time.
Vejo Review
I was impressed with how quiet and quick the Vejo is. James likes to make blended coffee before he leaves for the fire station (at 4am) but the blender was so loud he had to switch to iced coffee. With the Vejo, noise isn't an issue!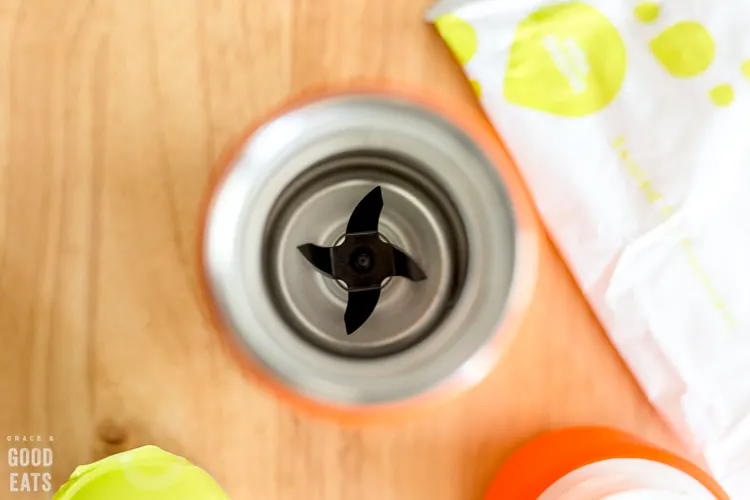 One of my favorite features of the Vejo is the bottle itself. Some have compared it to a silicone-coated thermos; it has a nice weight and feel in your hand.
It also fits nicely inside of standard cup holders, which is perfect for on-the-go activities like hiking, camping, days at the beach. It's the worst when you get ready to go and your tumbler or shaker bottle doesn't fit in the holder!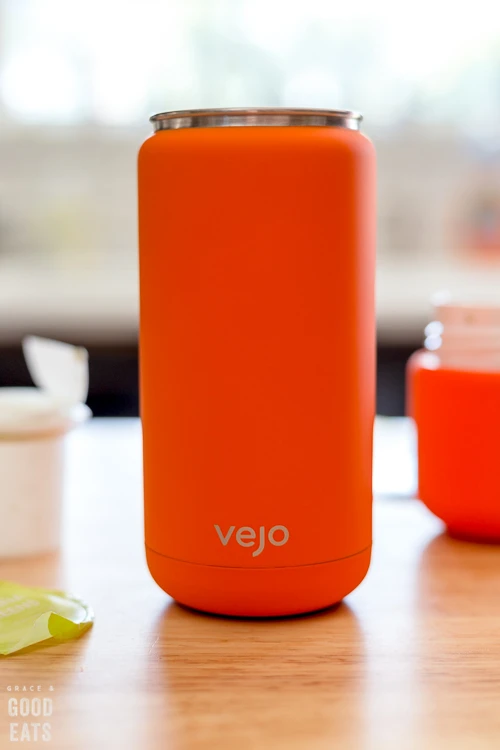 How to Use Vejo
Using the Vejo is super simple. The pods even give you suggestions on whether that flavor combo pairs better with cold water or almond milk.
Choose your blend and peel off the cover.
Insert the pod into the Vejo bottle upside-down and tighten the cap.
The Vejo will start and stop blending automatically after 30 seconds.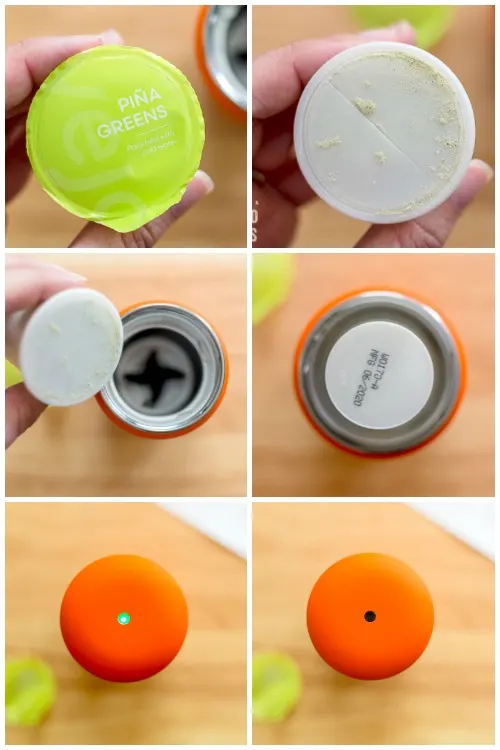 After that you can toss the pod into your compost bin where it will decompose naturally. The pods are made from corn and other 100% biodegradable, renewable components.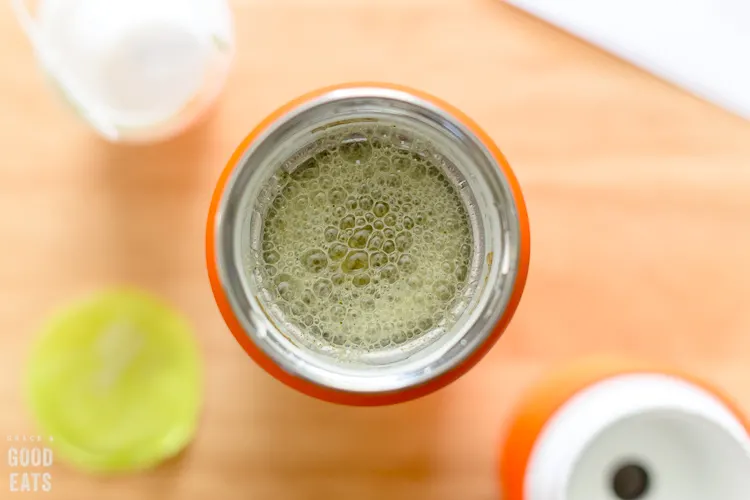 Vejo Price
The Vejo Starter Kits start at $130 and the blends come in at around $3/pod, depending on the flavors/ selections you choose. You have the option to buy a la carte or as part of a subscription service (with added savings).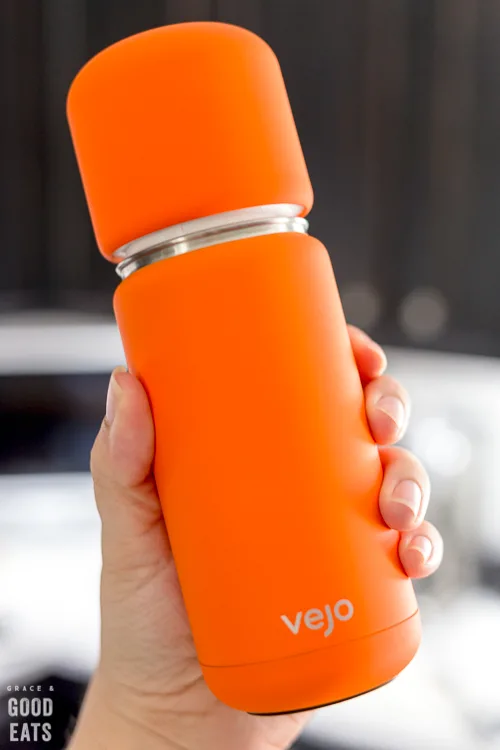 I'm usually making larger batches of smoothies (hello, four kids) but this could be a great solution for a busy mom to grab before jumping in the carpool line or while waiting at practice. I was so glad I had it last week when I had dental work done and didn't feel like chewing (or cooking)!
It also works nicely for my first-responder hubby; way more practical than trying to make sure he has all the fruits/ veggies or a blender to make his own at the station.
The Vejo would be a great gift for a fitness or tech junkie, a nature lover, or a guy that's hard to shop for!