This is a sponsored post written by me on behalf of Hunt's Tomatoes. All opinions are 100% mine.
Marinara recipe with only five simple ingredients and ready in less than thirty minutes. Add crushed red pepper flakes to up the flavor and add a little heat to this basic sauce.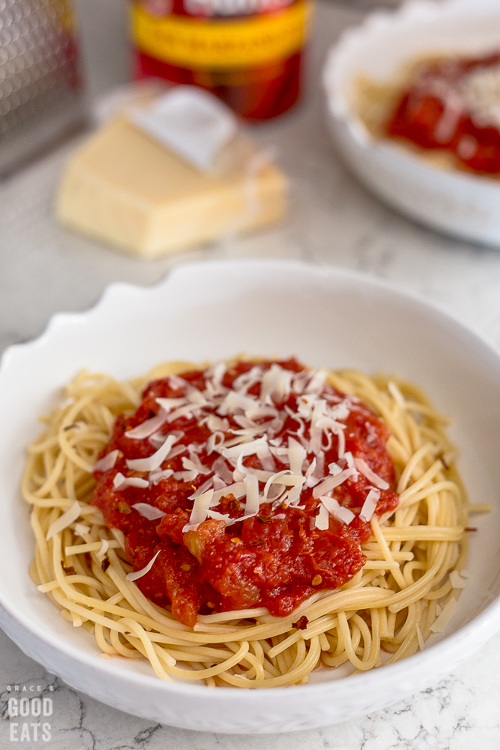 Pasta is one of those dishes I can throw together at a moment's notice. I always have at least three different varieties of pasta (typically thin spaghetti, medium shells, and fideo- for my favorite Chicken Noodle Soup) in the pantry and all of the ingredients to make my favorite simple Alfredo sauce in the refrigerator.
I used to keep a jar of traditional marinara in the pantry as well, but lately I've been using this basic marinara recipe to make my own. It is super easy and way more flavorful!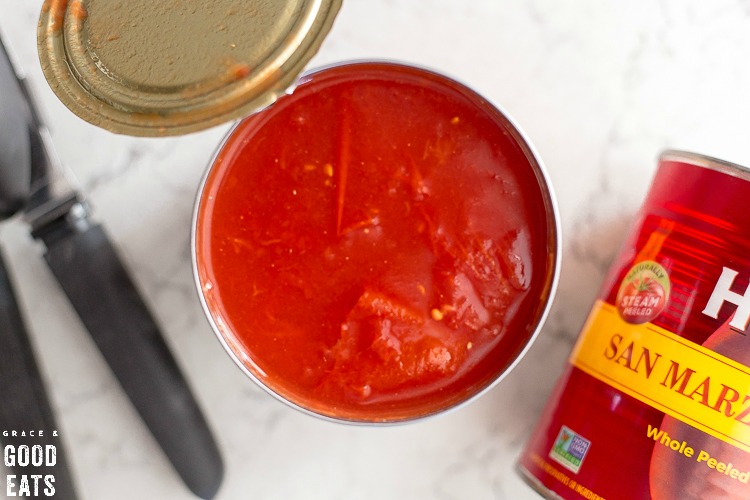 WHAT KIND OF TOMATOES FOR MARINARA?
When you have one ingredient as the star of the dish, it's really important to use the best quality you can. I love using San Marzano Style tomatoes for recipes like tomato soup and marinara where the tomato flavor is front and center.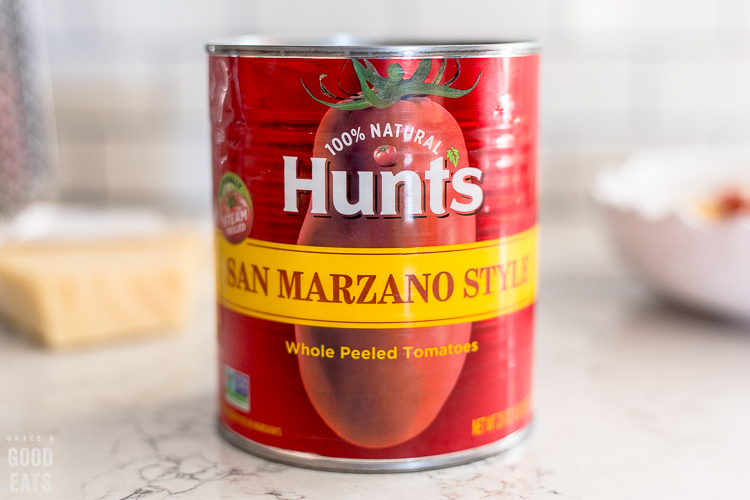 SAN MARZANO TOMATOES
New Hunt's San Marzano Style tomatoes are a sweeter tomato, low in acidity, with a thick juice that makes them perfect for Italian dishes and family favorites. Hunt's San Marzano Style Tomatoes are all-natural and steam peeled and they've quickly become a pantry staple for me.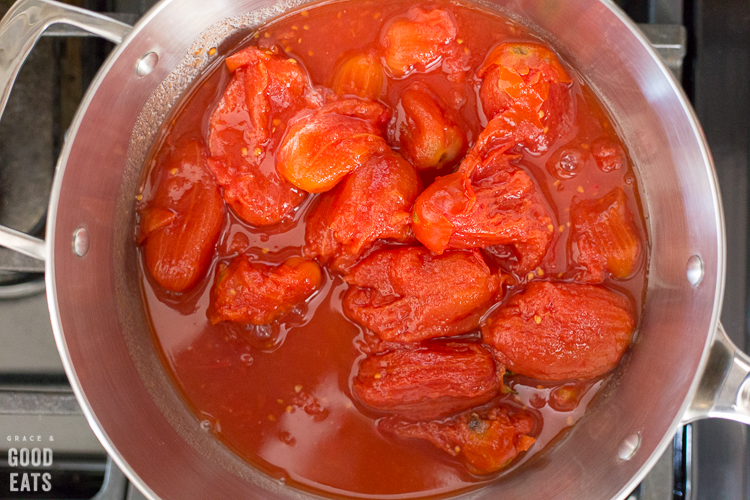 How to make homemade marinara sauce
You will need an immersion blender for this marinara recipe. I try to keep my kitchen gadgets to a minimum, but I finally bought one a few weeks ago and now I use it ALL the time. If you don't have one, you can simply add the can of tomatoes to a traditional blender and pulse gently. You don't want to completely puree the tomatoes, you simply want to break them up into a chunky sauce.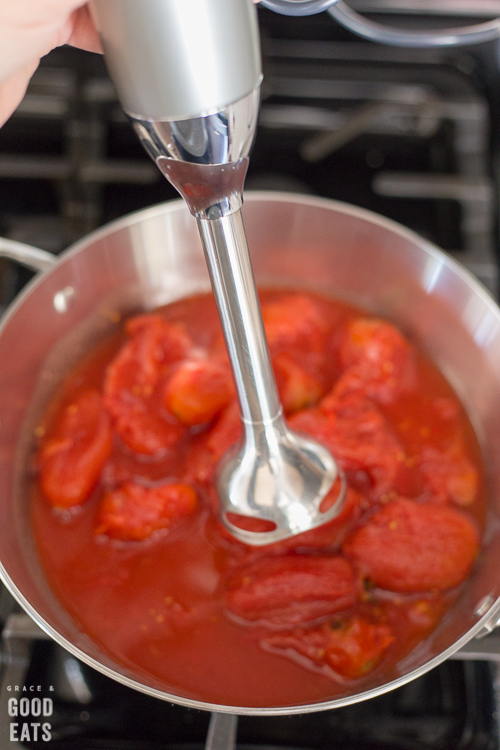 What is the difference between marinara and pomodoro?
Both of these red sauces involve the same general ingredients: tomatoes, garlic, olive oil, basil, etc. The difference mainly comes down to cook time and consistency. Marinara is a quicker sauce that is typically runnier and more liquidy, but overall chunkier. Pomodoro is thick and smooth, and cooks longer- sometimes simmering for hours on end.
You'll notice that I swap the fresh garlic for garlic powder and omit the basil in my recipe. I don't love the taste of basil and two out of four of my kids turn their nose up at most anything green so it's easier just to leave it out.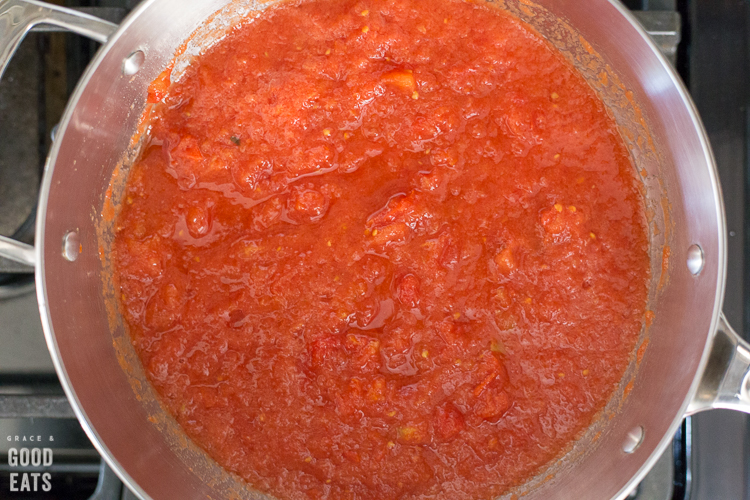 Spicy Marinara Recipe
I do like a little heat though, so I add red pepper flakes to this recipe. Just a scant 1/2 teaspoon is all you need for the entire batch. You can certainly omit this if you want, but I do think it adds something to the dish.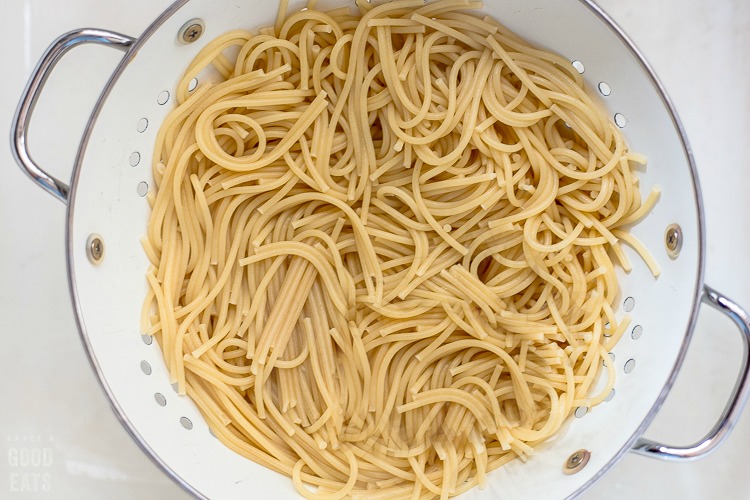 Pairing Pasta with Sauce
As a general rule, you want to pair your pasta with your sauce based on thickness. Thinner types of pasta (such as Angel Hair) will do better with light or creamy sauces. Bowtie, penne, and shells are bite-sized options that are mostly interchangeable and can handle more heft. Same goes for fettuccine, spaghetti, and linguine. I chose thin spaghetti noodles for this marinara recipe.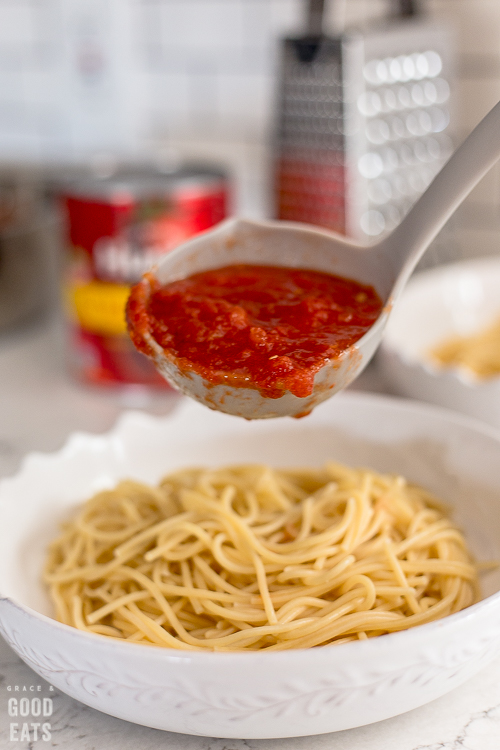 Finish this simple pasta dish off with a heaping pile of grated Parmesan and a quick sprinkling of more red pepper flakes. (Note: I plated this recipe with the sauce on top for the photos, but you will want to mix your noodles and sauce together quickly so that the noodles do not stick together.)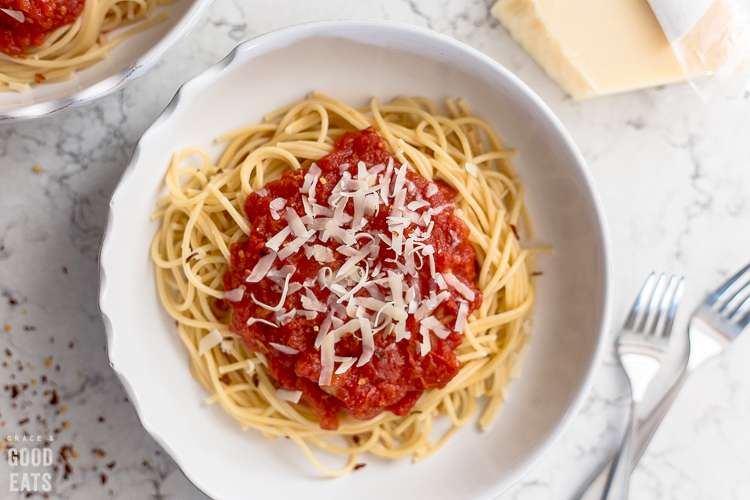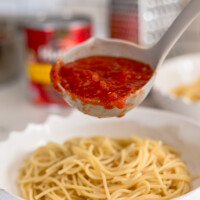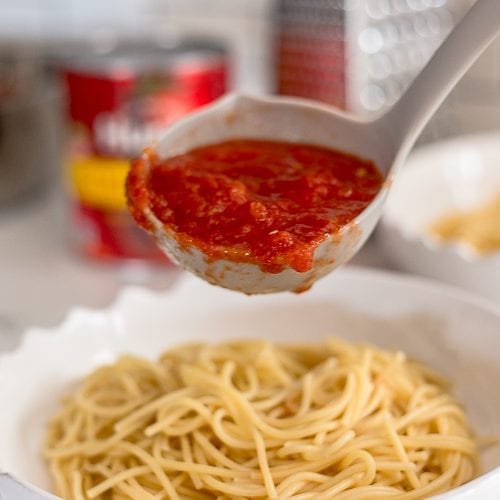 Ingredients
1 28

oz

can Hunt's San Marzano Style whole peeled tomatoes

1/2

tsp

garlic powder

1

tsp

sugar

1/2

tsp

red pepper flakes

1/2

tsp

salt
Instructions
Add the tomatoes to a large pot. Use an immersion blender or traditional blender to create a chunky sauce.

Add the garlic powder, sugar, red pepper flakes, and salt to the tomatoes. Stir well to combine.

Bring the marinara to a boil and then reduce to simmer for 20 minutes.
Nutrition
Calories:
27
kcal
|
Carbohydrates:
6
g
|
Protein:
1
g
|
Fat:
1
g
|
Saturated Fat:
1
g
|
Sodium:
393
mg
|
Potassium:
258
mg
|
Fiber:
1
g
|
Sugar:
4
g
|
Vitamin A:
210
IU
|
Vitamin C:
13
mg
|
Calcium:
42
mg
|
Iron:
1
mg