Daystar Christmas is an annual holiday event located at the Daystar Television Network in Bedford, Texas. Enjoy over 1.5 million lights on display, a kid-friendly Christmas town, and more at this fun, free, family experience. Thank you to Daystar for inviting me to this event and providing the photographs below.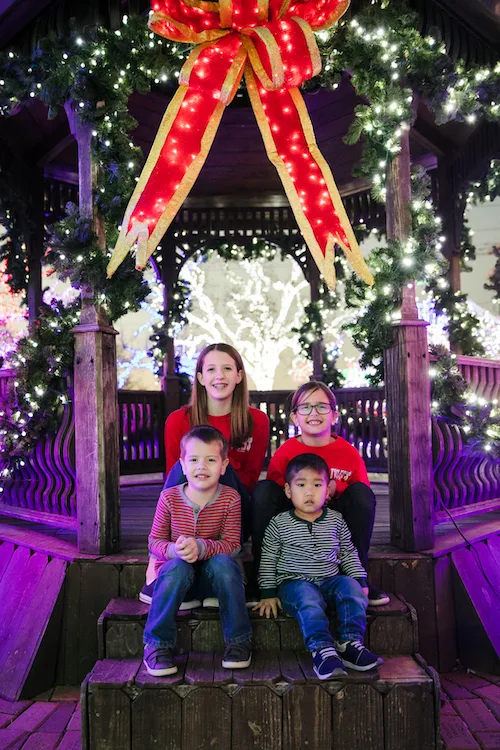 With this being Eli's first Christmas home, we've made it our mission to do all.the.Christmas.things! Decorate a gingerbread train (guess who picked that one, trains > houses, obvi), drink hot chocolate and eat our weight in marshmallows, and watch all our favorite holiday movies (Elf, Grinch, Polar Express, repeat).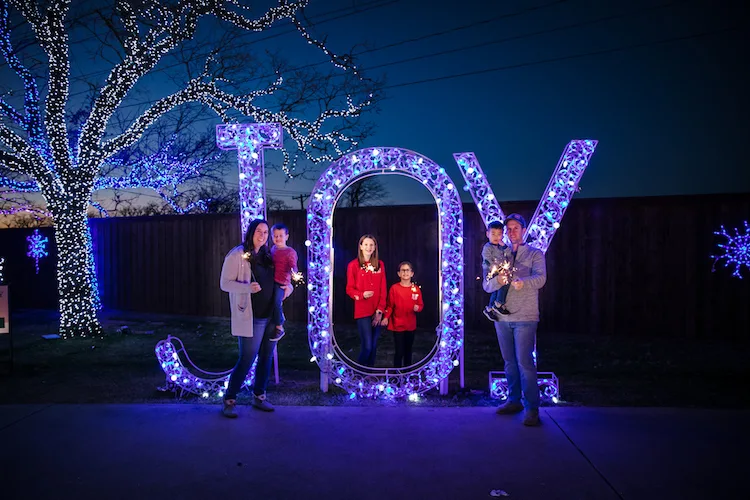 Christmas becomes extra magical as the kids get older and it has been so fun to experience all of Eli's firsts. Ian loves to look at the Christmas lights in town, though it's not quite the same experience as living in the city. The houses are usually harder to see because they're further from the road and may be miles apart. That's why I was super excited when Daystar invited me to visit their holiday lights display in the DFW Metroplex.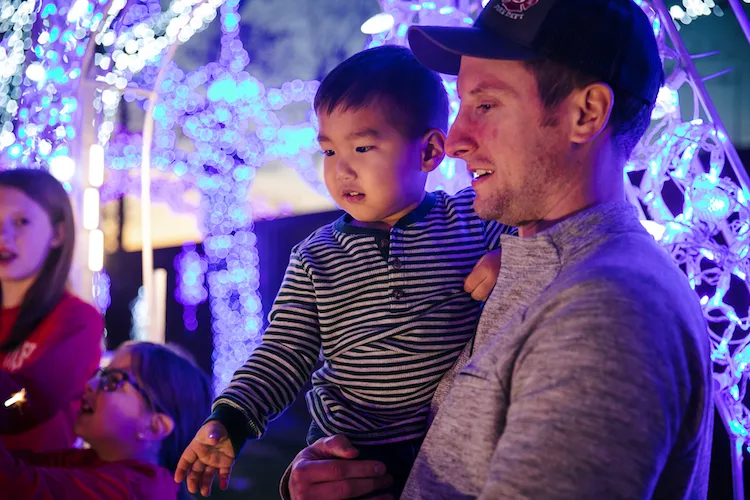 James actually grew up in Bedford, not far from the Daystar campus, and remembers driving by and seeing the lights when he was younger. In true Texas fashion, it grows bigger every year, with over 1.5 million Christmas lights currently- including a lighted drive through tunnel and a 9-foot interactive wreath.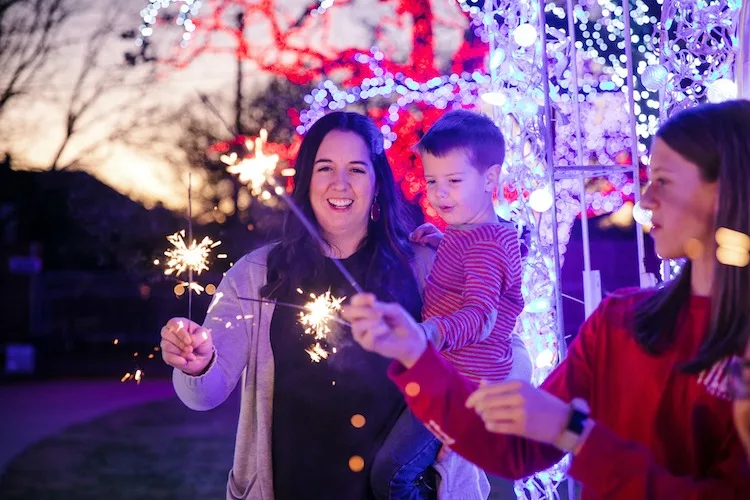 This year they also added a children's area called Christmas Town. This kid-friendly attraction includes an interactive 8-foot "JOY" sign, toy soldiers, a candy cane archway, Santa's workshop, a gingerbread house, Olaf, Thomas the Train, and more. My kids loved running from display to display to ooh and ahh over each one.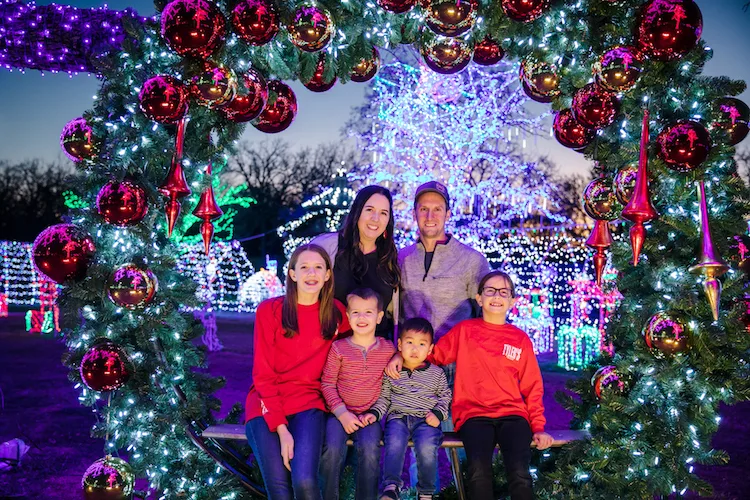 After we finished walking through the display and visiting the life-sized nativity, we stopped by the Scratch Cafe for a quick visit with Santa. Eli had no fear; he ran right over and climbed up in his lap! Ian was more hesitant (honestly, I think it was his first time ever seeing Santa) but he got on board with the whole thing after his big sisters joined in as well.
Santa's Favorite Cookies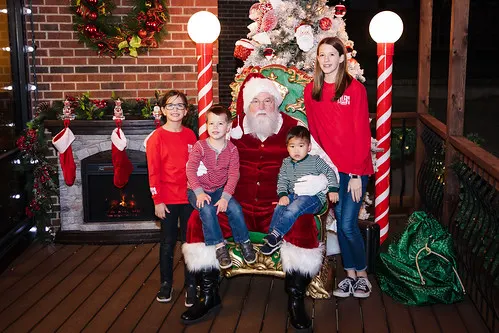 I am so thrilled to have these pictures; I really wanted to send a Christmas card out this year (the first one with all of my babies) but time slipped away from me and I ran out of time to have pictures made. The beautiful lights at Daystar provided the perfect backdrop for some quick family photos and I was able to pop them into a card and have them printed same day. Blessed and so grateful definitely sums up our 2019!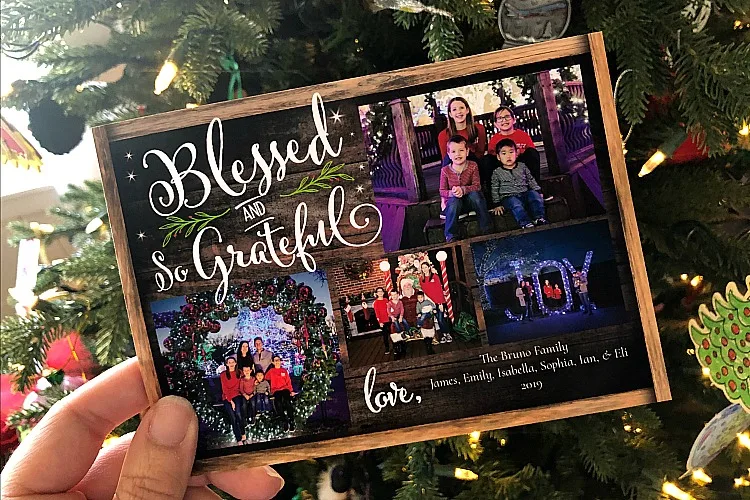 About Daystar Television Network
Daystar Television Network is an award winning, faith-based network dedicated to spreading the Gospel 24 hours a day, seven days a week – all around the globe, through all media formats possible. The nonprofit reaches more than 109 million households in the United States and over 4.4 billion people worldwide. Daystar is the fastest growing faith-based television network in the world. For more information and to view the holiday display hours of operation, visit daystar.com.