This is a sponsored post written by me on behalf of Udi's® Gluten Free. As always, all thoughts and opinions are 100% my own.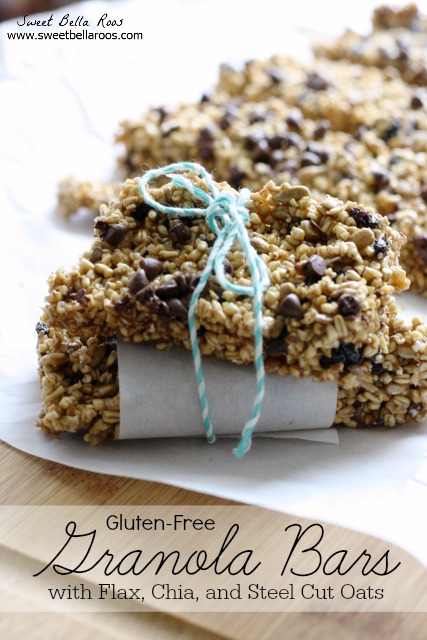 A few weeks ago I was given the opportunity to learn more about ancient grains with Udi's® Gluten Free. We don't live a Gluten-Free lifestyle (unless you count those 6 weeks my husband tried to live "Paleo"), but while none of us have an intolerance or serious sensitivity to it, we do make efforts to limit our consumption as part of a varied diet. I used to survive solely on pasta; but after my commitment to getting healthy a few months ago, I've drastically reduced my carb and gluten intake. I noticed that I started to feel "lighter" when I wasn't eating a gluten heavy diet.
I was really eager to learn about the health benefits of ancient grains like chia, flax, quinoa, millet, oats and amaranth. These foods not only pack a serious health punch, but they also help you stay full and satisfied since they're loaded with fiber, protein, iron and more. Just like with my husband's short-lived attempt at Paleo- there's been a push to getting back to basics and eating the food of our ancestors – those that are "clean" and closest to their natural form as possible. Ancient grains have remained unaltered and have retained their nutritional value – in fact, these "heritage grains" date back to more than 8,000 years ago!
Ancient grains reduce our risk of chronic diseases and they're chock-full of protein, antioxidants, healthy fats, vitamins and minerals. They help prevent stroke, ward off diabetes, and help prevent heart disease. They also help curb weight gain since they're great at satiating appetite. Even if you're not living a gluten-free lifestyle, replacing refined grains with whole grains like the ones found in Udi's® Ancient Grain products can benefit your whole family.
Ancient grains can be included in any dish where you would normally use rice or oats. For example, you can make chia pudding instead of oatmeal for breakfast. Many ancient grains can also be ground into flour to be used for baking. I decided to use some of Udi's® Steel Cut Oats with Currants, Flax, and Chia to make these yummy granola bars!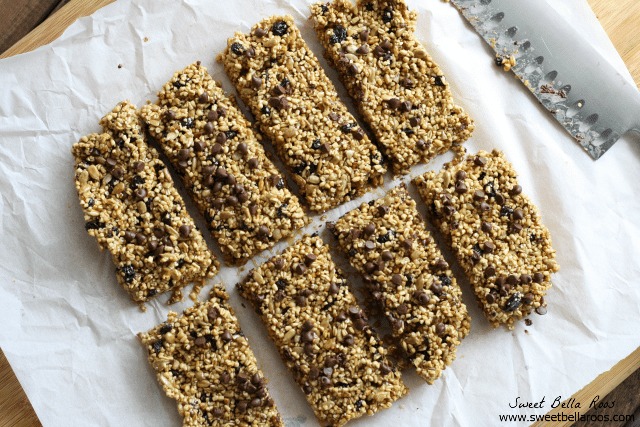 These Fully Loaded Gluten-Free Granola Bars are full of fiber, protein, and healthy fats that will help keep you full longer, which makes them perfect for after school snacks or lunchbox treats. Oats have a good reputation of being heart-healthy, fiber-filled and gluten-free (check your labels, this applies to most varieties!). They're also packed with vitamins and minerals and are a good source of protein. Flax reduces risks of heart disease, cancer, stroke, and diabetes and reduces cholesterol levels. Chia is high in protein, fiber, vitamins and minerals such as calcium, manganese and phosphorous.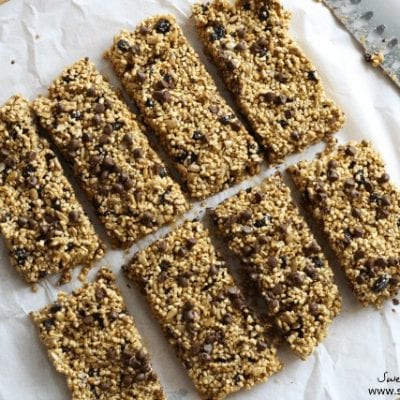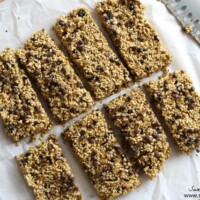 Ingredients
2

cups

Udi's Steel Cut Oats with Flax, Chia, and Currants

1/2

cup

raw sunflower seeds

1/2

cup

honey

1/4

cup

packed brown sugar

2

tbsp

unsalted butter

1

tsp

vanilla

1/2

tsp

salt

2

tbsp

mini chocolate chips

optional
Instructions
Line an 8x8 inch glass baking dish with parchment paper and set aside.

Preheat the oven to 350 degrees.

Spread the oats and sunflower seeds on a baking sheet.

Place in the oven and toast for 15 minutes, stirring occasionally.

Combine the honey, brown sugar, butter, vanilla, and salt in a medium saucepan over medium heat.

Cook until the brown sugar has completely dissolved.

Once the oat mixture is done, remove it from the oven and reduce the heat to 300 degrees.

Immediately add the oat mixture to the liquid mixture and stir to combine.

Turn mixture out into the prepared baking dish and press down to evenly distribute.

Top with chocolate chips and bake for 25 minutes.

Remove from the oven and allow to cool completely before cutting in to squares.
Notes
Store in an airtight container for up to a week.
Nutrition
Calories:
341
kcal
|
Carbohydrates:
53
g
|
Protein:
8
g
|
Fat:
10
g
|
Saturated Fat:
3
g
|
Cholesterol:
8
mg
|
Sodium:
149
mg
|
Potassium:
65
mg
|
Fiber:
5
g
|
Sugar:
25
g
|
Vitamin A:
95
IU
|
Vitamin C:
0.2
mg
|
Calcium:
32
mg
|
Iron:
2.2
mg
To find out more about Udi's® Gluten Free visit their website here and follow them on Twitter.