These Sweet and Spicy Almonds are perfect to snack on or serve at holiday gatherings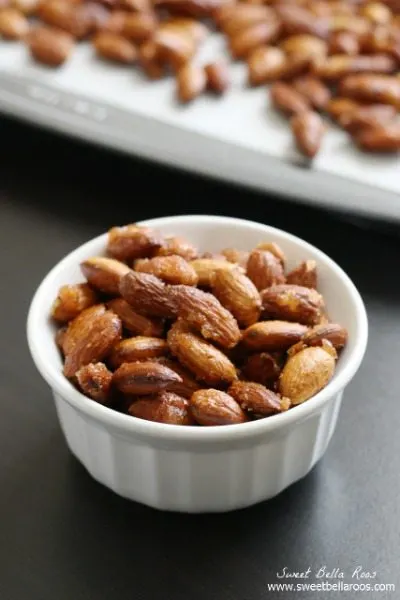 Can I just tell you how excited I am to eat a turkey tomorrow that I didn't have to prepare? I'm very blessed that my Mom not only lives nearby, but is also a great cook! So while I won't be hosting any holiday dinners anytime soon, my recent trip to ALDI does have me excited to host some holiday parties.
I shared a little about my trip to Chicago to visit the ALDI headquarters, along with this amazing Vanilla Bean Orange Infused French Toast, a few weeks ago. I sampled a ton of yummy food and learned even more about wine!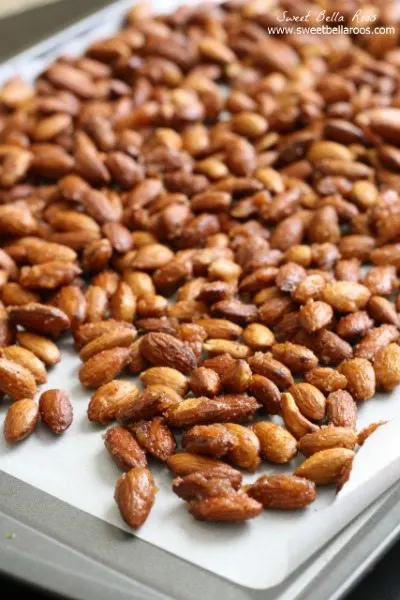 I will admit, prior to this trip I wasn't a big fan of wine. Partially because I didn't know much about it, or how to pair it, and partially because I was afraid to waste a bunch of money on wines I wasn't sure I would like. I was really excited to learn that ALDI has a wide variety of reasonably priced wines, so I don't have to feel nervous about trying them!
A few of my favorite wine pairing 101 tips:
Bubbles are a great first course wine or glass to offer your guests upon arrival. (If you're looking for something to serve tomorrow, reach for the bubbles- pairs great with turkey, squash, even pumpkin pie!) It's also the go-to hostess gift, you can't go wrong with bubbles.
If you can smell or taste certain flavors in a wine, pair those same flavors to a dish that you know has the same elements.
Compare or contrast when it comes to the weight of your food. Use a light wine to cut through rich food, and a big wine with big food.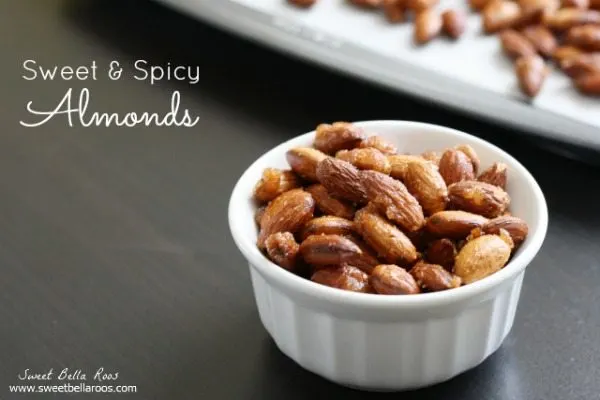 These sweet and spicy almonds would be perfect for your dinner guests to snack on while enjoying their bubbles. Or, if you're like me and won't be hosting, package them up and gift them to your host with a bottle of bubbles. 🙂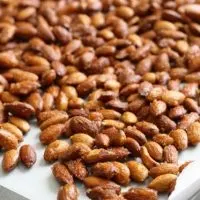 Ingredients
2 1/2

cups

whole almonds

1/4

cup

sugar

1 1/2

tsp

salt

1

tsp

cayenne pepper

1

tbsp

water

1

tbsp

honey

1

tbsp

olive oil
Instructions
Preheat the oven to 350 degrees.

Spread the almonds on a baking sheet lined with parchment paper.

Toast the almonds until golden brown and fragrant (about 10 minutes), careful not to let them burn.

Stir together the sugar, salt, and cayenne pepper in a large bowl.

Stir together the water, honey, and oil over medium heat until just starting to bubble.

Stir the almonds into the pan and until evenly coated.

Immediately pour the almonds into the sugar and spice mixture, tossing to coat completely.

Spread the almonds back onto the baking sheet and allow to cool.
Notes
I used half salted almonds half unsalted because it's what I had on hand (so I also scaled back 1/2 tsp of the salt). Feel free to use either, and adjust the salt accordingly.
Nutrition
Serving:
1
serving
|
Calories:
244
kcal
|
Carbohydrates:
14
g
|
Protein:
7
g
|
Fat:
19
g
|
Saturated Fat:
1
g
|
Sodium:
349
mg
|
Potassium:
255
mg
|
Fiber:
4
g
|
Sugar:
8
g
|
Vitamin A:
75
IU
|
Vitamin C:
0.2
mg
|
Calcium:
94
mg
|
Iron:
1.3
mg
This is a sponsored post in partnership with ALDI's Holiday Blogger Ambassador Program.