A few weeks ago I had an opportunity to visit the ALDI Test Kitchen in Chicago with a group of bloggers. We had a lot of great food -and wine!- and learned a lot of information about ALDI.
I arrived in Chicago with a few hours to spare before the festivities began, so I decided to venture out from the Inn we were staying at and find some local food. Honestly, I don't think I've ever eaten at a restaurant by myself, but I'm so glad I did. I settled for brunch at Nosh Company- and their Nosh French Toast did not disappoint! Challah bread soaked in vanilla-orange zest infused batter, served with lemon creme anglaise and powdered sugar. It was delicious.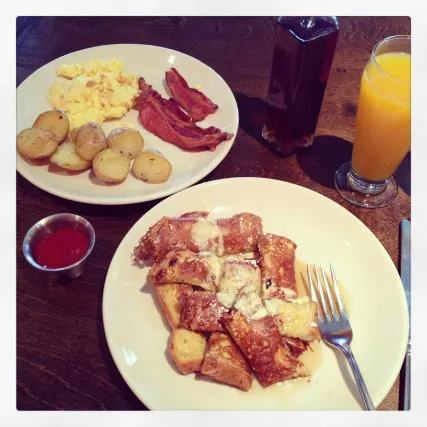 I immediately knew I wanted to recreate this bad boy when I got home. Instead of using challah bread I picked up a loaf of French bread from ALDI. Their creme anglaise was a great addition, but I didn't have the time (or eggs!) left to make any, so I whipped up some orange butter instead. It was a perfect (and super easy) way to add some more of the orange flavor to the dish.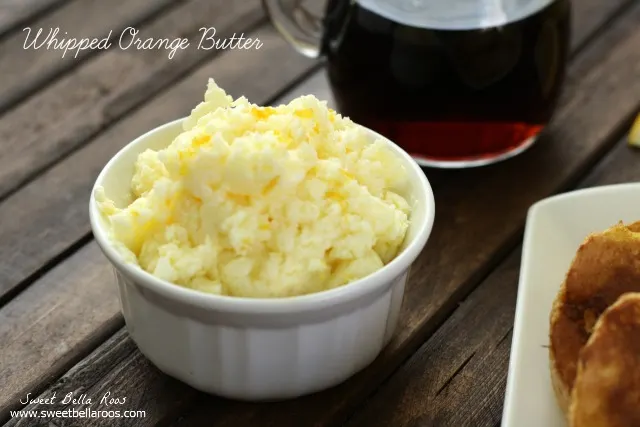 Nosh Company was so good in fact, that another one of the bloggers- the fab Julie from Willow Bird Baking– and I went again the following morning! I made myself try something else from the menu, but still ordered a tasting of the french toast. So worth it.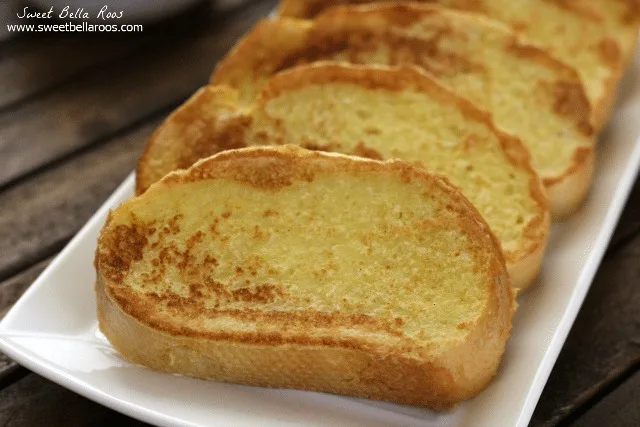 Knowing now how much food I was about to consume at the ALDI Test Kitchen later that day, I probably should have skipped breakfast. The first thing we did when we arrived was take part in a blind taste testing of ALDI brand items vs the same item in the leading national brand. I was honestly a little surprised how many times I chose the ALDI brand. I mean, I grew up eating most of the national brands, so I assumed I would prefer them just based on what I was used to. ALDI's orange juice, Greek yogurt, guacamole, and crackers were night and day better than the leading national brand. I couldn't get over the difference in the texture, look, and taste of the ALDI Greek yogurt! Even more amazing than that was the price difference. ALDI came in half, usually even less, the cost of the national brand items.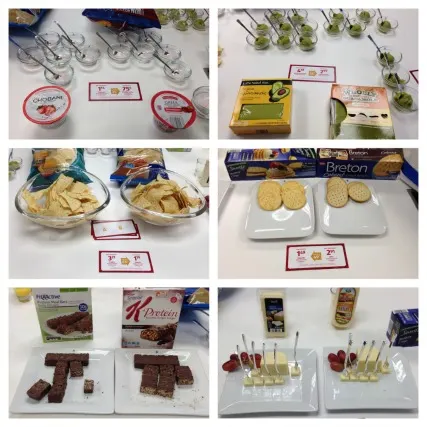 After the taste testing, we moved on to wine! We were led through a proper tasting with Sensory Expert Gail Vance Civille and Certified Master Sommelier Leslee Miller. They taught us a lot about pairings, and why certain wines go better with certain flavors. It was really interesting to actually taste the difference of a great pairing, like wine with cheese, chocolate, or almonds.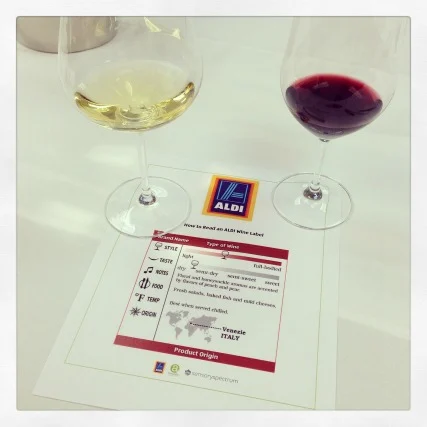 After we were armed with all of our new information about wine pairings, we were challenged to pair ALDI wines with Thanksgiving dinner. We were divided up into teams and each given a full holiday meal to work with. (The ham was delicious!)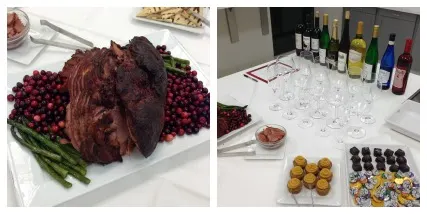 We ended the trip by touring a local ALDI store. It was really interesting to learn more about ALDI's business practices and why they do things the way they do. I'll share more about this, and about what I learned during the wine pairing session, in an upcoming post. For now, I leave you with this amazing vanilla bean orange infused french toast- which would be perfect for your Christmas morning breakfast or brunch!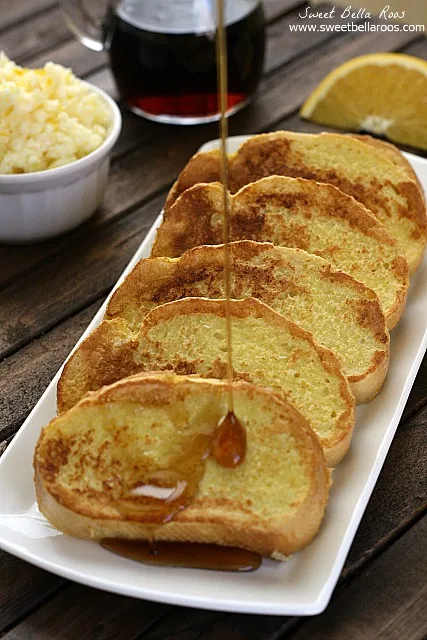 Ingredients
1

loaf of French bread

4

eggs

1/2

cup

milk

1

tsp

pure orange extract

1

tsp

vanilla bean paste
Instructions
Cut the French bread into 1in slices.

Whisk together all remaining ingredients.

Heat a skillet over medium heat.

Dip each piece of bread in the egg mixture, turning over to coat each side several times.

Drip off excess egg mixture, before adding to the hot skillet.

Cook each side until golden brown, about 2-3 minutes per side.

To make whipped orange butter: mix 1/2 cup room temperature butter, 1/4 cup sugar, zest from one orange, 1/4 cup freshly squeezed orange juice in a stand mixer until light and fluffy.
Notes
You can substitute vanilla extract for vanilla bean paste.
Nutrition
Calories:
187
kcal
|
Carbohydrates:
29
g
|
Protein:
9
g
|
Fat:
3
g
|
Saturated Fat:
1
g
|
Cholesterol:
83
mg
|
Sodium:
294
mg
|
Potassium:
114
mg
|
Fiber:
1
g
|
Sugar:
2
g
|
Vitamin A:
145
IU
|
Calcium:
52
mg
|
Iron:
2.2
mg
Disclosure: This is a sponsored post in partnership with ALDI's Holiday Blogger Ambassador Program. As always, all thoughts, opinions, and love for French toast are 100% my own.