This White Chicken Chili Soup is full of white beans, savory spices, and tender chicken. Use homemade bone broth for an even richer depth of flavor. This is a sponsored post with KE Eye Centers of Texas. As always, all thoughts and opinions are 100% my own.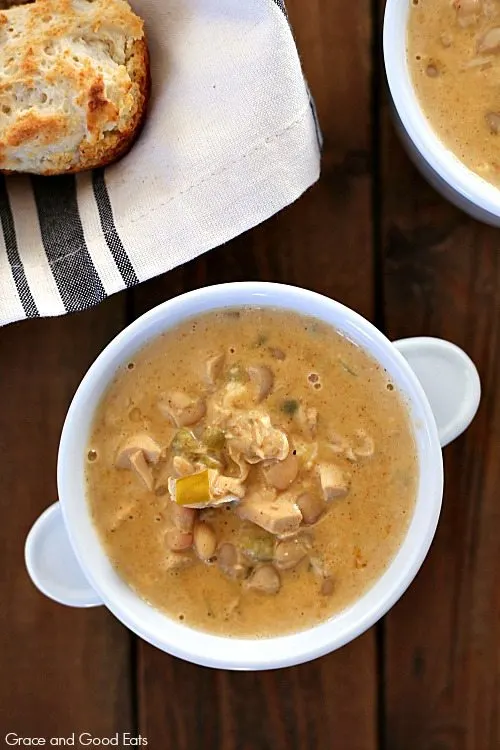 There are two recipes that have made it into our weekly dinner rotation. The first is my Best Ever Homemade Pancake recipe, which we usually have on a night when James is at the fire station. The second, is this White Chicken Chili Soup recipe.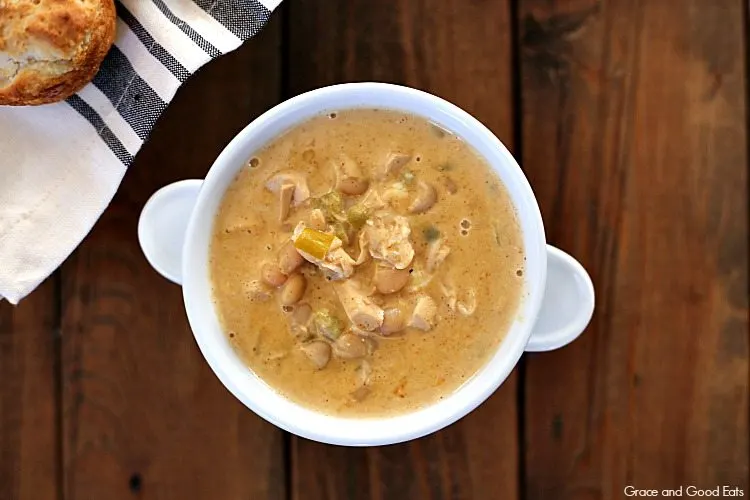 I've seen similar recipes with sometimes different names, but this version is by far my favorite. It's not chili in the sense of texture; it is more like a thick soup. Instead, the "chili" comes from the green chiles and chili powder spice. It's not white from using white (meat) chicken, because you could certainly use dark meat as well, but the soup base itself turns a creamy white with the addition of cream cheese and heavy cream at the end.
You'll notice that my White Chicken Chili Soup is a beautiful golden color and I will tell you my secret ingredient to achieving this: Homemade Bone Broth. Not only does it result in a darker color but it infuses a deeper, richer flavor. If you can't make your own broth (I promise you can) at least by a quality chicken broth. We always serve this soup with a fresh batch of 7-Up Biscuits (The Easy Method).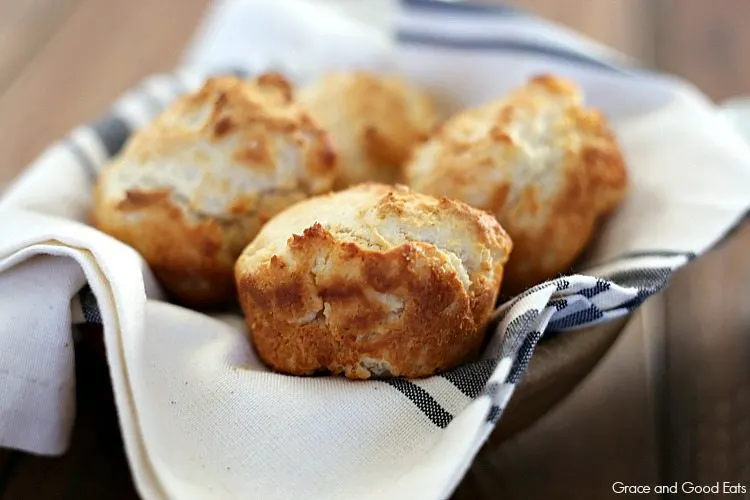 This meal is my "post grocery store" meal- it's so easy to make that I'm not tempted to pick up a pizza on the way home because I spent all of my energy getting groceries. I grab a rotisserie chicken at the store and set aside the white meat to make this recipe. I then use the rest of the chicken to make the homemade bone broth. From there it's a "throw and go" recipe that only takes thirty minutes to make.
That was exactly what I wanted the day I had my Blade-Free LASIK surgery with KE Eye Centers of Texas a few weeks ago. I prepped the chicken and the homemade broth the day before so that on surgery day, James could just toss everything into a pot on the stove.
It sounds so serious to say "surgery day" but the actual LASIK procedure with Dr. Hines took less than ten minutes. Everything that morning was quick and painless. I signed the last of my paperwork, took a valium to relax, and received a few rounds of medicated eye drops before entering the surgery suite. From there Dr. Hines used a cool light laser to create a thin flap on the corneal surface of my eye. After the flap was lifted gently, he used the laser's micron precision to slightly adjust the surface of the cornea in order to help it focus light accurately onto the retina (resulting in clearer vision). After the reshaping process, Dr. Hines lightly lowered the flap back into place where it naturally self-seals. Boom! Done!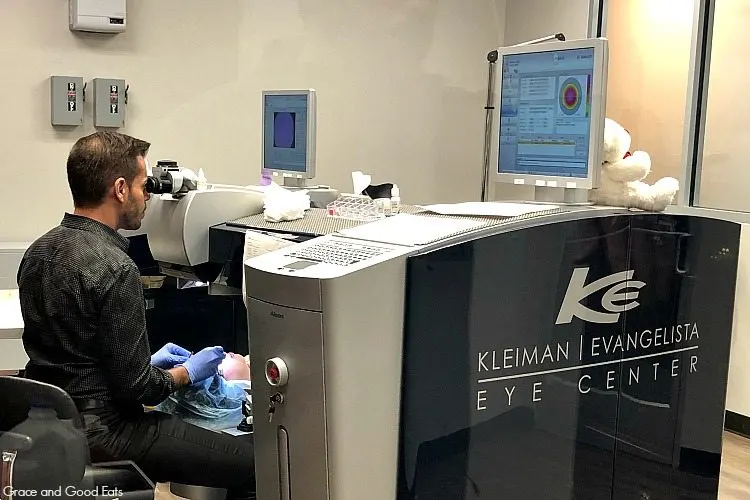 One reason I chose KE Eye Centers of Texas is because they offer the IntraLase iFS Femtosecond laser. Due to its advanced control during the corneal flap creation and production of a smoother, higher-quality corneal surface, the iFS laser enables Blade-Free LASIK to be a faster, more accurate and more predictable procedure than was ever possible with the use of a blade. When KE Eye Centers of Texas says custom LASIK, they mean it.
I am now about six weeks post-LASIK and I am seeing 20/15 in both eyes! I couldn't be happier with my decision to have LASIK- I only wish I had done it sooner. You can read more about my decision to have LASIK here.) If you are interested in ditching contacts or glasses, I highly recommend going in for a free consultation at KE Eye Centers. You can start with their LASIK Self-Test online and see if you might be a good candidate.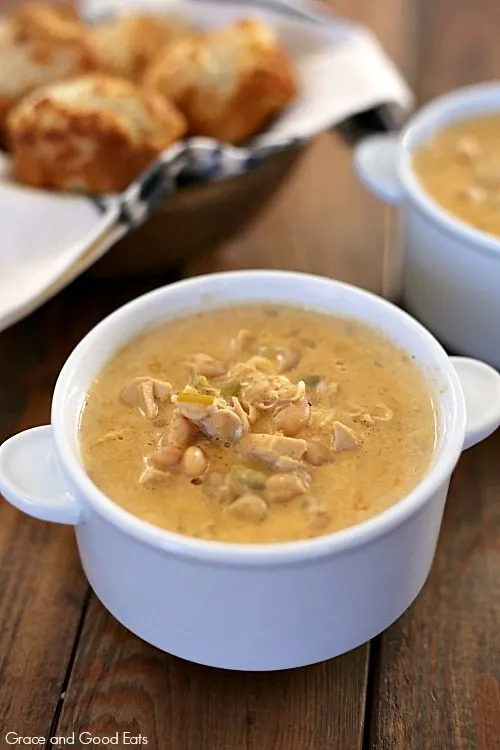 Post-grocery store, post-LASIK, post-whatever you can't go wrong with this White Chicken Chili Soup. This recipe quickly became a family favorite around our dinner table, even with my pickiest eaters.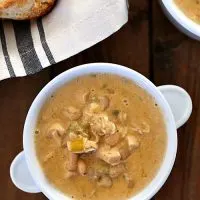 Ingredients
2

cans

Great Northern Beans,

drained and rinsed

4oz

can

green chiles,

diced

2

chicken breasts,

fully cooked

1

lime

1.5

tsp

chili powder

1

tsp

cumin

1/4

tsp

cayenne

1/4

tsp

pepper

1/2

tsp

garlic powder

1/2

tsp

onion powder

8

oz

cream cheese,

cubed

1/3

cup

heavy cream
Instructions
Bring the chicken broth to a boil in a large pot over medium-high heat.

Drain and rinse the beans, add to the chicken broth with the green chiles.

Chop or shred the cooked chicken. (I prefer chopped, about the size of the beans.)

Add the chicken and squeeze the juice from one lime into the broth mixture.

Return to a slight boil before turning down to simmer over low heat.

Add all of the spices and allow to simmer for 30 minutes.

Cube the cream cheese and gently stir into the soup until melted. Remove from heat and immediately add the heavy cream.
Notes
I use a rotisserie chicken for added ease and flavor. I use "Hot" Hatch green chiles- you can leave these out, but even my picky eaters don't mind these because the textures blend together.
Nutrition
Serving:
1
serving
|
Calories:
764
kcal
|
Carbohydrates:
73
g
|
Protein:
48
g
|
Fat:
31
g
|
Saturated Fat:
16
g
|
Cholesterol:
162
mg
|
Sodium:
2109
mg
|
Potassium:
1324
mg
|
Fiber:
21
g
|
Sugar:
12
g
|
Vitamin A:
1420
IU
|
Vitamin C:
59.6
mg
|
Calcium:
227
mg
|
Iron:
5.7
mg
If you are in the Dallas/ North Texas area, I can't recommend KE Eye Centers of Texas enough. Follow along with my journey to 20/20 vision on Instagram (@GraceGoodEats) where I will be sharing more about how #KEHelpedMeSee. Also check out James site at 911DAD.com (or @NineOneOneDad) where he will be sharing about his upcoming experience as well!
KE Eye Centers of Texas has locations in Arlington, Plano, Dallas, Mount Pleasant, Gun Barrel City, Southlake (coming soon). Visit LASIKsurgery.com, or call 800.714.2020, to find the location nearest you. You can also find them on Facebook, Twitter, and Instagram as @keeyecenter.