This Instant Pot Bone Broth only takes 30 minutes in the pressure cooker to become beautifully golden and full of flavor. Use leftover rotisserie chicken to make it even easier! This post contains affiliate links.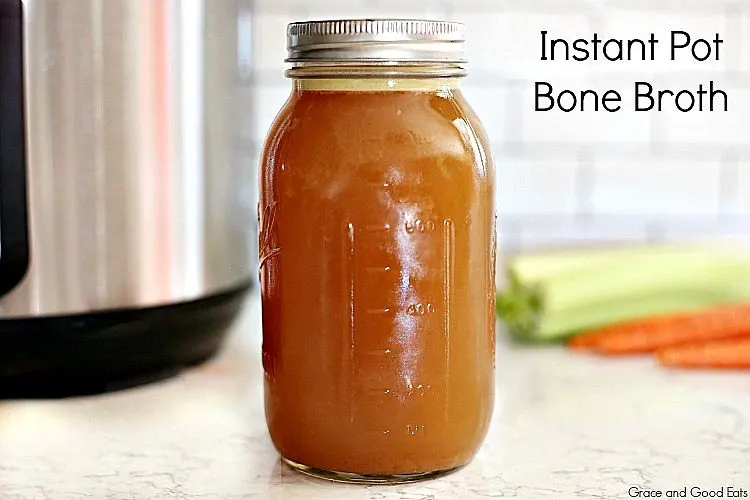 Along with what feels like the rest of America, I received an Instant Pot for Christmas. It sat, silently intimidating me from inside the box, for a solid week or two before I got the nerve to open it up. I joined a few Instant Pot recipe groups on Facebook, created an Easy Instant Pot Recipes Pinterest board, and read the manual from cover to cover before finally feeling prepared enough to make my first meal.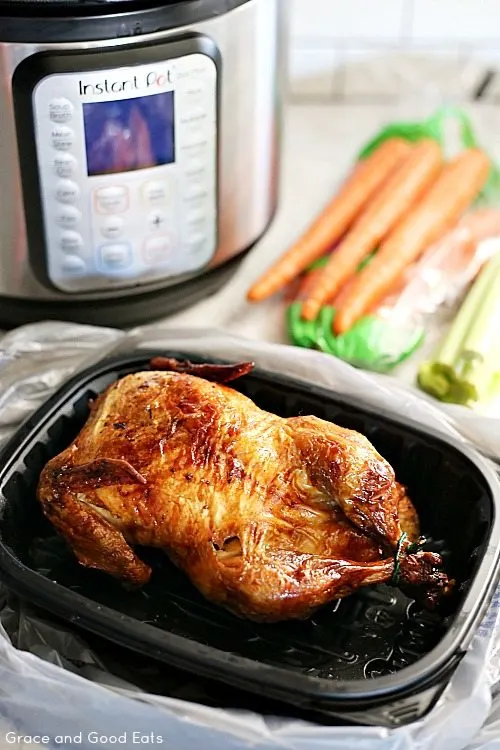 We made roast with potatoes and carrots and it was as amazing as everyone has made it out to be. Fork tender, juicy, and full of flavor. We were sold. I've made salsa verde chicken, creamy mac and cheese, and a few other things since then. This homemade Instant Pot Bone Broth might be may new(est) favorite though. We use this broth as the base for my White Chicken Chili Soup– a recipe that has made its way into our weekly dinner rotation!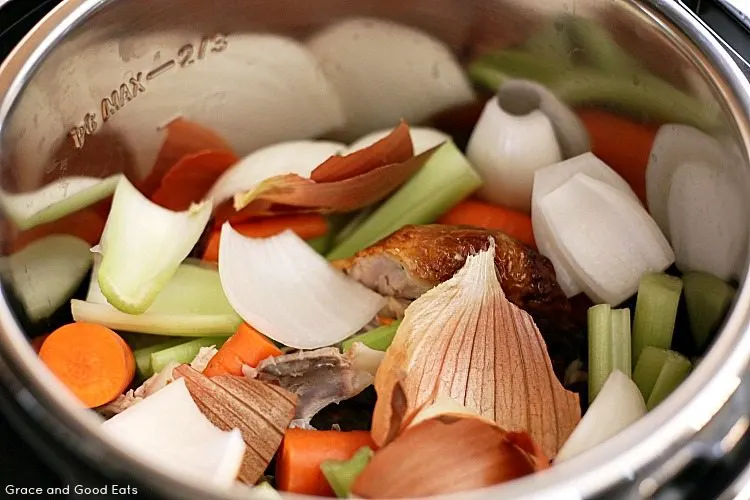 I've made my own stock in a slow cooker numerous times but let me tell you that it was infinitely better and faster in the pressure cooker. Instead of cooking stock overnight, you can have it ready to go in 30 minutes with the pressure cooker. Another major win for pressure cookers, aside from the faster cooking time, is that pressure-cooked foods retain more flavor (and more vitamins and minerals than traditionally boiled foods).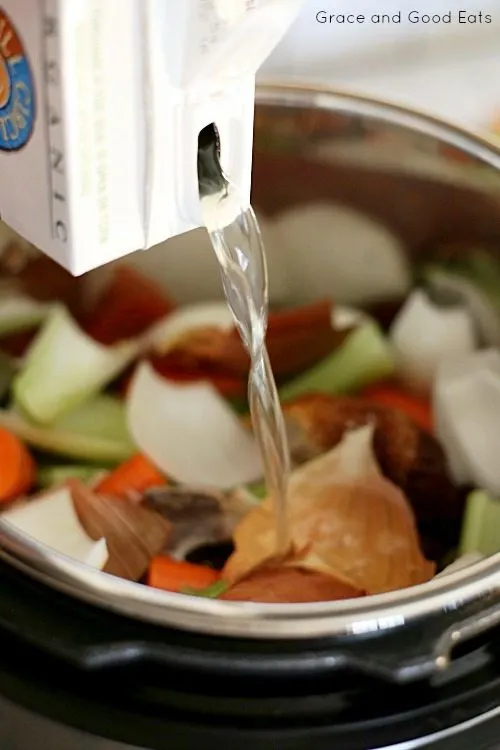 I had a carton of leftover chicken broth in my refrigerator so I added that to my bone broth for extra body and flavor. (If you don't have any on hand, just use water.) Check out the color difference between the store bought chicken broth and the homemade bone broth. Using a rotisserie chicken and the pigment from the onion skins helped contribute to my darker broth.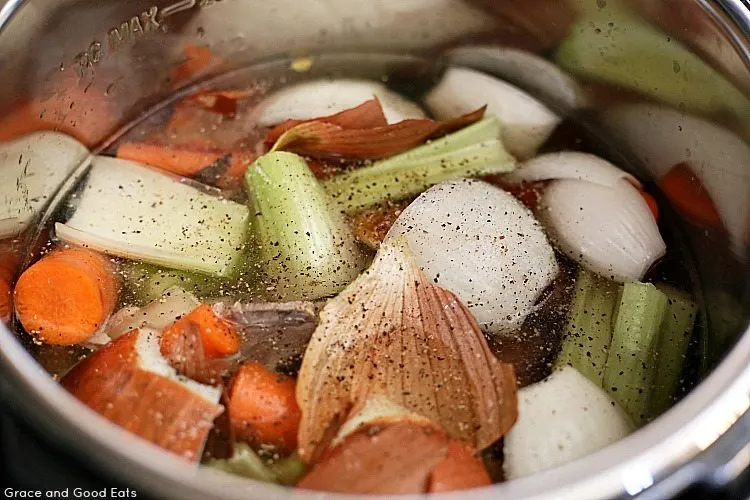 Don't be afraid to leave the onion skins on, just give them a good wash and toss them in! The brown skin and the outer layers of the onion contain high levels of fiber, flavonoids, and loads of antioxidants.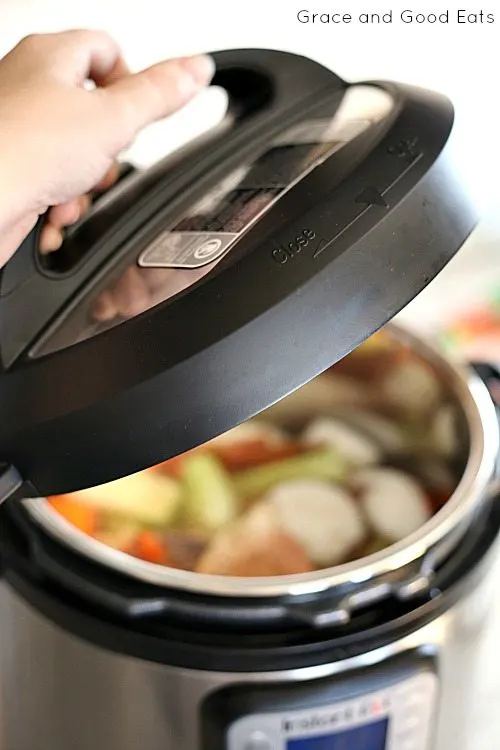 I've seen people argue over what else to add with the bones to make bone broth- some say you only need simple aromatics, some prefer onions only, some say carrots make it too sweet. Really, you can't go wrong. Mirepoix (onions, carrot, celery) like I used for this Instant Pot Bone Broth is pretty standard.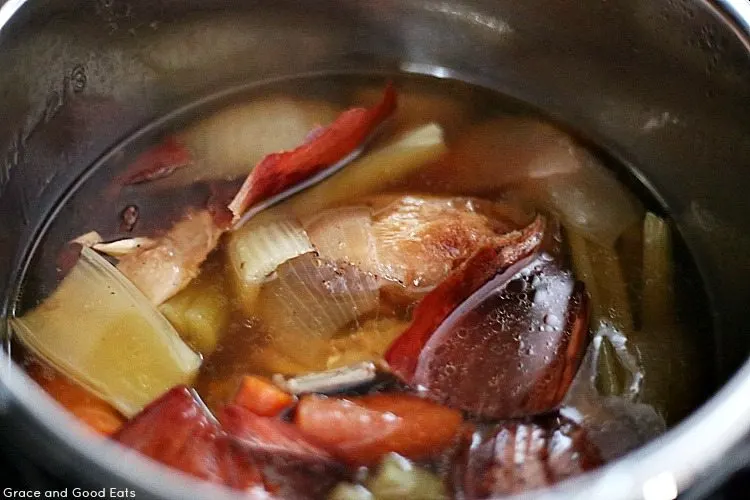 See the thick viscous surface in the image above? That is the difference between chicken broth and bone broth. Bone broth is essentially chicken stock, which is more viscous due to the collagen that seeps out of joints and bones during long-term (or in this case, pressure) cooking. Chicken broth (like the store brought version above) is thinner and typically made with more actual meat (versus meat-stripped bones).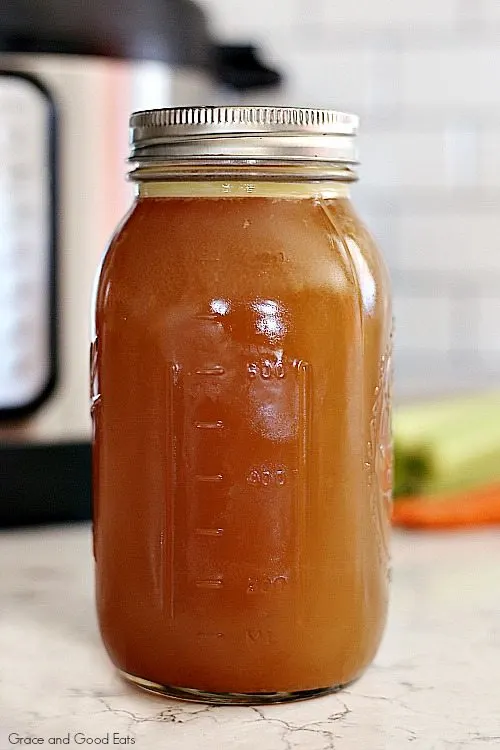 Bone broth will last 3-4 days in the refrigerator. If I know I'm not going to use it quickly, I will pour the broth into an ice cube tray and freeze for later use. Keep in mind that you shouldn't let the hot broth linger before putting it into the refrigerator. Use an ice bath to cool it down quickly if needed.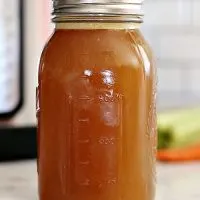 Ingredients
1

rotisserie chicken carcass

2

cups

water

2

cups

chicken broth (or more water)

4

small pieces of celery

3

large carrots

1/2

onion

1/2

tsp

salt

1/2

tsp

pepper
Instructions
Remove the preferred white/dark meat from the rotisserie chicken. (You do not need to pick the bones clean.) Add the carcass to the Instant Pot.

Chop the carrots and celery into roughly three inch pieces. Roughly chop the onion into large sections. Add these around the chicken bones.

Cover with water (or combination of broth and water) close to the 1/2 fill line located inside the pot. Try to keep all of the ingredients below the water surface. Do not exceed the max fill line.

Add salt and pepper.

Secure the lid on the pressure cooker. Set to manual for thirty minutes. Carefully perform a quick release when the timer goes off.

Use tongs to carefully remove the large pieces of bones and vegetables. Use a fine sieve to strain out any remaining impurities.
Notes
Makes approx 32oz of stock. Please note that there is no way for me to calculate the nutritional value of the "chicken carcass" or bones used. The numbers below include a whole rotisserie chicken. Please use these nutritional facts as a guide only.
Nutrition
Serving:
32
oz
|
Calories:
2289
kcal
|
Carbohydrates:
30
g
|
Protein:
235
g
|
Fat:
130
g
|
Saturated Fat:
36
g
|
Cholesterol:
729
mg
|
Sodium:
3865
mg
|
Potassium:
3483
mg
|
Fiber:
8
g
|
Sugar:
13
g
|
Vitamin A:
32090
IU
|
Vitamin C:
52.7
mg
|
Calcium:
295
mg
|
Iron:
13.9
mg
Use your delicious Instant Pot Bone Broth in my favorite Chicken and Dumplings or Southern-Style Cornbread Dressing.