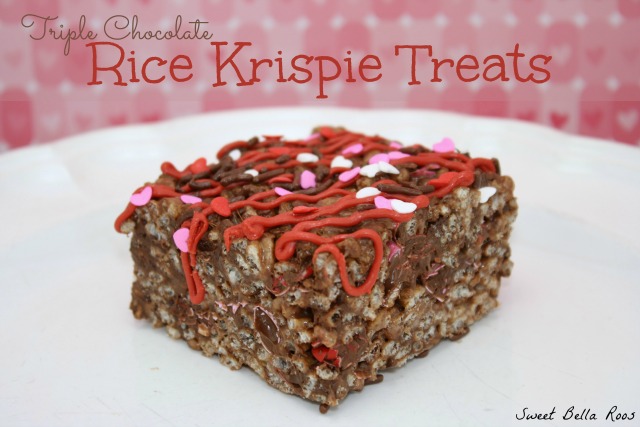 These Triple Chocolate Rice Krispie Treats are everything you want them to be; ooey-gooey, chocolatey, crunchy, deliciousness.
Funny story: My husband rarely eats anything I bake. (I know, right?!) It's so annoying. (Much like the fact that even if he ate everything I've ever baked he probably wouldn't gain a single pound.) The other day I told him I made rice krispie treats (ok, im full disclosure I was bragging that I actually cleaned the kitchen after baking something ha-ha) either way, he was excited that I made some! I quickly went to grab one out of the container before checking him for a fever, and I was met with the most puzzled look. The conversation went something like:
Husband: "Do those have chocolate chips in them?"
Me: "Yes! How did you know? They melted so it's kind of hard to tell."
Husband: "What do you mean how can I tell? You coated all the krispies brown!"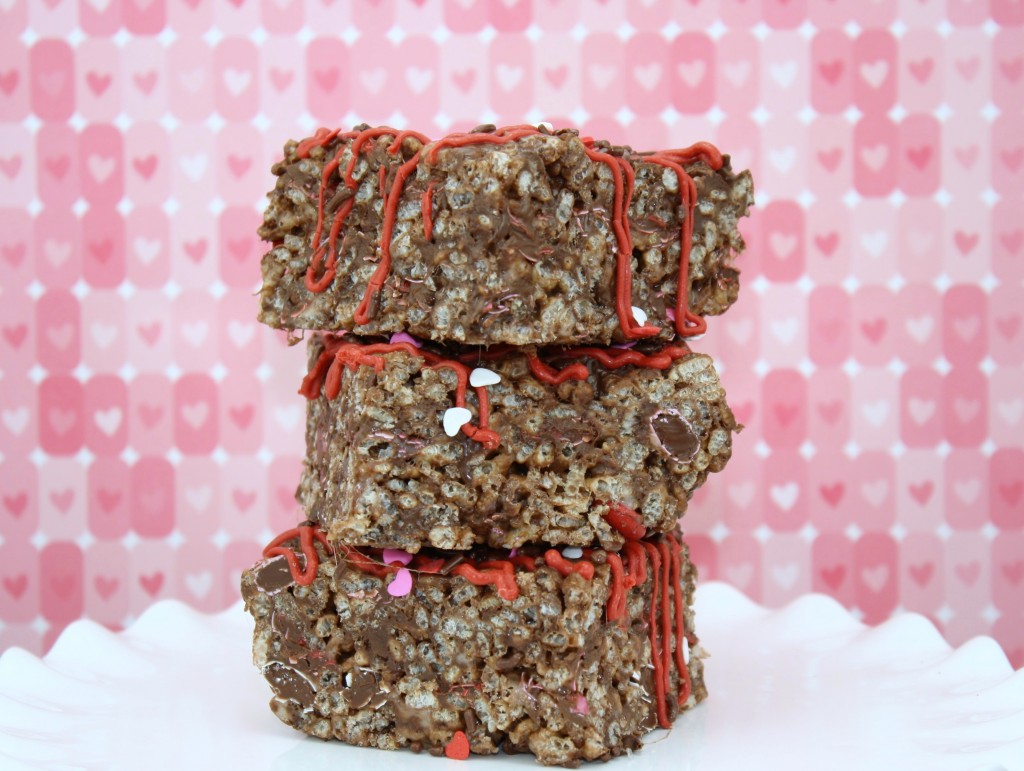 After much laughter (on my part) I discovered that he didn't know they made COCOA krispies, and he actually thought I did such an amazing job coating them all that there wasn't a speck of white left.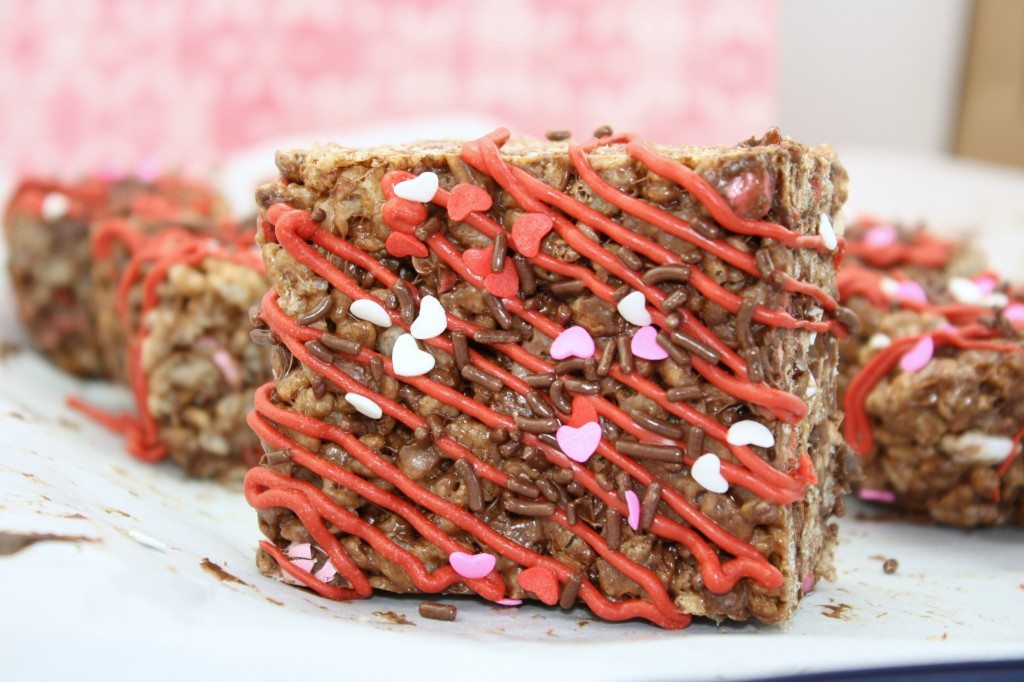 If you follow me on Facebook you saw my post that James recently described macarons to someone as "dessert hamburgers". This also made me crack up- not because I don't kind of see his point, but more so because of the high regard I have for these impressive little French cookies. Macarons are my #1 baking fear, and to hear them compared to "hamburgers" just didn't make sense to me.
But you know what does make sense to me? Triple chocolate rice krispie treats. I promise, they will make sense to you too. Even my husband became a fan after he was introduced to the goodness that is Cocoa Krispies.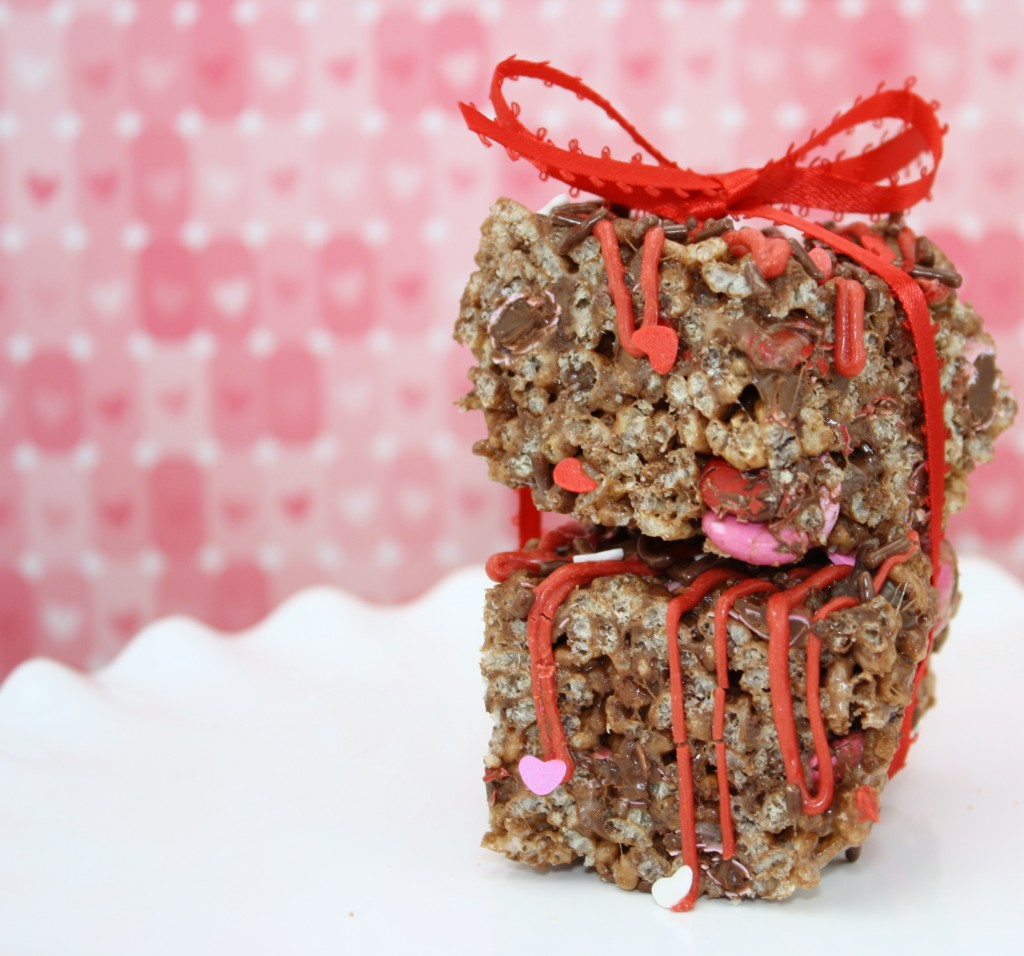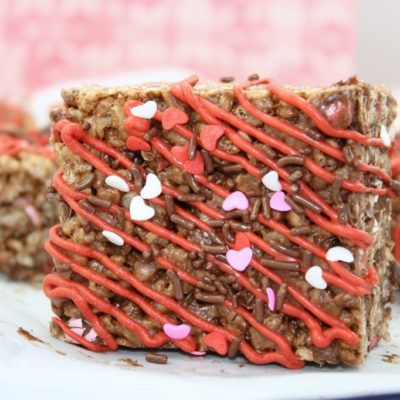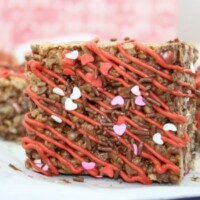 Ingredients
6

cups

Cocoa Krispies cereal

1 (10)

oz

pkg marshmallows

3

tbsp

butter

1

cup

chocolate chips

1

cup

M&M's
Instructions
Melt the marshmallows and butter in a large nonstick pan over low heat.

Mix the cereal, chocolate chips, and chocolate candies together in a large nonstick bowl (or a bowl coated with cooking spray).

Pour the melted marshmallow mixture over the cereal mixture, and mix well.

Pour immediately into a pan lined with parchment paper.
Notes
Keep in mind the size of the pan determines the thickness of your rice krispie treat.
Top with drizzled red candy melt and sprinkles for a fun Valentine's Day treat!
Nutrition
Calories:
380
kcal
|
Carbohydrates:
64
g
|
Protein:
3
g
|
Fat:
13
g
|
Saturated Fat:
8
g
|
Cholesterol:
14
mg
|
Sodium:
150
mg
|
Potassium:
33
mg
|
Fiber:
1
g
|
Sugar:
47
g
|
Vitamin A:
875
IU
|
Vitamin C:
8.5
mg
|
Calcium:
68
mg
|
Iron:
3
mg
For more Valentine's Day fun, check out these posts:
–Sweetheart Sandwich Cookies
–Free Valentine's Day Card Printable
I like to party– this recipe may be linked up at these fun parties!