Christmas Pretzels are so easy to make and are always a hit around the holidays. Try not to eat them all before you're able to gift them!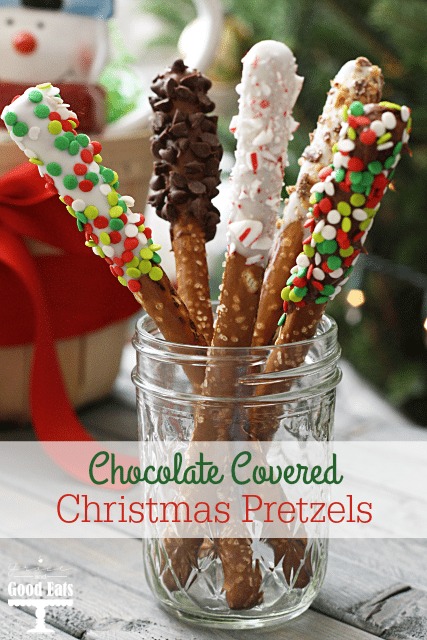 Chocolate covered pretzels are one of my favorite homemade gifts to give during the holiday season. Not only are they the perfect combination of salty and sweet, but they are also easy to make and always a crowd pleaser. I usually use the mini-twists, but this year decided to switch it up with chocolate covered pretzel rods instead.
What's Needed for Christmas Pretzels?
These Christmas chocolate covered pretzels are a breeze to make! Here's what I used to prepare them:
Chocolate (I used white and milk)
Pretzel rods
Toppings of choice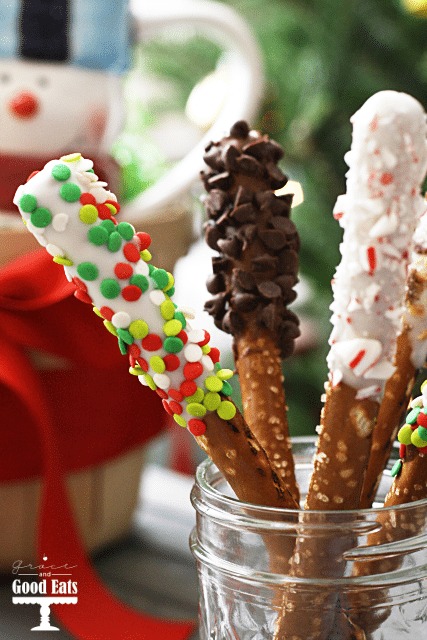 How to Make Chocolate Covered Pretzel Rods
Melt 4oz of white chocolate and milk chocolate, separately.
Dip one end of each pretzel rod into the white or milk chocolate.
Immediately coat with toppings.
Let set on parchment paper until chocolate is firm.
Can I Use Another Kind of Pretzel?
Of course! I made chocolate covered pretzels rods this year, but pretzel twists or another variety of pretzel will also work.
How Long Do Chocolate Covered Pretzels Last?
If your pretzel rods are fresh and you seal the chocolate covered pretzels in an airtight container, they should last up to 2 weeks. The exposed bits of pretzel will go stale the quickest.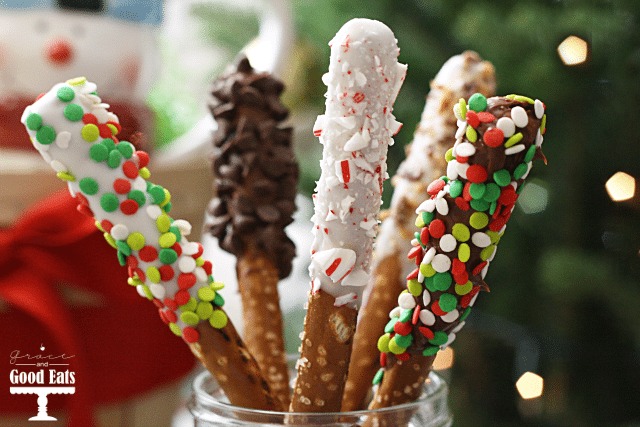 Tips for Making Christmas Pretzels
Be careful not to get the chocolate too hot or it will start to clump up. I melt mine for 30 seconds and then stir and repeat until smooth. It usually only takes a minute. If I have to go past a minute, I reduce the time to 15-second intervals and 50% power until smooth.
You can use any kind of chocolate you'd like to make your Christmas pretzels. I used white and milk chocolates, but dark, semi-sweet, and so on will all work.
Use whatever toppings you'd like! I used crushed candy cane, crushed toffee candy, mini chocolate chips, and sprinkles.
More Homemade Christmas Treats: