These Cinnamon Sugar Pecans are the perfect treat to snack on during the holidays.  They're also great as added crunch for a salad or for last-minute gifting! 
This post is sponsored by the makers of In The Raw®.  I received product, information, and a gift card to facilitate my honest review.  All thoughts and opinions are my own.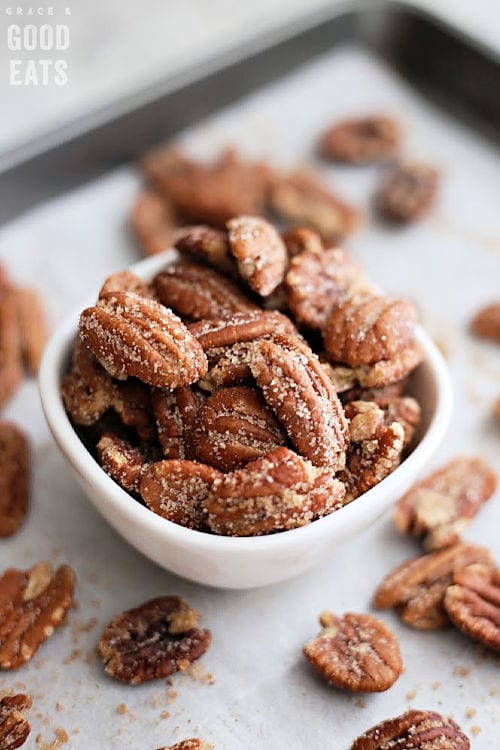 James isn't a big dessert or sweets guy, but he does have one weakness: Cinnamon Sugar Pecans.
If the fair or the ball game … or the gas station… is selling them, he's buying.
I finally set out to make my own and this super easy + totally addicting recipe was the result.  I didn't want to mess with the hassle of egg whites (which most recipes call for) and I wanted to use turbinado sugar (I love the big, beautiful crystals). I love the way they turned out!
Turbinado Sugar vs Brown Sugar
Turbinado sugar is a brown sugar, but it is not the same thing as brown sugar.
The main difference between the two is how much molasses is in each final product: turbinado sugar has less molasses so its flavor is milder than that of brown sugar.
Crystal size is another key differentiator: turbinado sugar crystals are larger than brown sugar crystals- which makes them a perfect "finishing" sugar.
What is Sugar In The Raw?
Sugar In The Raw® is a Turbinado sugar made exclusively from sugarcane.  Juice is extracted from the sugarcane and then crystallized through evaporation to maintain its natural molasses, golden color and distinctive flavor.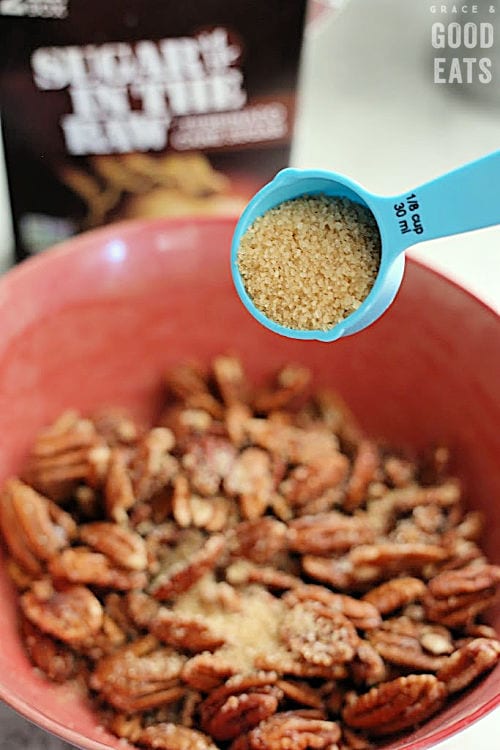 Turbinado sugar also has less moisture than brown sugar which makes the crystals less sticky.  You can measure Sugar In The Raw simply by scooping it up in a measuring cup and leveling it off; whereas brown sugar has to be packed down first.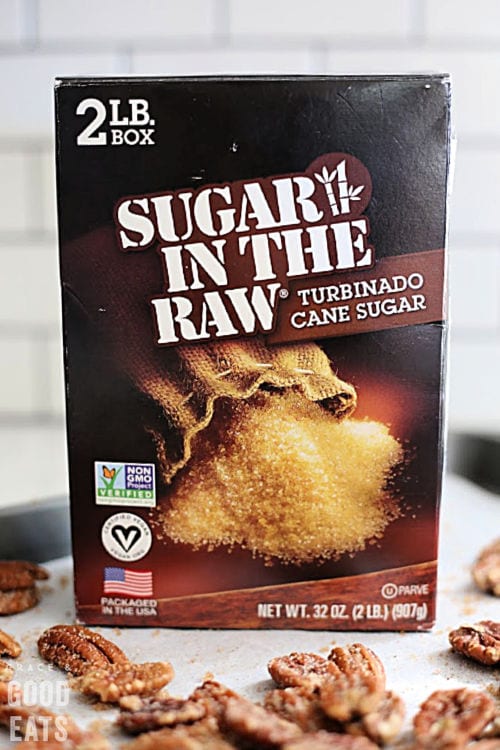 The jewel-like crystals are perfect as a finishing sugar to add sparkle to muffins and cookies.  The hearty, golden crystals are made from the first pressing of the cane and never bleached, so they keep the delicious, rich flavor and color of their natural molasses.
Perfect for both sweet and savory recipes like Minted Carrots, Pumpkin Fritters, and Roasted Butternut Squash and Goat Cheese.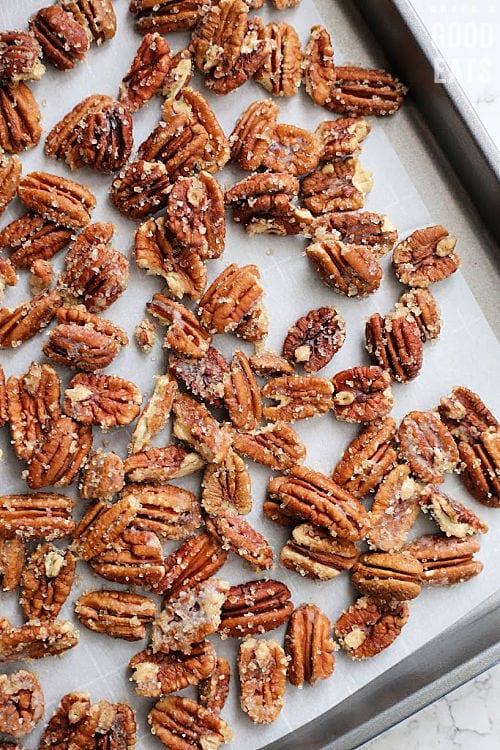 I love the way the crystals stick to the pecans and are still visible after baking.  These Cinnamon Sugar Pecans are the perfect combination of sweet, nutty, and subtle heat.  James isn't a big fan of cayenne pepper (he can tell right away when I've been heavy-handed in my White Chicken Chili Soup) but I still snuck a tiny 1/4 teaspoon into this recipe.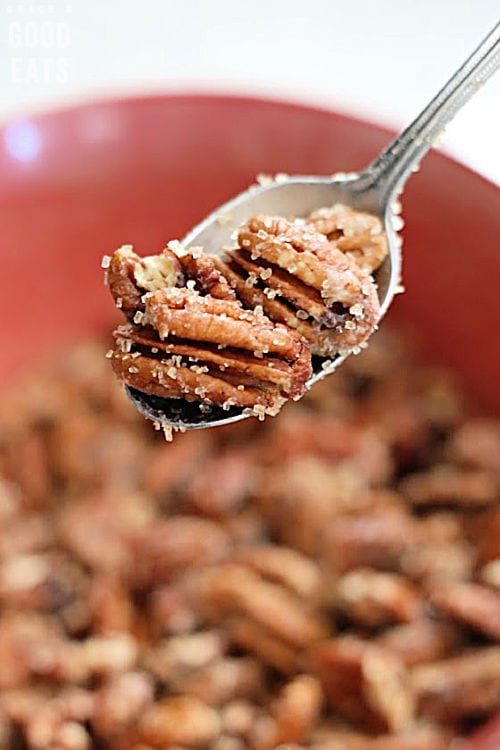 Cinnamon and cayenne are a delicious duo typically paired with chocolate (like in my Mexican Hot Fudge Sauce).  I plan to make another big batch of these Cinnamon Sugar Pecans to snack on in the kitchen while prepping for Thanksgiving next week.  Somebody remind me to save enough to sprinkle over Greek yogurt the next day for some Black Friday fuel!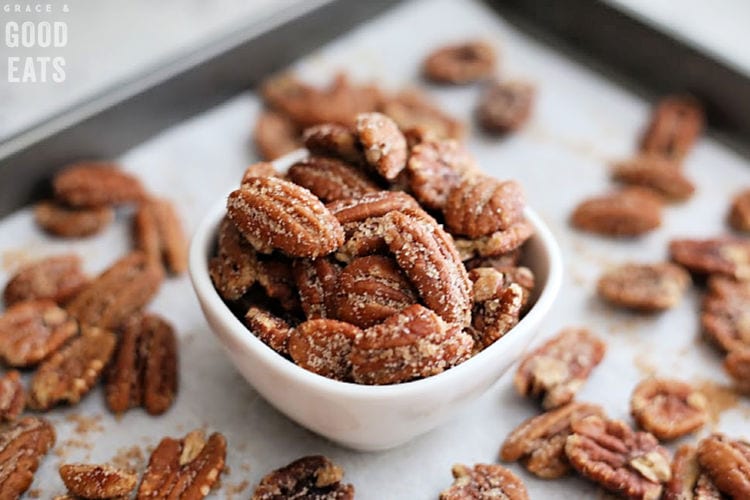 These would also be super cute wrapped up as gifts for Christmas.  Take my advice and package them up right away if you plan to gift them… before you eat the whole pan one handful at a time.  Not that I know anything about that!
Try turbinado sugar in more yummy holiday recipes like Sweet Potato Casserole, Mini Pecan Tarts, or an easy Pumpkin Pie Frappe.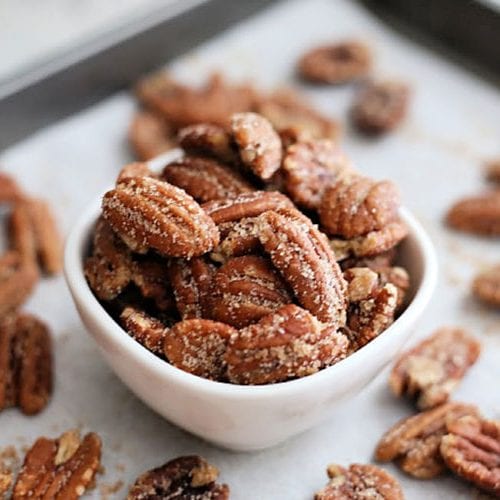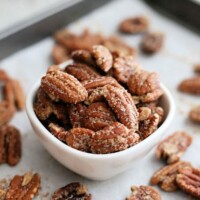 Ingredients
3

cups

pecan halves

2

tbsp

unsalted butter,

melted

2

tbsp

turbinado sugar

2

tbsp

granulated sugar

1/2

tsp

cinnamon

1/4

tsp

cayenne pepper
Instructions
Preheat oven to 350°F and line a baking sheet with parchment paper.

Pour pecans and melted butter into a medium sized bowl. Stir well to coat completely.

Add turbinado sugar to pecans and stir again, until the pecans are covered evenly.

Pour pecans onto prepared baking sheet and bake for 5 minutes.

While pecans are baking, add granulated sugar, cinnamon, and cayenne to the same medium bowl the pecans were in before. Mix well.

Remove pecans from the oven and add back to the bowl with the sugar and spices.

Stir the pecans and sugar together until all are well coated.

Pour back onto baking pan and bake an additional 5 minutes.

Remove from oven and allow to cool completely on the tray.
Notes
Store in the refrigerator in an airtight bag.
Nutrition
Calories:
204
kcal
|
Carbohydrates:
7
g
|
Protein:
2
g
|
Fat:
19
g
|
Saturated Fat:
2
g
|
Cholesterol:
5
mg
|
Sodium:
17
mg
|
Potassium:
101
mg
|
Fiber:
2
g
|
Sugar:
4
g
|
Vitamin A:
90
IU
|
Vitamin C:
0.2
mg
|
Calcium:
18
mg
|
Iron:
0.6
mg
Sugar In The Raw® premium turbinado sugar is certified non-GMO, vegan and naturally gluten-free.  It's conveniently available in packets, bulk, liquid and old-fashioned cubes.  Visit them on Facebook or at InTheRaw.com for more recipes.