This Sweet Potato Casserole with Pecan Topping is a delicious holiday side dish or dessert.  The creamy sweet potatoes with butter and brown sugar pair perfectly with the crumbly streusel topping!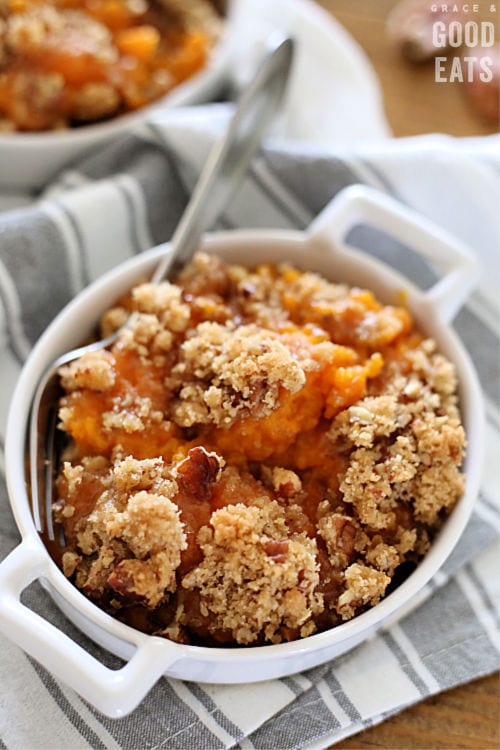 Every year when Thanksgiving rolls around my Mom says that we are going to cut back on the amount of food we cook.  "We're only going to have our favorites!"  Smoked turkey (duh), mashed potatoes (with two kinds of gravy) (also duh), homemade rolls (obviously), my grandmother's Southern Style Cornbread Dressing (double-obviously), with a pecan pie and a pumpkin pie for dessert (of course)!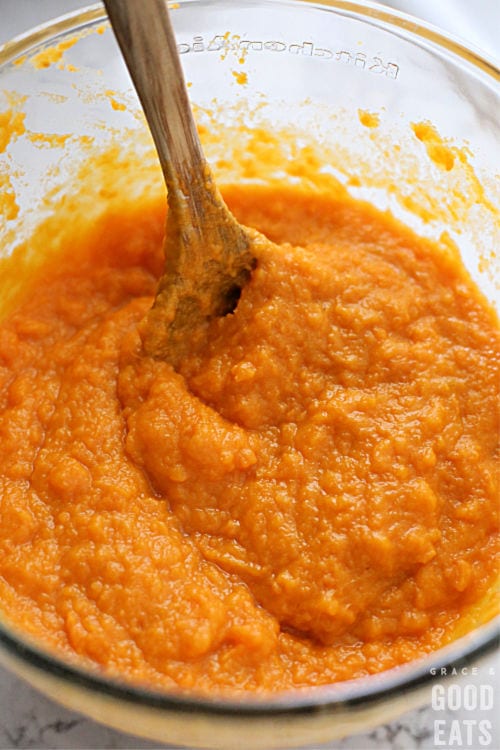 But it never stops there.  We might as well have Aunt Debdeb bring her famous mac & cheese, for the kids (right… the kids…).  What about my Best Ever Creamed Corn?  How could we leave out the sweet potato casserole for goodness sake?
Annnnnd just like that all of our favorites are there safe and sound; all of the things we make year after year.  I can't imagine Thanksgiving without a single one of them.  (Okay, I could for sure survive without the giblet gravy.)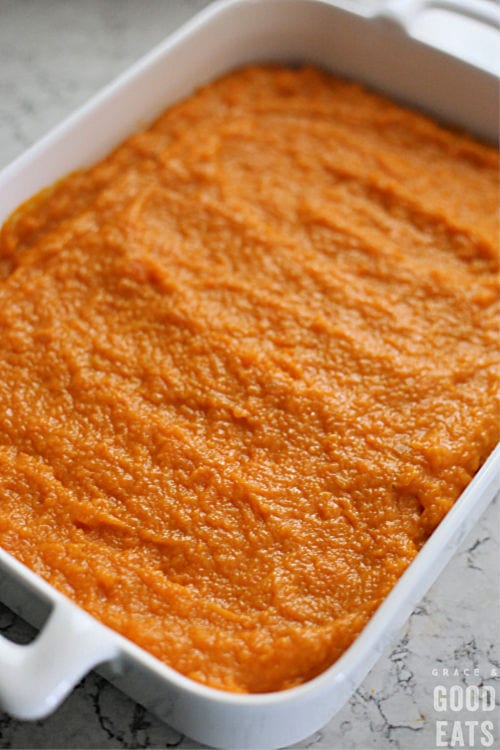 Sweet Potato Casserole
I tried a Sweet Potato and Rice Casserole years ago, though my family typically goes more for the candied sweet potatoes with gobs of butter and fistfuls of mini marshmallows.  My husband loves them but I can take 'em or leave 'em.  Candied sweet potatoes are typically cut in wedges (Hard. Also- time consuming.) and can be a bit temperamental when it comes to getting the syrup to thicken up the way it should.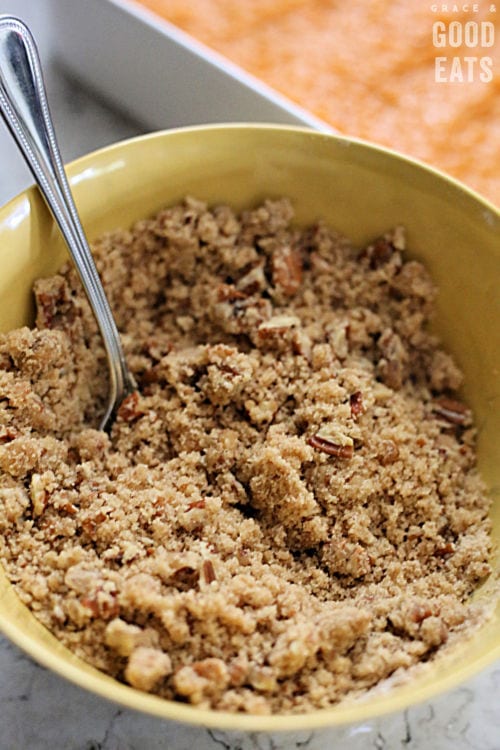 Sweet Potato Casserole with Pecan Topping
Sweet Potato Casserole on the other hand, differs in that it typically has pecans and may or may not also have marshmallows.  The pecans are either mixed in or used to make a streusel.  Streusel is a crumbly topping of flour, butter, and sugar that is baked on top of muffins, breads, pies, and cakes.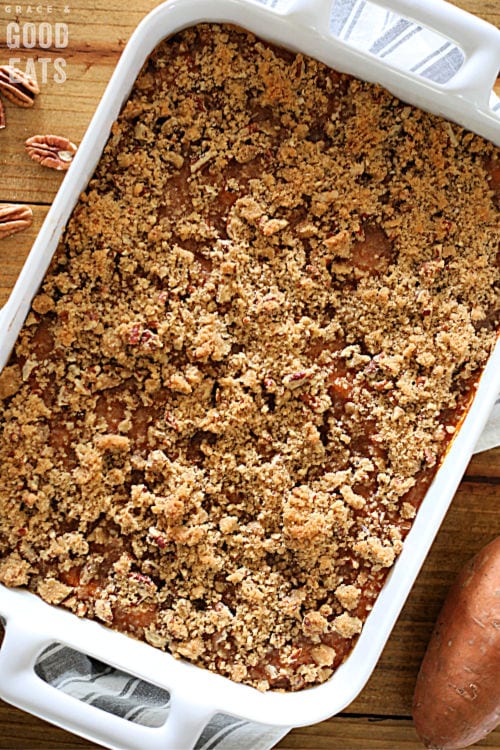 Consider me officially converted because I love this Sweet Potato Casserole with Pecan Topping.  The sweet potatoes are velvety and creamy, almost like a mousse or souffle or thick pudding.  The streusel adds sweetness without being cloying (which I sometimes feel candied sweet potatoes are) and the pecans bring a soft crunch to balance the textures.
Pretty sure we are going to have to make room for this one on our Thanksgiving table.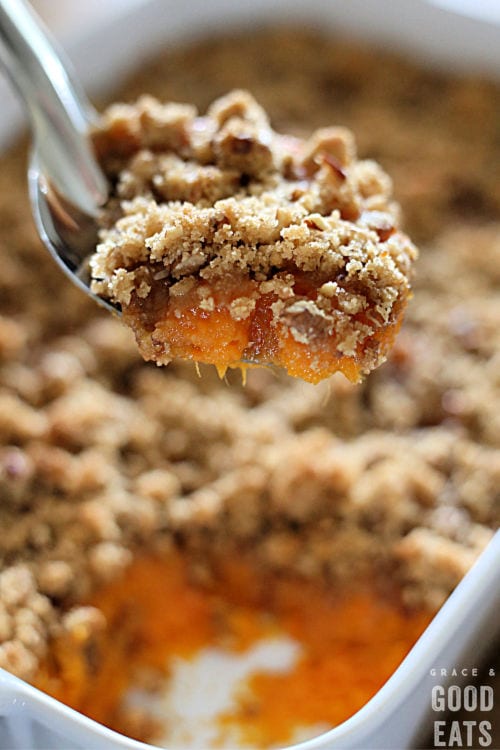 Cook Sweet Potatoes in the Instant Pot
Follow this recipe for Pressure Cooker Sweet Potatoes (which offers two different methods) for the easiest way to cook sweet potatoes.  They're ready in less than thirty minutes and perfect for mashing!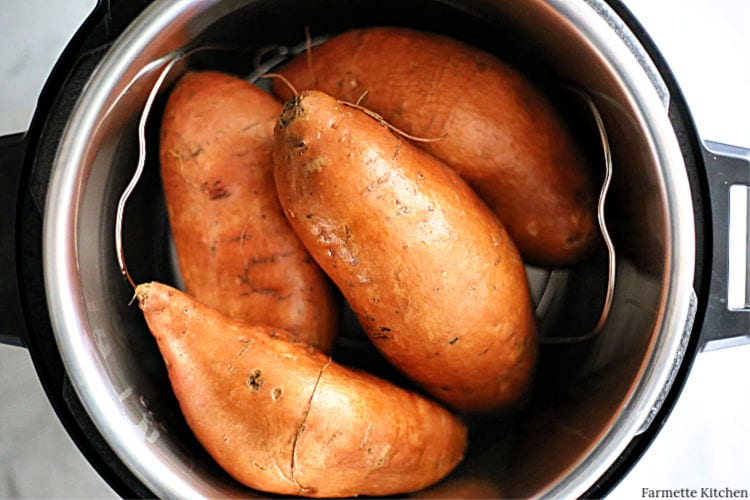 Make Ahead / Freeze Instructions:
Make-Ahead Tips: Prepare the sweet potato mixture and spread into casserole dish.  Wrap tightly and store in the refrigerator for up to five days.  Prepare the streusel topping and store in a zip top bag in the refrigerator.  When ready to bake, remove from refrigerator, spread streusel on top of casserole, and bake as directed.
Freezer-Friendly Tips: Prepare the sweet potato mixture and spread into casserole dish.  Cool completely, wrap tightly, and store in the freezer up to 3 months.  (Don't make the streusel topping at this time.)  When ready to bake, remove from the freezer and allow to thaw overnight in the refrigerator.  Make streusel topping mixture, sprinkle on top of casserole, and bake as directed.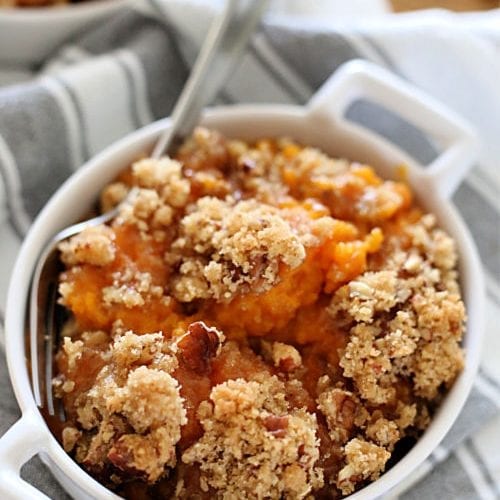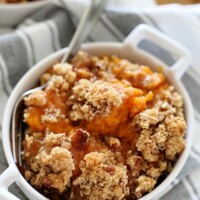 Ingredients
5

cups

cooked sweet potatoes, mashed

(about 5-6 medium sweet potatoes)

1

cup

granulated sugar

8

tablespoons

unsalted butter, softened

1 1/2

teaspoons

vanilla extract

1/4

cup

whole milk

1/4

cup

heavy cream

2

eggs
For the Streusel Topping:
1

cup

brown sugar, packed

1/2

cup

all-purpose flour

1

cup

chopped pecans

4

tablespoons

unsalted butter, softened
Instructions
Preheat oven to 350 degrees.

Add the cooked, mashed sweet potatoes to a large bowl.

Stir in granulated sugar, butter, vanilla, milk and eggs, mix well.

Pour mixture into a 9x13 casserole dish.
For the topping:
Mix brown sugar, flour, pecans, and butter together with a fork until slightly clumpy.

Sprinkle the streusel topping evenly over the sweet potato mixture.

Cook for 30 minutes until topping has browned.
Nutrition
Serving:
1
serving
|
Calories:
396
kcal
|
Carbohydrates:
51
g
|
Protein:
3
g
|
Fat:
20
g
|
Saturated Fat:
9
g
|
Cholesterol:
64
mg
|
Sodium:
150
mg
|
Potassium:
274
mg
|
Fiber:
2
g
|
Sugar:
37
g
|
Vitamin A:
8340
IU
|
Vitamin C:
1.4
mg
|
Calcium:
55
mg
|
Iron:
1.1
mg