This creamed corn side dish is the perfect balance of sweetness and spice.  Creamy, buttery, super sweet corn is a delicious addition to your holiday table or Sunday supper.  Don't skimp on the fat, just embrace this indulgent treat for what it is!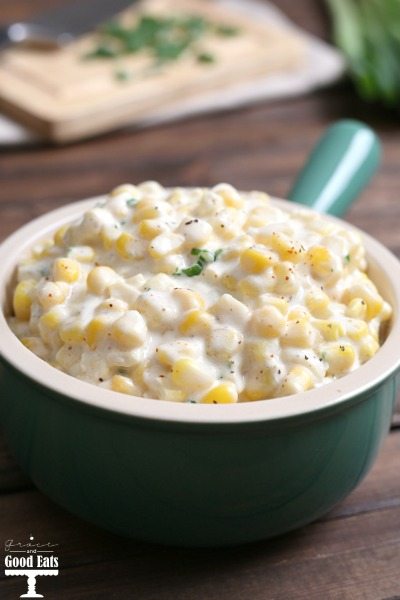 Remember when I told you that I have somehow managed to double (almost triple…) my grocery budget since moving to a tiny town with only a single convenience style grocery store?  I've finally figured out my problem: online shopping + grocery delivery services.  Amazon Pantry, Google Express, and my latest discovery: SCHWAN'S.  Though not a new service, they are new to me.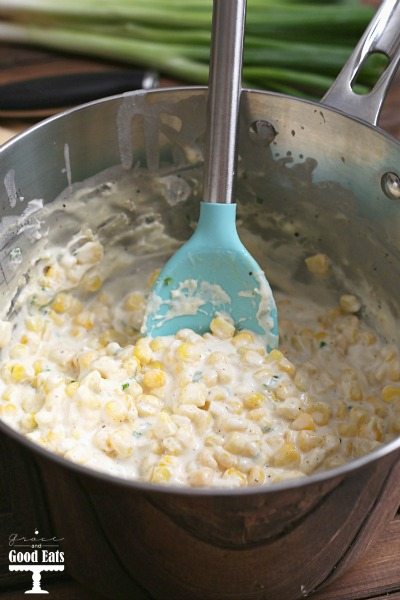 The local delivery driver just happened to stop by our house one day looking for the previous residents, after he learned they no longer lived here he quickly followed up with, "Well, do you need any ice cream?"  I mean, what a pitch, right?  When is there ever a time that you DON'T need ice cream?  (Ian's dairy allergy and James lactose intolerance aside… ha!)
SCHWAN'S delivers over 350 high quality, flash frozen meal solutions, offering everything from meats, sides, fruits and veggies, desserts and, of course, their legendary ice cream.  Because we live so far from any large grocery stores, we have been forced to embrace frozen foods.  From the SCHWAN'S site:
Frozen food is a great way to lock in the freshness and flavor of your favorite foods. Freezing reduces the need for additives and preservatives in food. Our fruits and vegetables are picked ripe and frozen at their optimum nutritional value. And a selection of our seafood is wild-caught in cold ocean waters and immediately flash-frozen. With advances in freezing technology, there really is no difference between "fresh" and "frozen" in the taste and quality of our foods.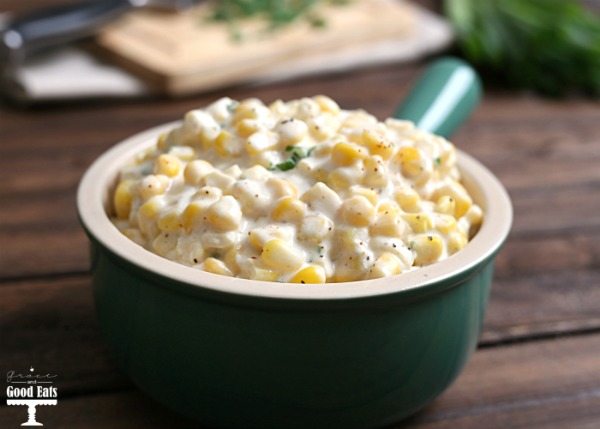 I started small, ordering some frozen whole strawberries and salmon fillets.  The delivery guy talked me in to one of their most popular products: SCHWAN'S Super Sweet Corn.  He was right, it did not disappoint!  I used it to make this creamed corn and it might just be the secret to that perfect sweet-but-not-too-sweet ratio.
This is an indulgent treat so don't skimp on the fat- use full fat cream cheese and whole milk.  Use real butter.  Put on your fat pants and embrace every single bite of creamy deliciousness.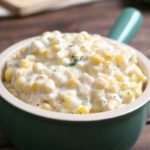 Creamed Corn
This creamed corn side dish is the perfect balance of sweetness and spice. Creamy, buttery, super sweet corn is a delicious addition to your holiday table or Sunday supper.
Ingredients
3

cups

frozen sweet corn

1/2

cup

whole milk

4

oz

cream cheese

1/4

cup

unsalted butter

1 1/2

teaspoons

sugar

1/2

teaspoon

pepper

1/2

teaspoon

salt

1/4

teaspoon

cayenne pepper

1

tablespoon

green onions

finely diced
Instructions
Cube the cream cheese and butter, add to a medium size sauce pan over medium high heat.

Add the milk and stir continuously until the mixture is smooth.

Reduce heat to medium and add the sugar, spices, and corn.

Continue stirring until the corn is heated through, about five minutes.
Recipe Notes
I like some heat with this so I use a heaping 1/4 teaspoon of cayenne. Also, be sure to stir this continuously, you do not want the milk mixture to scald or burn on the bottom. If it starts to boil, adjust your temperature down quickly.
Nutrition Facts
Creamed Corn
Amount Per Serving (0.5 cup)
Calories 230
Calories from Fat 135
% Daily Value*
Total Fat 15g 23%
Cholesterol 43mg 14%
Sodium 268mg 11%
Potassium 295mg 8%
Total Carbohydrates 22g 7%
Protein 4g 8%
* Percent Daily Values are based on a 2000 calorie diet.
Get more delicious side dish recipes:
p.s. This is not a sponsored post, I just recently learned of SCHWAN'S and wanted to share my experience.  So far we are loving the frozen fruit and veggies we've tried, as well as the salmon fillets.  I wasn't crazy about the chicken tortilla soup, but it was good in a pinch to satisfy a craving.  Do you order?  Anything I must try?