This creamed corn side dish is the perfect balance of sweetness and spice.  Creamy, buttery, super sweet corn is a delicious addition to your holiday table or Sunday supper.  Don't skimp on the fat, just embrace this indulgent treat for what it is!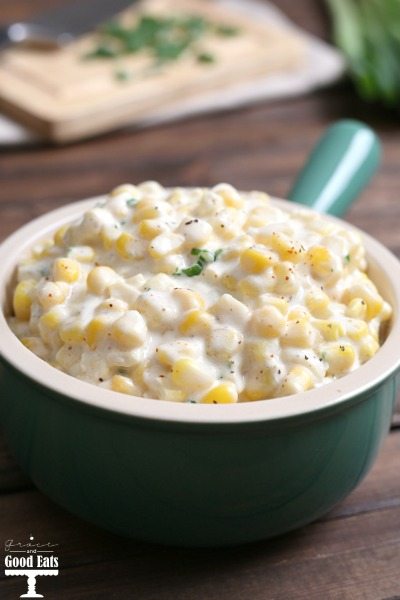 Remember when I told you that I have somehow managed to double (almost triple…) my grocery budget since moving to a tiny town with only a single convenience style grocery store?  I've finally figured out my problem: online shopping + grocery delivery services.  Amazon Pantry, Google Express, and my latest discovery: SCHWAN'S.  Though not a new service, they are new to me.
The local delivery driver just happened to stop by our house one day looking for the previous residents, after he learned they no longer lived here he quickly followed up with, "Well, do you need any ice cream?"
I mean, what a pitch, right?  When is there ever a time that you DON'T need ice cream?  (Ian's dairy allergy and James' lactose intolerance aside… ha!)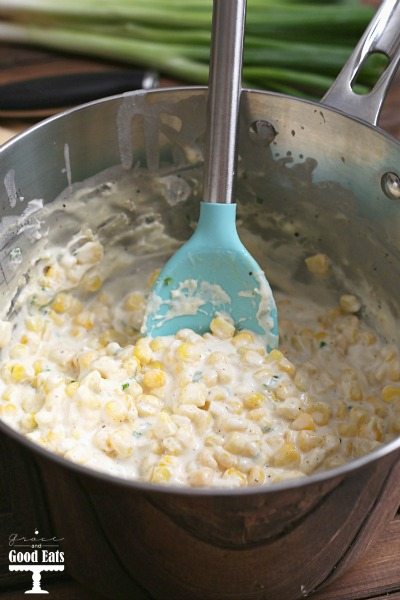 I started small, ordering some frozen whole strawberries and salmon fillets.  The delivery guy talked me in to one of their most popular products: SCHWAN'S Super Sweet Corn.  He was right, it did not disappoint!  I used it to make this Creamed Corn and it might just be the secret to that perfect sweet-but-not-too-sweet ratio.  (I also use it in my Instant Pot Chicken Tortilla Soup!)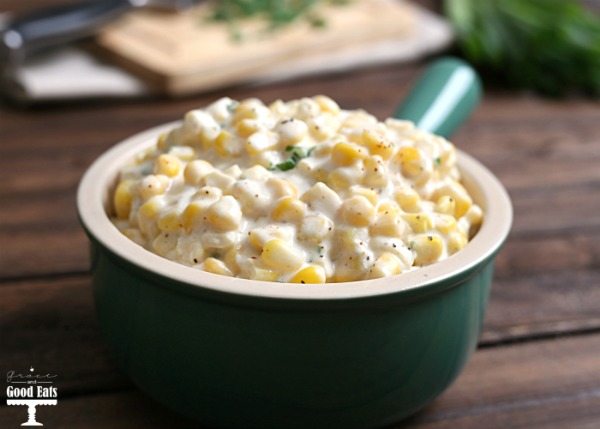 I have to admit, until I made this homemade Creamed Corn for myself, I wasn't really a big fan of this dish.  Maybe that's because I remember the canned version of cream-style corn from my childhood.  Trust me the homemade version with cream cheese and real butter is infinitely better!
Cream Cheese Corn
When cooked on the stovetop, the milk (or cream) that the corn cooks in slowly reduces down into the signature thick and creamy sauce.  The addition of cream cheese in this creamed corn recipe helps to thicken the sauce quicker.  Cream cheese is a common addition when making creamed corn in the slow cooker because it helps to thicken the sauce in the closed environment (read: no evaporation).  I also love the flavor that it adds!
Recipe Tester Notes:
Creamed Corn can be made with frozen, fresh, or canned corn.  I have only tried this recipe with frozen.
Some recipes separate and blend a portion (1/4 – 1/2) of the cooked creamed corn for added creaminess.  I like the texture of this recipe with the burst of corn so I don't do this.  (I also don't want to dirty any more dishes or kitchen tools!)
You can substitute with 2% milk if that's all you have, I haven't personally tried this, and it may not be as creamy but with the cream cheese the difference may be negligible.
I recommend using full fat cream cheese, whole milk, and real butter for best results!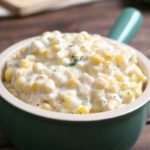 Print Recipe
Creamed Corn
This creamed corn side dish is the perfect balance of sweetness and spice. Creamy, buttery, super sweet corn is a delicious addition to your holiday table or Sunday supper.
Ingredients
3

cups

frozen sweet corn

1/2

cup

whole milk

4

oz

cream cheese

1/4

cup

unsalted butter

1 1/2

teaspoons

sugar

1/2

teaspoon

pepper

1/2

teaspoon

salt

1/4

teaspoon

cayenne pepper

1

tablespoon

green onions

finely diced
Instructions
Cube the cream cheese and butter, add to a medium size sauce pan over medium high heat.

Add the milk and stir continuously until the mixture is smooth.

Reduce heat to medium and add the sugar, spices, and corn.

Continue stirring until the corn is heated through, about five minutes.
Notes
I like some heat with this so I use a heaping 1/4 teaspoon of cayenne. Also, be sure to stir this continuously, you do not want the milk mixture to scald or burn on the bottom. If it starts to boil, adjust your temperature down quickly.
Nutrition
Serving:
0.5
cup
|
Calories:
230
kcal
|
Carbohydrates:
22
g
|
Protein:
4
g
|
Fat:
15
g
|
Saturated Fat:
8
g
|
Cholesterol:
43
mg
|
Sodium:
268
mg
|
Potassium:
295
mg
|
Fiber:
2
g
|
Sugar:
2
g
|
Vitamin A:
11.4
%
|
Vitamin C:
7.4
%
|
Calcium:
4.7
%
|
Iron:
3.5
%