Sweet Lake Biscuits and Limeade in Salt Lake City, Utah serves up hot biscuits, cold limeades, and fresh salads made from local and organic ingredients as often as possible. Go early for breakfast or lunch, you won't be disappointed!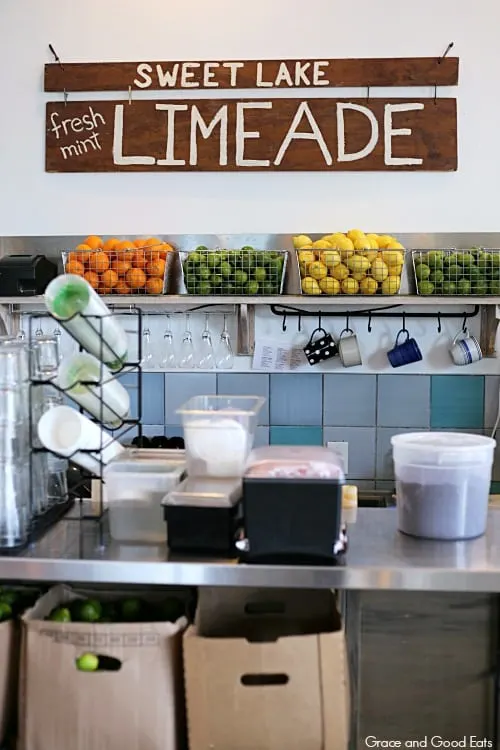 I did some quick research on the foodie scene in Salt Lake City and had a short list going in to my trip of restaurants I wanted to check out (like Eva's Bakery for brunch). The Uber drivers were also very friendly and more than willing to give me local recommendations of SLC must-eats.
Sweet Lake Biscuits and Limeade came up several times!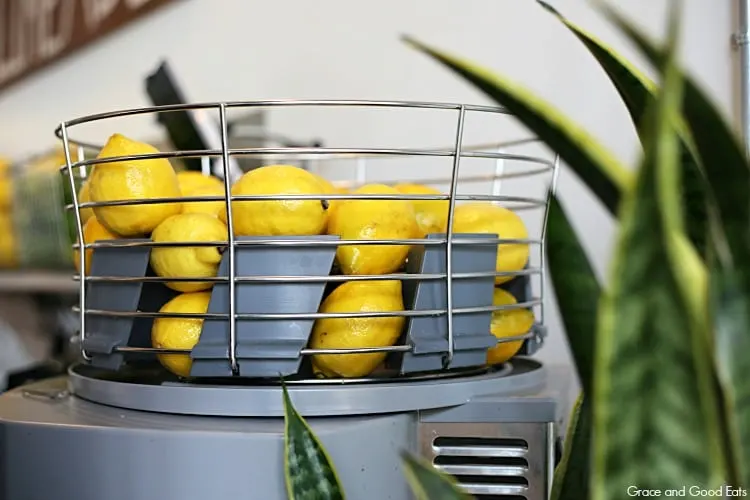 Sweet Lake Biscuits and Limeade is only open from 7am – 3pm M-F and 7am-4pm on the weekend, so I decided to go for a late lunch. Their menu boasts plenty of breakfast items like home-ground wheat pancakes, a honey yogurt bowl, and, of course, decadent biscuit concoctions, as well as different lunch biscuits and fresh salads.
I was told the "Hoss" is a popular choice- biscuit, fried chicken breast, egg, bacon, cheddar, sausage gravy, green onion garnish.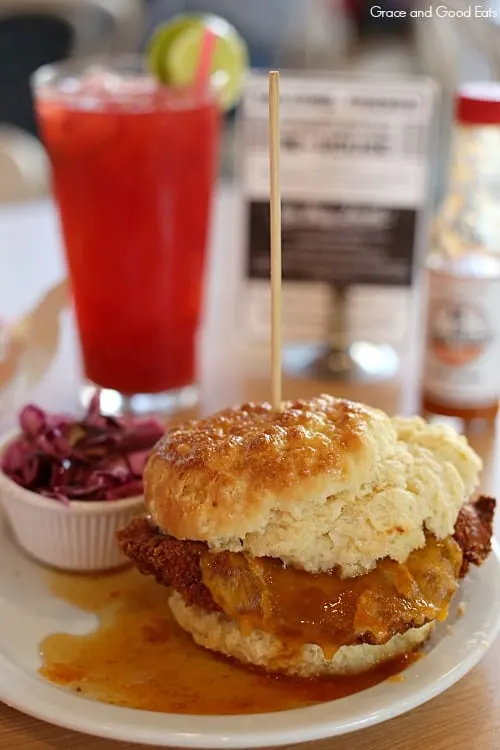 I opted for the "San Antone" (biscuit, fried chicken breast, honey, hot sauce, cheddar, slaw) off of their lunch menu. I'm from Texas after all, I had to right? Turns out, one of the owners is also from Texas (the other from Mexico) and each item on the menu tells a story about their life or an important person/place.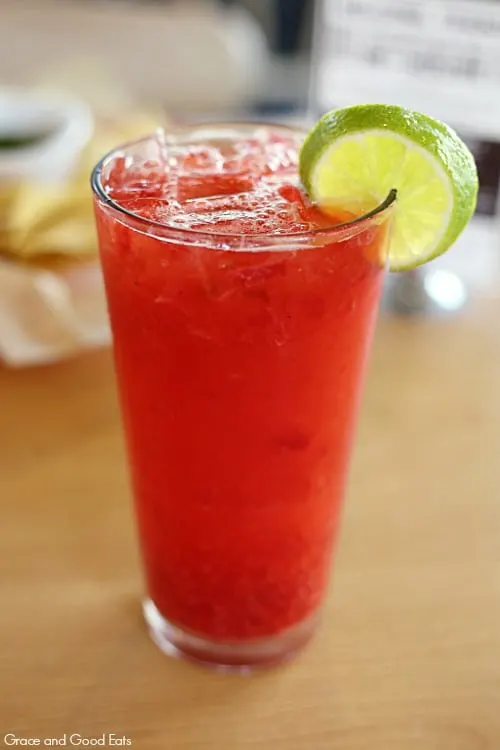 I chose the Raspberry Limeade to go with my biscuit lunch. I have to admit that it wasn't my favorite. I didn't like the chunky, seedy pulp that settled to the bottom. Some might enjoy that but I would have much preferred it to be strained smooth like my Raspberry Lime Agua Fresca.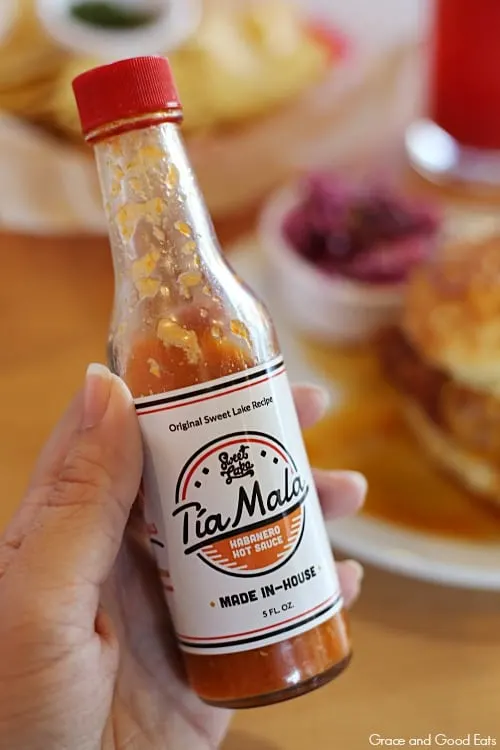 The waitress brought me a bottle of their Tia Mala made in-house habanero hot sauce and it was delicious! It had good flavor and good heat; I couldn't stop adding "just one more dash" as I ate my way through my giant biscuit. I would have brought some home with me had I checked a bag on the plane.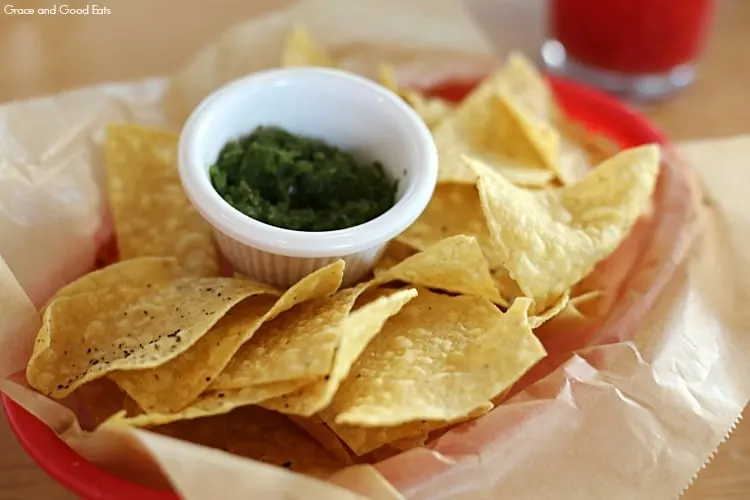 All of the lunch offerings come with house-made chips (or sub hash for $1 more) and mint limeade salsa. I was intrigued by the mint limeade salsa but I wish I had opted for the hash instead. The salsa was thick and gritty, more like the texture of pesto. Definitely not chip and dip consistency.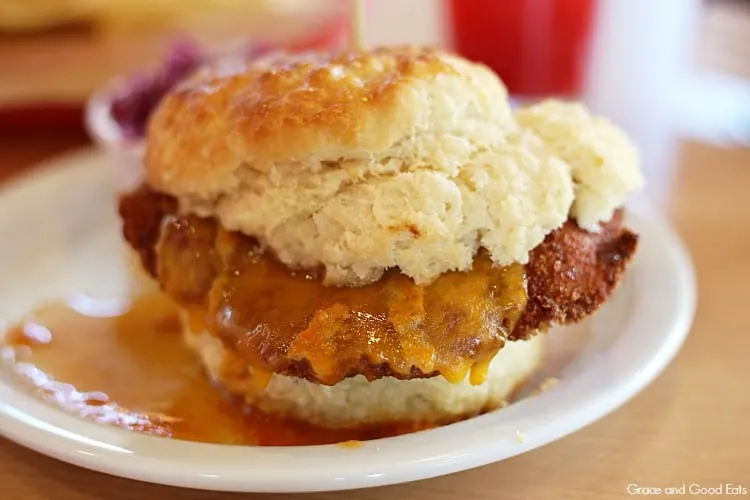 But that biscuit! The biscuit was mile-high and fluffy. It was crumby and soft. It was what biscuit dreams are made of. Honey butter chicken biscuits are popular in Texas, and the cheddar cheese and spicy flavor was a delicious addition.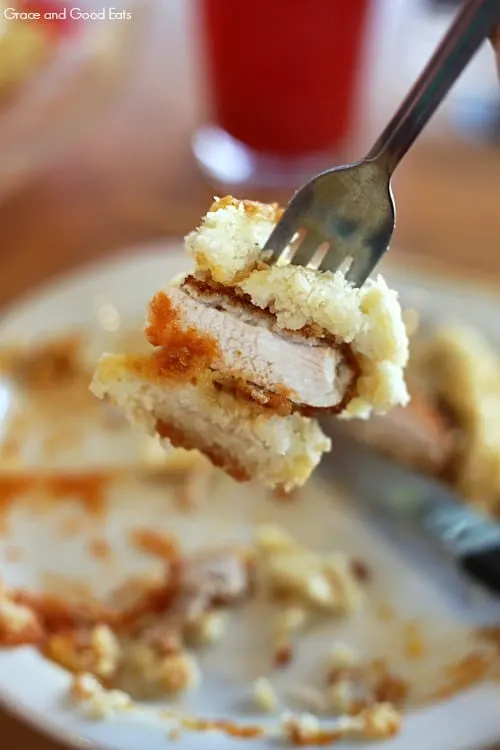 The chicken was well-seasoned and perfectly fried- not greasy or too crunchy. Trying to get all of it in one bite was definitely a delicious mouth-full.
I finished my meal with a Mint Limeade to-go. I was hoping that maybe I would enjoy their more "signature" limeade since I wasn't a big fan of the raspberry version. The Mint Limeade was better, but still not something I would seek out or order again.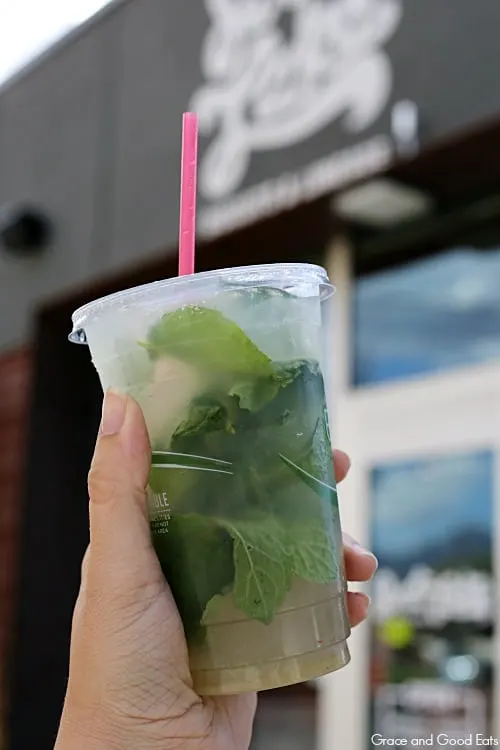 Why Biscuits and Limeade?
I asked my waitress about this because it does seem… well, totally random, right? She said that the company started as a food truck at the local farmer's market selling limeades. When they couldn't keep up with demand they decided to also open a brick and mortar selling limeades and biscuits.
I'm still not 100% sure why they chose biscuits, unfortunately their website doesn't give any more information either, but I can tell you that they are 100% delicious!