These simple three ingredient Sautéed Cinnamon Apples are Paleo, Vegan, and Whole30 compliant. No added sugar or sweeteners, dairy free, gluten free, and DELICIOUS! Top these cinnamon apples with unsweetened coconut flakes or crunchy chopped pecans for a quick and easy breakfast or dessert.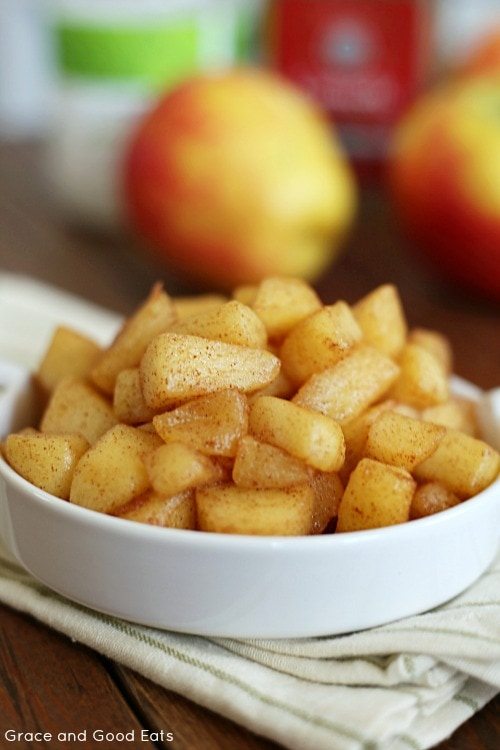 This post contains affiliate links, thank you for your support.

If you follow me on Instagram, then you might have seen that I decided to do Whole30 for the month of September. Decided feels like too strong of a word. It feels more accurate to say that I accidentally started Whole30 on the 1st of the month. Anyone who knows anything about Whole30 knows that preparation is paramount to success. (Basically, Whole30 = no grains, no dairy, no sugar. My three main food groups.)
I had been thinking about it for the week leading up because I knew the first was around the corner and the month of September has a nice, neat 30 days total. I was re-reading the The Whole30 Guide and trying (without much luck) to convince James we should do it.
I woke up on Aug 31, thinking it was Sept 1, and that I had already blown my plan before breakfast. (Hello there 6 tsp of sugar + 1/4 cup cream in my coffee…) It wasn't until 9pm that night I realized it wasn't actually the first and I still had time to commit. I think I was more terrified than excited about that realization.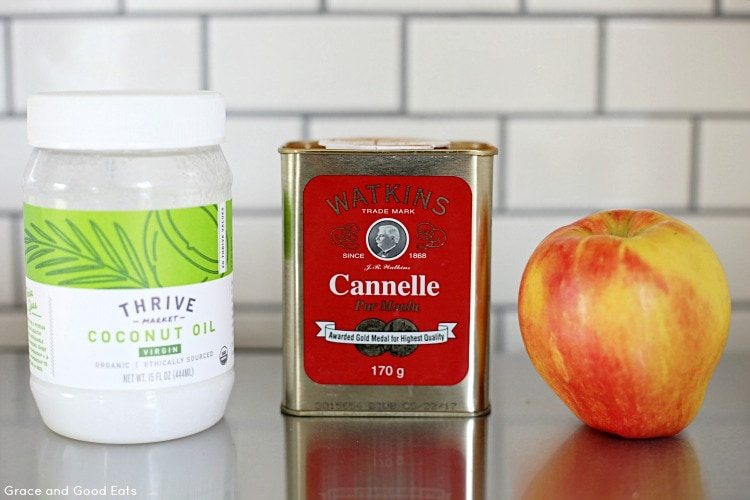 But here we are. Five days in and I haven't starved to death yet. James is very begrudgingly onboard and it has been so helpful to have a partner through it to cook with (and wash ALL.THE.DISHES.) and keep me strong.
We went out to eat for Sophia's birthday Saturday night and it became a challenge between the two of us to find a compliant meal on the menu. He settled for a salad (no cheese or candied pecans) and I had a (sad) burger (sans cheese and bun) with roasted potatoes.
After five days without cheese and butter, I have decided these are gifts from the Lord and I fully intend to reintroduce them back in. (Ha.) I'm also greatly missing whole-grain tortillas and oatmeal. And beans… never thought I would say that.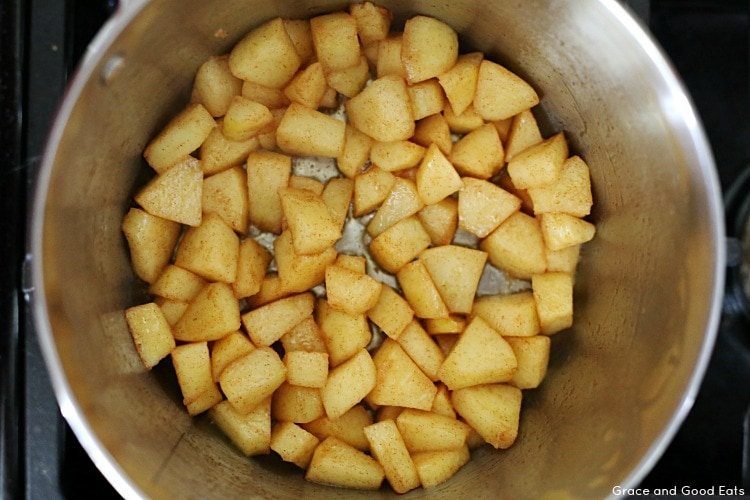 This is not a sustainable diet that I plan to continue with forever, but it has been eye opening to me about the power of sugar and the skill of mindful eating. I would be ecstatic if I lost a few lbs or if my skin cleared up, but my main goal for this challenge is to slay the sugar dragon.
It's not even obvious sugar that I'm craving (James is dying for a package of candy)… it's sugar hidden in yeasty rolls and fluffy bread and all.the.carbs. My kids were bickering with each other and driving me up the wall yesterday (school holiday) and I wanted to say to them, "You guys have no idea how close you are to being traded for a loaf of bread!"
Kidding. I would not trade my precious children for bread. Maybe a croissant. Or a doughnut. Possibly a hot buttered roll.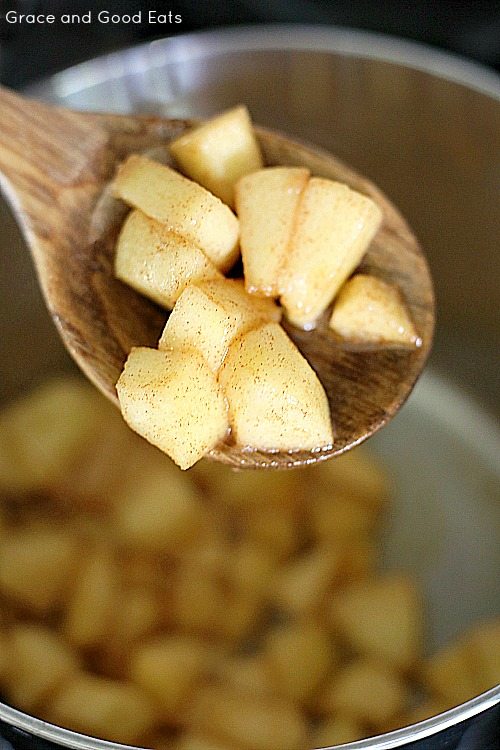 So, if you are on the Whole30 bandwagon make yourself a batch of these DELICIOUS and Whole30 compliant Sautéed Cinnamon Apples. They are akin to the baked cinnamon apples you get at some restaurants, but without all of the fake syrupy sugar liquid.
If you're not partaking in a Whole30 challenge, still make these! These sautéed cinnamon apples are sweet and tart and filling; you seriously won't miss the sugar. I can't wait to try them as a topping for my favorite Snickerdoodle Oatmeal.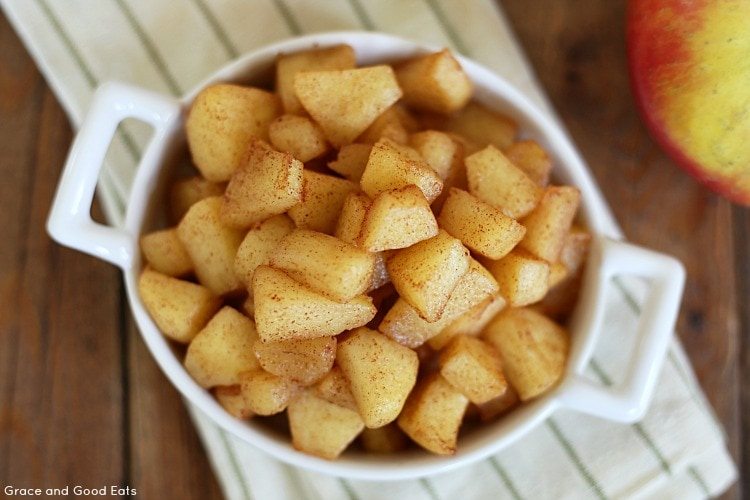 What's Needed for Sauteed Apples?
The best thing about this apple cinnamon dessert is the short ingredient list!
Apples
Coconut oil
Cinnamon
Salt
How to Make Cinnamon Apples
Peel and core the apples.
Add all the ingredients to a saucepan.
Cook over medium heat until the apples are tender.
What Are the Best Apples for Sauteed Apples?
I like to use Honeycrisp apples because they are super crisp with a sweet and juicy flavor. I have not tried this recipe with any other apple variation, but the results should be similar regardless if you swap out for your favorite. Pink Lady apples might be a good substitute.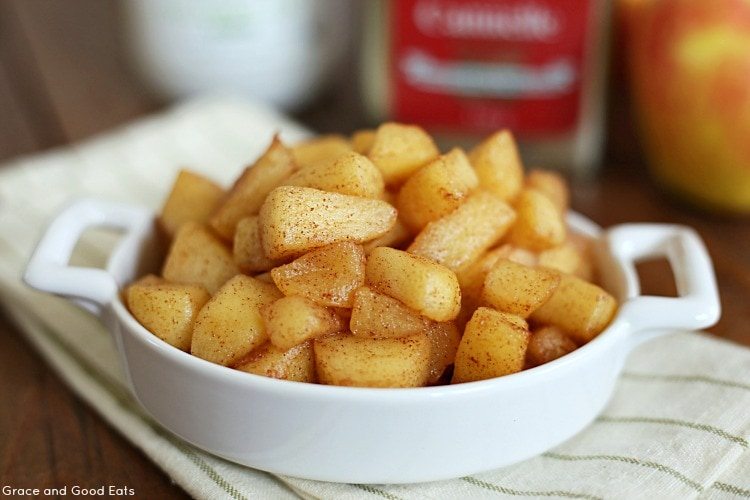 Tips for Making Warm Cinnamon Apples
I prefer my sautéed cinnamon apples to be closer to al dente in texture. I want them to still have a slightly firm bite and not be completely soft and mushy. The length you cook these will determine their degree of softness.
Honestly this entire recipe for sautéed cinnamon apples is very fluid; add more or less coconut oil depending on how quickly it cooks off, and feel free to add more or less cinnamon depending how spiced you want them.
Swap out apple pie spice in place of the cinnamon if you wish. Sprinkle in some cardamon. Top them with unsweetened coconut flakes or crunchy pecans and enjoy for breakfast or dessert! Whole30 has definitely reminded me to be brave in the kitchen and utilize spices!
Lastly, I can't recommend this handy tool enough to cut apples and remove the core in one easy step. I use this Apple Slicer, Corer, and Divider ALL.THE.TIME when I cut apples for my kids to snack on.
More Easy Apple Recipes: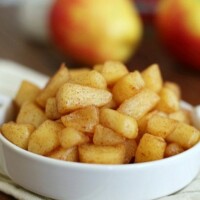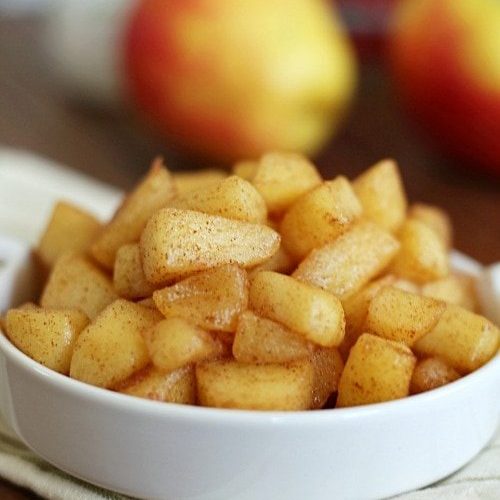 Ingredients
2

whole

apples

, peeled and cored

2

tbsp

coconut oil

1/2

tsp

cinnamon

(use more as needed)

1/4

tsp

salt

(optional)
Instructions
Peel the apples and remove the core. Cut apples into uniform bite-sized pieces.

Add all of the ingredients to a small saucepan.

Cook over medium heat, stirring frequently, until the apples are your desired tenderness.
Notes
I use honeycrisp apples in this recipe.
I cooked my apples for about 5-7 minutes, I like mine fork tender but on the softer side.
Add more cinnamon to your liking.
Try to keep your apple pieces uniform in size so they all cook at the same time.
Use a pan large enough to keep them mostly in a single layer.
Nutrition
Serving:
1
serving
|
Calories:
166
kcal
|
Carbohydrates:
13
g
|
Fat:
13
g
|
Saturated Fat:
11
g
|
Sodium:
291
mg
|
Potassium:
97
mg
|
Fiber:
2
g
|
Sugar:
9
g
|
Vitamin A:
25
IU
|
Vitamin C:
5.8
mg
|
Calcium:
11
mg
|
Iron:
0.1
mg