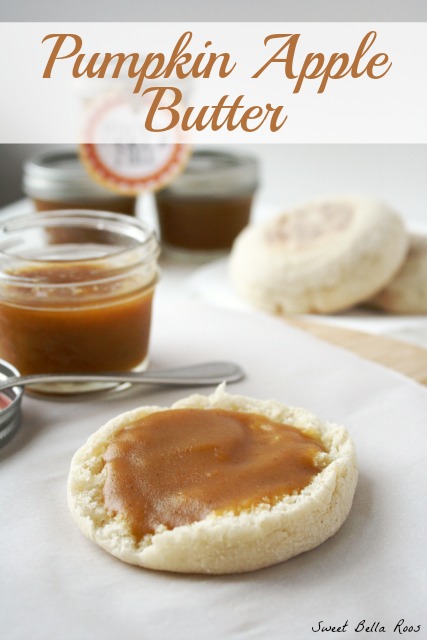 If you follow me on Instagram, you might have seen that we got a new toy this weekend in the Sweet Bella Roos' household. My husband has been wanting one for quite some time now, and finally talked me into spending a small fortune shelling out the cash making the investment in our newest member of the family.
Meet our new Blendtec. I think my hospital bill for my first born cost less than this baby. Now don't get me wrong, I've heard that it truly is an investment and worth every penny, but it's going to take some convincing before I welcome it in with open arms like I did it's equally pricey sister, my beloved Kitchenaid.
James couldn't wait to fire that baby up. Only after reading the instruction manual, of course. Yes, my husband may be one of the few men that read the instructions. Cover to cover. Every time. He then made me solemnly swear to never put it in the dishwasher or use a metal utensil.
At his previous job they had a Blendtec, and he always talked about how he blended everything; he even blended soup which makes no sense to me. After a quick trip to the store for some kale and spinach, he was ready to make his first green smoothie. I don't know what all he put in there, but his smoothie ended up a lovely shade of brown instead of the bright green like the ones that fill my Instagram feed from all you healthy people. I will admit that it did an awesome job of pulverizing the heck out of the fruit and vegetables… however it still didn't taste amazing. I'll work on that.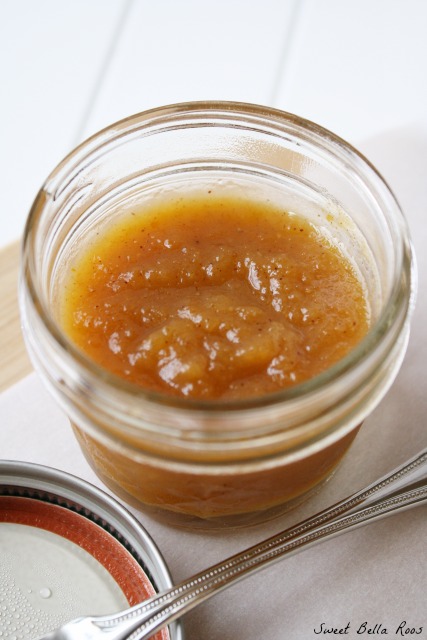 In the meantime though, it was my turn to play with the new toy, so naturally I made something with pumpkin (and sugar). Which made me think maybe I could blend up some of my Pumpkin Cheesecake Rolls and just drink them as a sinfully delicious "smoothie"… but I digress. I had a bunch of apples left over from making caramel apple favors for Sophia's birthday, so I decided to make pumpkin apple butter.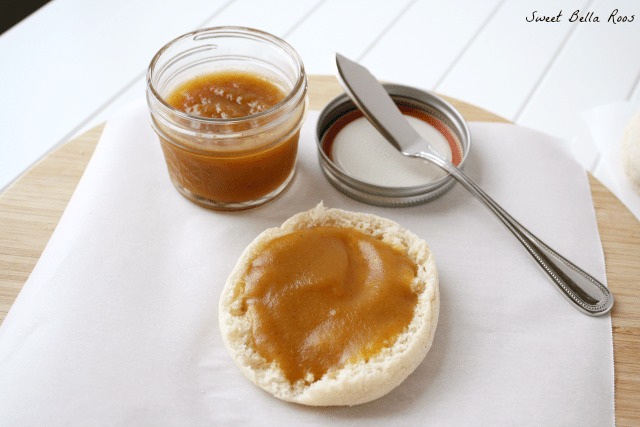 It was really easy to throw together in the Blendtec, but don't worry if you don't have one. I don't see why this recipe couldn't be made using a regular blender or chopper. Maybe even a stand mixer if your apples are soft enough. I actually underestimated the power of the Blendtec for the first batch and ended up with pumpkin apple soup instead of butter ha-ha. (So, keep that in mind.) If you happen to have any extra pumpkin left over, you can always make this delicious Pumpkin Smoothie.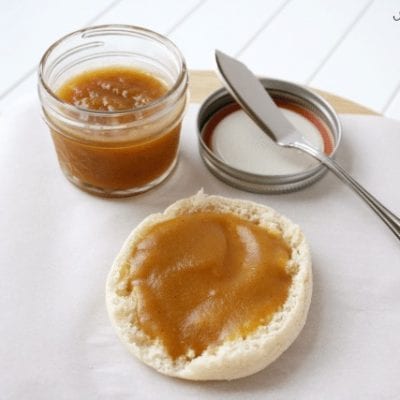 Ingredients
2

apples

peeled and steamed

1/4

cup

pumpkin pie filling

1/2

cup

granulated sugar

2

tbsp

maple syrup

1

tsp

pumpkin pie spice

1.5

tsp

lemon juice
Instructions
Core, peel, and dice your apples.

Steam them for 8-10 minutes or until soft.

Add all of the ingredients to a blender and pulse until desired consistency.

Store in the refrigerator.

Use within 10-14 days.
Notes
If your butter is too thin, add a small (1/2 - 1 tsp) amount of corn starch to thicken.
Nutrition
Calories:
47
kcal
|
Carbohydrates:
12
g
|
Sodium:
9
mg
|
Potassium:
35
mg
|
Sugar:
10
g
|
Vitamin A:
360
IU
|
Vitamin C:
1.4
mg
|
Calcium:
6
mg
|
Iron:
0.1
mg
This is delicious spread on homemade bread, rolls, or biscuits. You could also stir some into your oatmeal. I knew we wouldn't be able to finish off an entire batch within 2 weeks so I decided to give some away as gifts. Come back Tuesday for the free 'Happy Fall' tags printable.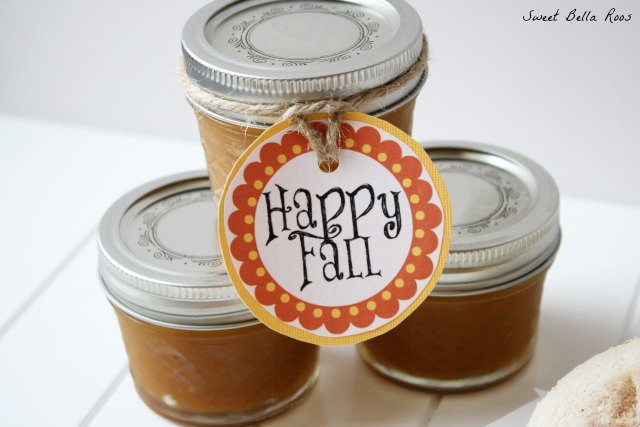 More pumpkin deliciousness from friends:
Spiced Pumpkin Apple Dump Cake from Crazy for Crust
Pumpkin Spice M&M Cookies from Lil' Luna
Pumpkin S'more Parfaits from Something Swanky