This Sausage Alfredo is full of creamy, cheesy flavor with a hint of heat and spice from the sausage. Using sausage really transforms the dish!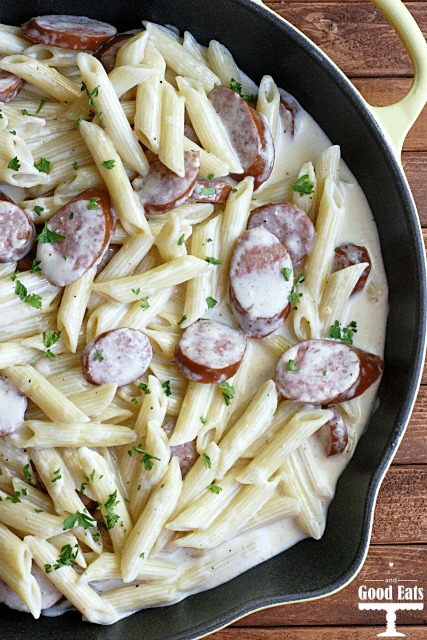 I made this smoked sausage alfredo recipe a month or two ago, snapped the pics real quick, and then forgot about it. I am almost drooling looking at these pictures again and remembering how delicious this meal was! We have pasta with some version of a cream sauce quite often, but switching it up to using sausage really did transform the entire dish.
Poor Sophia was sick with a virus for a full week after Halloween. She only made it once around the block trick-or-treating before she was ready to come home and head to bed. I felt so bad for her because she had been reallylooking forward to participating in all of the fun traditions this year.
She missed school and her dance class the following week and I wasn't sure which one of us was going to start climbing the walls first. Fortunately it was just a little virus and she is back to running circles around me!
Unfortunately for me though, I must have caught whatever she had. Instead of a fever like she had, mine came on as a sinus infection. 35 weeks pregnant + a sinus infection = one miserable Mama. Aside from the obvious pain and intense pressure, I think the absolute worst part has been not being able to taste and enjoy food! It's amazing how much your ability to smell (and breathe- ha) affects your ability to taste.
I'm thankful for quick and easy meals like this sausage alfredo pasta when I'm not feeling well, but am greatly looking forward to being able to truly enjoy it again! Make it for me and have an extra helping, okay?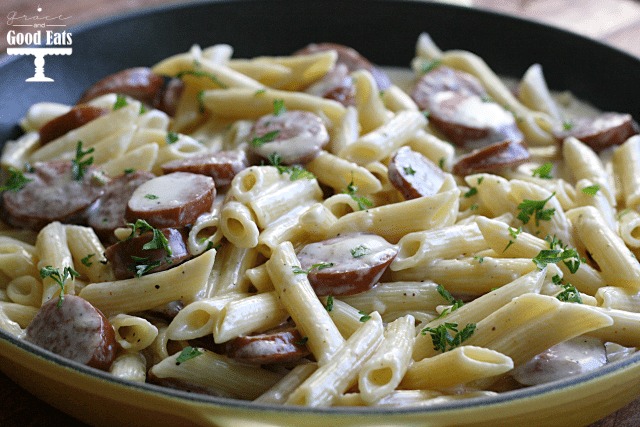 What's in Sausage Alfredo?
To make this easy smoked sausage pasta, you'll need:
Hillshire Farm Smoked Sausage
Penne pasta
Heavy cream
Cajun seasoning
Grated Parmesan
Shredded mozzarella
How to Make Sausage Alfredo Pasta
Cook pasta according to package instructions.
Saute the sausage over medium heat.
Add cream and Cajun seasoning to skillet, then bring to a boil.
Reduce heat and simmer until the sauce begins to thicken.
Stir in both kinds of cheese, followed by the cooked pasta.
Can I Use Another Type of Pasta?
Of course! Any sturdy pasta will work. You can also make this more of a classic fettuccine alfredo with sausage by using fettuccine noodles.
What Type of Smoked Sausage Should I Use?
Any kind you like! I used Hillshire Farm Smoked Sausage, but you're welcome to buy your favorite smoked sausage.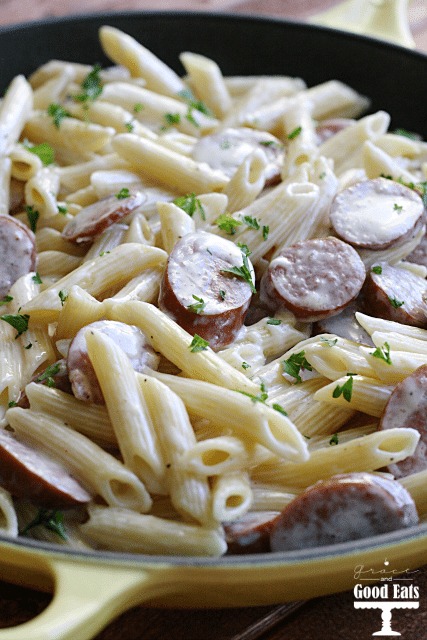 Tips for Making Smoked Sausage Alfredo
For the best flavor and texture, buy a block of Parmesan and grate it yourself. At the very least, avoid the powdered kind that comes in a shaker can.
I've only made this recipe as written, so I can't speak to whether or not you can use a heavy cream substitute. You may be able to use half and half instead, but your alfredo sauce won't be as thick as mine.
If you have leftovers, I recommend reheating them in a skillet over medium-low heat. If the sausage alfredo sauce is too thick, add a splash of cream to loosen it up.
More Easy Pasta Dinners: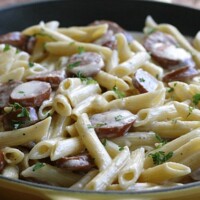 Ingredients
1

package

Hillshire Farm Smoked Sausage

8

oz

penne pasta

2

cups

heavy cream

2

tsp

Cajun seasoning

1/2

cup

Parmesan

, grated

1

cup

mozzarella

, shredded
Instructions
Prepare pasta as directed on the package; drain and set aside.

Saute the sausage for 5-7 minutes in a large skillet over medium heat.

Add cream and Cajun seasoning to skillet, bring to a boil.

Reduce heat and simmer for 4-5 minutes, or until sauce begins to thicken.

Stir in Parmesan and mozzarella.

Add pasta and toss.
Nutrition
Calories:
537
kcal
|
Carbohydrates:
31
g
|
Protein:
15
g
|
Fat:
39
g
|
Saturated Fat:
23
g
|
Cholesterol:
136
mg
|
Sodium:
376
mg
|
Potassium:
203
mg
|
Fiber:
1
g
|
Sugar:
1
g
|
Vitamin A:
1735
IU
|
Vitamin C:
0.5
mg
|
Calcium:
254
mg
|
Iron:
0.9
mg