Pine State Biscuits in Portland, Oregon brings flavors from the Southeast to the Northwest with their delicious biscuits and other breakfast offerings.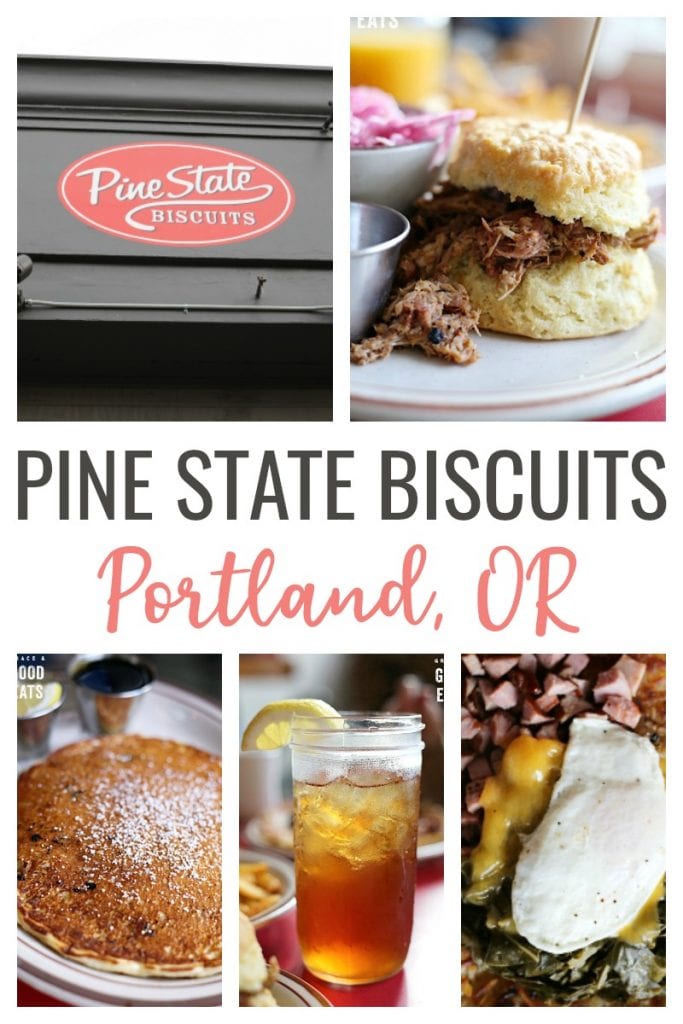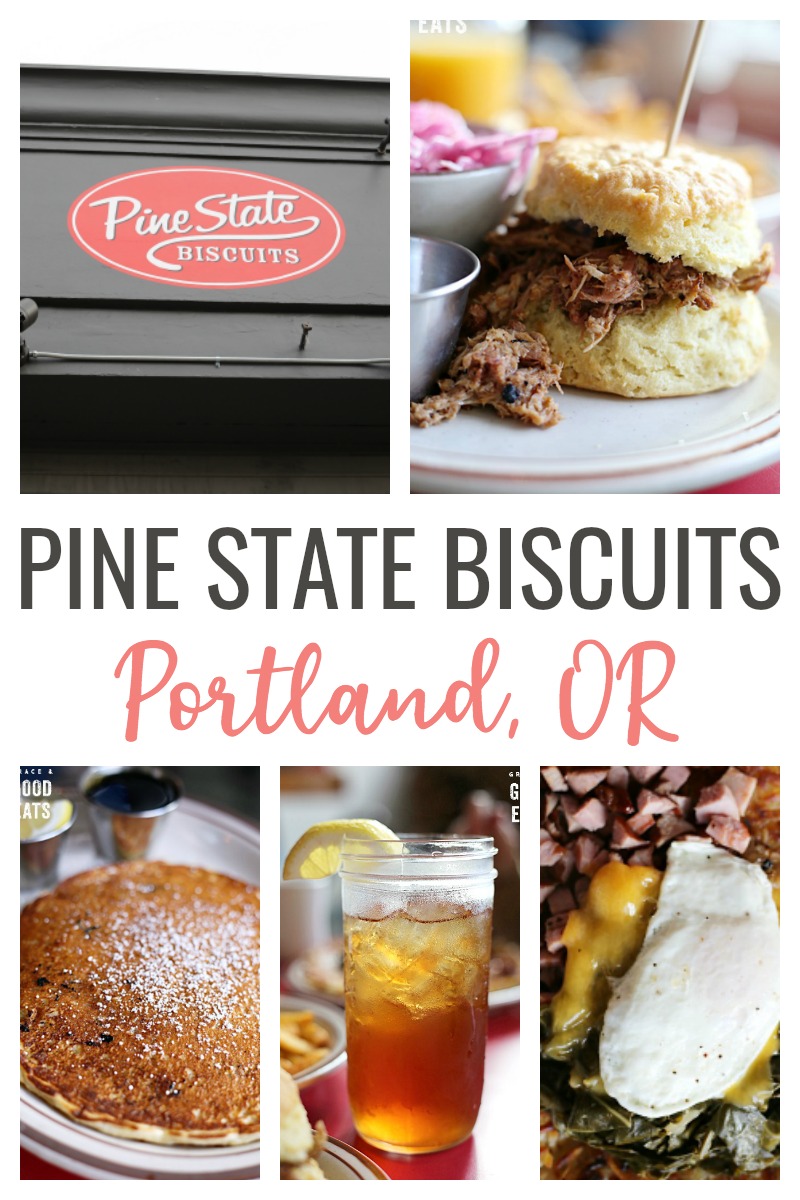 It's no secret that breakfast is my favorite meal of the day; I love big thick pancakes, fluffy waffles, and cheesy eggs, but biscuits just might be my one true love. I like to scope out a good breakfast diner or fancy brunch option when I travel, but it wasn't until this last trip to Portland that I realized I almost always find a biscuit place.
Best Biscuit Restaurants
Biscuit Love | Nashville, Tennessee
When I asked around for the best biscuit in PDX, Pine State Biscuits was the #1 recommendation. Luckily, there was a location close to my AirBNB; so I met my friend, Alisa, there for breakfast Saturday morning after my conference.
Pine State Biscuits
We visited the location on Shuyler St and at 8am they weren't too busy. There isn't much seating inside- a mix of high top community tables and a few regular, but we were able to snag a table for the three of us. (When we left, a line was starting to form and people were waiting for our seats.)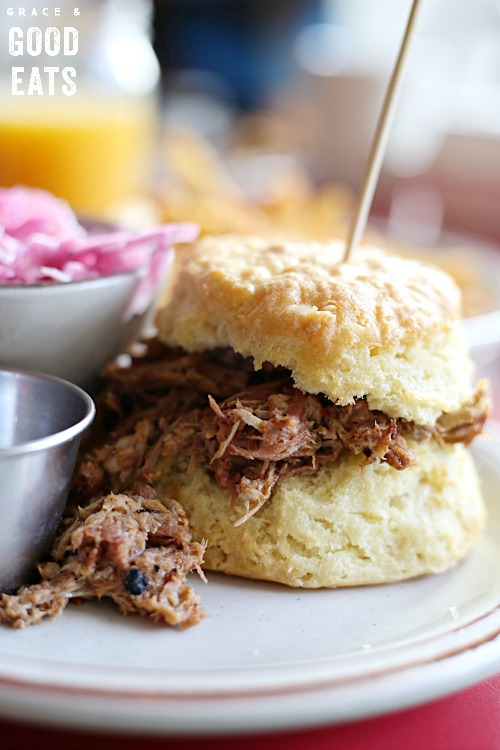 I opted for the BBQ Biscuit: "Reverends pulled pork with Carolina style bbq sauce topped with house slaw." (I asked for my slaw on the side.)
I usually go for a biscuit with spicy fried chicken or even savory sausage gravy, but I couldn't resist the pulled pork. Which is a gamble because I'm particular about my BBQ (not too smoky, not too fatty) and I want a spicy, tangy sauce. This BBQ Biscuit from Pine State Biscuits delivered! I ate every crumb, along with a plate of cajun fries.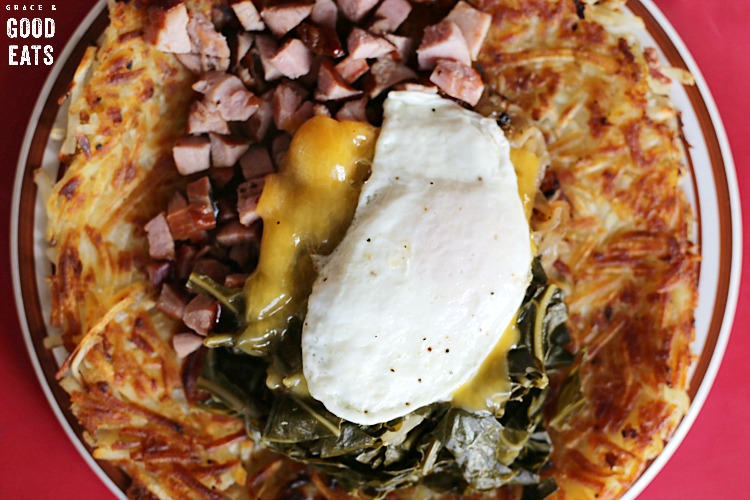 My friend opted for the Hash Ups: "Golden hash browns with grilled onions, mushrooms and melted cheese. Can also add your choice of chopped country ham, smoked brisket, chopped fried chicken, sausage, or bacon." She added ham and collard greens. It smelled wonderful!
Her son chose the Blueberry Cornmeal Pancakes: "Big triple stack made from scratch with local blueberries, served with butter & real maple syrup." They were of generous size, for sure!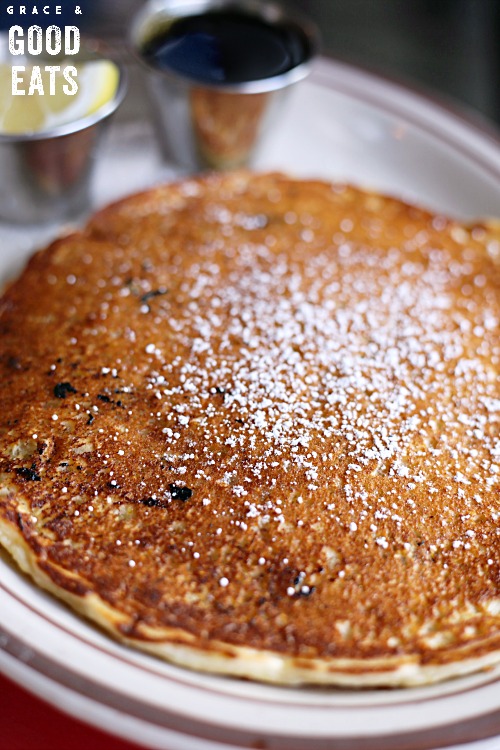 I was surprised (but elated) to see Sweet Tea on the menu, and it all makes sense now knowing this restaurant was started by a trio of Southerners from North Carolina. The owners began selling their flaky, homemade biscuits at the farmer's market before eventually growing to need multiple locations. If you're in PDX, I highly recommend you check them out!