During a recent trip to Northwest Arkansas, I stopped for breakfast at The Buttered Biscuit– where they serve up an "honest breakfast that invites guests to be real." With a menu full of classics like biscuits and gravy, shrimp and grits, and buttermilk pancakes along with trendy options like chicken and waffles, black bean cakes, and acai bowls, The Buttered Biscuit is a must stop in Bentonville.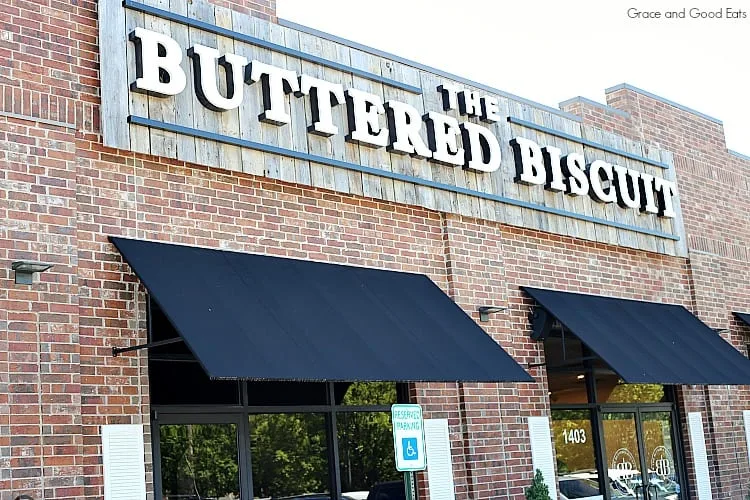 For our first full day in Arkansas, Isabella and I decided to stop at The Buttered Biscuit in Bentonville. It was conveniently located less than 10 minutes from our hotel and the menu online looked amazing. The building was tucked away off the road with it's own small parking lot. We lucked out that a patron was leaving right when we arrived and were able to snag close parking. Other guests were parking on the adjacent street.
Though they were busy (we arrived about 10am) and a few larger parties were waiting for a table, we were seated right away at a communal high top. There was a mixture of booths and tables, a small private room, outdoor seating, and even seating at a bar that faced the kitchen.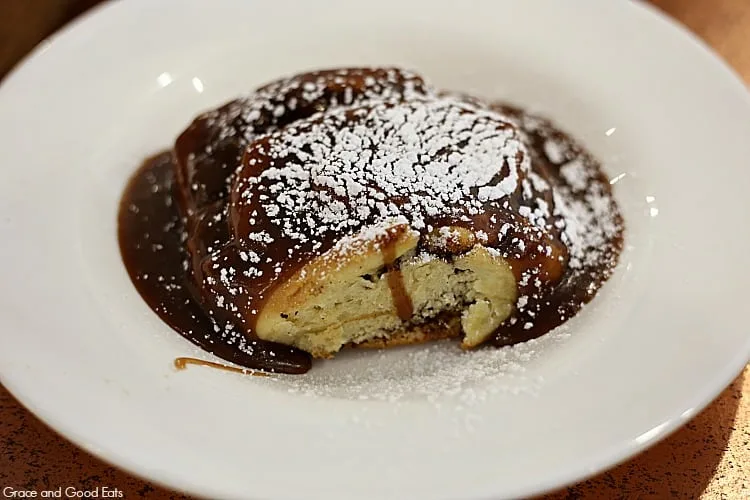 We immediately ordered "The Buttered Biscuit Cinnamon Roll" to start, along with fresh-squeezed juice and coffee. I make it a point to order anything on the menu that bears the restaurant name. The cinnamon roll was flaky, not yeasty, and covered in a thick sauce with a dusting of powdered sugar. Decadently rich and definitely meant to be shared.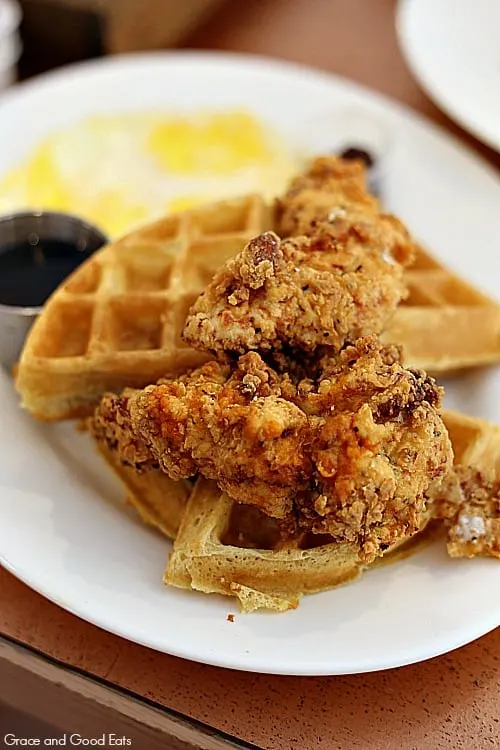 Though I love sweet breakfast items like pancakes and French toast, I have to balance out the sugar with something savory or hearty like eggs and potatoes. I originally planned to get biscuits and gravy, but Isabella beat me to it. Not wanting to get two dishes of the same, I opted for the "Kickin' Chicken and Waffles"- spicy fried chicken on a sweet cream waffle with bacon jam and maple syrup, served with eggs.
The chicken was seasoned well with the spicy kick you were expecting. The bacon jam was sweet and oniony. The sweet cream waffle may have been a tad cloying on its own, but it balanced out this dish nicely.
I chose my egg over hard and it was perfect. I am extremely picky about fried eggs and rarely ever order them when out to eat because they always disappoint- too greasy, too crispy, not done enough in the middle. The gentleman beside me also ordered a fried egg and I was encouraged by the sight of his. An over hard egg should be cooked long enough to fully set the yolk, resulting in the consistency of a fully hard-boiled egg. It was spot on.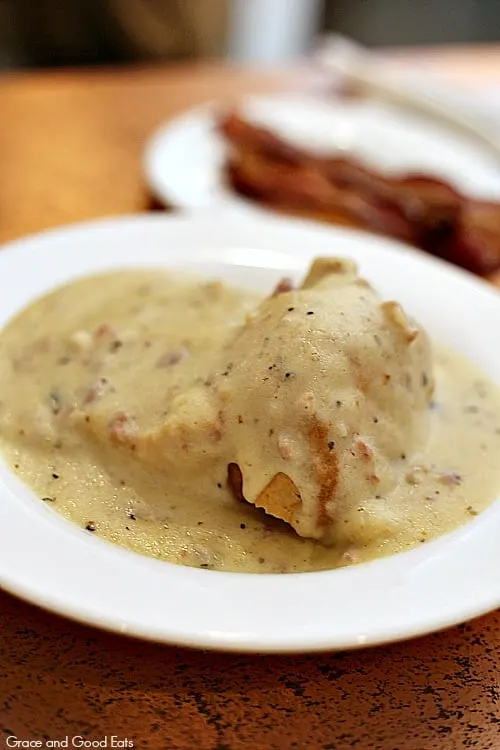 Isabella opted for the Biscuit and Gravy, a "signature dish" served with eggs and potatoes, but because she is allergic to both eggs and white potatoes, she swapped these for a side of hormone free bacon. I have to admit, the bacon was among the best I've had in awhile. As my husband will tell you, I'm also very picky about my bacon. It had wonderful flavor with the perfect balance of crunch and chew.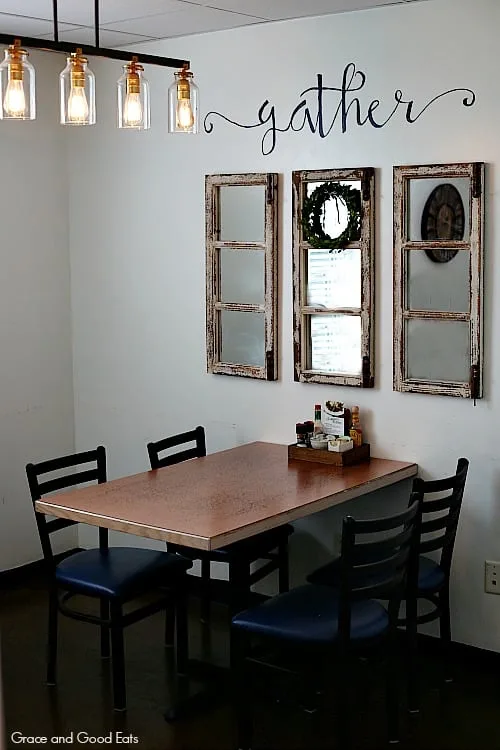 I "got in trouble" for taking pictures of the seating inside the restaurant. The waitress very kindly told me that I "wasn't allowed to take pictures of the decor to protect the style and brand." Absolutely entitled to their own house rules, but the reasoning almost made me laugh out loud. (Not to mention, just a peek at their Instagram gives you a full tour of the inside. #Shelfies included.)
The decor was classic- contrasting dark navy and bright white with natural wood tones and greenery throughout. Beautiful and timeless, but certainly not original. A nod to the (over)popular farmhouse trend if anything. All of the usual suspects were there: exposed lighting, all white dishes, black awnings, a butcher block style bar, kitschy mismatched mugs.
(Hilariously, as I type this post in my hotel room, the episode of Fixer Upper where they debut Magnolia Table is playing in the background.)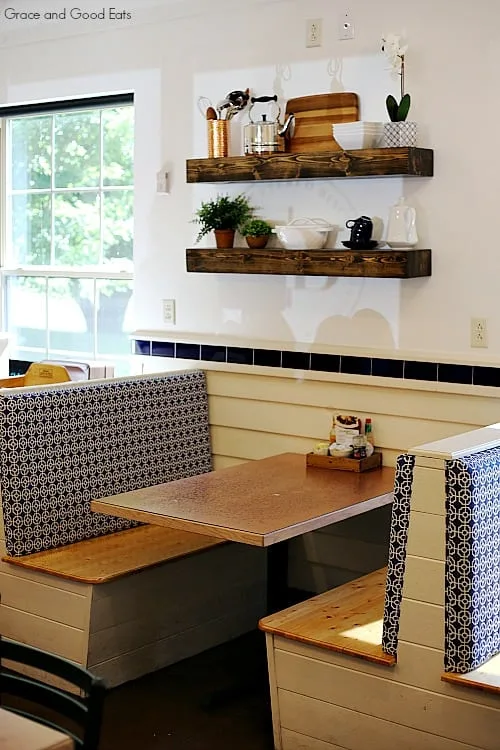 The Buttered Biscuit delivered aesthetically with their farmhouse decor and with every indulgent bite we sampled. The staff was very friendly and the space felt fresh and welcoming. I appreciated that they choose local produce and prepare from scratch (items like their hand-breaded chicken, crab cakes, and beignets) whenever possible; though I was a little surprised to hear their signature items like the cinnamon rolls and biscuits come from Bentonville Baking Company. I would absolutely eat here again and be a weekend regular if I lived in the NWA area.
p.s. Rumor is that they're hoping for a second location with in the next year or so.