Read what I really thought about my visit to Magnolia Market at the Silos in Waco, TX. The people, the lines, the merchandise, the baked goods, and everything in between!
In a last minute decision, the kids and I decided to tag along with my husband on his trip down to San Marcos, TX for a work conference. The deciding factor for me MAY have been that I knew we would pass right by Magnolia Market at the Silos in Waco, TX during our drive down. I don't know of many Texans (or Fixer Upper fans) that would pass up that opportunity!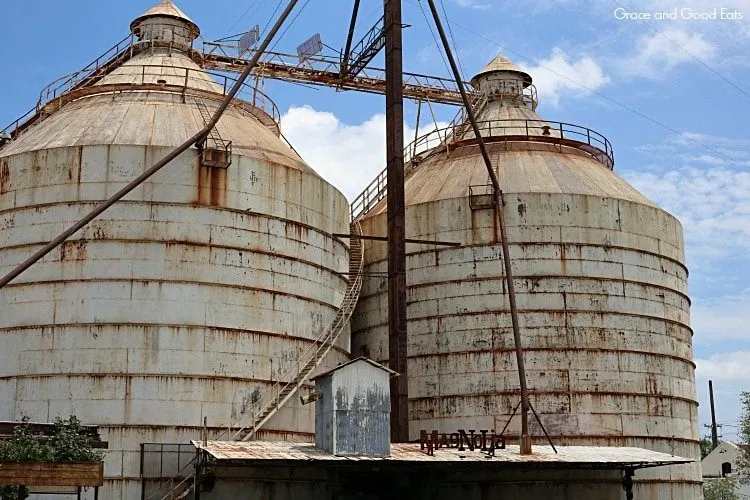 Honestly, I have heard mixed reviews from people visiting The Silos. It seemed like so many were unimpressed with the overpriced home goods available in the Magnolia store. To those people I just want to ask- what were you expecting?
A trip to Magnolia Market is not a trip to HomeGoods. You're not going because you are looking for clearance bargains to decorate your entire house. Am I going to buy a set of six branded coffee mugs for my kitchen at $20 a pop? No. Would I buy one for myself as a souvenir or a few more as gifts or even just to support local Waco artisans? Sure!
Magnolia Market + Garden in Waco, TX isn't just a home goods store, it's an experience.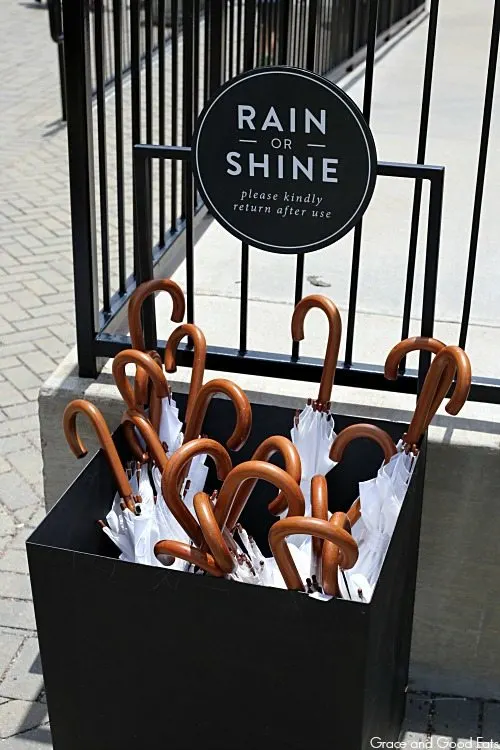 And like any good attraction, the experience begins before you even get through the gates. We were immediately greeted by a friendly employee and handed a (branded) umbrella for a little relief from the hot July sun.
In fact, I have to brag on the employees of Magnolia Market. James and I say all the time that it really makes a difference when the employees (of wherever we are- restaurants, kids events, etc) seem like they WANT to be there. You can immediately tell if someone hates their job and is counting down the seconds to leave – they're often rude or less than helpful and seem put out when you make simple requests that are clearly within their job description. That was not the case at all with the employees at Magnolia.
I liked that they wore name tags with the city and state they are from (much like at Disney or on cruise ships). I'm sure many of them are Baylor University students and therefore from all over the state/country. They seemed genuinely interested in asking where we were visiting from, what brought us to Magnolia, what are plans were for the rest of our trip, etc. They sought us out to have conversation (or to politely ask to pet our pup, Emme, and offer her a treat or make sure we knew where we could get fresh water for her).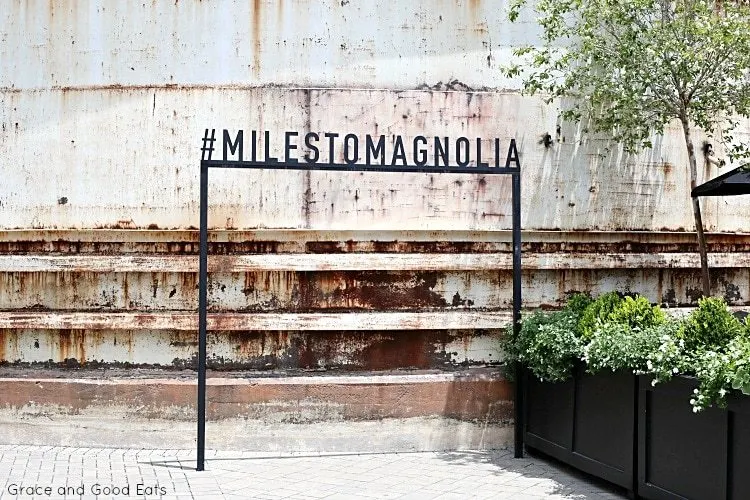 There are insta-worthy photo ops galore and I never had to wait more than 2-3 people to snap a pic. Not only were the employees pleasant and helpful, but so were the other guests visiting Magnolia. Many offered to take a picture of us so that we could all be in the photo.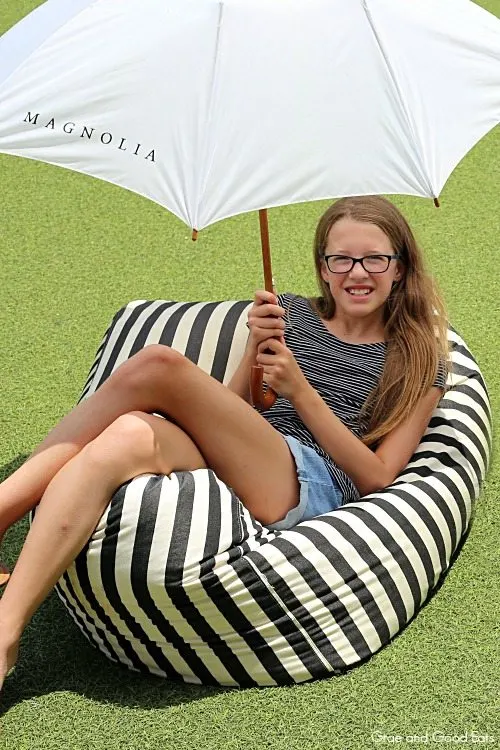 It may not have been overly crowded when we visited The Silos but it was overly ridiculously hot. We didn't stay to eat at any of the food trucks (and the one that I really wanted to try- Viteks BBQ- wasn't open). There were still plenty of people taking advantage of the lawn area (the one area that dogs are not allowed). Magnolia provides footballs, corn hole boards, and the like for guests to enjoy.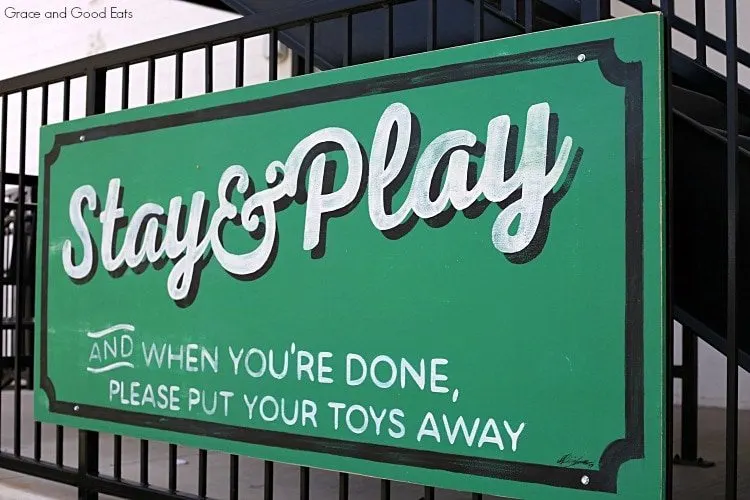 I didn't make a stop into the Magnolia Seed + Supply store, which I now regret, because it looked so cute nestled in the back corner.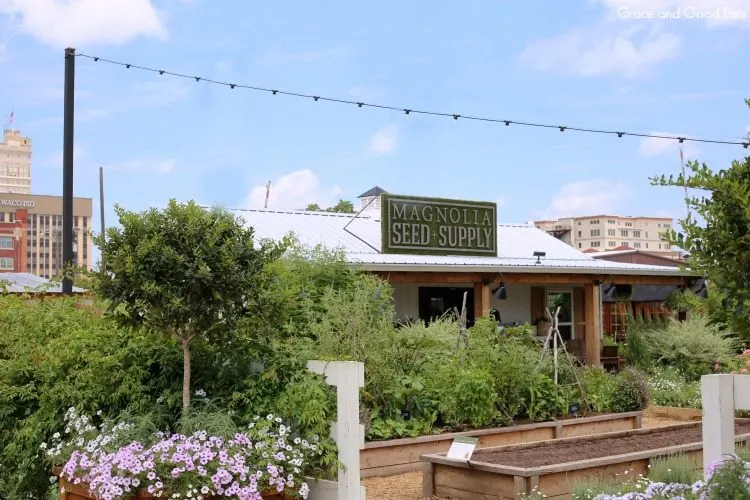 But I did, of course, stop into the main shop. We needed to pick up a new "Demo Day" shirt for my husband after his previous one met an untimely demise during a home improvement project. Everything was beautiful, and if it hadn't been so crowded, I probably could have spent hours in there (inside the much appreciated air conditioning) taking it all in.
When I was ready to check-out, I noticed that each register had two employees working together. One employee checked my purchase, confirmed with me that I intended to buy two different size shirts (I did) and bagged the items. The other employee handled the money transaction and chatted with me about my visit. What often feels like a cold and rushed exchange was instead another opportunity to experience the Magnolia charm.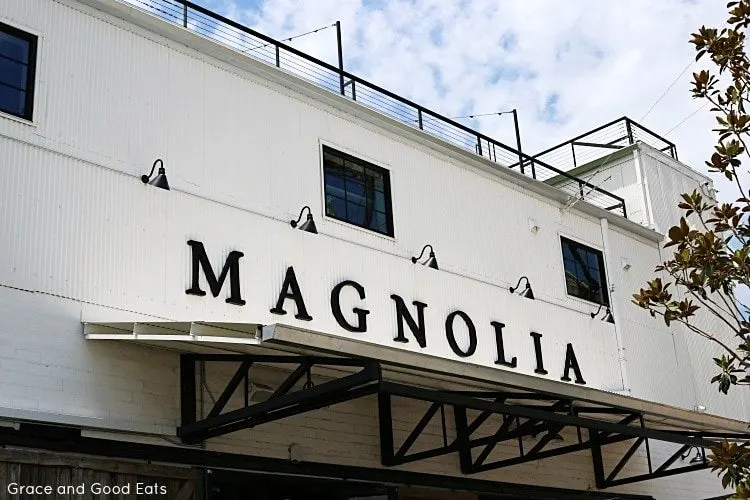 A trip to Magnolia isn't complete without a stop in the Silos Baking Co., but that is a story for another post! Spoiler alert: it was just as adorable, the employees just as pleasant, and the cupcakes were some of the best I've ever had.
Final thoughts on my visit to Magnolia Market at the Silos: While I would love to go back soon, I probably wouldn't go again with my family. I would save this bucket list destination as a mom/daughter, girl friends, sisters trip. My husband and kids all enjoy watching the show with me (my four-year-old does a fantastic Chip impression) but this stop on our trip wasn't really their idea of fun. I also probably wouldn't go again in the middle of the Texas summer if I can help it. 🙂