This is a sponsored post with JORD watches. All thoughts and opinions are my own.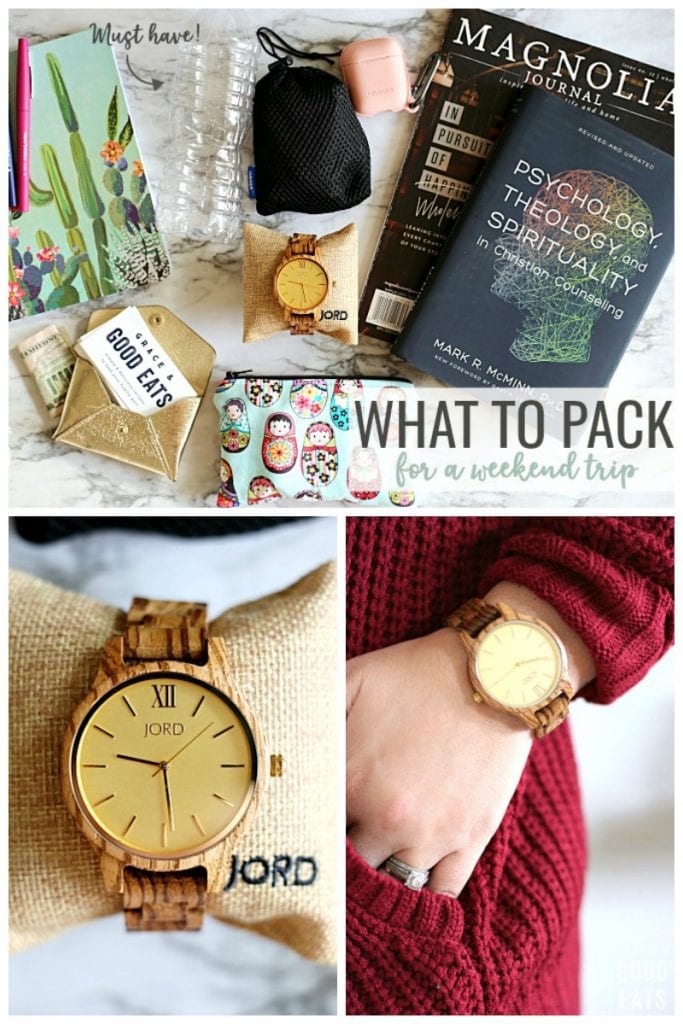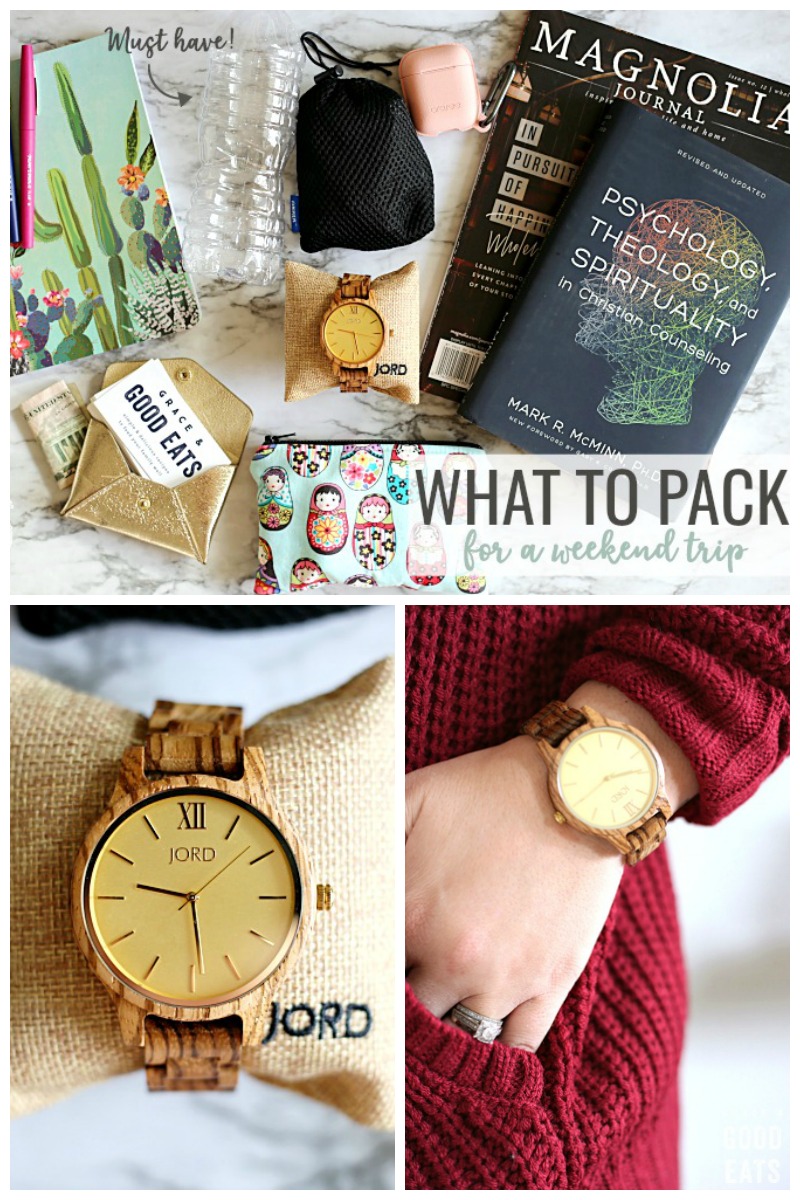 I used to be a notorious over-packer. Going to be gone a week? Better pack approximately 37 outfits and at least 10 pairs of shoes. You would think my years of working for an airline would have taught me to pack light. The rule of standby travel was to NEVER check a bag (as plans change so quickly, and at the last minute you may be on a different flight [than your bags]… or no flight at all.
It wasn't until I traveled to Uganda for two weeks in nothing more than a carry-on suitcase that I changed my ways. Granted, I was going for a mission trip in an impoverished country- so I didn't need much, but it changed the way I packed from then on.
Ironically, I've traveled more these past few years for my blog than I did when I was working for the airline. I've learned to streamline what to pack for a trip and can manage to get everything into my carry-on 99% of the time.
My most recent travels took me to:
These quick weekend trips have taught me to become more efficient in my packing. Clothes, shoes, and hair care (straighter, etc) go in my suitcase first. I coordinate my outfits using a similar color scheme so that I can mix-and-match shoes and jewelry. I usually bring one bootie and one nicer pair (flats or heels) and will wear a pair of slip on street shoes on the plane.
I use the Marie Kondo method to fold everything up and then shove little items (like hairbrushes, toothpaste, etc) anywhere they will fit around the bigger items. Everything else goes in my personal item.
What to Pack for a Trip
Here are a few of my favorite things to pack in my tote or backpack:
phone + chargers (including a portable charger & my airpods)
notepad + my favorite flair pens
extra hair ties (side note: anyone else SO glad scrunchies are back? So much harder to lose!)
JORD watch (see more below)
moisturizing lipstick or chapstick (my lips get dry in the air, but I also like to pop on some fresh color once we land to feel a little more "refreshed" and put together after the flight)
a magazine and a book (currently reading: Psychology, Theology, and Spirituality for one of my graduate classes)
an empty water bottle (this is my favorite traveling hack- you can't take a full one through security, but you can take an empty bottle and refill it once past the check point. No more buying overpriced $7 bottles of water!)
a small bag with my favorite essential oils (currently: lavender, digize, tranquil, and deep relief
small wallet for cash and cards (and business cards)
Because I don't pack much jewelry, I love to have standout accessories I can wear daily that are eye-catching and unique! Not only is my JORD wood watch in zebrawood and champagne timeless and unique, but it's so lightweight and perfect for travel. JORD also has a beautiful line of Apple watch bands, too if you can't leave home without your smart watch.)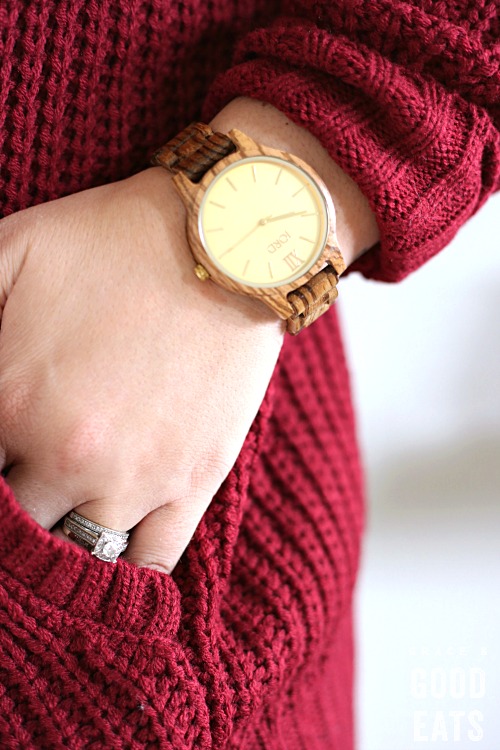 JORD Wood Watches
JORD creates hand-crafted wood timepieces out of materials like bamboo, maple, olive, and sandalwood (among others). You can read more about each type, including information about source, grain/texture, and sustainability on the JORD wood watches website. Compared to others I've seen, this wood watch stands out in terms of quality + craftsmanship + style.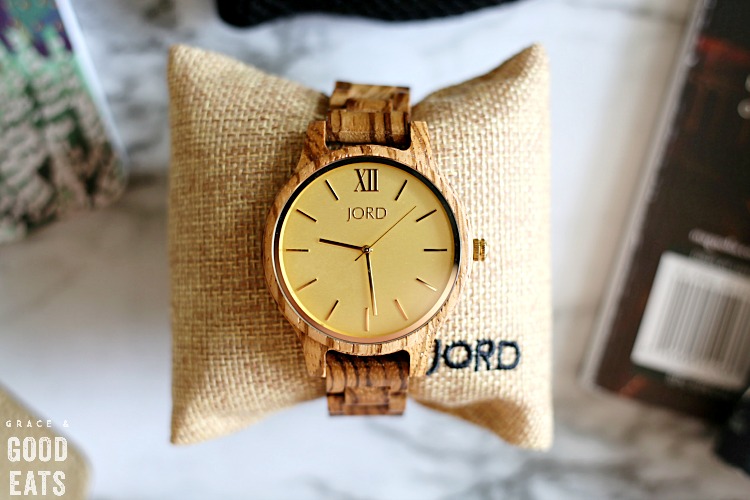 JORD Wood Watches Giveaway
I love my JORD wood watch so much (as does my husband) that I am working with JORD to gift one of their beautiful pieces to one lucky winner just in time for the holidays. Everyone who enters below will receive 10% off AND the chance to win a $100 discount code towards a JORD watch of their own!
JORD wood watches make the perfect gift. The watches may be sized for the recipient and most watch backplates can be engraved! (All Cedar humidor presentation boxes are engravable, as well.) Most watches have additional options for customization- mixing and matching faces and woods, and every watch comes with a one year warranty. You also get free worldwide standard shipping and options for return & exchange if needed.
Sometimes it is confusing where to click on mobile, click this LINK RIGHT HERE to enter the giveaway.