Love lasagna but don't love ricotta cheese? This Easy Lasagna Recipe without Ricotta Cheese is a must make! Use my simple, secret ingredient to get the perfect creamy texture for homemade lasagna without ricotta cheese.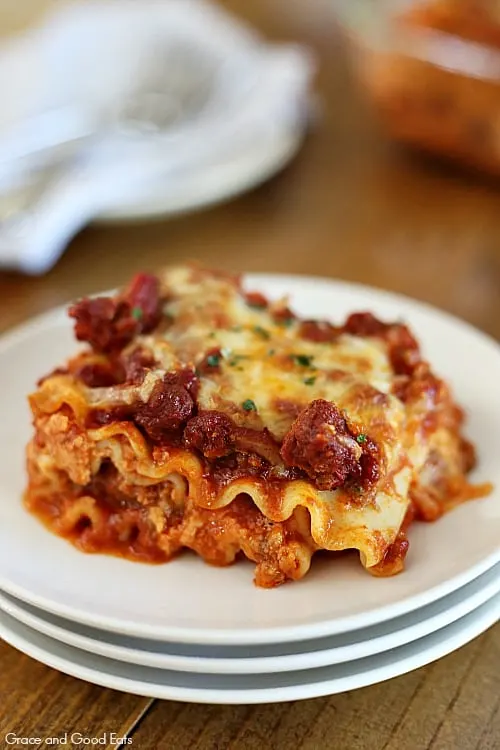 Nothing says comfort food to me like a big, hearty, plate of homemade lasagna. It's one of my favorite meals to make because my family loves it and it's one of those dishes that looks like it took more effort than it really did.
Most lasagna recipes call for ricotta cheese, but there's just something about the texture that ruins it for me. I'm coming around, there's a really yummy stuffed shells recipe that uses ricotta and I love it, but I just don't seem to like it in my lasagna.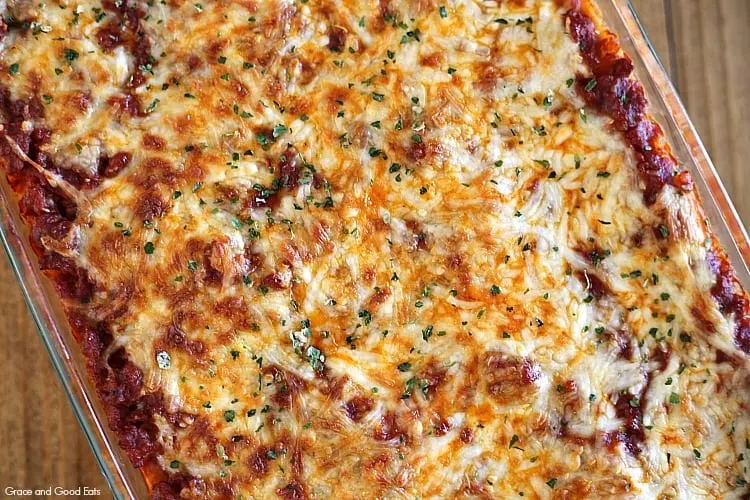 What is Ricotta Cheese?
Ricotta is a creamy white, mild, fresh cheese with a soft texture and a slightly sweet flavor that is commonly used in pasta dishes and even desserts. It's like a fine-textured cottage cheese and can be eaten as is with a little salt, pepper and fresh herbs.
Ricotta can be added to salads and dips, used as a filling for pastas like Ravioli and Tortellini, served as a dessert cheese with honey and fruit, or added to Cannoli and cheesecake recipes.
Ricotta translates to "re-cooked" and gets its name from the way it was originally produced using leftover whey from making Mozzarella and Provolone.
Easy Lasagna Recipe Without Ricotta Cheese
I may use Ricotta occasionally and welcome it in certain recipes, but I have never liked it in my lasagna. Something about the texture disrupts the whole dish for me. I want smooth and creamy bites of cheese that melt in with the hearty sauce and tender noodles. Ricotta, especially when done poorly, comes off as more chunky than creamy.
The secret to deliciously creamy homemade lasagna is a hidden milky egg mixture that goes between the layers. Something about mixing eggs with evaporated milk makes this lasagna magical.
No need to worry that you'll have "scrambled eggs" in your lasagna… it all bakes up bubbly and perfect. You won't even have to tell anyone there's a secret ingredient in there.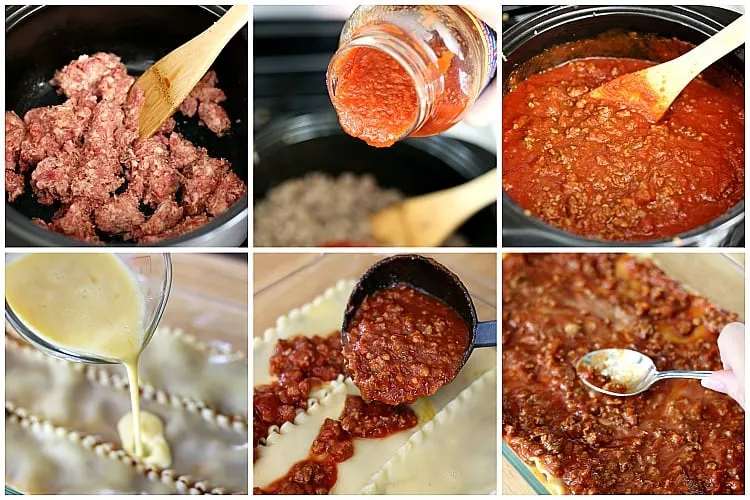 How to Make Lasagna
Fully cook the meat, add the sauce and let simmer while your noodles cook. Once the noodles are fully cooked, layer the ingredients in a baking dish in this order: sauce on the bottom, followed by noodles, egg mixture, sauce, cheese and repeat for three layers.
Tips for Freezing Lasagna and Reheating
Fully cook the lasagna as directed below and allow to cool before freezing.
Freeze in an airtight container. We typically eat 1/2 of the pan first and then freeze the remainder.
To reheat: place the frozen lasagna in the refrigerator to thaw overnight. Cover with foil and bake at 350 for 20 minutes. Uncover and bake an additional 10-15 minutes, or until fully heated through.
To reheat from frozen: Cover with foil and bake at 350 for 45 minutes. Uncover and bake an additional 15-20 minutes, or until fully heated through.
Never put a cold glass pan into a hot oven!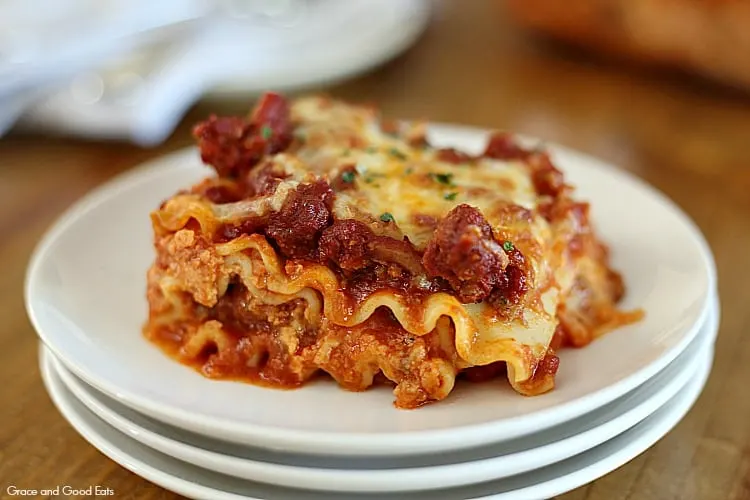 Ingredients
1

lb

ground beef

24

oz

jar of Marinara Sauce

12

Lasagne Noodles

4

cups

mozzarella cheese

3

eggs

3

tbsp

evaporated milk

Italian Seasoning

to taste

Salt & Pepper

to taste

Garlic Powder

to taste
Instructions
Brown the meat over medium heat in a large skillet.

Once the meat is fully cooked, drain and add the sauce.

Add the spices and simmer over low heat. (Start with 1/4 tsp and adjust as needed, how much you add will depend on your preferences and how seasoned the sauce you use already is.)

Cook the noodles as directed on the package.

Preheat the oven to 350 degrees.

Once the meat and noodles are cooked, whisk the eggs and milk together in a small bowl.

Add a thin layer of meat sauce to a 9x13 glass pan.

Layer with noodles, egg mixture, sauce, and cheese.

Repeat this for a total of three layers.

Top the final layer of noodles with the remaining egg mixture and cheese.

Bake for 30 minutes, or until bubbly and melted.
Notes
I always make a few extra noodles in case any break in the process. I find it easier to use rubber tipped tongs to pick up and layer my noodles.
Nutrition
Calories:
346
kcal
|
Carbohydrates:
25
g
|
Protein:
20
g
|
Fat:
17
g
|
Saturated Fat:
8
g
|
Cholesterol:
98
mg
|
Sodium:
577
mg
|
Potassium:
406
mg
|
Fiber:
1
g
|
Sugar:
3
g
|
Vitamin A:
565
IU
|
Vitamin C:
4
mg
|
Calcium:
225
mg
|
Iron:
2
mg
Originally Published December 11, 2013 | Updated August 29, 2018
Looking for more lasagna? Try this delicious Lasagna Soup recipe!