These Ricotta Toasts with Pistachios and Honey would make the perfect appetizer for your holiday party. The perfect combination of creamy and crunchy. This post is in partnership with ALDI. All thoughts and opinions are my own. As part of my partnership, I received an ALDI Delivered box as a fun way to sample and review products and recipes. This is not a new delivery service.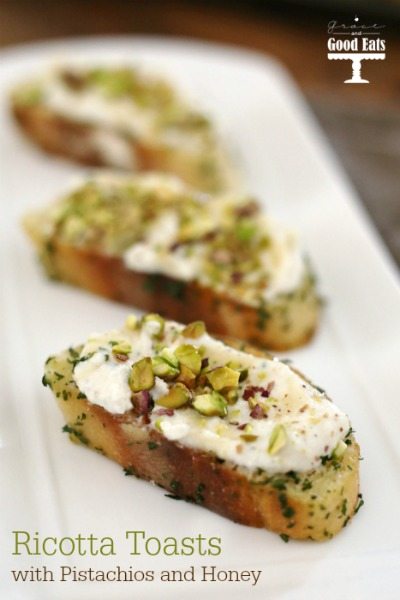 I've been a big fan of ALDI stores for many years. I was SO thrilled to see that we would still have access to ALDI in the nearby "big" city to our small town because I've grown to love so many of their exclusive products. This past week, as part of my partnership with the brand, ALDI sent me a little "care package" with a few ALDI favs to get me in the holiday baking mood.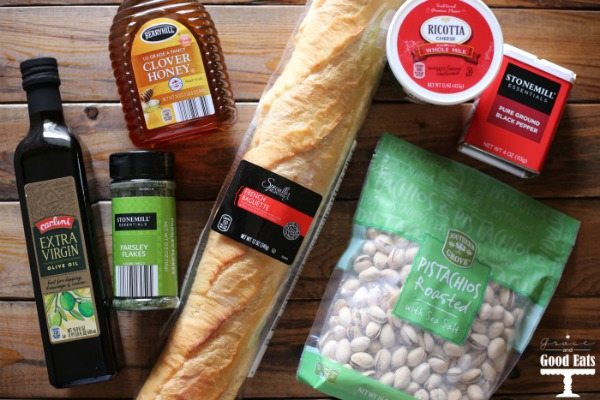 They also included the recipe for these Ricotta Toasts with Pistachios and Honey and I knew I needed to make them ASAP! I stopped by ALDI to pick up the necessary fresh ingredients- like the Happy Farms Preferred Ricotta Cheese and the Specially Selected All Natural Artisan French Baguette. Of course I couldn't leave without also stocking up on all of my favorite cheeses, chocolate, and wine, and then checking for special ALDI Finds. (ALDI Finds are premium food and household products that are only in stores for a limited time and keep customers coming back to see what's new.) I always feel good about buying ALDI products and am never afraid to try something new because of their Double Guarantee: If for any reason customers don't like an ALDI exclusive brand food, ALDI will give them their money back and replace the product.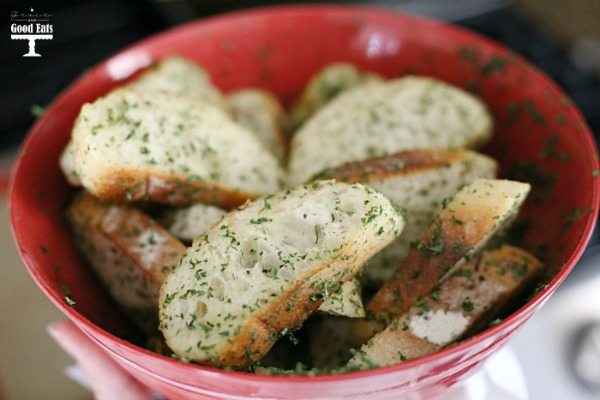 The first time I went to an ALDI store, I wasn't sure what to expect. I think if you walk in expecting it to be like every other big box grocery store, you're going to miss out on all the great things ALDI has to offer. I've come up with five things you need to know before shopping ALDI:
To help shoppers save money, stores carry 90 percent ALDI exclusive brands – with a few national brands mixed in. The ALDI Test Kitchen samples and analyzes products so shoppers don't have to. I've actually done a blind taste test between ALDI exclusive brands vs national brands and preferred the ALDI brand more often than not! (You can't go wrong with any of their crackers or cookies!)
Keep an eye out for labels. ALDI has a full line of gluten-free products- from cake mixes to fresh bakery bread- all under the exclusive liveGfree brand. The Never Any! line has meats free from antibiotics, added hormones and animal by-products. Shop the SimplyNature line or look for the USDA organic label if you're looking for organic products.
Make ALDI your "first stop shop" – this saves you money! ALDI carries the most commonly purchased grocery items, including staples like fresh meat, bread, dairy, produce and household items, as well as organics and gluten-free items, priced up to 50 percent less* than at other traditional grocery stores. There are no hidden costs because ALDI chooses to save shoppers money rather than have non-essential grocery store services like in-store banking, pharmacies and check cashing. ALDI is also only open during "peak times" so be sure to check the store hours.
Bring your own reusable bags! ALDI skips the fancy shelving and keeps products right in their display boxes. This saves ALDI (and shoppers) time and money, and keeps the freshest products coming. ALDI encourages you to bring your own bags (also available for purchase) or use any of the empty display boxes to pack up your groceries.
Bring a quarter! You must deposit a quarter to use a cart at ALDI, and when you return the cart to the corral, you get your quarter back. (This saves money because the staff can focus on serving shoppers inside the store.)
After you adjust your expectations (and get used to carrying around a spare quarter) you can start to see how smart shopping at ALDI can lead to cost-savings. Insider tip: be a quarter fairy and leave yours in the cart for the next person. It always makes me smile to find a cart with a quarter still in it.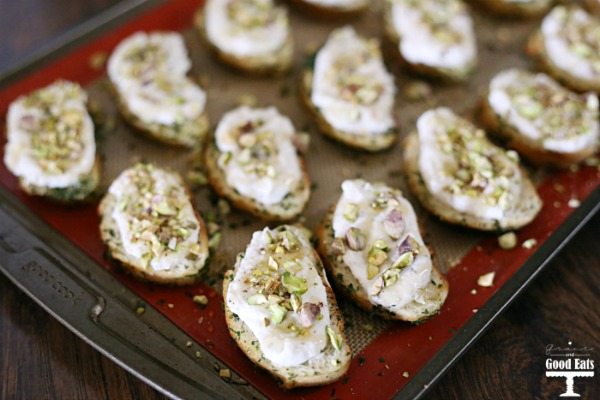 These ricotta toasts are going to become a new holiday favorite in our house. They looked so elegant when plated all together, but took only minutes to make! My oldest daughter added some fresh pomegranate seeds to hers and the red and green together (from the crushed pistachios) looked extra festive.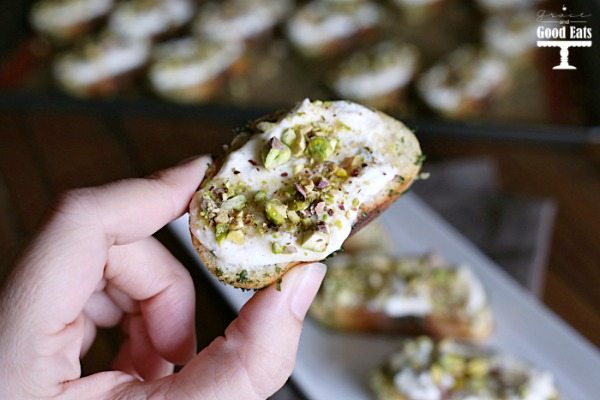 These Ricotta Toasts with Pistachios and Honey would make the perfect appetizer for your holiday party or treat to snack on while waiting for the big meal. Stop in to your local ALDI this holiday season to see how you can discover delicious new products and save money at the same time.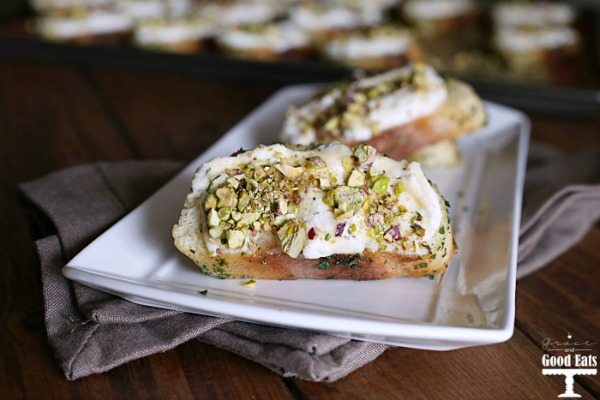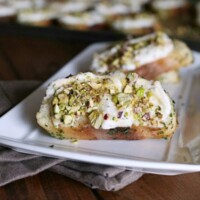 Ingredients
10

slices

Specially Selected All Natural Artisan French Baguette

3

tablespoons

Carlini Extra Virgin Olive Oil

¾

teaspoon

Stonemill Iodized Salt

plus additional to taste

¾

teaspoon

Stonemill Ground Black Pepper

plus additional to taste

¼

cup

Stonemill Parsley Flakes

15

ounces

Happy Farms Preferred Ricotta Cheese

½

cup

Southern Grove Pistachios

shelled and chopped

¼

cup

Berryhill Honey
Instructions
Preheat oven to 400°.

Cut each slice of bread in half. In a medium bowl, toss with olive oil. Season to taste with salt and pepper. Add parsley flakes, toss until coated.

Lay each bread slice onto a baking sheet in a single layer. Toast for 4 minutes, flip, toast for 3 more minutes or until light golden brown.

In a small bowl, mix ricotta with 3/4 teaspoon salt and 3/4 teaspoon pepper. Spread ricotta onto each toast, sprinkle with pistachios and drizzle with honey. Serve immediately.
Nutrition
Serving:
1
toast
|
Calories:
130
kcal
|
Carbohydrates:
13
g
|
Protein:
4
g
|
Fat:
6
g
|
Saturated Fat:
2
g
|
Cholesterol:
10
mg
|
Sodium:
204
mg
|
Potassium:
82
mg
|
Sugar:
3
g
|
Vitamin A:
115
IU
|
Vitamin C:
0.6
mg
|
Calcium:
63
mg
|
Iron:
0.8
mg
Follow along with ALDI.us, blog.ALDI.us, Facebook.com/ALDI.USA, Pinterest.com/ALDIUSA, Twitter.com/ALDIUSA and instagram.com/ALDIUSA for more recipes and special ALDI Finds.
*Based upon a price comparison of comparable products sold at leading national retail grocery stores.