I posted a few weeks ago about our remodel plans for our new home (that we have lovingly nicknamed "Farmette 825"). Things have been slow moving with the holiday season now upon us, but I am excited to at least start to see small glimpses of progress.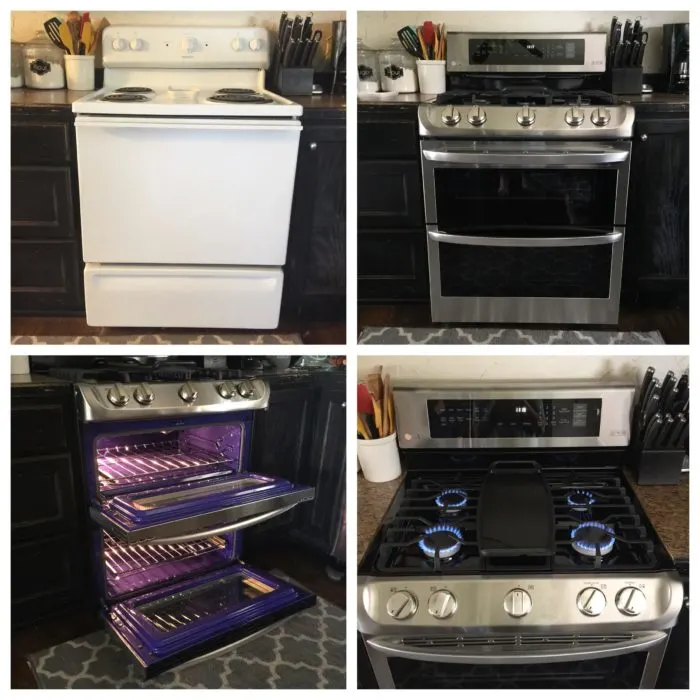 We have been loving our gas range these past few weeks. We anticipated that being a much bigger project than it actually was and were happily surprised to find that there was previous gas service to our house. Coming in under budget + early, rarely ever happens! We were reminded of that most recently when we had the measurements taken for the countertops installation.
I had to clear off the countertops entirely for them to take the precise measurements they needed with the laser. It felt so good having everything gone- instantly brighter and cleaner. I can't wait to have our new countertops installed- a beautiful white and grey quartz- and I'm hoping to keep them cleared off from here on out.
Three Tips to Clutter-Free Counters:
Dedicate a small appliance "garage". We don't have any cabinets to begin with, but I still arranged (and rearranged) to be able to dedicate one entire cabinet to small appliance storage. This is where we keep the slow cooker, food processor, pressure cooker, etc. The only exception is the coffee pot because that poor thing would get whiplash from being moved back and forth every time I needed a coffee fix!
Utilize vertical space. This may mean hanging utensils (or even pots and pans) above the stove or it may mean installing shelves. IKEA has a ton of great storage solutions for small spaces. Find ways to corral things like spices, plastic wrap/ foil, and snack packs inside the pantry by utilizing hanging space inside the doors. I used several small Command™ Strips to hang our measuring spoons and the like in this space.
Make a "no paper" rule. I don't know what it is about papers but they just multiply in our house! Everywhere I turn there's another drawing one of the kids made, graded papers, opened mail… junk! We had to implement a strict "no paper rule" that means we never set any paper down on the counters (or the kitchen table). If you sit down at the table (to work or do homework) everything that you brought with you, must leave with you. At the end of the day, I make one last sweep through the kitchen and get any stragglers so that we can start the day paper-free.
I actually ended up moving our coffee pot off of the countertop and creating a coffee bar area in our dining room. This allowed me to free up a cabinet (that previously contained mugs) to create the space for the small appliances.
Like most projects, this one is going to turn out costing us more in both time and money than originally planned. Apparently, there was a difference of almost two square feet in the initial and final measurements, and in addition to that, we found out that the current surface is not level.
This means the company is going to have to shim up the difference for our new countertops to be perfectly level. Of course all of this is costing us more than initially projected. Thankfully, we set aside money in the beginning in anticipation of these small hiccups.
See more of my Christmas Coffee Bar here and follow along with me here, as well as at Farmette 825, to see more of the renovations and projects we complete!