This post was created in partnership with Ninja Coffee Bar® System. I received complimentary products and compensation to facilitate my review, but all opinions within are my own.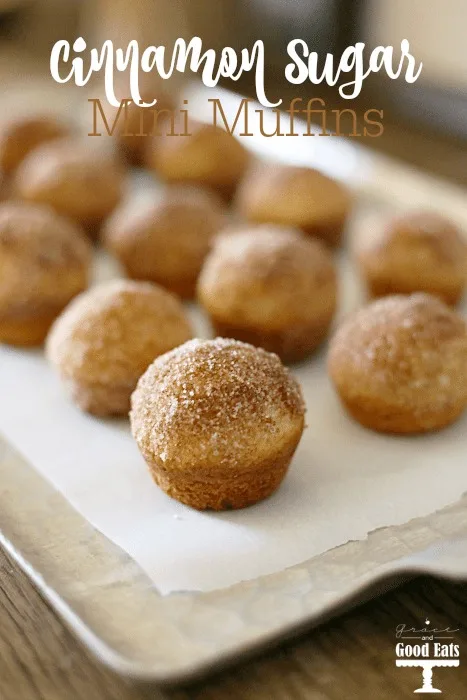 James and I have tried a variety of different coffee makers, as well as various techniques, in search of the perfect cup of coffee. We've tried the single-POD machines, the fancy brewers, and the like, but James always resorts back to the simplest coffee maker possible- you know, the one whose only "upgraded feature" is that it includes a delay start timer. His only requirement of a coffee maker is that it makes coffee when he tells it to.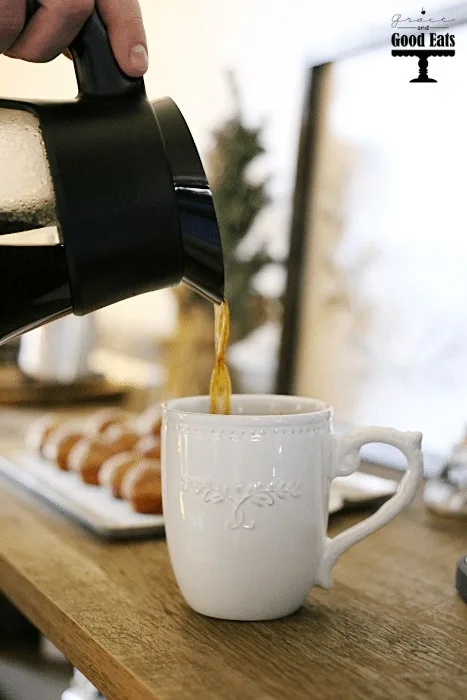 Recently, we've been experimenting with different beans- grinding our own, dark roasts vs light… but we quickly resort back to our old standby. He prefers his coffee with pre-made French vanilla creamer, where as I doctor mine with real cream and (an obscene amount of) sugar.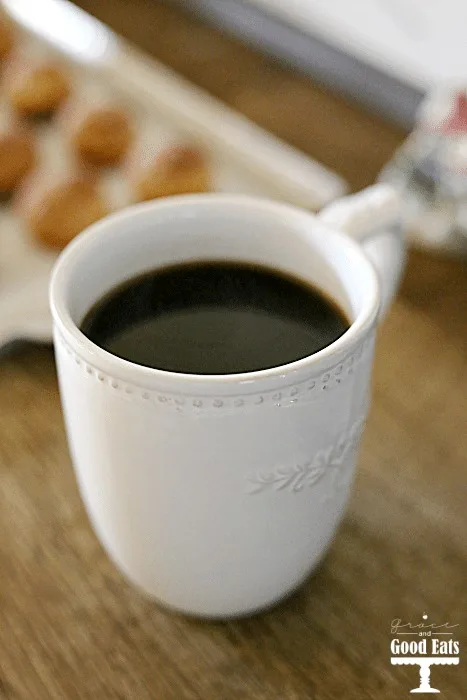 When I was presented the opportunity to try the new Ninja Coffee Bar® System, I was excited to test something new, but after all of our own research efforts, I wasn't expecting anything life-changing. I am shocked at how much I LOVE my new Ninja Coffee Bar® System. So much so that instead of sticking it under the cabinet or on the countertop, I created a whole coffee bar dedicated space. (See more of my Farmhouse Christmas Coffee Bar!)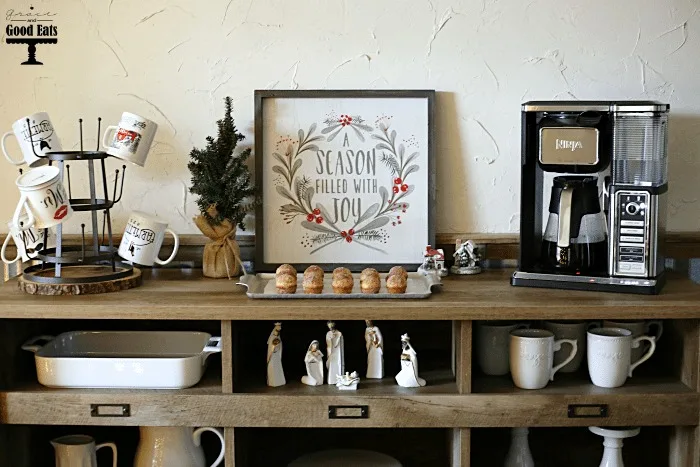 The Ninja Coffee Bar® System is what we have been searching for and I will never go back to our previous sad, little coffee pot! It includes a built-in hot and cold frother, six brew sizes and five brew types – including the Ninja-exclusive Cafe Forte brew, which amplifies the natural subtle flavors of your favorite coffee. It's sleek, simple to use, and brings a new level of customization and versatility to at-home coffee brewing.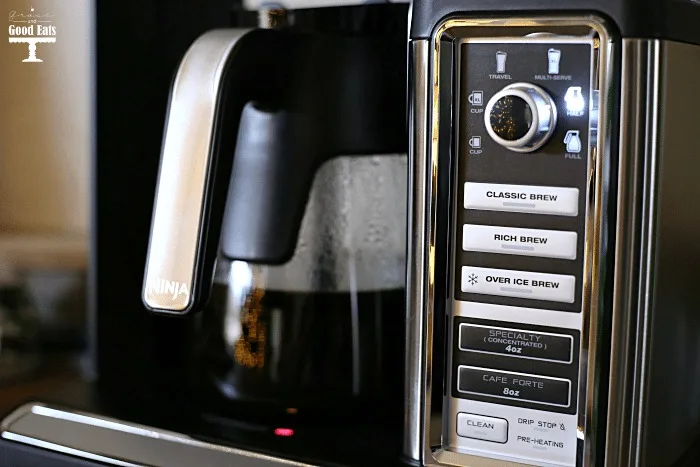 The water reservoir is lightweight, removes easily, and able to be filled directly from our refrigerator's filtered water dispenser. I love the capability to brew a single (POD-free) cup or a full 10-cup carafe. It also offers the option to brew a new XL Multi-Serve Travel size.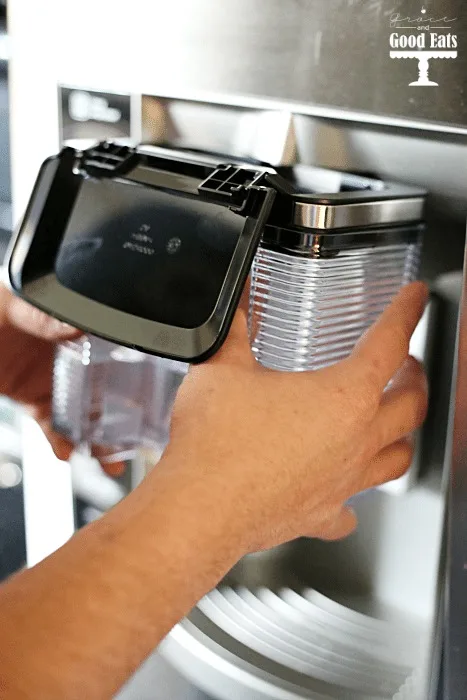 One of my favorite features is the Permanent Filter. No paper filter is needed; just pour the grounds directly into the Permanent Filter. By preserving natural oils and particles, the Permanent Filter provides a full-bodied, robust flavor, like a French press.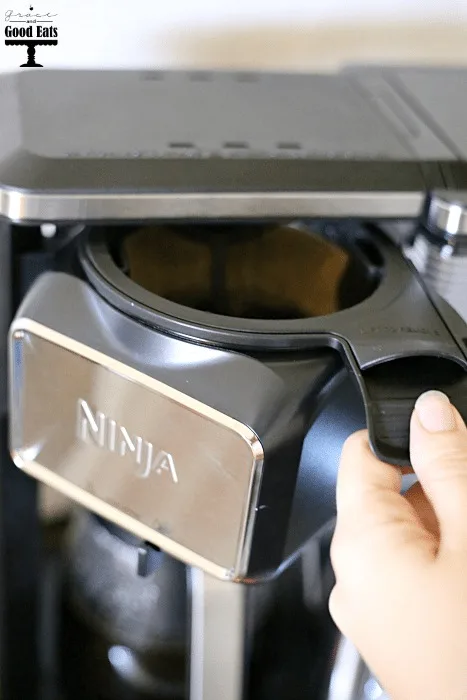 I was really impressed with the Ninja Coffee Bar® System as a whole. The design is very intuitive and makes the machine so easy to use- from the built-in Ninja Smart™ Scoop holder to the predetermined settings at the press of a button. Hands-down, my favorite feature though: the built-in hot and cold frother. (Check out my quick Instagram video to see it in action.) In just seconds, the built in frother transforms milk into silky, rich, hot or cold micro foam that can be pared with any brew style. You can even froth and brew from the same cup or mug. It doesn't get any easier-or foamier-than that. (The frother whisk is dishwasher safe so cleaning is simple!)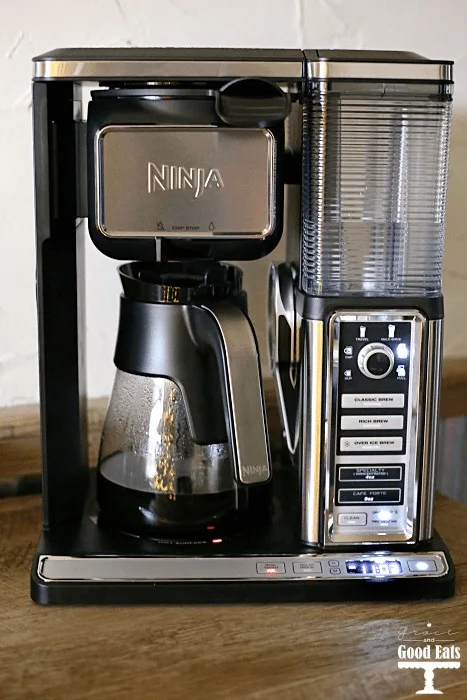 With the Ninja Coffee Bar® System you'll get a better than a coffee house experience at home. To help bring out your inner barista, I am giving away a Ninja Coffee Bar® System just in time for the holidays! Enter below for your chance to win. Contest entrants are only eligible to win once per sweepstake, per household as a part of a campaign sponsored by Influence Central and must reside in the United States.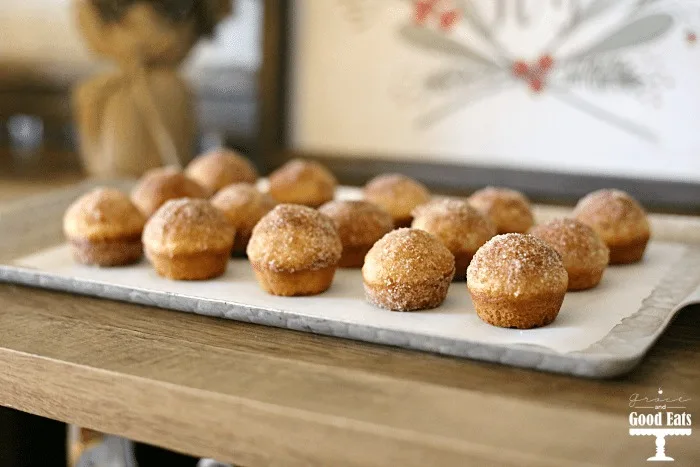 No in-home coffee bar is complete without treats! Make these Cinnamon Sugar Mini Muffins to go with all of your newly crafted coffee creations. Perfectly bite-sized and way better than any store-bought variety. These other recipes, Cinnamon Sugar Pecans and Cinnamon Sugar Cookies, are also great for this time of year.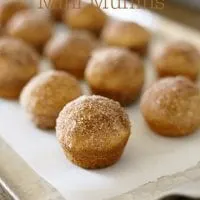 Ingredients
1

cup

flour

¼

cup

sugar

1½

tsp

baking powder

¼

tsp

salt

1

egg

beaten

¼

cup

oil

¼

cup

milk

1/4

cup

butter

1/4

cup

sugar

1/2

tsp

cinnamon
Instructions
Preheat oven to 400 degrees.

Spray two mini muffin tins with baking spray.

In a medium bowl, whisk together flour, 1/4 cup sugar, baking powder, and salt.

Add milk, egg, and oil to the dry ingredients.

Stir until just incorporated, don't overmix.

Scoop into prepared muffin tin, and bake for 7-10 minutes until the tops are just lightly browned.

Remove the muffins from the pans and cool slightly.

In a small bowl, melt the butter.

In another small bowl, mix the remaining 1/4 cup sugar and cinnamon together.

Dip each muffin in the melted butter and then immediately into the cinnamon sugar mixture until evenly coated.
Notes
I like to only coat the tops of my muffins in the cinnamon sugar, but if you prefer to coat the entire thing, double the butter + cinnamon sugar.
Nutrition
Calories:
88
kcal
|
Carbohydrates:
9
g
|
Fat:
5
g
|
Saturated Fat:
1
g
|
Cholesterol:
13
mg
|
Sodium:
51
mg
|
Potassium:
49
mg
|
Sugar:
4
g
|
Vitamin A:
85
IU
|
Calcium:
22
mg
|
Iron:
0.3
mg
For tips on how to be a #NinjaBarista, recipe inspiration, or to purchase the Ninja Coffee Bar® System, visit ninjacoffeebar.com.