This Creamy Parmesan Risotto is perfect as a first course or side dish, or served with scallops or along side a pan-seared steak or fish.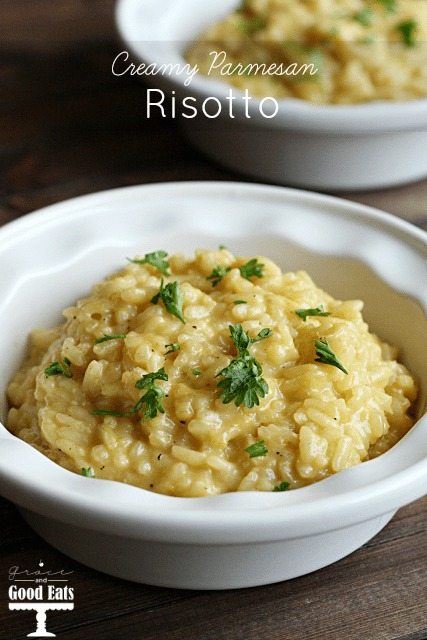 I wish I had some glamorous story of eating risotto at a fancy Italian restaurant or on a romantic vacation to the Eternal City, but I don't.  Most of my reference for risotto comes from watching all of the chef's fail miserably attempting to make it on Hell's Kitchen.  I haven't watched the last few seasons, but I have been enjoying the Gorden Ramsey memes.  There's one of him that says "if you can't cook risotto or scallops, you're about to have a really bad day".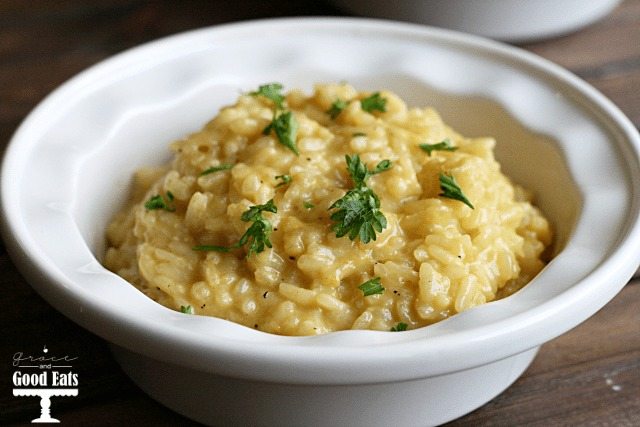 Don't let that intimidate you too much.  Risotto really isn't difficult to make, but it is definitely more high maintenance than your favorite minute rice.  It will require some extra time and your undivided attention.
While I was making this Creamy Parmesan Risotto recipe it made me think about a cooking class I attended in New Orleans not too long ago.  The instructor was explaining how her grandmother lovingly taught her to make gumbo, and recalled her saying that she needed to be dedicated to the cause without any distractions.  This meant no children running around in the kitchen, because when it comes down to it, "it's the children or the roux."
That's how I felt while making this Parmesan risotto- when they say constant stirring, they mean constant stirring- no walking away to answer the phone, wipe noses, refill juice cups, or save toddlers from falling down the stairs.  It's the children or the risotto.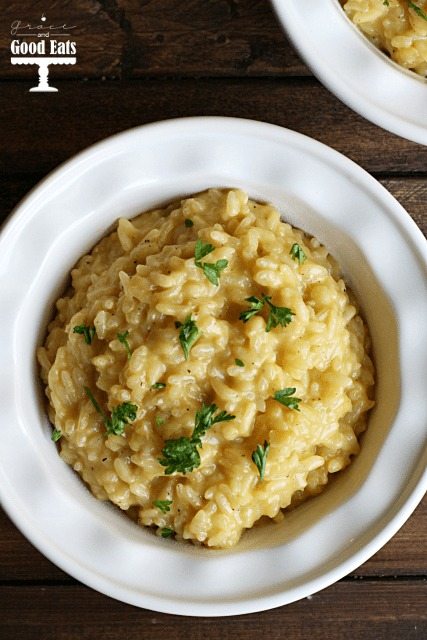 Babysitting the arborio rice (the short-grained, high-starch rice) properly makes the risotto notoriously creamy.  The key is to not add the stock too quickly and to cook the rice slowly so that the stock is absorbed.  If you dump in the stock all at once, you're just boiling rice.
Make sure to use warm stock when making this recipe.  Adding cold stock to a hot pan will cool everything down and mess up the cooking process.  Keep the stock at a simmer in a separate pan so everything stays hot and cooks evenly.
You also want to be careful not to over-stir while this is cooking.  Stirring the rice constantly will add air into the risotto, cooling it down and making it gluey.  Alternatively, if you don't stir it enough, the rice will stick to the bottom and burn.
This Parmesan risotto recipe is delicious with a loaf of French bread and a simple salad.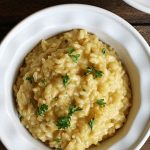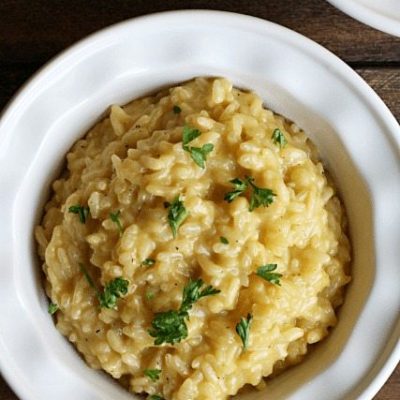 Creamy Parmesan Risotto
This Creamy Parmesan Risotto is perfect as a first course or side dish, or served with scallops or along side a pan-seared steak or fish.
Keyword:
parmesan risotto
Ingredients
5

cups

chicken stock

1 1/2

tbsp

olive oil

extra-virgin

1

cup

onion

diced

1 1/2

cups

Arborio rice

uncooked

1/4

tsp

salt

1

tbsp

butter

1/2

tsp

pepper

4

oz

Parmesan

grated

1

tbsp

parsley

chopped
Instructions
Bring stock to a simmer in a large saucepan. Keep warm over low heat, but do not boil.

Heat a Dutch oven over medium heat. Add oil to the pot; swirl to coat. (Everything from here on will be added to this pot.)

Add onion; cook 5 minutes, stirring occasionally.

Add the Arborio rice and salt, cook 1 minute, stirring frequently.

Add 1/2 cup stock; cook 2 minutes or until liquid is absorbed, stirring frequently.

Stir in 1 1/2 cups stock; cook 4 minutes or until liquid is nearly absorbed, stirring constantly.

Add remaining stock, 3/4 cup at a time, stirring nearly constantly until each portion is absorbed before adding the next (about 20-25 minutes); reserve 1/3 cup stock at last addition.

Stir in reserved remaining stock, butter, pepper, and cheese.

Top the risotto with parsley.
Recipe Notes
Be mindful of salt as the stock will likely already be salty enough. I felt the recipe needed an extra 1/4 tsp but use your own discretion. I also added a splash of cream at the very end just before serving, but this is optional.
As a general rule: 1 cup of dry Arborio rice yields 3 cups of cooked rice.
Nutrition Facts
Creamy Parmesan Risotto
Amount Per Serving (1.5 cups)
Calories 576
Calories from Fat 171
% Daily Value*
Total Fat 19g 29%
Cholesterol 35mg 12%
Sodium 1056mg 44%
Potassium 456mg 13%
Total Carbohydrates 74g 25%
Protein 23g 46%
* Percent Daily Values are based on a 2000 calorie diet.
Try this recipe with my favorite homemade chicken stock made in the Instant Pot.