I was provided with a Rockcrock Dutch Oven pan for review. As always all thoughts and opinions are 100% my own.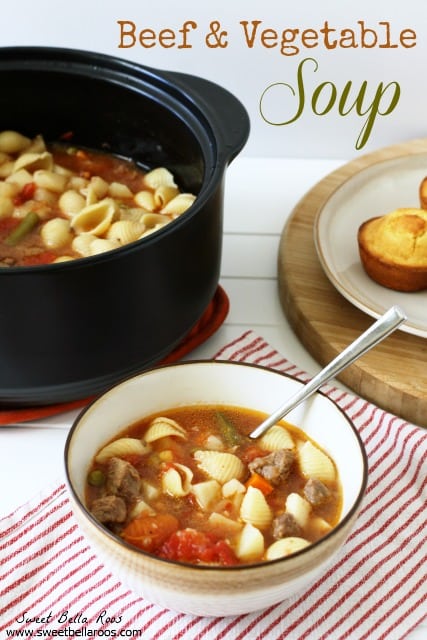 I love a bowl of this beef and vegetable soup on a cold day. It's not the fastest soup to make, but I honestly think that adds to the goodness. The anticipation of smelling it on the stove for a few hours will really make you hungry for a big bowl of it! My mom makes this soup all the time and it's one of my winter favorites.
Now, I know what you're thinking- "but Emily, I thought you self admittedly hate vegetables?" I do! And you want to know a little secret? I don't eat the vegetables in vegetable soup- haha! I add them in because, well, it wouldn't be vegetable soup without them, but also for my family and the flavor.
Every now and then a piece of corn will sneak past me, hiding in a shell noodle, but 99% of the time I can get around them. Really, it's an art. I also like to load my soup up with more noodles, meat, and potatoes… but you can always add more veggies if that's your thing.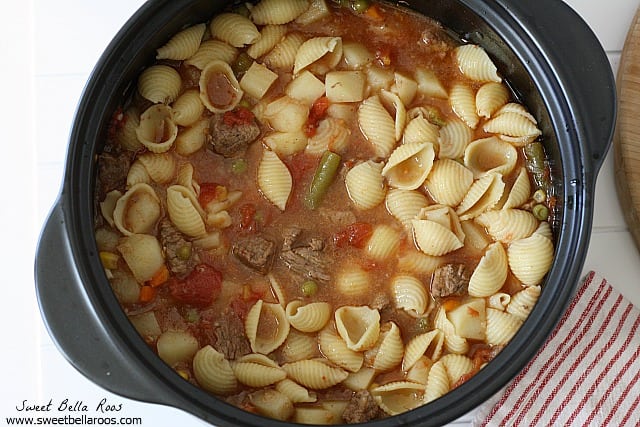 That's the beauty of vegetable soup- you can play with it to find the version you prefer- broth ratio, amount of heat, less vegetables, etc. When I received my new Pampered Chef Rockcrock, I knew it was going to be my new favorite soup pot. This cookware's high heat resistance lets you broil, bake, brown, stovetop cook, microwave and even grill – all in one pan! Its unique blend of clay materials allows for higher heat retention, keeping food hot longer (perfect for soup!), and no pre-seasoning or soaking is required.
Available in two varieties- as a Dutch Oven or an Everyday Pan; the Rockcrock is perfect for soups, stews, chili, large cuts of braised meats and more. Another cool feature is that these pans resist thermal shock, so you can safely take them straight from the refrigerator to the heat source. This soup is even better the next day, after the flavors have had time to marinate in the fridge, so this feature makes it even easier to reheat if you plan to serve the whole batch.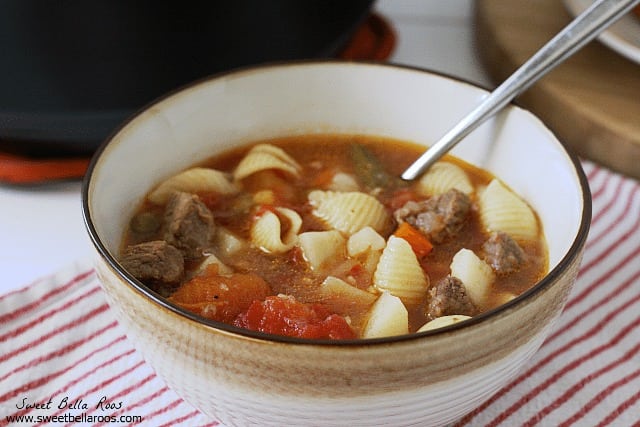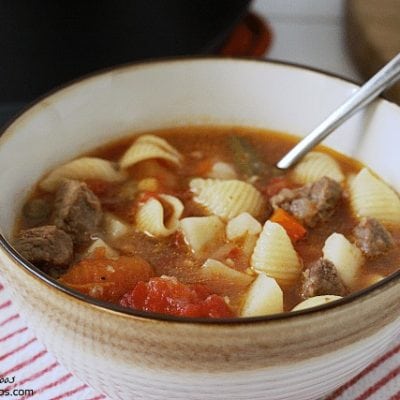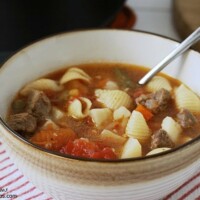 Ingredients
2

tbsp

vegetable oil

2-3

lbs

meat for stew

1

onion

chopped

2-3

cloves

garlic

minced

14.5

oz

can whole peeled tomatoes

1

Knorr Beef Homestyle Stock packet

3 1/2

cups

water

1/2

bag

frozen mixed vegetables

2

large potatoes

peeled and chopped

1/2

bag medium shell noodles

S&P

to taste

Red Pepper Flakes

optional
Instructions
Cut the meat into smaller pieces, salt and pepper.

Add vegetable oil to the pan over medium heat and add the meat.

Allow the meat to sit in the pan to brown, stir once.

Add the chopped onion and cook until soft.

Add the minced garlic and cook about 1 minute.

Add the can of tomatoes and use a spatula to break apart the tomatoes.

Add the water and sauce packet, and sprinkle red pepper flakes into the pan.

Bring soup to a boil, reduce heat and simmer for one hour.

Add the vegetables and simmer another 30-45 minutes.

Peel the potatoes and cut them into bite size chunks.

Add the potatoes to a pan of cold water.

Bring the potatoes to a boil, drain, and then add to the soup.

Cook the noodles in a separate pot as directed on the bag.

Once the noodles are done, immediately rinse them in cool water to stop the cooking.

Leave noodles and soup separate until read to serve or store.
Notes
I like a little bit of heat so I am generous with the red pepper, but even just a small amount will add a nice heat to the soup. Boil the potatoes to prevent them from becoming too mushy in the soup. Cook the noodles separate to prevent them from becoming mushy, and give them a water bath to prevent them from sticking. You could also use beef bouillon cubes instead of the stock packet- I've found the bouillon cubes add more flavor. This soup stores and reheats really well.
Nutrition
Calories:
537
kcal
|
Carbohydrates:
45
g
|
Protein:
49
g
|
Fat:
16
g
|
Saturated Fat:
7
g
|
Cholesterol:
117
mg
|
Sodium:
337
mg
|
Potassium:
918
mg
|
Fiber:
4
g
|
Sugar:
3
g
|
Vitamin A:
1360
IU
|
Vitamin C:
18.6
mg
|
Calcium:
76
mg
|
Iron:
7.3
mg