This Tuscan Bean Soup is gluten-free and vegan, and can be in the slow cooker or in your Instant Pot! Creamy, delicious, good-for-you comfort food.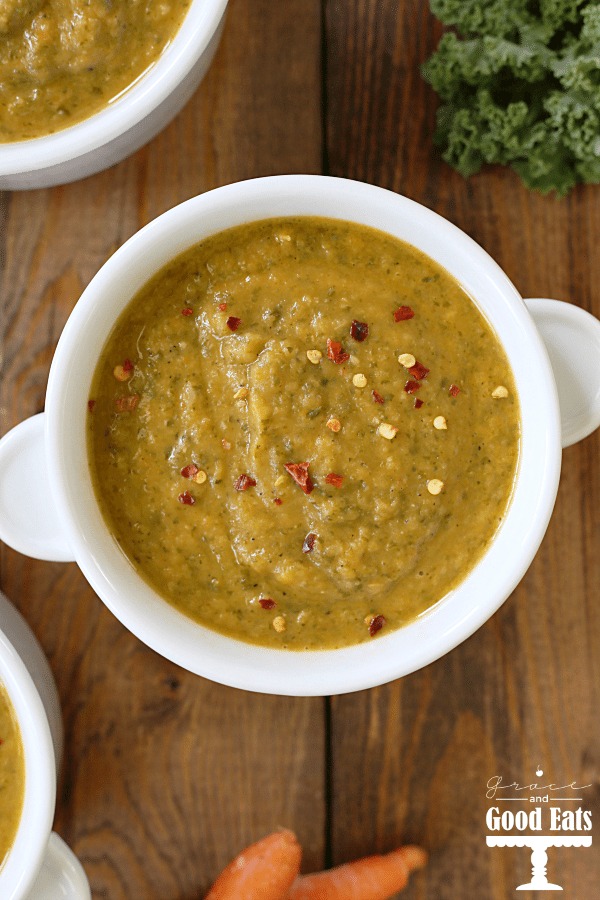 If you follow me on Instagram you've probably seen my fitness posts from time to time. Though I don't currently train clients, I'm actually a certified personal trainer. I became certified a few years ago when I was renewing my passion for fitness and working out with a personal trainer regularly. I wanted to learn more about body mechanics and concepts behind functional exercise, even if I wasn't sure I would ever put my certification to use professionally.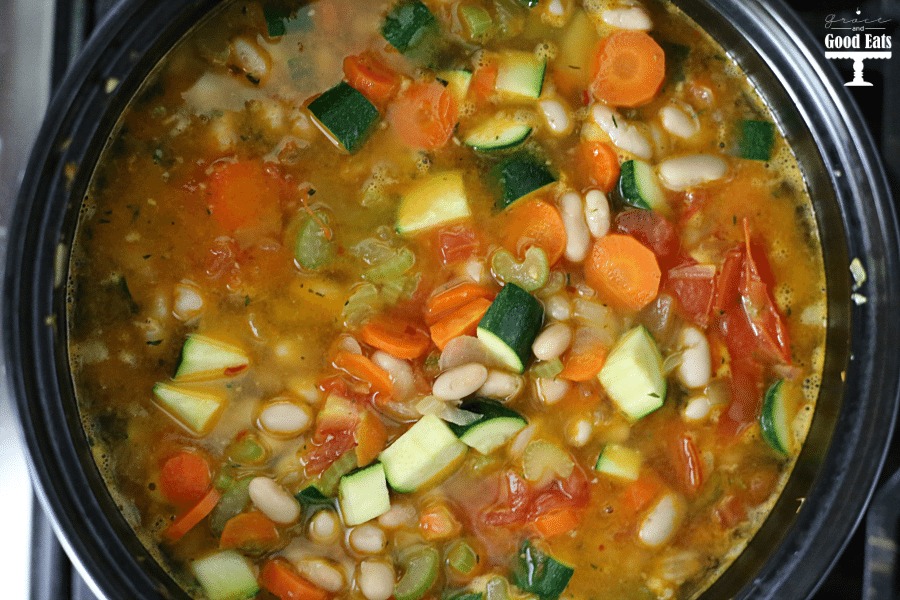 Part of becoming a trainer includes a (very) basic nutrition course. Mostly just hitting on macro (protein, fat, carbs) and micro (vitamins) nutrients and a very rough outline for basic nutritional needs. I would love to learn more about nutrition someday and the role that food plays in healing and fueling our body… maybe in my spare time… ha! When a PR company offered to send me a copy of Megan Gilmore's (author of Detoxinista.com, also a certified health coach and certified nutritionist consultant) new book, No Excuses Detox, I was intrigued.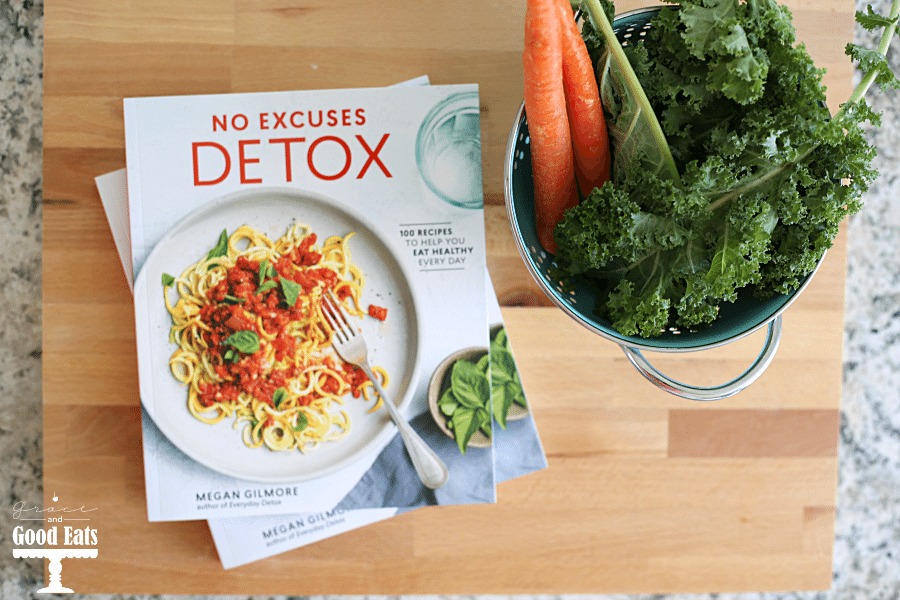 The title is, at first glance, almost misleading- setting you up to expect a book of juice recipes full of lemon and cayenne, but that is not at all the approach behind Megan's recipes. About the book:
There's so much conflicting nutritional information out there that it's easy to stall because you don't know which approach to healthful eating is best. The Paleo Diet? A vegan diet? Our society suffers from information overload, and the flood of conflicting studies and theories is enough to make your head spin. Don't use this as another "excuse" to procrastinate changing your habits. Instead, stick to what most experts agree to be true: eat whole foods— with an emphasis on plants— as much as possible. It's hard to go wrong with that approach!
All of the recipes in the book are naturally gluten-free and vegetarian, and many can be adjusted to accommodate vegans (or omnivores!) as well. Each recipe is also marked to show which are freezer-friendly and can be made in the slow or pressure cooker.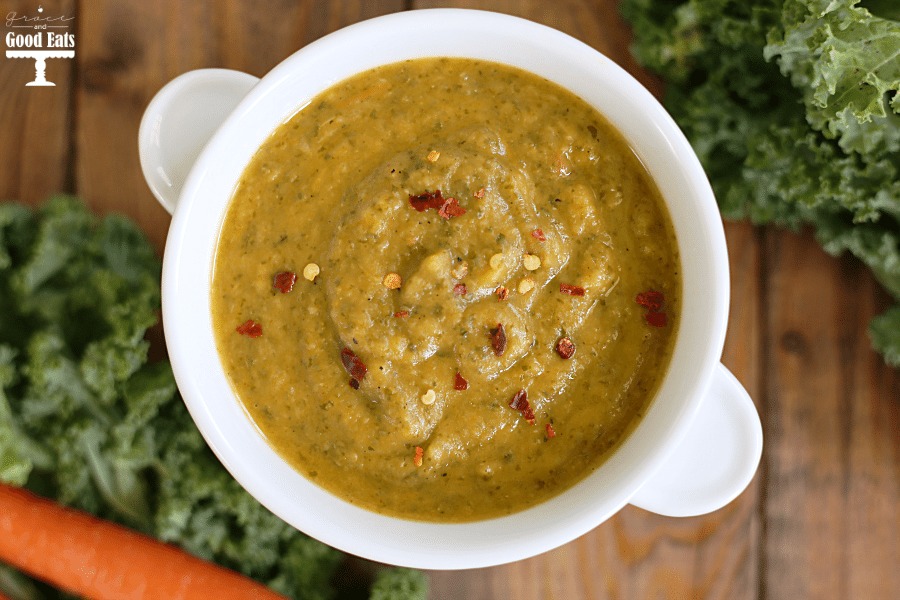 I love her approach to "detoxing" the body by feeding it whole foods. I very much share her belief that the body is already well equipped to detox itself (through the liver/kidneys, etc) and that we can support those systems with the foods we eat. No Excuses Detox contains tons of yummy recipes that caught my eye; comfort food classics like butternut mac 'n' cheese, to kid-friendly favorites like cinnamon oat crackers, and even a vegan chocolate cake that looked impossibly decadent. I couldn't get this Tuscan Bean Soup out of my mind though, so I decided to try it first.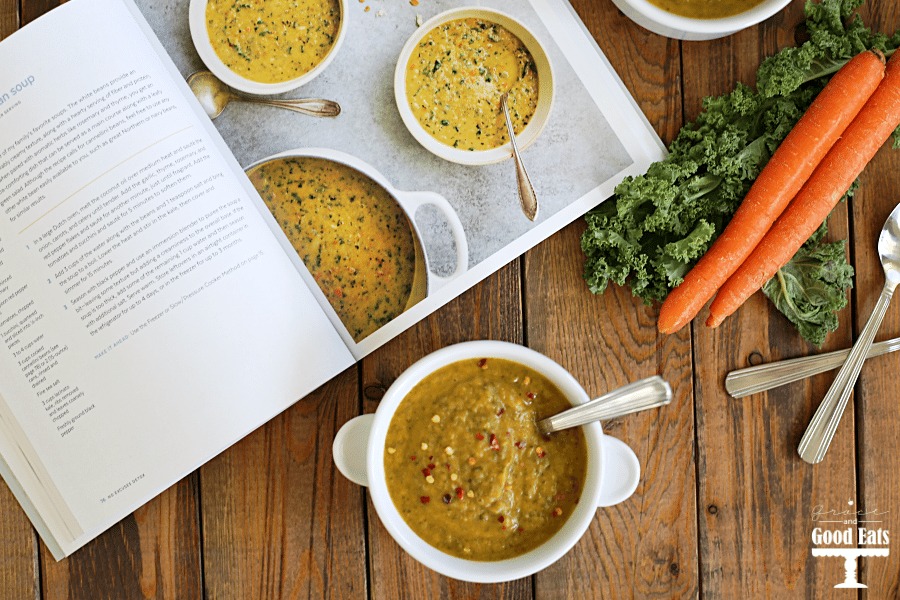 This Tuscan Bean Soup was creamy (without any dairy) and packed with protein and fiber. I loved the fresh herbs, but I added more red pepper flakes… my family likes it spicy! I have one dairy-free kiddo, but I might add a splash of cream or some shaved parmesan to my bowl next time. I might also swap out the cannellini beans for Great Northern (like I use for my Slow Cooked Bacon and Beans.) This would be delicious with a roasted chicken and loaf of crusty French bread.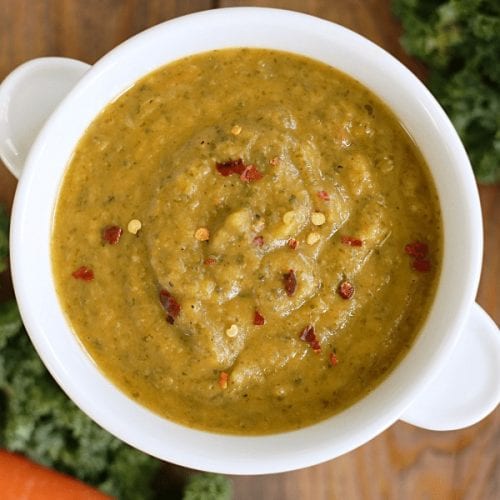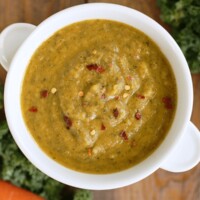 Ingredients
1

tbsp

coconut oil

1

yellow onion

chopped

3

carrots

chopped

4

celery stalks

chopped

3

cloves

garlic

minced

1

tsp

fresh thyme

minced

1

tsp

fresh rosemary

minced

1/4

tsp

red pepper flakes

3

tomatoes

chopped

1

zucchini

quartered and sliced into 1/2in pieces

3

to 4 cups of water

3

cups

cooked cannellini beans

or 2 15oz cans, rinsed and drained

fine sea salt

3

cups

lacinato kale

ribs removed and leaves coarsely chopped

freshly ground black pepper
Instructions
In a large Dutch oven, melt the coconut oil over medium heat and saute the onion, carrots, and celery until tender.

Add the garlic, thyme, rosemary, and red pepper flakes and saute for another minute, just until fragrant.

Add the tomatoes and zucchini and saute for 5 minutes to soften them.

Add 3 cups of the water along with the beans and 1tsp salt.

Bring the soup to a boil.

Lower the heat and stir in the kale, then cover and simmer for 15 minutes.

Season with black pepper and use an immersion blender to puree the soup. You want to add creaminess while still leaving some texture.

If the soup is too thick, add some of the remaining 1 cup water.

After you have reached your desired texture, season with salt.

Store leftovers in an airtight container in the refrigerator for up to 4 days, or in the freezer for up to 3 months.
Notes
I don't have an immersion blender, so I added all of the soup to my Blendtec blender and used the "soup" setting to reach my desired texture.
To make this in the slow cooker or pressure cooker:
For best results and to bring out a rich flavor, saute the carrots, onions, celery with the garlic, thyme, and rosemary before placing everything into the pot. Once the aromatics are tender, add them, and all remaining ingredients, to your cooking pot.
Pressure Cooker: Securely seal the lid according to the manufacturer's instructions. Cook for 8 minutes on high pressure. Allow the pressure to release naturally, then carefully remove the lid. Use the immersion blender to achieve desired texture. Adjust any seasonings to taste and serve warm.
Slow Cooker: Cook on low for 4-6 hours. Use the immersion blender to achieve desired texture. Adjust any seasonings to taste and serve warm.
Nutrition
Serving:
1
bowl
|
Calories:
198
kcal
|
Carbohydrates:
35
g
|
Protein:
10
g
|
Fat:
4
g
|
Saturated Fat:
3
g
|
Sodium:
370
mg
|
Potassium:
723
mg
|
Fiber:
10
g
|
Sugar:
7
g
|
Vitamin A:
10300
IU
|
Vitamin C:
47.3
mg
|
Calcium:
163
mg
|
Iron:
3.8
mg