Easy Shortbread Cookies with only three ingredients! These deliciously buttery cookies are perfect on their own or dipped in chocolate.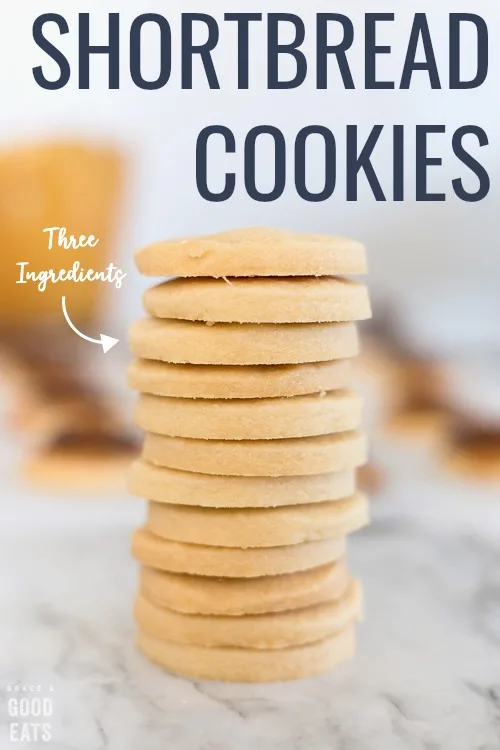 I love shortbread cookies, both for their taste and their ease. These buttery little cookies come together in no time and are the perfect not-too-sweet pairing for coffee or tea. They're also a great vehicle for melted chocolate or rich caramel.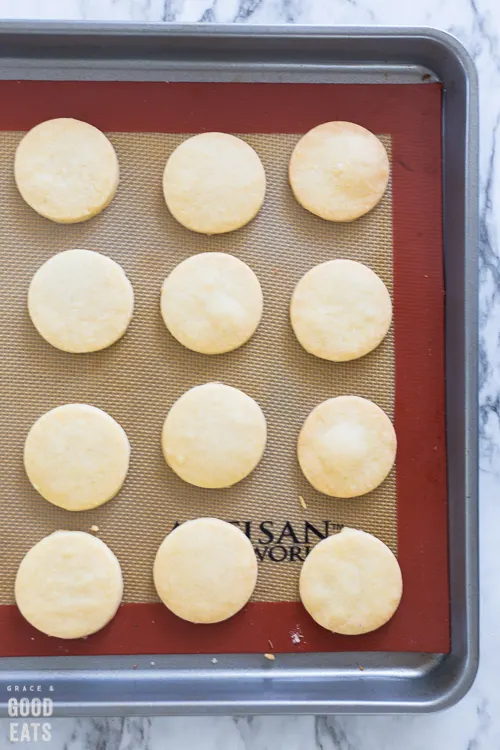 What are Shortbread Cookies?
Shortbread is a traditional Scottish biscuit usually made from one part sugar, two parts butter, and three parts flour. Shortbread usually comes in three different forms: small round biscuits, fingers, or large rounds. A scoring pattern made with fork marks is usually present. (Though I chose not to for this recipe.)
Why are they called shortbread?
The large amount of butter is what makes shortbread short: the term short, when applied to biscuits and pastry, means crumbly. (Think: shortening)
What's the difference between shortbread and sugar cookies?
Sugar cookies are typically sweeter than shortbread cookies and have a lighter, crispier texture. Sugar cookies also have many ingredients- butter, flour, eggs, salt, flavoring such as vanilla or almond extract, and a leavening agent such as baking powder or baking soda, as opposed to just the three classic ingredients in shortbread.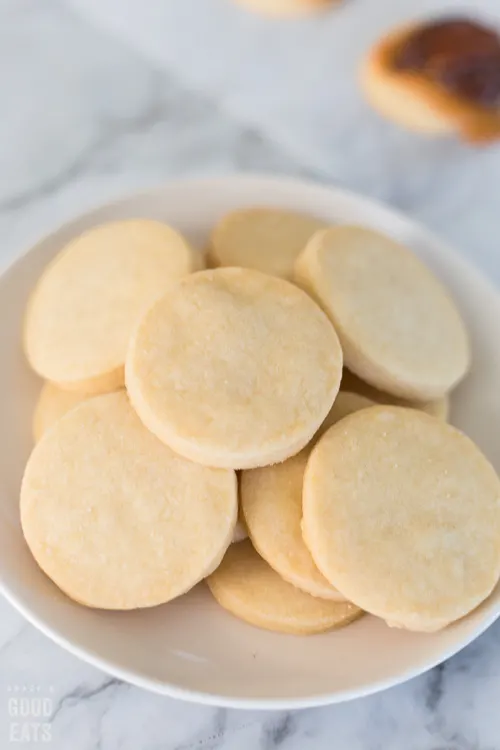 Recipe Tester Notes
Use a Pastry Blender to cut in the butter. Trust me, it's so much easier than trying to do it with a fork.
The mixture will look very crumbly and you will think there's no way it is going to roll into a smooth dough. It will. I recommend using your hands for this step because the heat from your hands will help to melt the butter and combine the dough.
Be careful not to overwork the dough. You want it to be combined but slightly crumby.
Shortbread Cookie Variations
Lemon Shortbread: add the zest of one lemon when you add the sugar.
Almond Shortbread: add 5 drops of almond extract before mixing.
Chocolate Peppermint: dip half of the cookie in melted chocolate and sprinkle with crushed peppermint.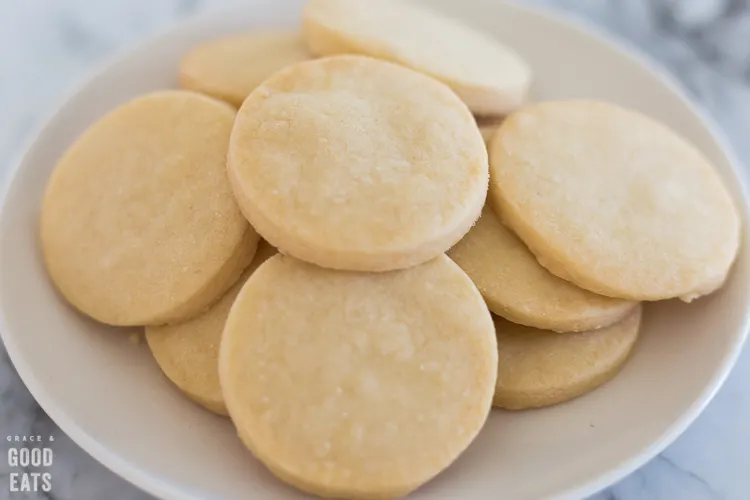 Easy Shortbread Cookies
Use these Easy Shortbread Cookies to make Turtle Cookies with melted chocolate, rich caramel, and a crunchy pecan. Get the Turtle Cookies Recipe here.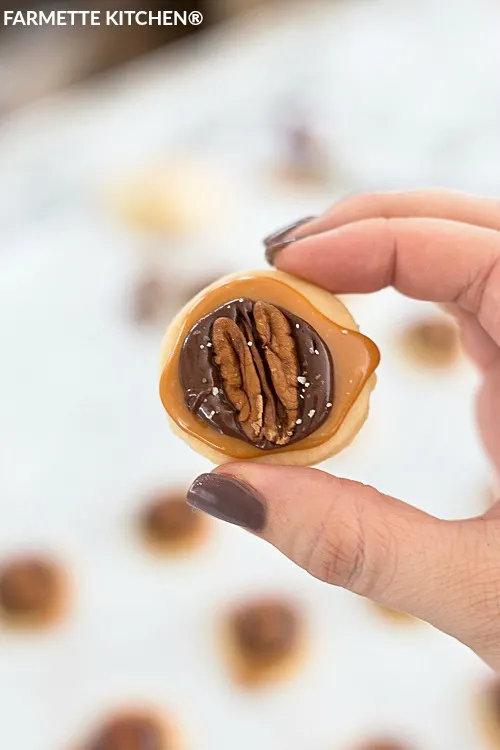 These cookies are great for the holidays and make cute gifts because they stack so nicely. If you need more holiday cookie recipes, check out my Christmas Cookies eBook or my Christmas Cookies in a Jar.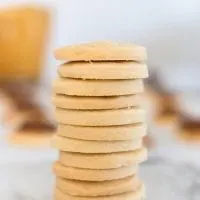 Ingredients
1 1/2

cups

all-purpose flour

1/2

cup

confectioners' sugar

2/3

cup

unsalted butter
Instructions
Preheat oven to 325 degrees.

In a medium bowl, stir together flour and powdered sugar.

Use a pastry blender, cut in the butter until the mixture resembles course crumbs.

Gently knead into a ball. (Using your hands works best and will help to melt the butter. The mixture will seem really crumbly at first. Keep working it.)

Roll the dough onto a lightly floured surface.

Cut into desired shapes. Roll the dough out again until it has all been used.

Bake for 15-18 minutes or until the edges begin to brown. Cool for five minutes before transferring to wire racks to cool completely.
Notes
Store in an airtight container at room temperature for up to one week or freeze for up to three months.
This is the pastry blender I use.
Nutrition
Calories:
56
kcal
|
Carbohydrates:
6
g
|
Protein:
1
g
|
Fat:
3
g
|
Saturated Fat:
2
g
|
Cholesterol:
9
mg
|
Sodium:
30
mg
|
Potassium:
7
mg
|
Fiber:
1
g
|
Sugar:
2
g
|
Vitamin A:
105
IU
|
Calcium:
2
mg
|
Iron:
1
mg