Quick tutorial for a DIY no-sew sock stick horse. So easy to make and hours of fun! You probably already have most of the items around the house to make this.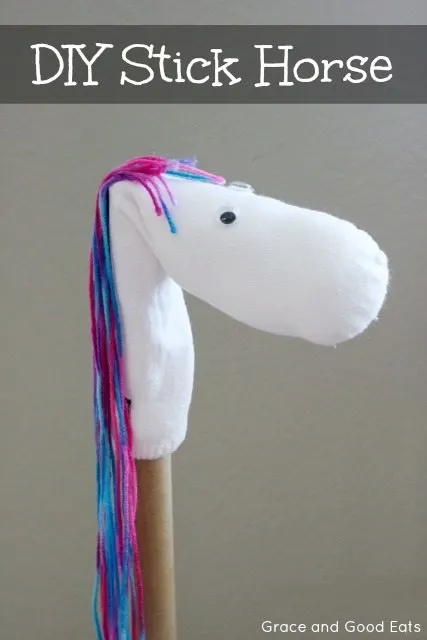 My daughter went to Girl Scout camp over the summer and one of the themes was 'Wild, Wild West'. She came home with the most adorable Sock Stick Horse and I knew I had to share it here. (Read: I knew I better make one ASAP for little sister if I wanted to keep the peace.) Sometimes the most simple ideas turn out to be the cutest! I especially love this because it's no sew.

What you need for your sock stick horse:
Adult sock- any color or size, but choose a "tall" sock, not an ankle length
Empty wrapping paper roll
Yarn- about 15 pieces 2 ft long each
Stuffing or batting
2 googly eyes
Hot glue gun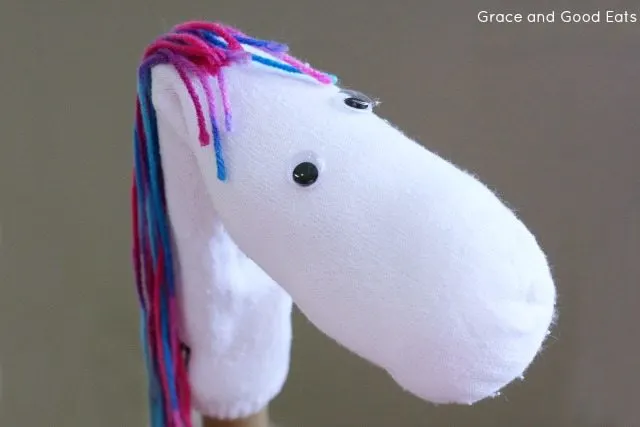 Stuff the "nose" of the sock with batting. Insert the "stick" into the bottom of the sock. Fold the bottom of the sock inside itself and seal around the stick with glue. Use hot glue to adhere the eyes and "hair".
You could also use buttons as eyes and markers to create a mouth. If you really want to get crafty you could make ears out of felt, or create a bridle with ribbon. I love that this stick horse is fairly soft, juuuust in case someone accidentally gets whacked upside the head.
The girls have had hours of fun having sock stick horse races and playing cowgirls. It makes me laugh every time I see them trot by.
Looking for more summer boredom busters? Try these: