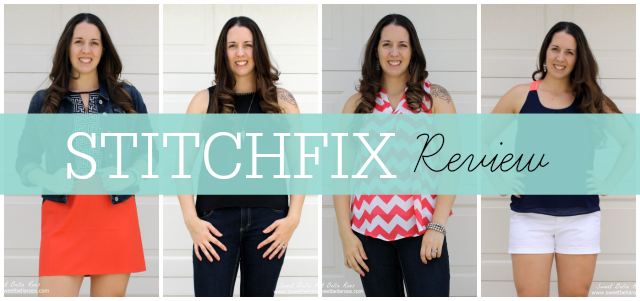 Have you heard of Stitch Fix? It's basically like having your own personal stylist once a month (or as often as you like). They send you a box of five items with a style card on how to wear each piece. Keep what you want, send back what you don't (in a pre-paid envelope)- all with no commitment to buy. You pay a $20 styling fee that goes toward anything you decide to keep.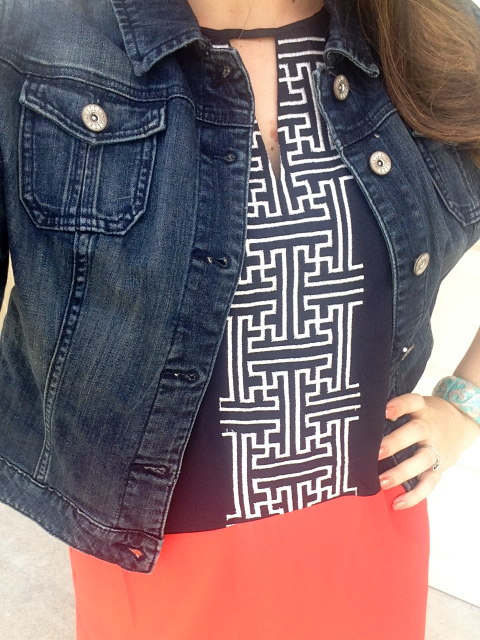 This was my 5th fix, but my first time to share all the pieces here on the blog. The first two fixes I received, I didn't love anything and sent it all back. The third, I kept a brown leather bag- that I love. And the last time I kept a dress- that chances are you've seen me in because I've been wearing it all summer.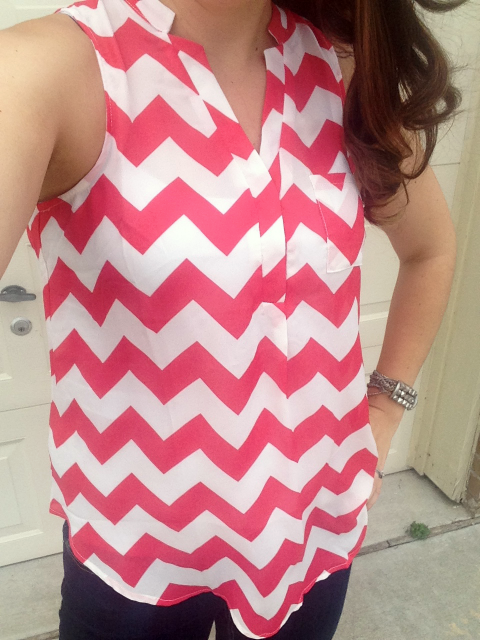 Turns out it's really embarrassing to take pictures of yourself. Not just a quick selfie, this was a whole production. Tripod, in the front yard, directing a seven-year-old how to operate a DSLR, production.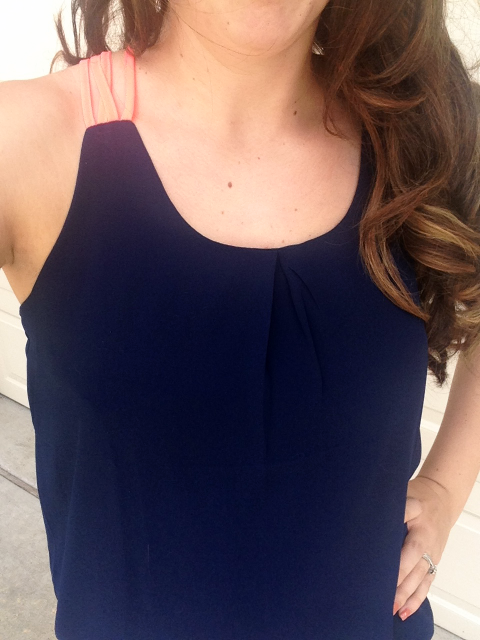 This was kind of an eclectic fix for my taste. All of the shirts had something going on that was just a touch out of my comfort zone, or were a color I don't usually go for.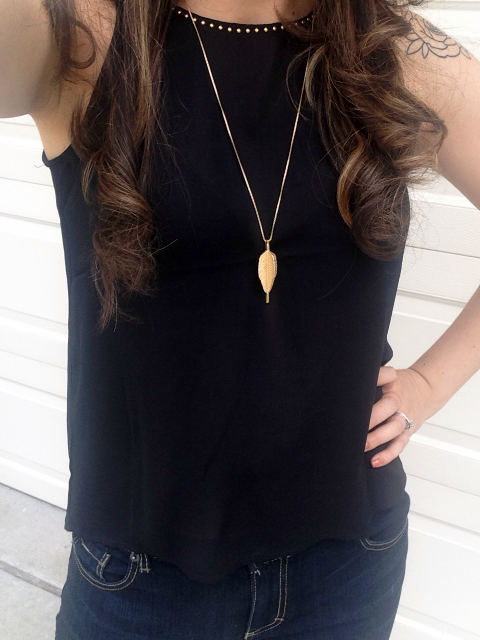 Ignore the bad angles, and blur, next time I will set my tripod a little higher and use my timer. But my assistant sure was cute, and very eager to help. 🙂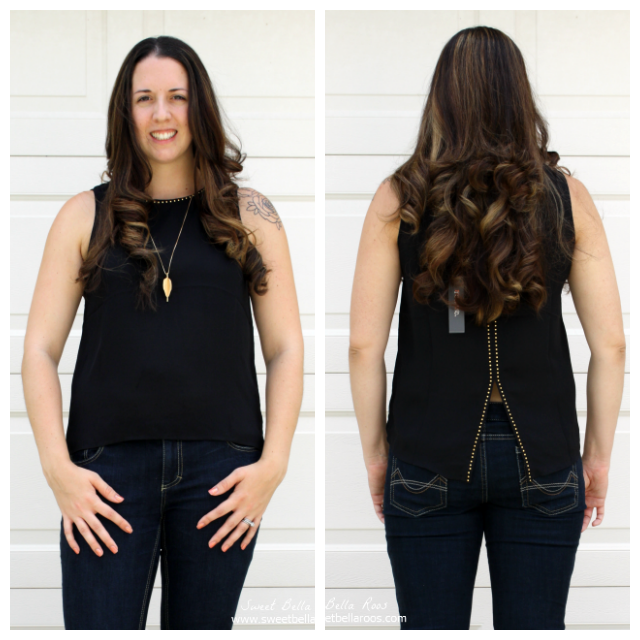 This Renee C Edmondo Stud Detailed Split-Back Bouse (48) had a cute detail on the back- love the slit and the beading. I don't love how short the front is and how it doesn't give me any shape at all. Definitely not a keeper. Also shown: Bay to Baubles Ramona Arrow Pendant Necklace ($28). I have been super into gold this summer, which is SO not me, but I loved this necklace! Definite keep.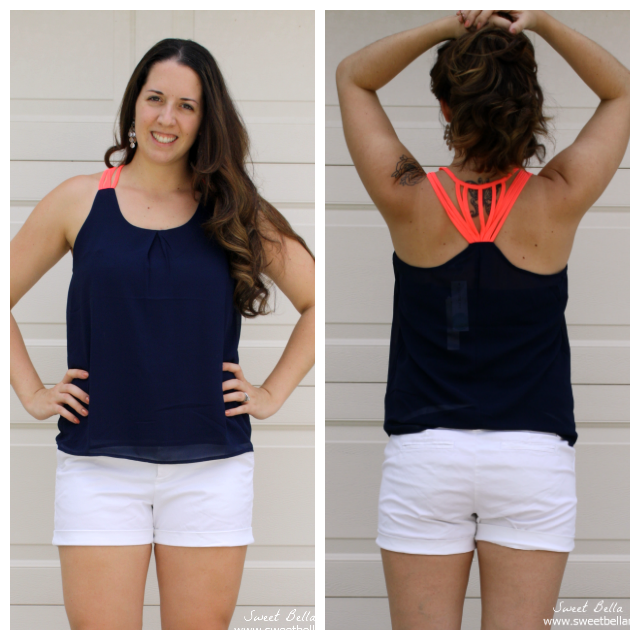 This Papermoon Deandra Multi-Strap Racerback Tank ($44) also had a cute back detail. The straps are fun, but with the back being sheer, it was a bra nightmare. I love the pop of neon, but not enough to keep this. Back it goes.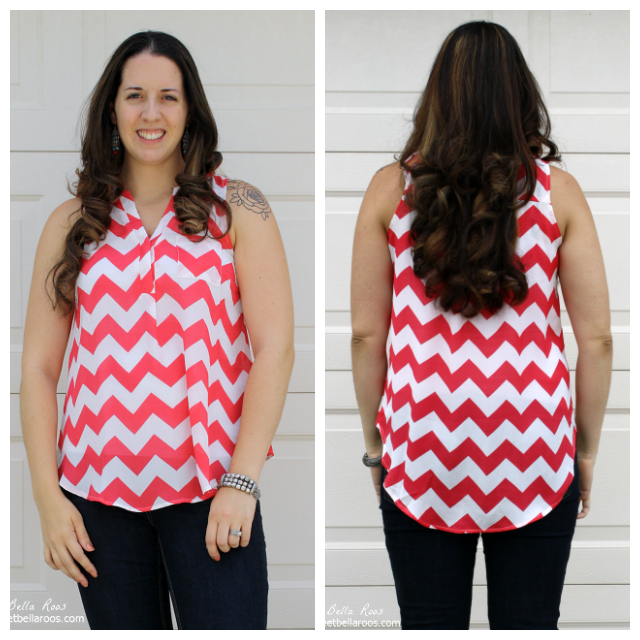 I love this Papermoon Norris Chevron Print Sleeveless Blouse ($44). I know, Chevron is on the way out, but I am keeping it anyway. I love the scoop bottom, and it's a color I don't usually wear. It's loose without being a tent, and so light. (It says it's pink, but it's definitely more red like the picture on the right). This is a keeper.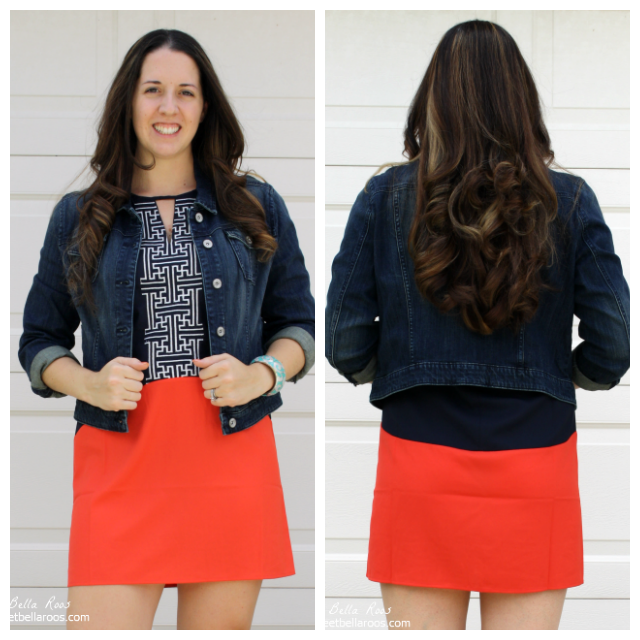 This THML Abriana Geo Detail Shift Dress ($68) was also a no for me. It was a little too retro for my taste, I felt like a 70's flight attendant. It's sleeveless, and was definitely cuter with the denim jacket (as suggested by my style card). The pattern on the top was fun, but I didn't like the hi-lo color block on the bottom. A little too short for my liking as well.
All in all, this wasn't my favorite fix. I felt like my last fix the stylist really listened to me and I could see why she picked each piece, even if I didn't end up keeping it. This fix was a little out there for me in style and wasn't that great in fit. It's still a really fun experience- 1) who doesn't love getting mail? 2) it's only a $20 investment that goes towards anything you keep. And, if you keep everything you get 25% off. That would have made this fix $154.00.
Have you tried it? Anything you would have kept that I didn't?
If you're interested in signing up, use my Stitch Fix my link here. I get a small referral credit when you get your first fix.