These Creamy Baked Eggs are protein packed, super nutritious, and so versatile. Baked eggs are hands-off and easy to prepare for a crowd, perfect for busy mornings or brunch.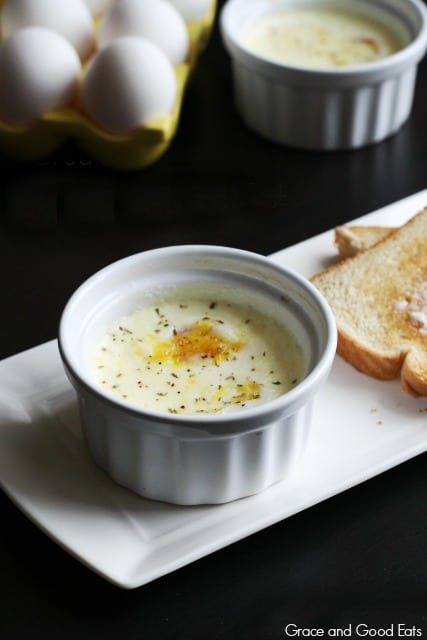 Do you have that handful of ingredients that if you run out, it suddenly feels like you can't make anything? Mine are butter, milk, and eggs. If we run out of one of those things the pantry might as well be empty.
There's also certain items that I don't typically keep on hand, so when I do, I try to use every last drop; like, heavy cream or buttermilk for example. I've started adding cream to my oatmeal in the morning to keep from wasting it. I also like adding it to my eggs. I mean, what isn't better with a little splash of cream?
Baked Eggs or Shirred Eggs
After searching for a recipe using eggs and cream, I discovered baked eggs.
Baked eggs are also called shirred eggs. Shirred eggs are eggs that have been baked in a flat-bottomed dish, like a ramekin. The name originates from the type of dish in which it was traditionally baked.
The great thing about baking eggs in the oven this way is that you can make as many as you need at once and without any babysitting- perfect for brunch!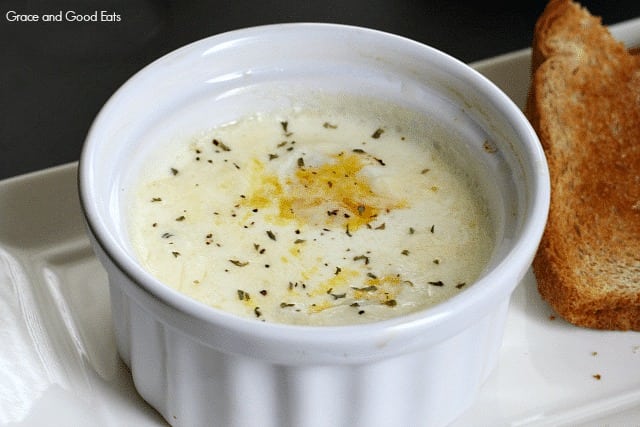 How to Bake Eggs
How you like your yolks will determine how long you need to cook your baked eggs in the oven. I do not like runny, soft, or over-easy yolks, so I tend to let mine cook longer. Look for the edges to be set but there still be a little jiggle in the center, somewhere in the 10-15 minute range. Remember that every time you open the oven to check, you're losing heat.
Tips for the Perfect Baked Egg
Ovens are notorious for "hot spots." When I use the bottom rack of my oven, the food on the back side tends to get done faster, so I know to rotate my pan while cooking. It's important to know your oven and have an oven thermometer.
I like to put all of my ramekins on a baking dish for easier transport. Remember that the eggs will be served in the same dish, so they will continue to cook/firm up after removed from the oven AND they will also be hot to the touch. Some recipes call for a water bath, but I've not found it necessary.
Creamy Baked Eggs Recipe
Below is a basic recipe of how to bake eggs in the oven, but the beauty of this method is that the flavor combinations are endless! I love to add different cheeses, veggies, and herbs to mine. A few of my favorite baked egg recipes are: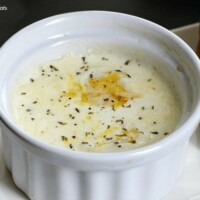 Ingredients
1

tbsp

unsalted butter

softened

8

tbsps

heavy cream

8

large eggs

Salt and black pepper

to taste

1

tbsp

chopped fresh parsley

optional
Instructions
Heat oven to 425° F. Coat four 4 oz ramekins with the butter.

Fill each ramekin with 2 tablespoons cream. Crack 2 eggs into each ramekin and season with salt and pepper.

Bake until the whites are set, 10 to 12 minutes.

Sprinkle with the herbs just before serving.
Nutrition
Calories:
254
kcal
|
Carbohydrates:
1
g
|
Protein:
11
g
|
Fat:
22
g
|
Saturated Fat:
11
g
|
Cholesterol:
376
mg
|
Sodium:
136
mg
|
Potassium:
143
mg
|
Vitamin A:
1005
IU
|
Calcium:
69
mg
|
Iron:
1.5
mg