Chicken Salad recipe with grapes, apples, celery, and pecans that comes together quickly for a filling lunch or snack. Deliciously crunchy and creamy, this chicken salad recipe can be served with bread, croissants, or lettuce wraps.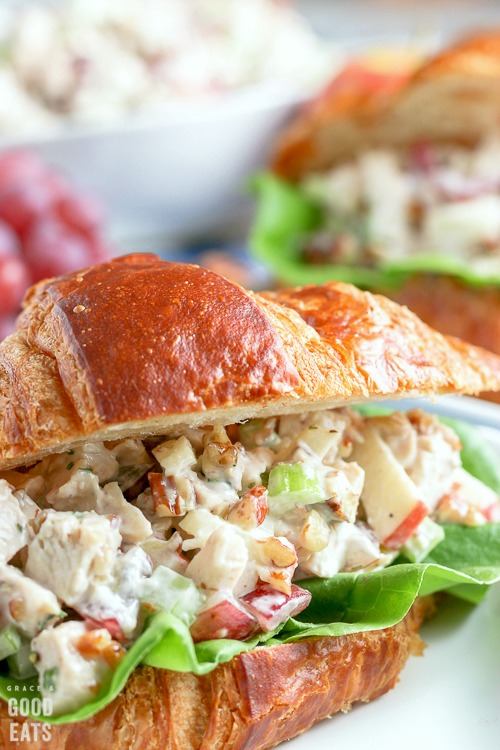 James and I recently started counting macros together (IIFYM, flexible dieting). I love it because I get to eat all of my favorites, while being more mindful of eating more nutrient dense food (and less sugar!).
I've counted macros before, and it is always shocking to me how little protein (and fiber) I eat when left to my own devices. This creamy chicken salad recipe with grapes is a great way to satisfy my protein goals and sugar cravings!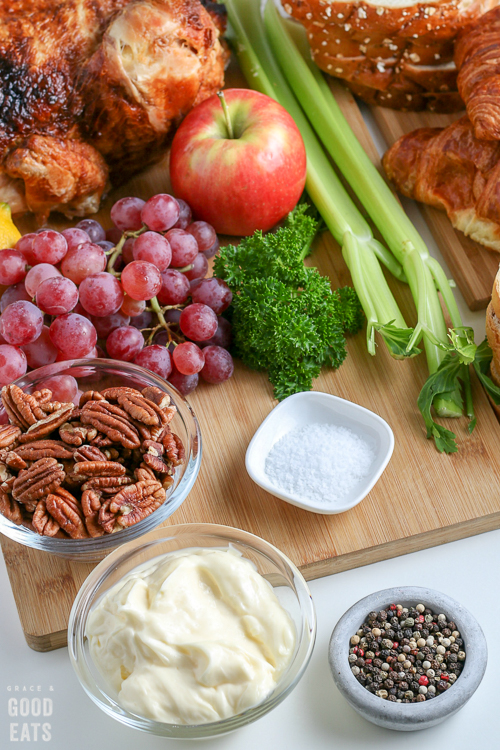 What goes in a chicken salad recipe?
To make this chicken salad recipe with grapes, you will need the following:
Cooked chicken
Seedless red grapes
Red apple
Celery
Pecans
Mayonnaise
Lemon juice
Fresh parsley
Salt and pepper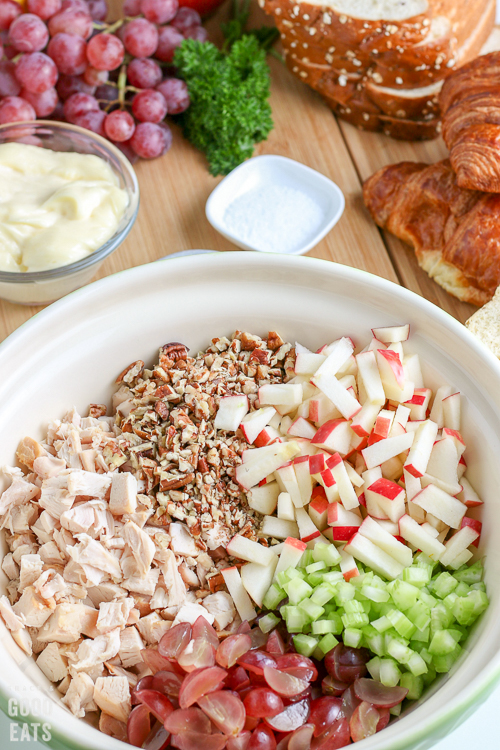 How to Make Chicken Salad
This recipe couldn't be easier- add all of the ingredients to a large bowl and mix well. Here are the basic steps to making chicken salad:
Chop the cooked chicken and add to a large bowl.
Dice the grapes, apples, celery, and pecans. Add to the bowl.
Mix the mayonnaise, lemon juice, and seasonings together.
Combine the diced ingredients with mayonnaise mixture and mix well.
Cover and refrigerate at least one hour before serving.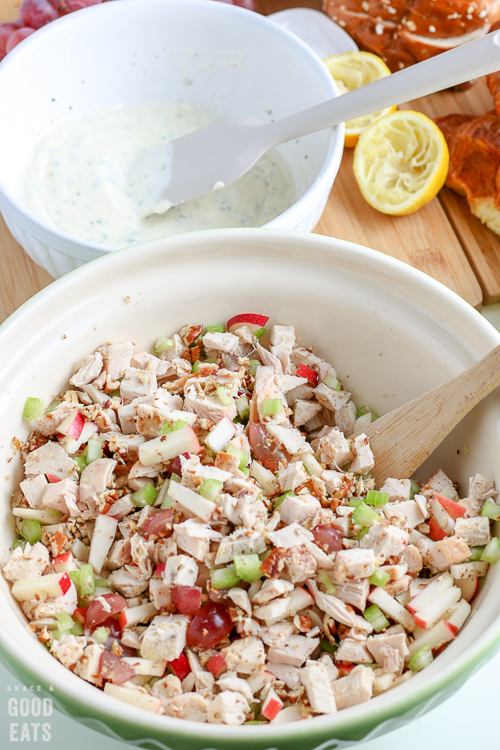 Can I use different kind of fruits or veggies?
Absolutely! We go for crunchy additions in our chicken salad, like apples, grapes, celery, and pecans, but you can throw in whatever you have on hand! Swap out the red grapes for green, or the pecans for walnuts. I prefer to use a sweeter red apple (like Honeycrisp) but you could add in a tart green apple if you prefer.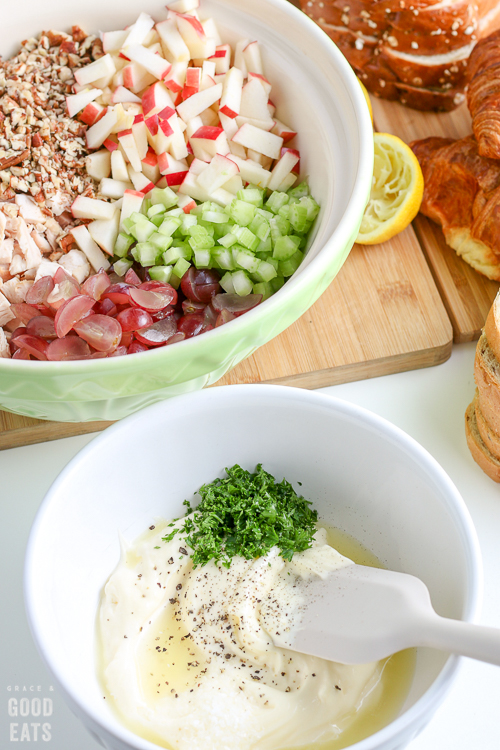 Be sure to season the mayonnaise mixture and taste it before adding it to the other chopped ingredients. You don't want it to be too tangy or bland. Feel free to up the seasonings and adjust accordingly. Sometimes I like to add wing sauce or hot sauce, like in this single-serve spicy chicken salad.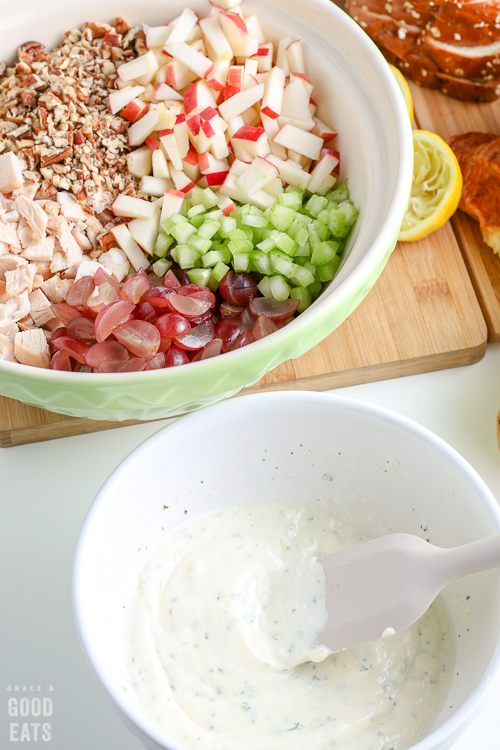 How to Store Chicken Salad
If I'm making this chicken salad with grapes for an event like a baby shower or luncheon, I like to mix it all together in the bowl I will be serving it out of. That way I can just pop it in the refrigerator to chill and grab it when I'm ready. (Just make sure to cover it tightly with plastic wrap.)
If I'm making it for us to snack on or for lunches throughout the week, I will store it in a stackable, airtight glass container with a lid. This makes it easy to grab, scoop out what I need, and put back for later.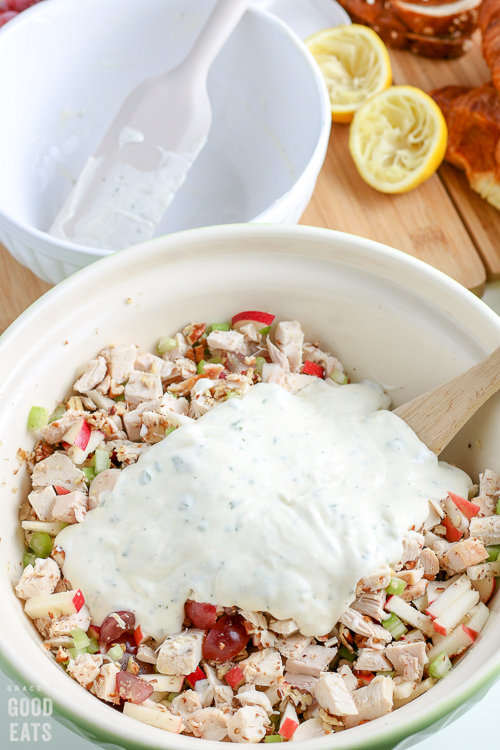 How to Serve Chicken Salad
We love to eat this chicken salad with grapes on buttery croissants. Obviously you can just slather it between two pieces of regular bread as well! We've also served it inside lettuce wraps or with crackers for a lighter option. If you wanted to make this into a heartier option, you could mix in some whole grains like farro or quinoa. Sometimes we add it to baked sweet potatoes!
Tips for the Best Chicken Salad
Season your chicken when cooking it. I love to use rotisserie chicken because it is full of flavor.
Aim for a similar size when dicing the grapes, apples, celery, and pecans.
Add in the mayonnaise mixture slowly, you may need more or less depending on the size of your other ingredients.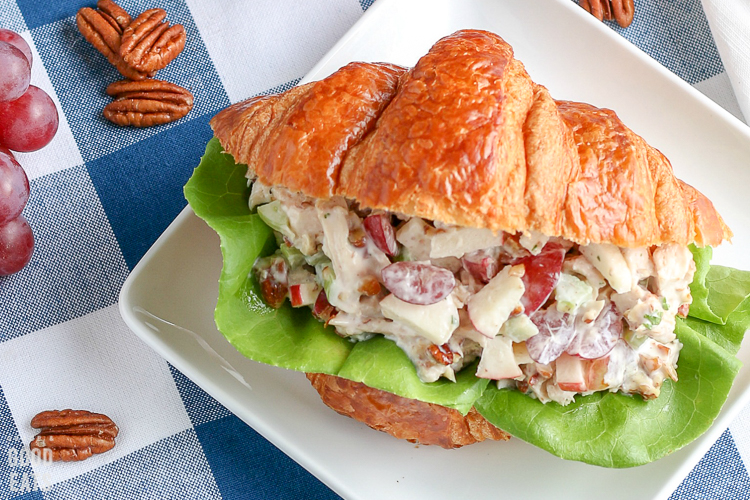 How Long Does Chicken Salad Last?
This chicken salad recipe is good for up to 5 days in the fridge. I actually think it's even better the next day after the flavors have time to marinate in the fridge.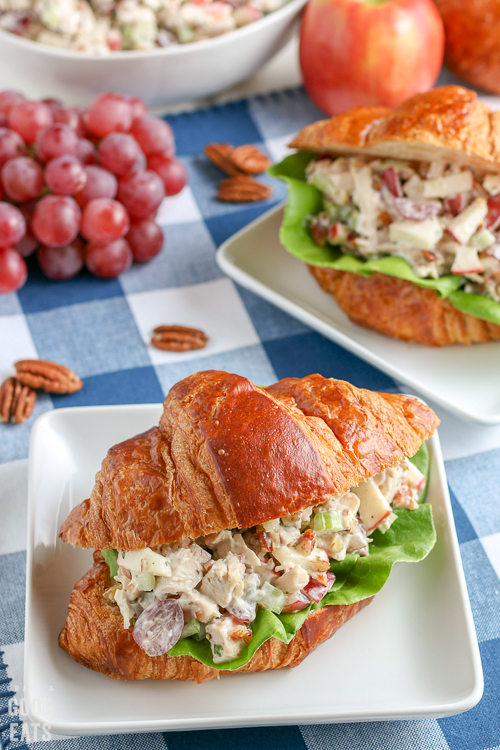 More Delicious Recipes Using Cooked Chicken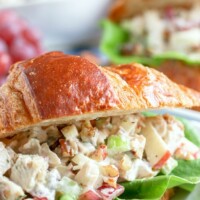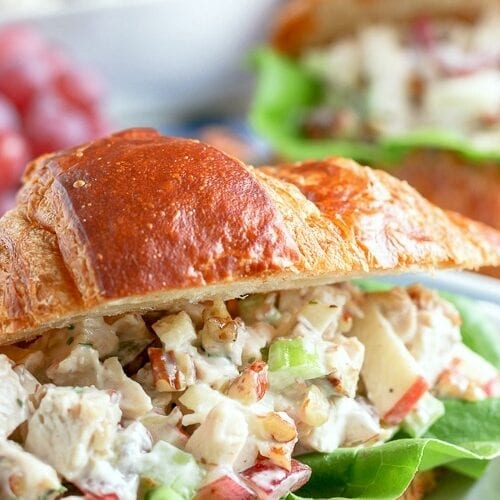 Ingredients
4

cups

chicken

cooked and diced

1

cup

seedless red grapes

cut in half or quartered

1

cup

red apple

diced, optional

2

celery ribs

1 cup, chopped

1

cup

pecans

walnuts or almonds, chopped or sliced

1

cup

mayonnaise

Juice of 1 lemon

about 2 tablespoons

1

tablespoon

fresh parsley

chopped

1

teaspoon

kosher salt

Freshly ground pepper to taste
Instructions
Cut chicken and add to large bowl.

Cut grapes, apple, celery and pecans, add to bowl with chicken. Set aside.

Add mayonnaise, lemon juice, parsley, salt and pepper to a small bowl.

Add the mayonnaise mixture to the chopped ingredients and stir together until well combined.

Cover and refrigerate at least one hour before serving.

Serve on bread or croissants with lettuce, or whatever you prefer.

Store leftovers in airtight container in refrigerator.
Nutrition
Calories:
309
kcal
|
Carbohydrates:
13
g
|
Protein:
9
g
|
Fat:
26
g
|
Saturated Fat:
4
g
|
Cholesterol:
33
mg
|
Sodium:
693
mg
|
Potassium:
218
mg
|
Fiber:
2
g
|
Sugar:
8
g
|
Vitamin A:
170
IU
|
Vitamin C:
3
mg
|
Calcium:
20
mg
|
Iron:
1
mg